---



Essentially you have 3 choices when it comes to golf simulator enclosure construction
1. Solid wall
Material costs are usually below $3,000 but will require many hours of construction
2. Frame cage with drape
Again, costs are around $3,000 but although less construction time is required, it's still a fair amount of work
3. Track drape enclosures
This is the easiest enclosure to build if you have a dedicated room and looks great too


Solid wall enclosures

Track drape enclosures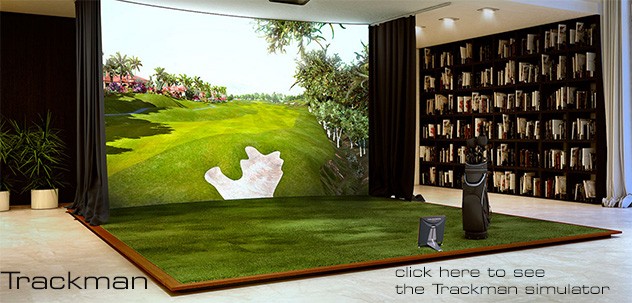 Note that track drape enclosures are also used by the famous Trackman golf simulator
which is generally considered to be the world's best golf simulator
Also note that GSA Golf enclosures are suitable for all other golf simulator systems and products on the market today
i.e. Not just our tracking systems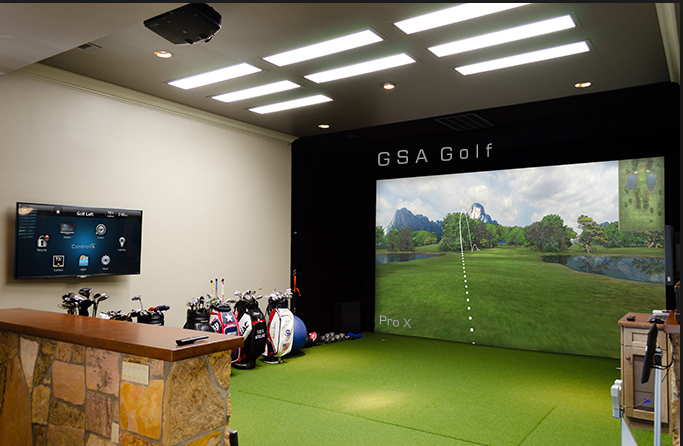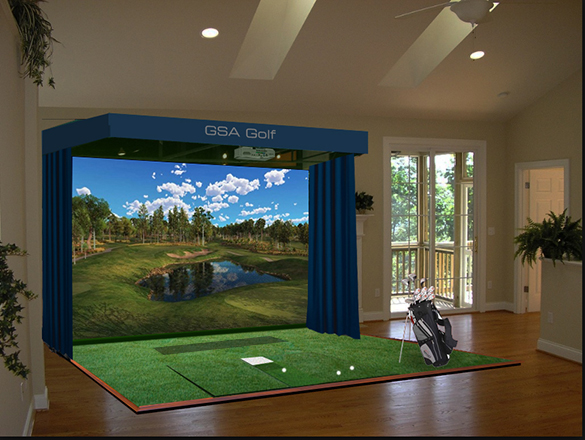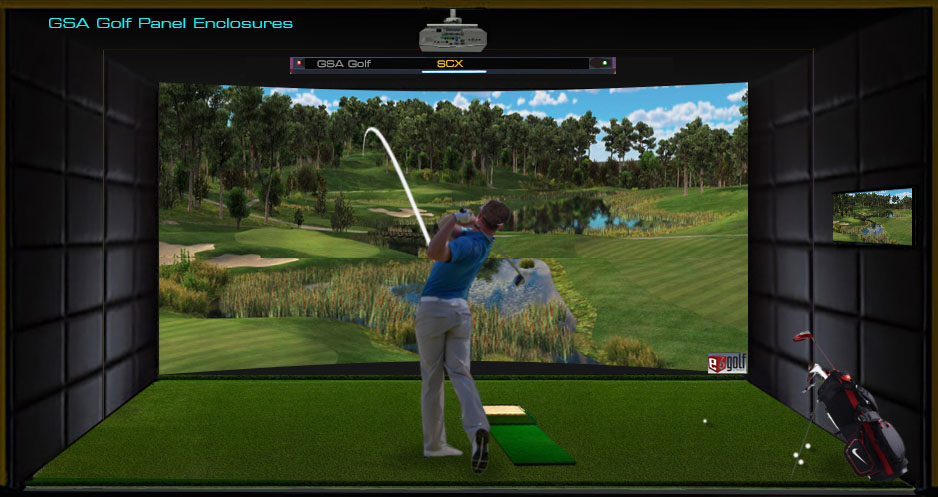 Padded wall enclosures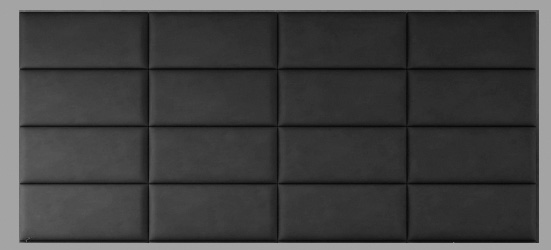 16 black 20oz fabric sound and light absorbing padded panels
Custom sizes available - standard size 12ft x 9ft
$1,999
32 panels for 2 walls
$3,699

---
Home/Studio track drape enclosures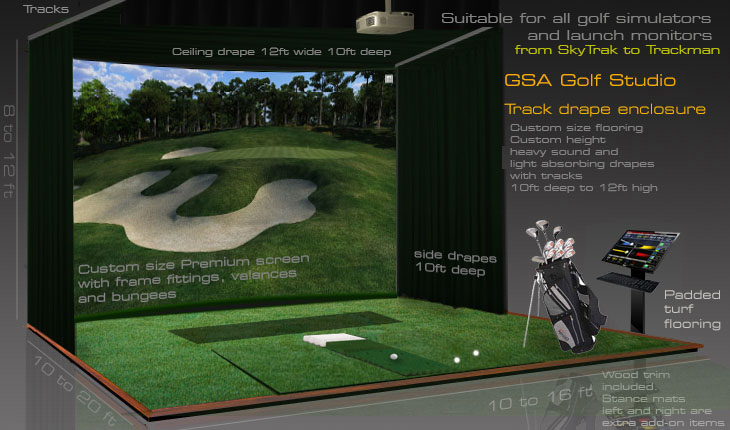 Track drape studio enclosures just $3,199
Size : up to 15ft wide, 12ft deep, 10ft high
Enclosure kit includes:
1. Custom size impact screen with tube frame kit
(excluding including tube/pipe lengths and wood flooring transition trim)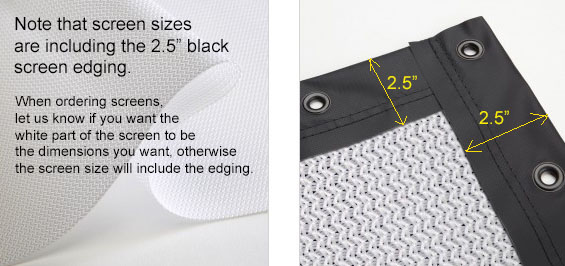 Custom size screen with bungee cords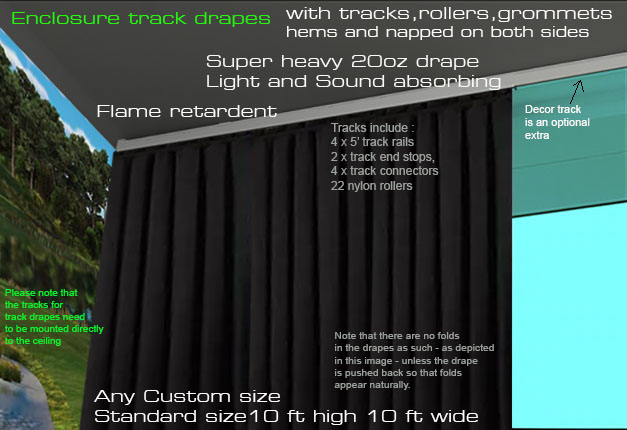 2. Dual track heavy sound and light absorbing (fire retardant) black drape 10ft deep with tracks

3. Ceiling drape up to 15ft wide 10 ft deep

4. Full padded turf carpeting throughout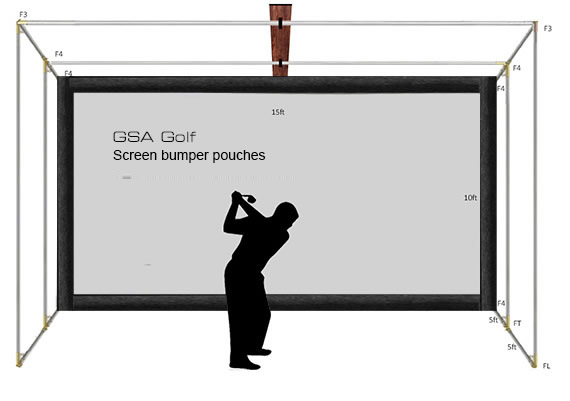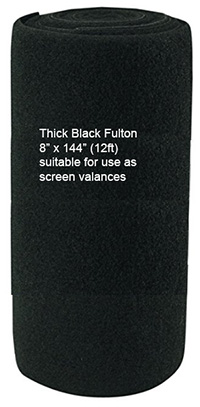 5. Screen valance rolls
Track drape studio enclosure
Price $3,199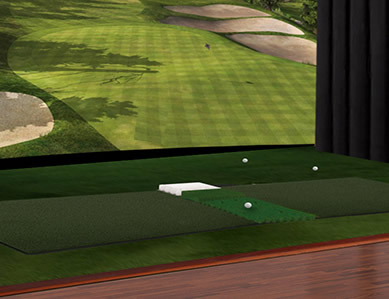 Add Fairway, rough, sand hitting surfaces for $300 extra
Track drape studio enclosure
with the extra fairway, rough and sand panel
Price $3,499
Add curved screen for $500 extra
Track drape studio enclosure
with the extra fairway, rough and sand panel & curved screen
Price $3,999
What's not included with the GSA Golf Studio enclosure due to extended length transport costs
1. 10ft length EMT 1 inch diameter screen frame tubing and floor/ceiling mounts
can be purchased at Lowes or Home Depot for around $7.00 per 10 ft length.
2. Wood flooring transition trim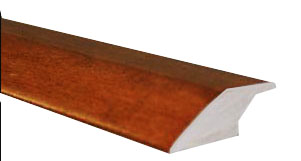 can also be purchased at Lowes or Home Depot for around $37.00 per 6 ft length.
---
Track drapes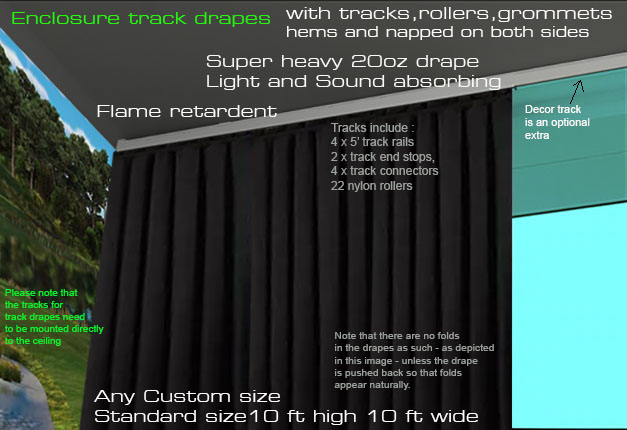 If you need to pull the drapes back to free up the golf simulator area for other uses you can use drapes on a track
We can supply the drapes with track grommets and lower hems for this purpose if required
Heavy Track drape - fire retardent, sound and light absorbing - with grommets, hems and pockets
Customer review:
Just wanted to let you know I received the drapes and curtain tracks from the order below. I have mounted them and they work GREAT! They far exceed my expectations and are fantastic. They are long enough and heavy enough that I neither have to use weights at the bottom, nor any other reinforcement at the sides. Nothing gets past them. I have cars parked adjacent to the curtains on both sides and there is no need to further protect the cars - the curtains provide all the protection needed. Jim L. Florida
Set of two 5.25 ft wide, 9 to 10 ft high with 2 x 5ft tracks
Price : $ 699.00
Set of four track drapes 10.5 ft wide, 9 to 12ft high with 2 x 10ft tracks
Price : $ 1,199.00
---
Canopy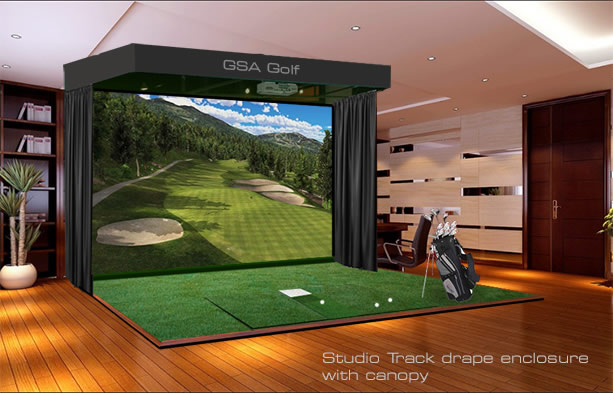 Note that we don't supply ready made canopies but this is how you can build one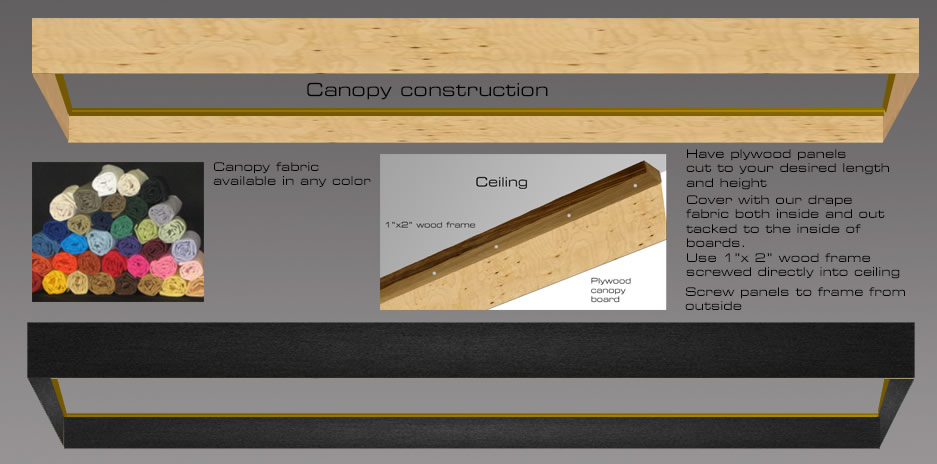 ---
Suspended Canopy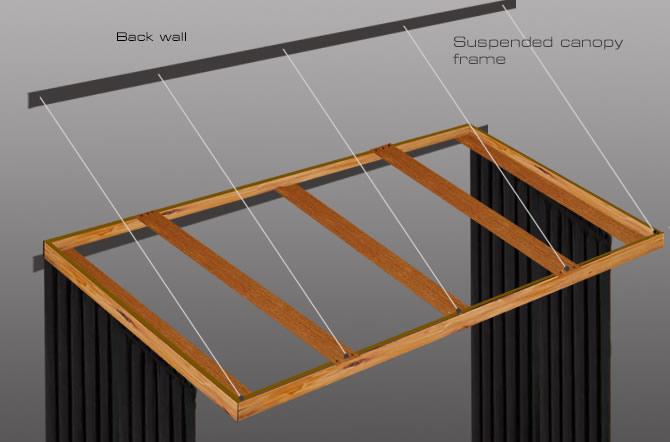 If you don't have a ceiling suitable for mounting the canopy,
you can make up a frame like this out of 2 x 4" and 2 x 8" wood beams and use suspension cable systems secured to the back wall.
Drape tracks can be then mounted directly to the frame and the center beam can be used to mount the projector, lights and cameras.
The fabric covered canopy panels and ceiling drape can also be mounted to the frame
---
Padded grass turf

Padded grass turf. Color: Solid Green
15ft * 15ft Price $899 + $269 shipping
12ft * 15ft Price $799 + $269 shipping
12ft * 12ft Price $599 + $269 shipping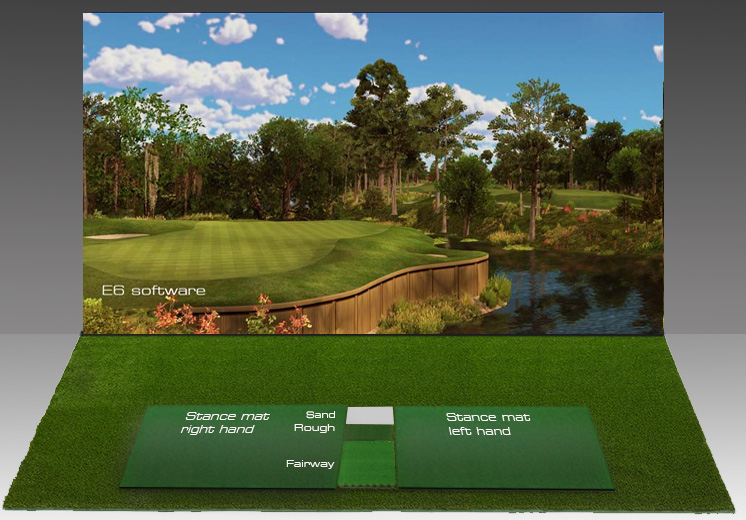 Add additional stance mats for just $160 each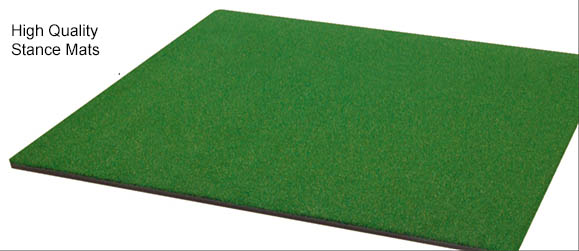 Stance mat price $ 160
plus shippng

Click on above image to see our showroom flooring layout and dimensions.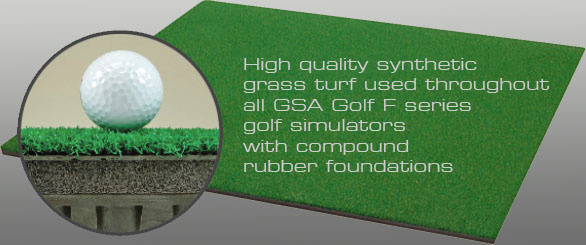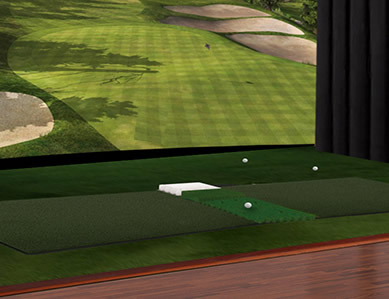 All F series golf simulators include simulated rough,sand and fairway surfaces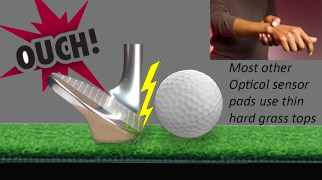 GSA Golf PX mats - in contrast - use long grass fiber mats that allow the club to get under the ball for a true feel
GSA Golf PX mats use FiberBuilt grass panels
Additional fairway, rough and sand panels are available at www.Fiberbuilt.com for around $60 each
For a professional look, the entire flooring should be made up of these stance mat sections
You will require 16 of these for a good 16 * 16 ft area.
Price would then be (16 * $160) $2,560 plus shipping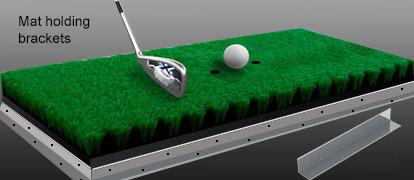 Aluminum or steel 1/2" angled extrusion can be used to anchor the grass panel hitting surfaces to the floor for a more rigid hold.
Extrusion is not seen when stance mats are buffeted up against the grass panels


Click above image to see our show room layout and suggested mat flooring layouts
---
Golf Simulator Impact Projection Screens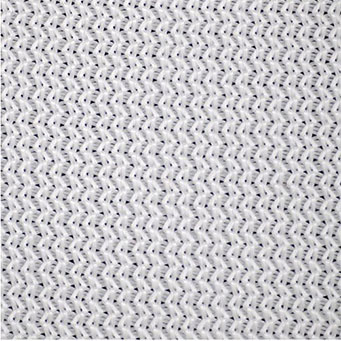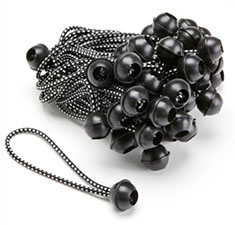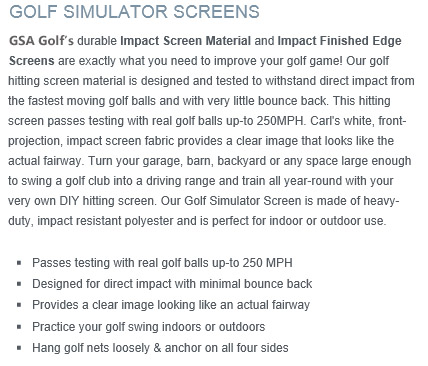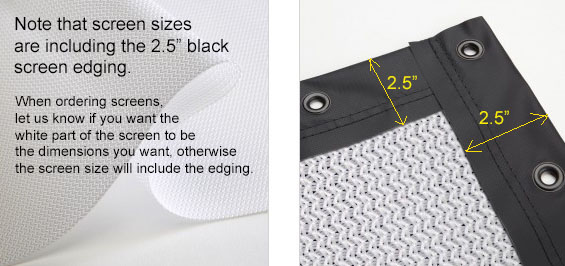 GSA Golf custom size impact projection screens with edging, grommets and bungee cords.
Note: max height of screen is 10 feet. When ordering call or send required dimensions via e-mail to us
Price incudes 50 bungee cords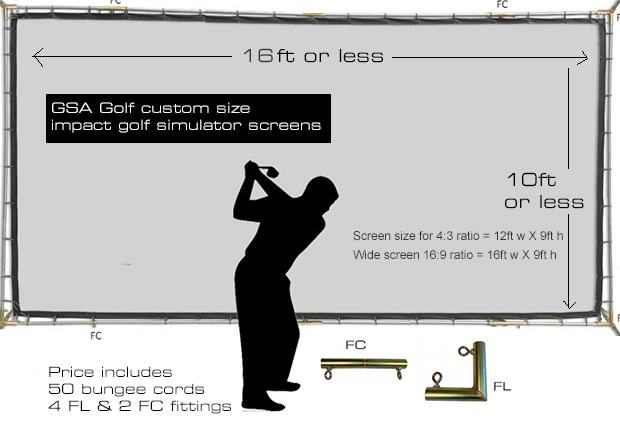 Standard size for 4:3 ratio is W 12ft x H 9ft
Wide screen size for 16:9 ratio is W 15ft x H 9ft
Recommended : use 15'x9' so that you can swap between standard and wide screen depending on your projector
Note! Custom sizes can be made to order at no extra cost
Price includes screen valance rolls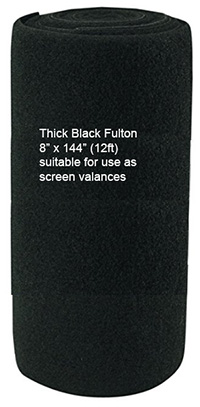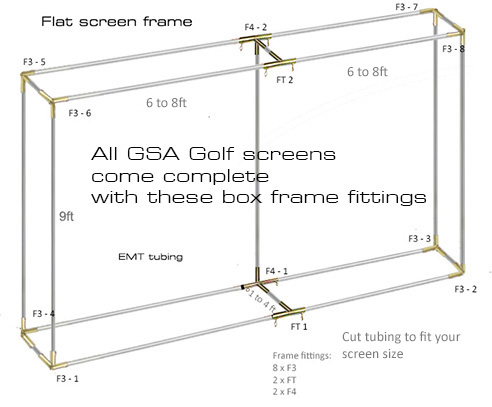 and box frame fittings (8 X F3, 2 FT and 2 F4)
Price for 15'x9' or any custom size : $ 799.00
Price for 15'x9' or any smaller custom size screen without tube frame fittings: $ 699.00
i.e. you won't need tube fittings if not using tube frame cage
---
Home theater quality premium image impact screens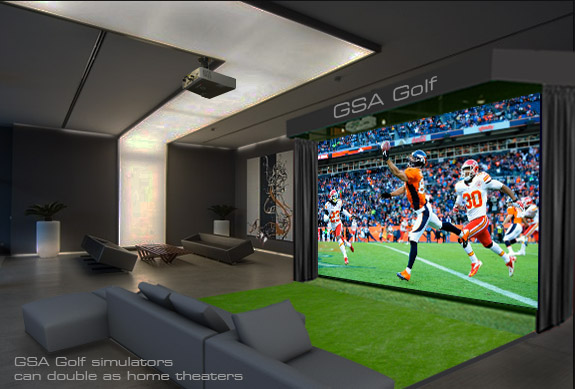 Contact us to purchase
Note that premium impact screens cannot be shipped folded and so are shipped on a roll.
The height limit for standard ($75) shipping is 103 inches (8.5ft).
If higher screens are required (limit 10ft) then the screens are shipped freight. Average freight cost is around $200
---
Cage frame and drape enclosure
Full padded turf carpeting throughout with custom size impact screen
Complete cage enclosure kit excluding EMT pipe but with all pipe fittings
Price $3,199
without the extra fairway, rough and sand panels
Price $3,399 excluding EMT pipe
with the extra fairway, rough and sand panel
Cage frame enclosure fittings

GSA Golf cage tube frame kit
Consisting of multi way fittings for 1 inch tube
1 inch conduit tubing is available at most Home Depot and Lowes stores in 10 ft lenths for around $7.00 each.
Cut to size or extend tube lengths using the coupling. Use conduit clamps to secure to floor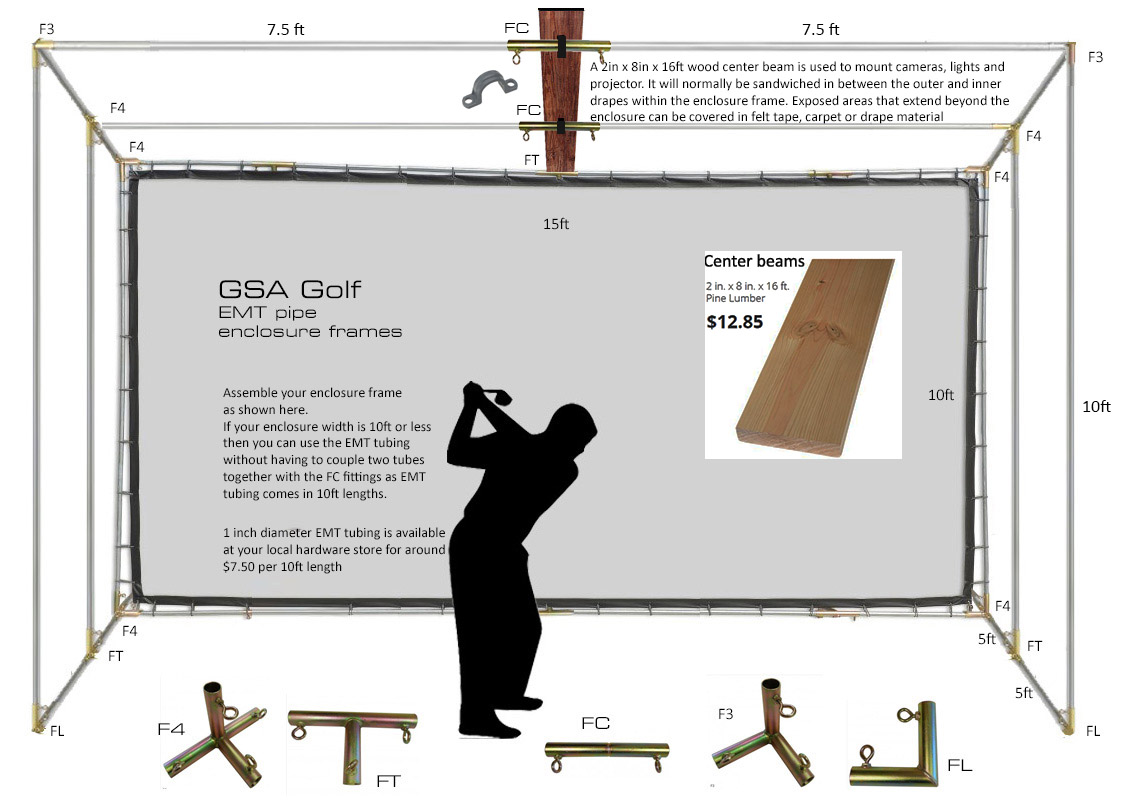 -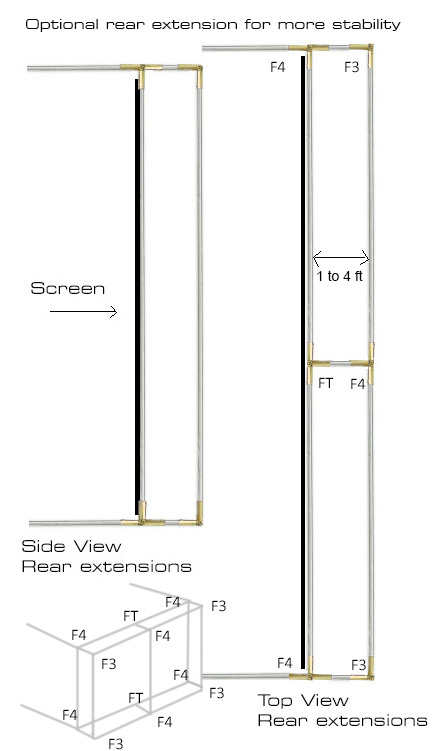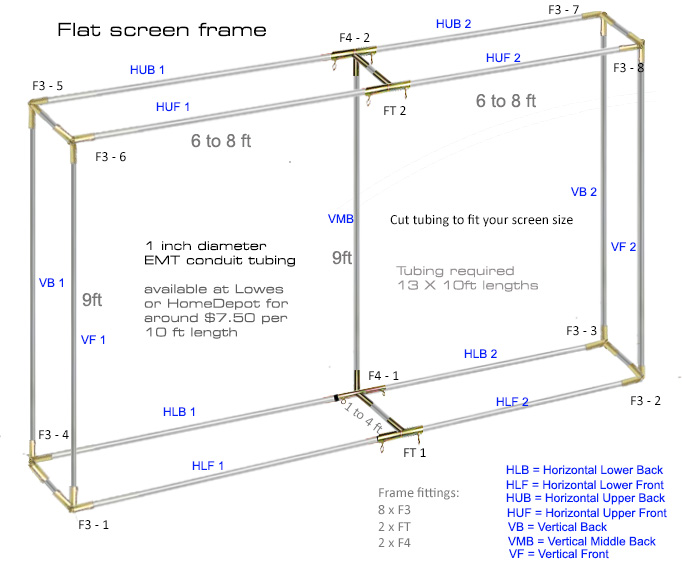 You can make your enclosure any size you like by adding additional pipe lengths with the FC connectors or cutting down the standard 10ft pipe lengths to your requirements.
The above image shows frames for a 10 foot high, 10 foot deep and 15 foot wide enclosure
Standard enclosure depths are 5ft, 10ft and 12 ft.
Rear extensions can also be added for additional stability

Number of EMT 10ft tubes required:
for a 10'w 10'h 10'd enclosure without rear extension = 14
for a 10'w 10'h 10'd enclosure with rear extension = 19
for a 15'w 10'h 10'd enclosure without rear extension = 16
for a 15'w 10'h 10'd enclosure with rear extension = 24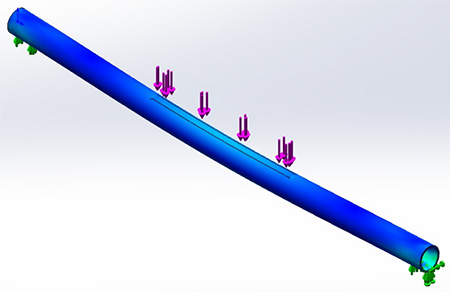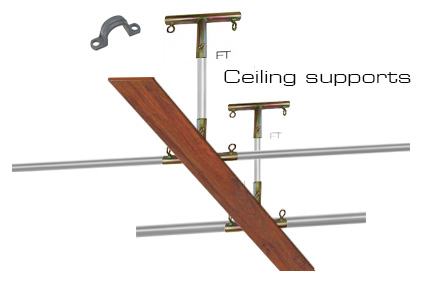 Note that pipe/tubes will start to sag and bend under the tension of the screen and the weight of the drapes and projector if too long
To prevent this, use ceiling support mounts along the center beam.
These can also be made out of the FT fittings using steel pipe/tube cut to lengths with brackets
Frame fittings are $ 18 each.
Set of 16 standard enclosure frame fittings without rear extensions are
4 FC + 2 FL + 2 FT + 2 F3 + 8 F4 = $324
Set of additional 8 rear extension fittings are
2 FC + 2 F4 + 4 F3 + 2 FT = $180

Full set of all tube fittings
Price : $ 499.00
Note: Price of tubing, tube pipe insulation, and center beam wood not included as these items are too long and thus too expensive to ship and should be purchased locally at your Home Depot or Lowes hardware store
Total cost of tubing and wood beam is around $170
Note: The tube fittings kit is very heavy so shipping charges are $100
Call or Email us to purchase individual tube fittings
---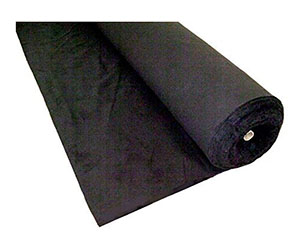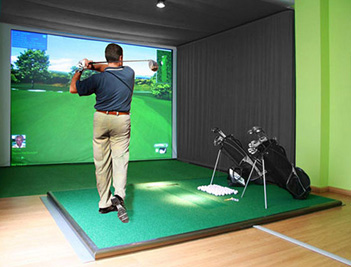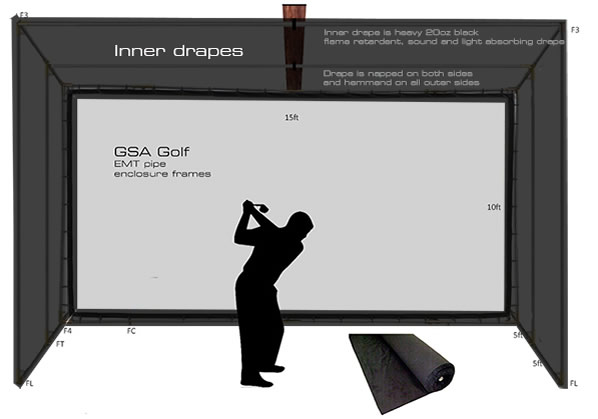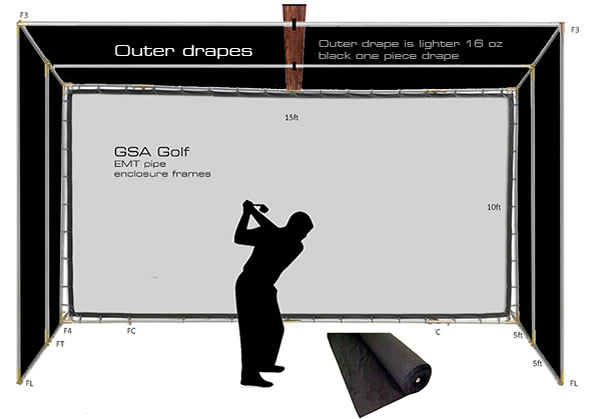 Double layer drapes
An alternative method of covering the exposed piping on the inside is to use two drape layers.
One layer for the outside and one for the inside.
Two 10ft drape rods secured to the top left and right pipe frames are used to support the inner drape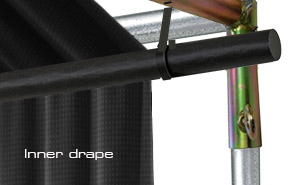 Two heavy duty (120lb tensile strength) black plastic ties are used to fasten the inside drape rods to the pipes at both ends
The inner drape is then simply hung through and over the two rods and fastened with cable ties to the bottom pipes
Once the inner drape is up and hanging you can add more ties - inserted through the drape - to the rod and remove the two outer ties
so that the drape can be drawn further forward to cover any exposed piping.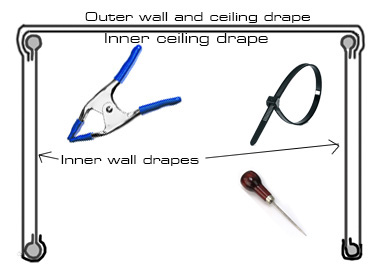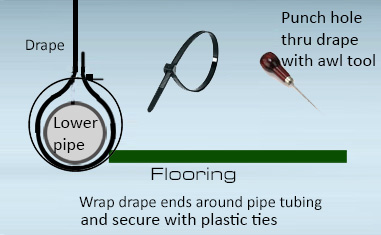 If using drapes rods is not preferred, then the inner wall drapes can be wrapped around the piping and held in place with black plastic ties.
First mount the left and right inner wall drapes - use clamps to temporarily hold the drape in place over the pipe frame - and tie the drape ends to the piping with plastic ties spaced at around a foot apart.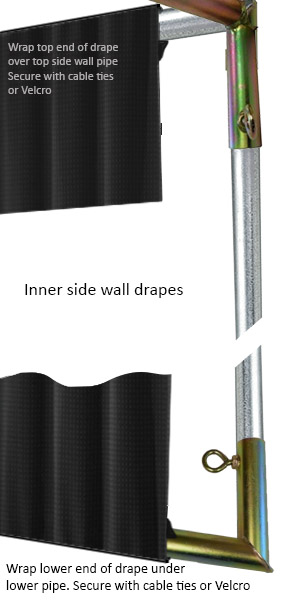 -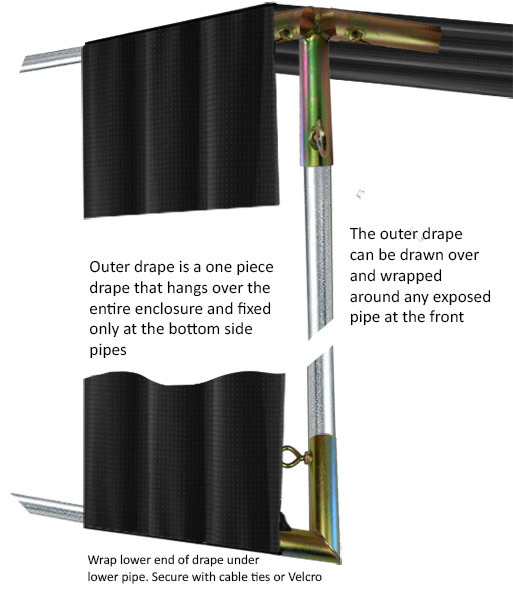 Use the supplied awl hole pin puncher to pierce a hole through both ends of the drape that is wrapped around the pipe
and thread the tie through the drape holes and around the lower and upper frame pipes.
The one piece outer wall and ceiling drape simply hangs over the entire enclosure frame and again is secured to the lower frame pipes with ties
Screen valance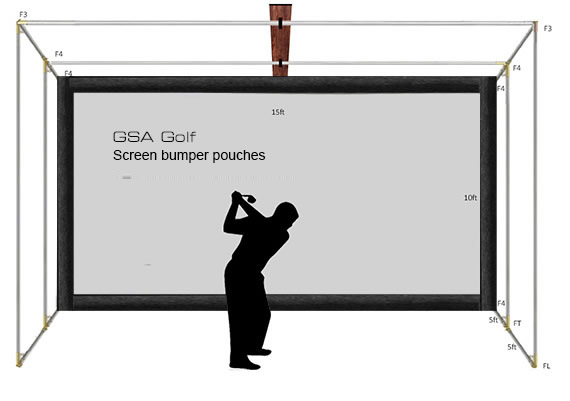 The screen bungeee cords and tubing are covered with a screen valance made of a number of 12ft x 8 inch wide black fultron strips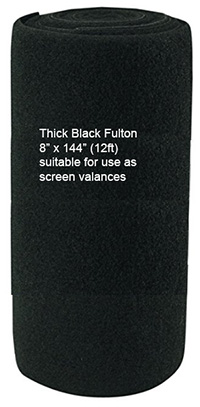 These thick black Fulton lengths are ideally suited for screen valances and give the screen a professional finished look
Set of 4 black Fulton rolls (48 ft) for screen sizes up to 15 ft wide and 9ft high
$ 199.00
These screen valances can also be used to cover any exposed tubing if using a tube frame enclosure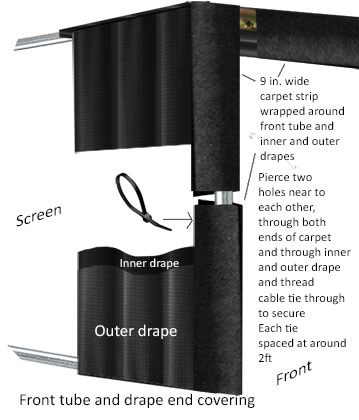 ---
Track drape enclosures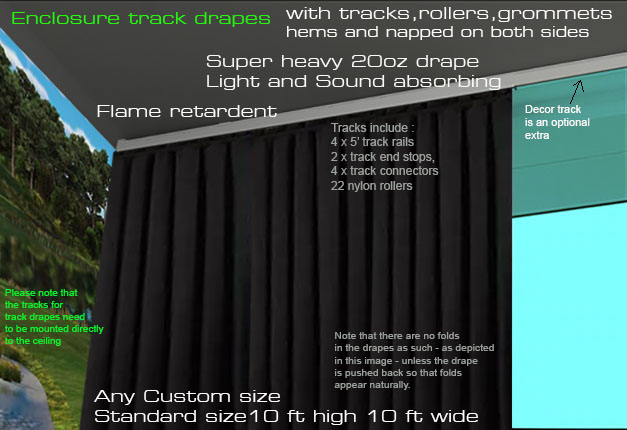 If you need to pull the drapes back to free up the golf simulator area for other uses you can use drapes on a track
We can supply the drapes with track grommets and lower hems for this purpose if required
Heavy Track drape with grommets and pockets
Set of two 5.25 ft wide, 9 to 10 ft high with 2x5ft tracks
Price : $ 699.00


Note that free hanging track drapes may require lead weights placed in the bottom hems to keep the drape taught
---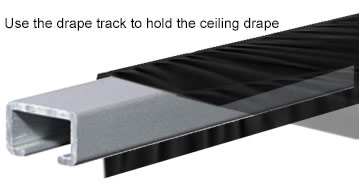 You can use the drape track to hold up the ceiling drape.
To do this, first mount the tracks loosely to the ceiling using just two screws at both ends.
Note that the drape tracks come in 5ft or smaller lengths so you will doing this in stages if your ceiling drape is 10ft or more deep.
Then - with the help of second person holding the weight of the drape - pass one end of the drape between the track and ceiling while allowing enough drape width to cover the two ends of the track.
Leave some overhang and screw the other track screws through the drape to the ceiling so that the drape is pinched between the track and ceiling.
Remove the two end screws and spread the drape over the track ends and again fasten with the screws.
Do the same for the other side ensuring the ceiling drape is straight and not too tight.
It's recommended to loosely hang a drape ceiling when using side track drapes so that the drape absorbs the energy of high lofted balls and don't hit a hard ceiling.
Ceiling drape - black 16 oz napped both sides, hemmed on all sides
Custom size up to 15ft x 10ft
Price : $ 229.00
---
Track drape enclosure screen mounting
As track drape enclosures don't have a full enclosure frame cage,
a method has to be devised to suspend and mount the screen without this frame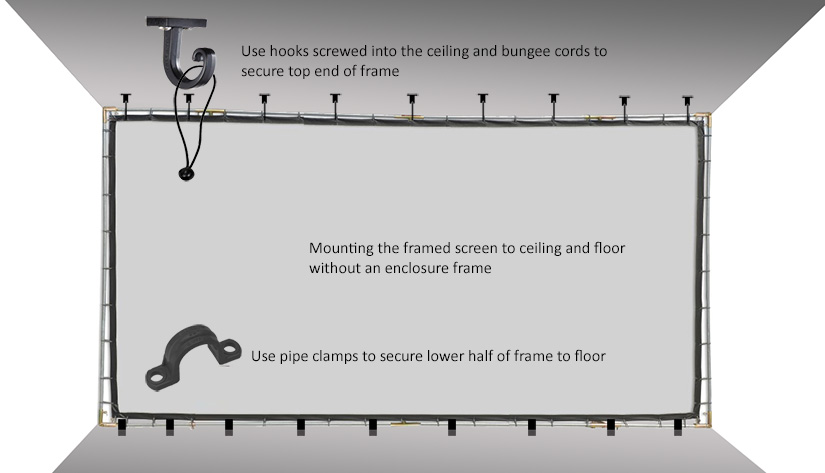 The screens can be mounted without an enclosure frame directly to the floor and ceiling using clamps, hooks and bungee cords
You can also mount the screens like this without a screen frame but note then that there will be no side tension on the screen so some waving might appear in the screen
Mounting screen using rear extension frame only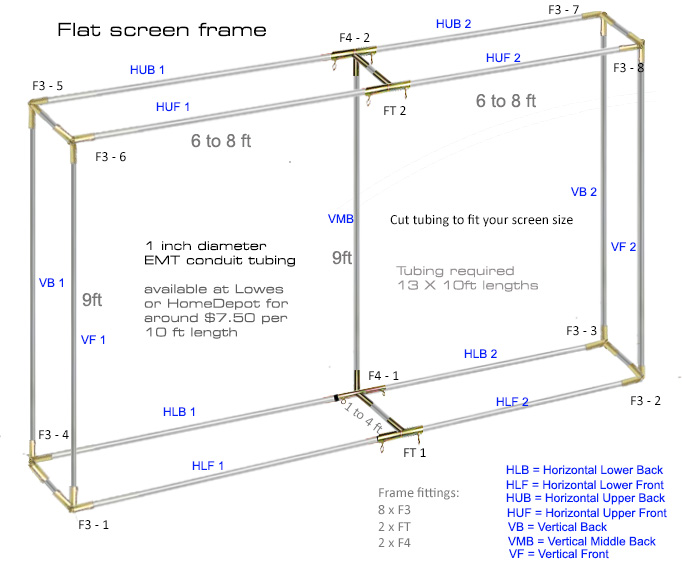 Alternatively, if you have enough room behind the screen, you can mount the screen on just a rear extension frame
The rear frame would probably have to be secured to the floor and rear wall with pipe clams
Set of 12 rear flat screen tube fittings
8 F3 + 2 FT + 2 F4 = $199
---
Curved screens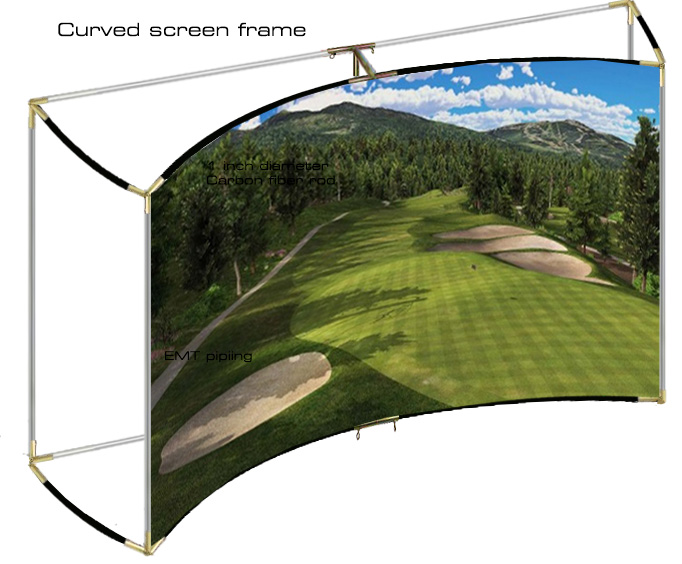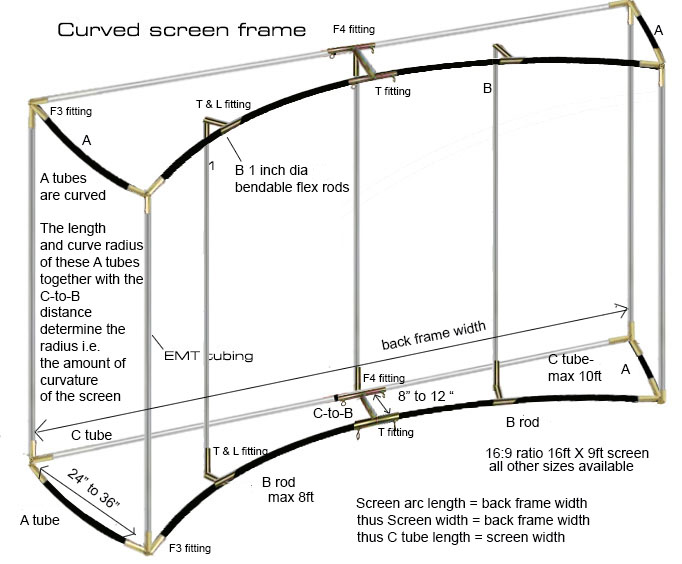 If you'd like a curved screen then you can use the standard frame pipe fittings with bendable carbon fiber rod
Quote from "www.draperinc.com"
Curved projection screens offer several key advantages over flat projection screens.
A curved screen helps offset pincushion distortion from a horizontal expansion lens, and also wraps the image around your periphery more than a flat screen for greater engagement with your projected image.
In addition, the curved image is subject to less ambient reflected light from your room, while your projector's light is more accurately reflected by the perfectly smooth viewing surface for an ideal picture.
The amount of curvature is determined by the length of the "A rods" whereas the width of the screen is determined by the two "B rods"
"A rods" would normally be in the 3 ft range and "B rods" in the 7.5 ft range for a total width of 15 ft
Note that other golf simulator manufacturers would charge you an arm and leg for curved screens (upwards of $10,000 !)
Our price for a 15 ft wide, 9 or 10 ft high curved screen with double grommets, bungees and fixtures (excluding EMT tubing but including the A and B rods)
Price just $1,499
---
Drape material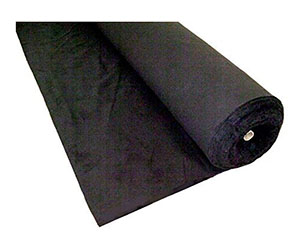 GSA Golf non reflective fire retardant sound / light absorbing black drape material
The 20oz drape is heavier and more light and sound absorbing but is only available in 63 inch (5.25ft) widths
whereas the 16oz drape is available in 9' 10" widths
Drape length is suitable for 2 * 10 feet high sides and 15 foot wide ceiling
Simply hang the drape over the entire frame and secure with ties to prevent balls hitting the ceiling and walls of your room
Price is $ 28.00 per yard for both 20 oz drape

20 oz inner layer drape 5.25ft width
12 yards (36 feet) for 15 ft wide enclosure and two sides of 5.25 inch deep and 10ft high enclosure - inner layer, 20 oz:
$ 336.00
16 oz outer layer 9' 10" width
12 yards (36 feet) for 15 ft wide enclosure and two sides of 9' 10" deep and 10ft high enclosure - outer layer, 16 oz:
$ 336.00
Note that for double layer inner and outer skinned enclosures you will need to order 1 drape length of the 16oz drape for the outer layer
and 2 lengths of the 20oz drape for the inner layer if the enclosure drape is to be 10ft deep


Ceiling drape can also be ordered with 4inch pockets at both ends so that conduit pipe inserted into them will counter weight the hanging drape and hold it in place over the rods
20 oz Ceiling drape
18 ft wide and 5.25ft deep
6 yards (18 feet) for up to 17 ft wide enclosure 5.25ft deep : $ 168.00
6 yards (18 feet) for up to 17 ft wide enclosure 5.25ft deep with weight pockets: $ 219.00
If you require ceiling depths greater than the standard 9.10ft or 5.25ft deep then we can custom sew drape together to achieve this or you can add more drapes to the order
Add $50 for each sewn join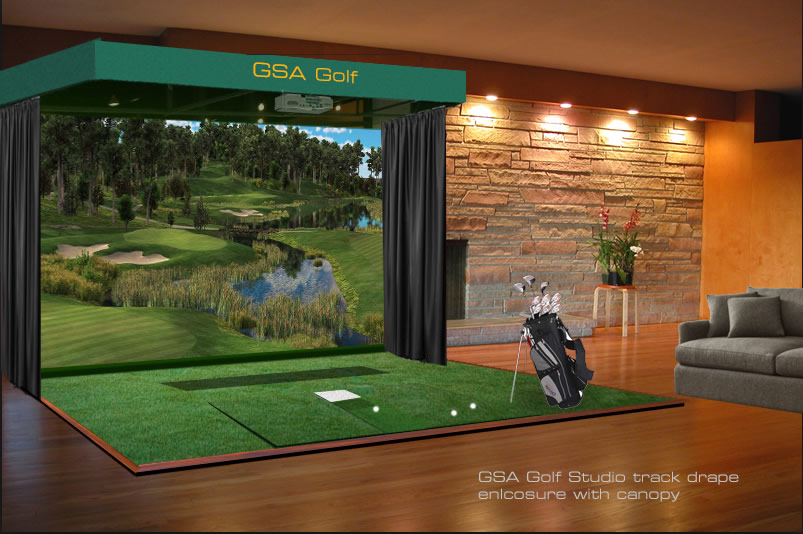 20 oz Backdrop drape sound and light absorbing - flame retardant
5 yards (15 feet) wide, 5.25ft high
$ 140.00
---
Floor scan area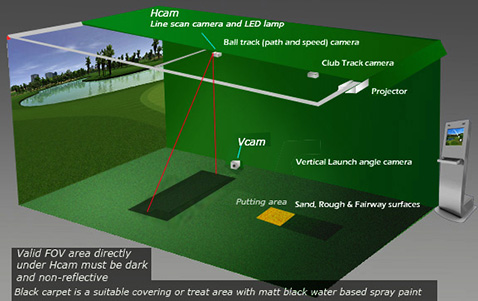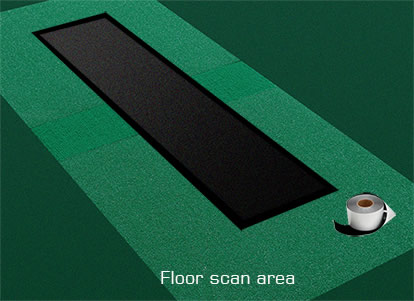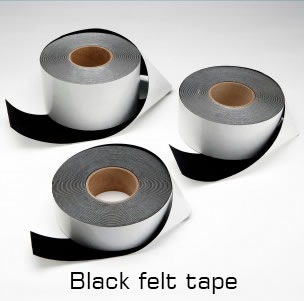 The flooring area directly under the line scan camera, IR lamp and Hcam camera must be dark and non reflective.
It may be possible to treat the floor turf area so that it is non-reflective but most use the supplied black carpet strip (3ft * 5ft)
Note that treating the flooring in the scan area requires masking off the area and spray painting with a matt ( flat ) black spray.
In addition, you have to use visible halogen lamp lighting as the IR LED illuminator is too strong.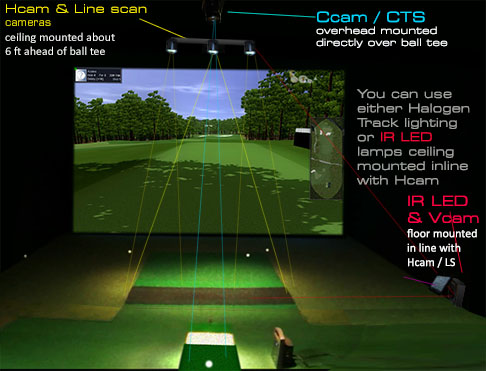 The above image shows what the spray painted scan area treated method looks like.
It's advantage is that there is no lip in the flooring.
When using the supplied non-reflective black carpet,
you can use 4 inch wide black felt tape to transition the carpet edges to the turf flooring
In case you need to purchase the scan area black non-reflective carpet and felt tape extra:
Price : $ 120.00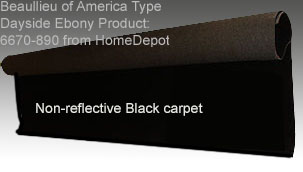 A recommended carpet is : Beaullieu of America - Type: Dayside Ebony, Product 6670-890 which is available at your local Home Depot store at around $4.00 a per ft 6ft wide.
---
Wood panel solid wall enclosure

GSA Golf solid wall DIY enclosures from $ 2,499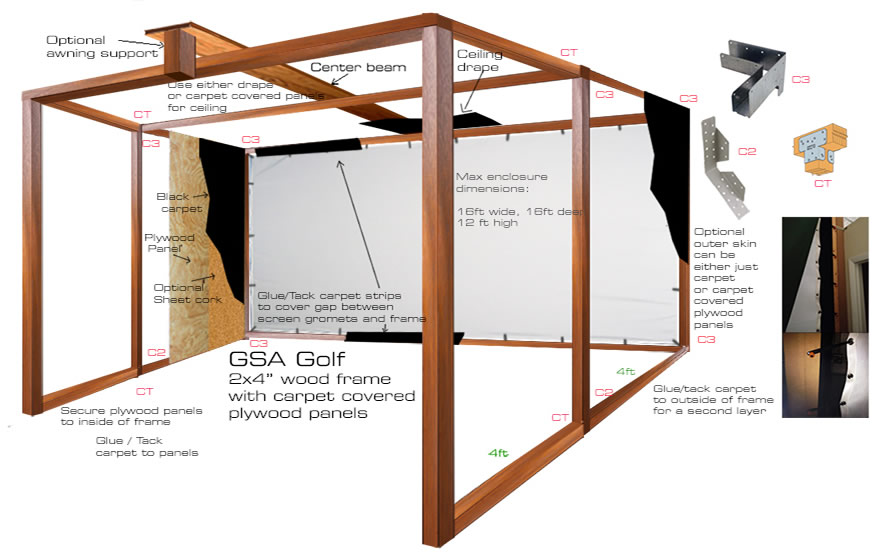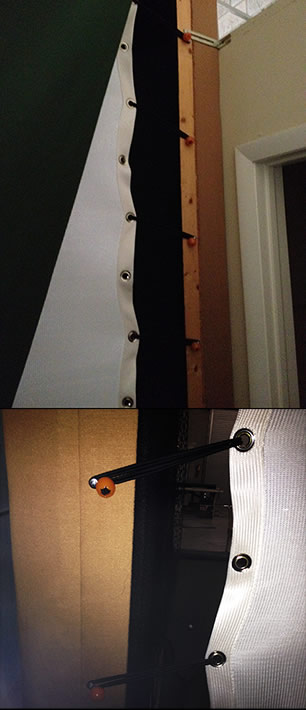 An alternative to the tube/pipe frame is to use 2"x4" construction lumber wood.
It's main advantages are
1. Stronger more rigid frame structure with solid padded walls
2. Cleaner look
3. Relatively inexpensive
Disadvantages:
More assembly time
Lumber for a 12-16 ft wide, 9-10 ft high, 12-16ft deep enclosure will cost aprox $100
Plywood panels aprox $200
Wall panel carpet approx $300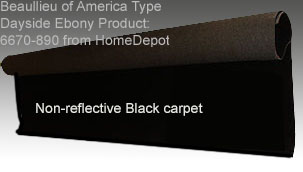 A recommended carpet is : Beaullieu of America - Type: Dayside Ebony, Product 6670-890 which is available at your local Home Depot store at around $4.00 a per ft 6ft wide.
Fire retardant ceiling drape $150
Optional sheet cork panel backing (for further sound and shock absorption) around $300
Optional awning panel $300
Total price then is aprox : $ 1000
Note that 2x4 lumber is available in lengths up to 16 ft so you can make your enclosure up to 16ft wide.
Also note that the area immediately behind the impact screen must be free for screen impact give so you can't use vertical support beams immediately behind the screen area.
For every 4ft of depth a new 4ft x Height frame section is required. The above image shows an 8ft deep enclosure using two frame sections per side.
If you only require a depth of 4ft then only one frame section is required. For a 16ft deep enclosure, 4 frame sections are required per side.
Other than the screen and bungee cords, all parts for this enclosure are available at any good hardware store (i.e. Home Depot or Lowes)
If don't want to build this yourself, you can usually find a good local carpenter to make it up for you.
Assembly and construction time shouldn't be more than 3 days (at the most) so even with an hourly rate of $50.00 it won't cost you an "arm and a leg" i.e. the cost won't be more than $1,200
Oh - and by the way - just in case you were wondering where that old English expression comes from, here's the answer:
Back in the day, before the invention of photography, you'd have to commission an artist to paint yourself or a loved one for a rendering.
Prices for such work would vary greatly depending on whether it was just a face portrait or a full figure rendering including arms and legs.
Adding "arms and legs" would thus be far more expensive.
So now you know.
Padded wall enclosures
Instead of lining the walls of the enclosure with carpet
you can also use padded wall panels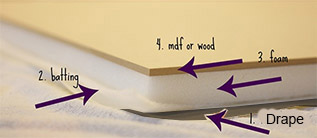 You can save a lot by making the panels yourself using our black napped drape material stapled to foam covered wood panels.
The finished panels can be adhered to the walls using Velcro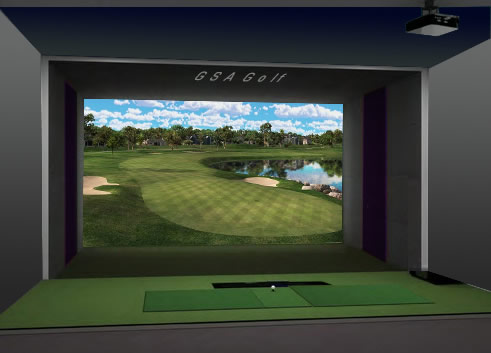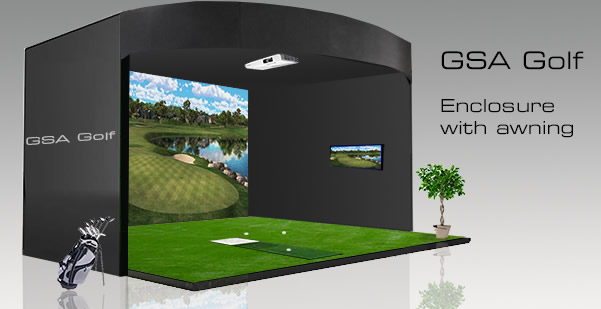 The completed solid wall enclosure with flooring and awning
---
HDE
Hanging Drape Enclosure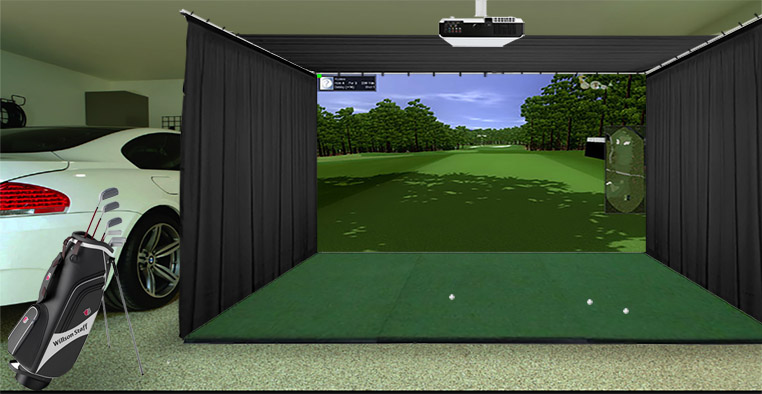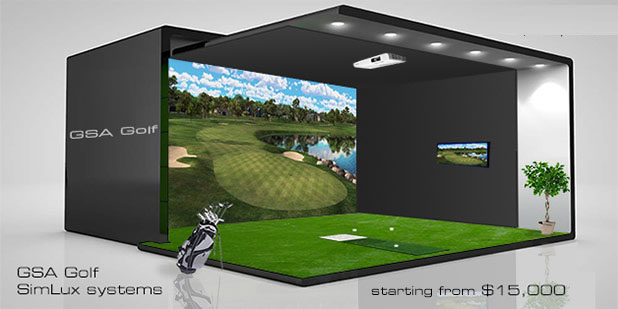 GSA Golf SimLux
custom High-End solid construction enclosures
GSA Golf solid construction enclosures feature laminate plywood, cork, carpet padded walls and ceilings, grass fiber hitting surfaces and grass turf rubber laminate flooring
Prices from $5,000 to $15,000 for our SimLux enclosures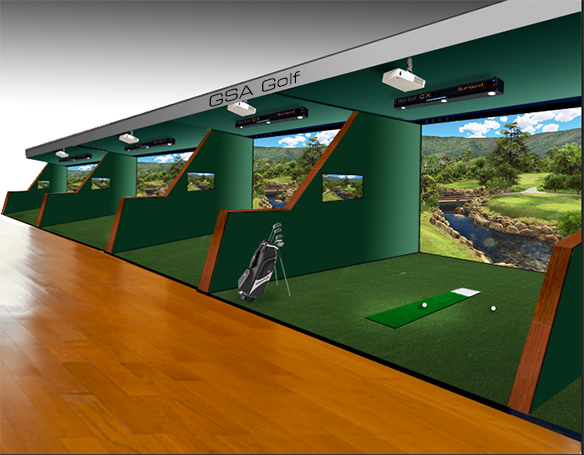 Bays for commercial indoor golf facilities


HDE hanging drape enclosures from $1,499
Our HDE ( hanging drape enclosure) is the easiest and most cost effective method of making a golf simulator enclosure
Drapes and screen are simply hung from ceiling mounted rods without the need for a frame structure
Drapes and screen are supplied with grommets and bungee cords for mounting
HDE enclosures are suitable for both indoor home rooms and garages and can be custom made to your size requirements at little or no extra cost.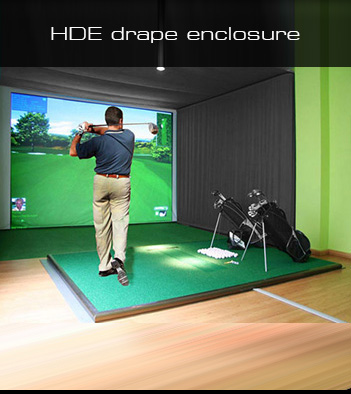 HDE enclosure Price
ie 10ft deep * 10ft wide * 9ft high
including custom size high quality impact screen with bungee cords, drapes and fittings
but without flooring
$ 1,499.00
---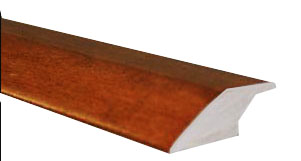 Wood floor to turf transition trimming
Price $37 per 6 foot length
Available at HomeDepot or Lowes hardware store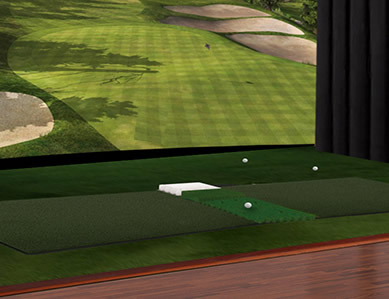 All F series golf simulators include simulated rough,sand and fairway surfaces
Additional fairway, rough and sand panels are available at www.Fiberbuilt.com for around $60 each
---
Computers

GSA Golf Simulator PCs

Our new standard PC is the HP Omen gaming PC
with Radeon RX 480 graphics card, Core i7-6700, 8GB RAM, 1TB HHD and 256GB SSD and Windows 10



GSA Golf HP Omen gaming PC with 21 inch monitor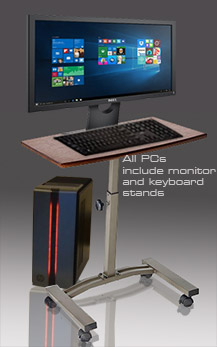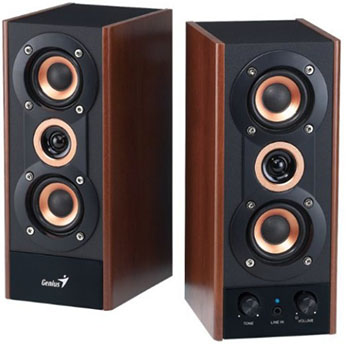 This PC includes 21 inch monitor, monitor / keyboard stand and super sound system
Price: $1,999.00

GSA Golf Custom built gaming PC
With this PC, all software is pre-installed and can run up to 8 cameras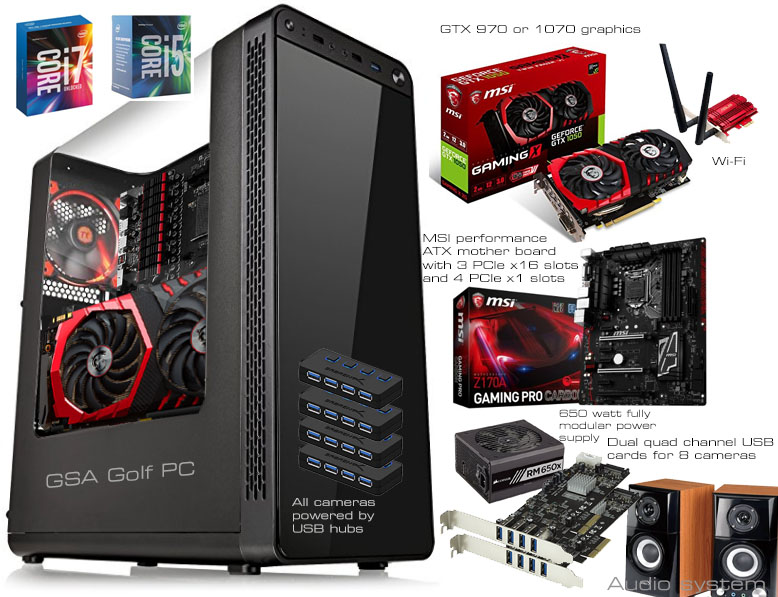 The GSA Golf custom built PC features 8 dedicated channel USB ports for up to 8 cameras
with GTX 1050 graphics card, Core i7 Intel processor, 8GB RAM, 1TB HHD and Windows 10
Price: $2,599.00
GSA Golf Custom built C with Dell 21.5 inch touch screen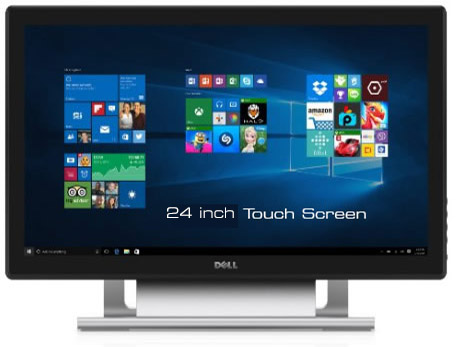 GSA Golf Custom built C with Dell 21.5 inch touch screen
Price: $2,799.00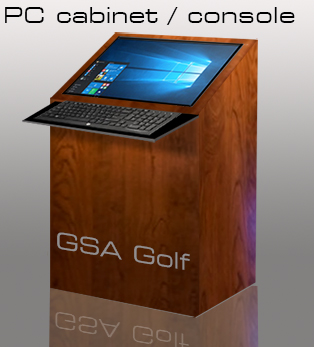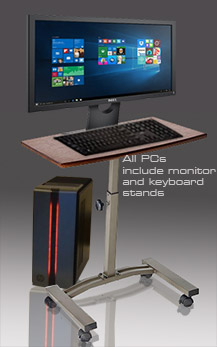 Optional extra PC walnut cabinet available for $699. Otherwise, all PC's come with monitor and keyboard stands at no extra charge when ordering full scale systems

Add our quad channel USB host adapters to run up to 16 cameras
Contact us to purchase


Recommended bright short throw golf simulator projectors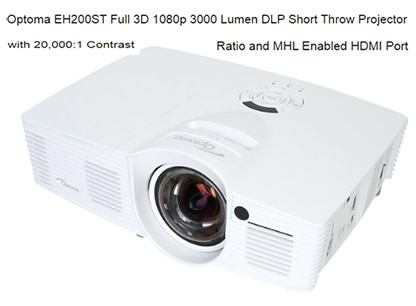 -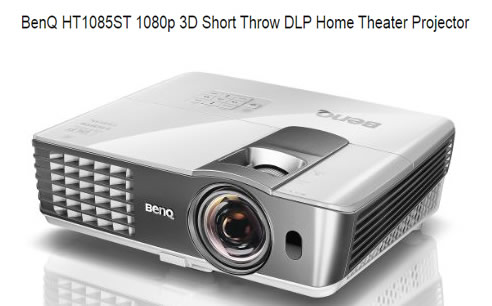 Prices from : $ 1,199
Available on Amazon
For a 16:9 ratio screen (15ft wide X 9 ft high) the projector is ceiling mounted approx 7.5ft away from the screen with these projectors

Useful YouTube videos explaining HD resolution
720p vs 1080p
4k vs 1080p
4k