---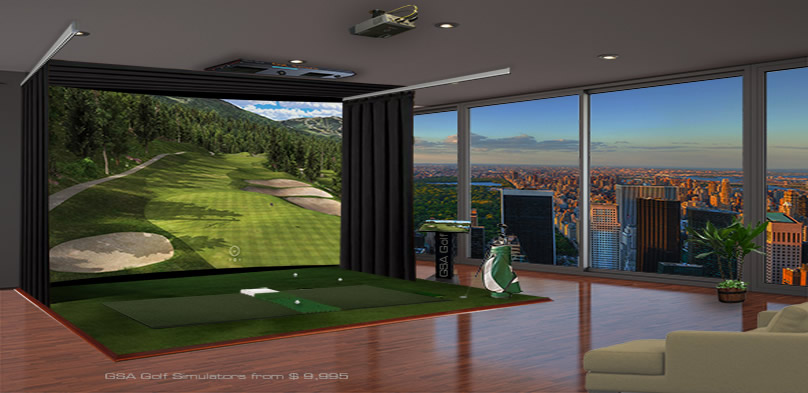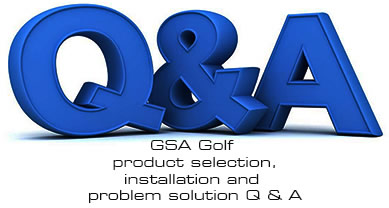 ---
Installation support Q & A

Please click on the above button for technical installation Q & A and Help
---
Software

Q: Which is better: E6 or TGC ?
A: That's a matter of personal preference.
Both are very good systems with excellent graphics and ball physics.
We recommend first trying out both systems as supplied before making a decision to purchase the full versions.
Feedback from customers are mixed on this question.
Some say the graphics in TGC are a bit dull or too realistic while others say the graphics in E6 are more vibrant, vivid and lively.
TGC has an enormous selection of golf courses (over 100,000) and the ability to create your own courses
while E6 has only around 100 courses.
Some say though that because most of the TGC courses are made by private customers there's not the amount and attention to detail that E6 courses feature.
One major plus for TGC in our opinion: The voice commentary feedback you get with TGC on every hole and shot is very entertaining
Other than the occasional tweety tweety bird, E6 seems very quiet in comparison.
Once again this is a matter of preference though.
TGC also offers a course designer so you can create your own courses.
Q: Which software is shipped with the systems?
A: All major systems in the $10,000 pluse range (F-series etc) are shipped with
1. TGC 100,000 course software or E6 15 golf course software
2. RedChain single course software
All lower cost systems are shipped with TGC 15 course software and RedChain single course software.


---

GSA Golf Products and Services
Q: I want to start a commercial indoor golf facility: which system do you recommend?
A: The system we normally recommend for commercial use is : VisTrak SCX
Q: I want to work on my game and want the most accurate system available : which system do you recommend?
A: VisTrak
Q: How accurate is the system ?
A: Accuracy of our camera club tracking systems are spot on and in a league of their own compared to other systems

"The CX3 / F3 is as realistic a ball flight as I have ever seen!"

01/16/2019

Russell Quigg - "On the Tee" commercial inddor golf center, Massachusetts

Accuracy of the ball tracking cameras depend on the accuracy of the user defined calibration
The above recent emailresponses from a customers strongly indicate that our default calibration is also very good though.
Q: How complex is it to setup the system?
I'm hoping you don't need a Masters degree in engineering science to do this
A:
No - No worries here. An average Bachelors degree will suffice every-time
Okay - kidding apart - while our camera systems are not exactly "Plug'n'Play" we do support and hand hold every customer during the installation process.
Depending on your technical abilities, installation maybe straight forward and simple
but if not - then we are always here to help via e-mail support.
Q: What kind of support can I expect from GSA Golf?
A: as stated above, we offer free remote access support, e-mail and phone support.
Q: When I order a system, what is the delivery time?
A: Usually 2 to 10 days
Q: When I order a system, what guarantee do I have that I will actually get it?
A: This question was posed to us recently so it was added here in our Q&A
As in life, there's no real guarantee of anything but the likelihood of us not supplying a customer with ordered goods after payment is not even conceivable in our opinion.
We'd be fugitives on the run if that ever happened.
But just to put your mind at ease: if paying with a credit card, then you'd be guaranteed a full refund from the credit card company should you not receive the ordered goods.
Q: If I buy a system and don't like it, can I return it for a full refund?
A: As GSA Golf is a relatively small company (i.e. we're not Amazon.com) the answer to this unfortunately "No" at this time - as much as we'd like to be able to say "Yes"
quote from our legal page
All GSA Advanced Golf Simulators LLC products are custom made and/or purchased to order and thus a no return policy applies.
Sale is considered to be done and final and no refunds are granted under any circumstances.
However, products can be exchanged for other GSA products within a 60 day period of the purchase date
as long as the products are in an as-new condition and fully functional
Q: What is the warranty on GSA Golf products?
A: All GSA Golf systems come with a have a full one year warranty
To-date no camera has failed in more than 10 years, however, optical sensors systems like the PX2 -
and like all other optical sensor systems from other manufacturer's - will have limited life span.
Depending on the amount of use, this life span can be from 1 to 20 years for private individuals who use the systems only a few hours a week
but commercial indoor facilities where the PX systems are being pounded on for 8 or more hours everyday, this can be reduced to 6 to 36 months
Q: I'd be interested in purchasing a system but want to try it out first. Where can I do this?
A: In order to keep our prices as low as possible, GSA Golf only sells it's products direct Online
cutting out resellers with their 50 to 100% price increasing margins.
GSA Golf's demo showroom has also closed to further reduce costs and offer better consumer prices
and thus don't offer any test facilities.
Depending on circumstances, this may change at some later date but - as of date -
most are so convinced from our very detailed product information on the web site that this is not a major issue for them at present.
Q: What do the letters GSA stand for?
A: Officially : Gardiner System Applications
Unofficially: Golf Simulators of America
Q: How long has GSA Golf been in business?
A: 18 years
GSA Golf first started business in Frankfurt Germany in 1999 by British born Martin Paul Gardiner.
As of 2009, GSA Golf has been located in Naples, Florida


Q: How do GSA Golf products compare to other golf simulator manufacturer's products?
A: We think extremely well, but check the unbiased reports on the Golf Simulator forums for more info
Q: Which is better - camera club tracking or optical sensor mat club tracking?
A: Camera club tracking is far more accurate and offers real photographic evidence of club data at and before impact to the ball
but requires that tracking dots or strips be adhered to the clubs
see the Camera Club Tracking page for more details here
Q: If I buy a used GSA Golf system, can I get full technical support?
A: Yes, but there's a transfer fee of $500 required if remote support is required.
All GSA Golf software updates are free of charge though no matter if the transfer fee is paid or not
Basic installation e-mail questions are also free of charge
Q: I want a system that can detect perfect ball and club data including reliable spin data without
having to use markings on the balls and clubs
and that comes with full version E6 and TGC software for under $2000
Can your company offer this?
A: As much as we'd like to say yes to this question, I'm afraid the answer is "NO" at the moment
There's no such system on the market in this price range alas
However, we're sure that it's only a matter of time before there'd be a definitive "YES" in answer to this question.
Give it another 7 to 10 years we'd say.
Q: What in addition will need to be purchased to have the golf simulator all set up and ready for use
(like the F series ones in the picture on the website)?
A: Everything is supplied other than the turf carpet wood trim (available at your local hardware store for around $25 per 6ft length
Note that the PC kiosks in the pictures are optional extra. Each system comes with a PC Monitor stand though.
Q: What is the install process like for the F series simulators? Is it something I will be able to do by myself?
A: It's quite straight forward and well within the capabilities of the average male. Nearly all our customers install the systems themselves.
Some prefer to employ the services of local home theater installers though.
Q: How much is the shipping cost of the F series simulator?
A: Usually around $300 if within the US
Shipping costs to Europe or Asia are usually in $800 range
Q: Are there reoccurring fees on the TGC computer software?
A: No - all software packages are complete full versions not requiring any other costs or subscriptions
Q: Are there any reoccurring fees I should expect (besides maintenance) with the simulator?
A: No - all software updates are free of charge for life.
Q: Can I use my own PC with GSA Golf systems?
A: Usually "Yes" but it depends on how good your PC is for the particular product you're interested in.
You'll need a relatively good gaming PC in order to render the graphics and as long as you're only using 2 or 3 cameras then there shouldn't be any problems.
Systems that use 4 or more cameras may require an upgraded PC in order to deal with all the incoming data on the USB bus
Note that we offer no guarantees that our systems featuring 4 or more cameras will function on any PC
but to-date there's only been a few that have had issues running 4 or more cameras on their PCs
Also note that Laptops are generally not capable of running multiple camera systems.
Q: Can I run the software at 4K Ultra HD resolution?
A: Yes - Both E6 and TGC can run at 4K resolution
Of course you'll require a PC, graphics card and projector that can handle 4K resolution
See the PC's and Projectors page to read more about this
Q: Are GSA Golf camera systems compatible with other golf sim and launch monitor manufacturer's systems?
Q: I have an older FullSwing system, can I add your cameras to it?
Q: I have a SkyTrak , can I add your club tracking cameras to it?
A: As much as we would like to say yes to this question, unfortunately the answer is "no" at present
It would be quite a simple matter to add the interfaces so that they would work but other manufacturers - not wanting to give up any of their market share - simply won't allow it.
---

Destined to be the all time number one selling high speed camera ball and club tracking system on the market
No one else even comes close in this price range !
VisTrak systems are priced from $ 1,699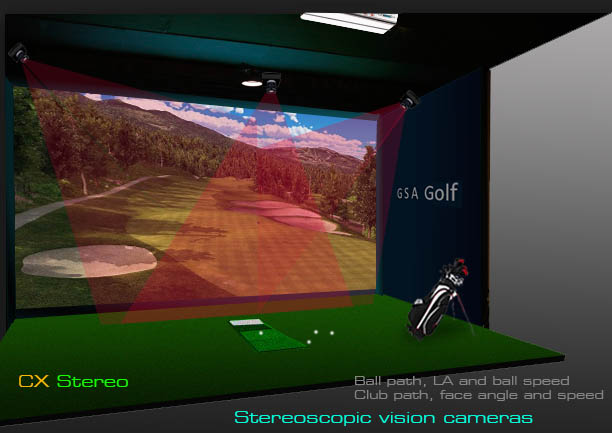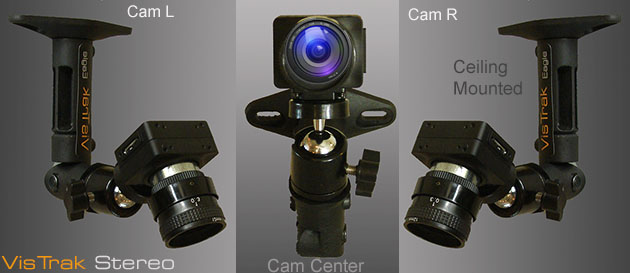 1. What's in the box and what software is included?
Hardware:
VisTrak systems include the VisTrak camera in the case with ceiling mount (Eagle case of LX case),and a 50 ft long active USB cable with power supply.
If purchasing with the spot light: The 65 watt LED spot light with remote control and power cable plus ceiling mount hardware.
Software:
VisTrak includes the GSA Golf Control Panel with the VisTrak video playback panel, plus E6 Connect trial, plus 1 18 hole GSA Golf (RedChain) game software package.
All software is only available as a download from this web site.
Additional courses can be added starting from $299. see the Software page for more details.
2. Do I have to put stickers or tracking dots on my clubs and balls?
Basically this is not required.
The VisTrak systems that detect ball spin (LX and Vcam B) use the logo on the ball for reference.
As long as the clubs have bright faces (like most irons) and are visible in the frames, there shouldn't be any issues.
Woods that strike the ball on the up swing shouldn't be an issue either.
Dark clubs, though, will require a white strip to be applied to the leading top edge.
3. If I don't buy the spot light, can I use any other light?
You can as long as the light is bright visible light (i.e. not IR) , super powerful
with a lens on it to concentrate the beam spot down to around a 2 to 3 ft area.
If it's LED, then it must be at least 65 watts.
If halogen, then you'll probably need 4 to 6, 50 to 75 watt narrow beam lights all pointing to the hitting mat.
Suitable LED spot lights can be found on Amazon for around $150.
4. What is the warranty period?
1 year
5. What kind of support do I get ?
Unlimited e-mail support for life
Remote access support is available for $100 per 1 hour session (i.e $50 for half hour)
6. Are there any maintenance costs, subscription and software update fees ?
No
There are no maintenance fees, no subscriptions and all software updates from GSA Golf software is completely free of charge for life.
7. Where is the Vcam mounted and does it function of both left and right handed players ?
The Vcam and Vcam B is floor mounted, either on the left or right side of the enclosure, around 6 or 7ft away from the enclosure center line
and about 4 or 5 ft ahead of the player's hitting position. It functions for both left and right handed players with having to move the unit.
8. What's the difference between the VisTrak Vcam and Vcam B ?
The Vcam just measures ball launch angle. It can detect vertical launch angle for both left and right-handed players without having to move the unit.
The Vcam B measures ball vertical launch angle - as the Vcam - plus measures ball spin for both right and left handed players.
9. What's the difference between the VisTrak LX and the HiRes LX ?
The VisTrak LX uses the hi-speed VisTrak camera that captures video of your swing. It can also be mounted on the ceiling so that it acts like a regular VisTrak Eagle. i.e. it's two systems in one.
The VisTrak LX is used as a stand-alone system.
The VisTrak LX - at least at present - cannot run together with the VisTrak Eagle. i.e. you can't run two VisTrak hi-speed cameras on one PC. (We're still testing this though.)
The Hi Res LX uses two hi-resolution triggered cameras that can be used with the VisTrak Eagle to capture both vertical launch angle and ball spin.
The Hi Res LX cameras are triggered by the VisTrak Eagle.
10. Where can I see and try out the VisTrak products ?
At present we are only selling direct online so can't offer any demos and try-outs.
Later, as we get more bricks-and-mortar resellers, you will have the possibility to contact them for a demo.
In the meantime, we'll be publishing VisTrak demo videos as soon as they come in.
11. I want to use the VisTrak with my SkyTrak, GC2, ES, Trackman etc launch monitor. Does the VisTrak influence the ball flight in these systems?
No .
When using VisTrak with other tracking systems other than ours, then it only provides video swing playback. It will not - in any way - effect the ball flight in these other systems
12. Does VisTrak show ball-on-club contact position relative to the club's sweet spot?
Yes.
Just view the video swing playback in step mode to see this.
13. What else does the VisTrak Eagle swing playback video show me?
It shows: club path, club face angle at impact, before and after impact, club speed, ball direction and ball speed.
Vertical launch angle is measured when using the add-on Vcam, otherwise estimated based on the club selected.
14. What other systems on the market can do all what VisTrak can for a similar price?
To the best of our knowledge, there are no other comparable systems on the market that can do what VisTrak can do for the price. At least not on this planet.
Q & A ... more to follow

---



GSA Golf Simulator F-Studio
with other brand systems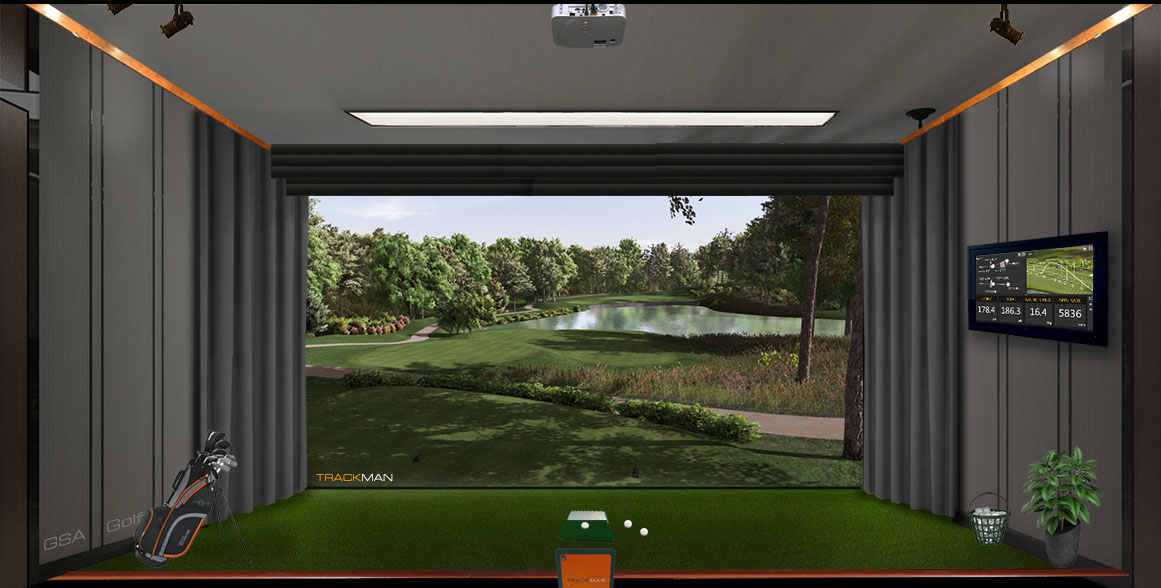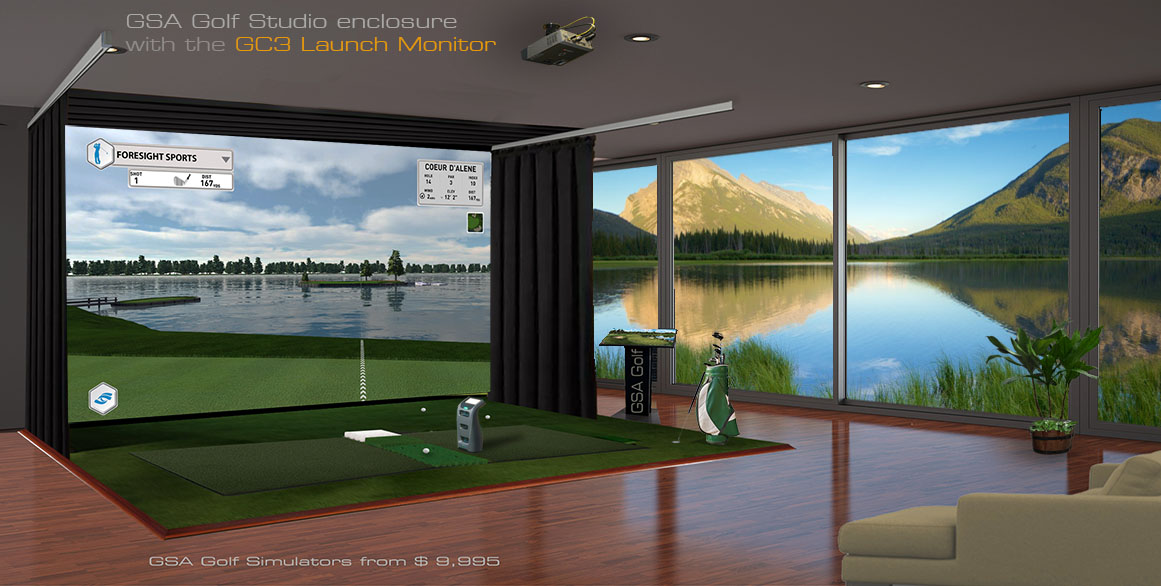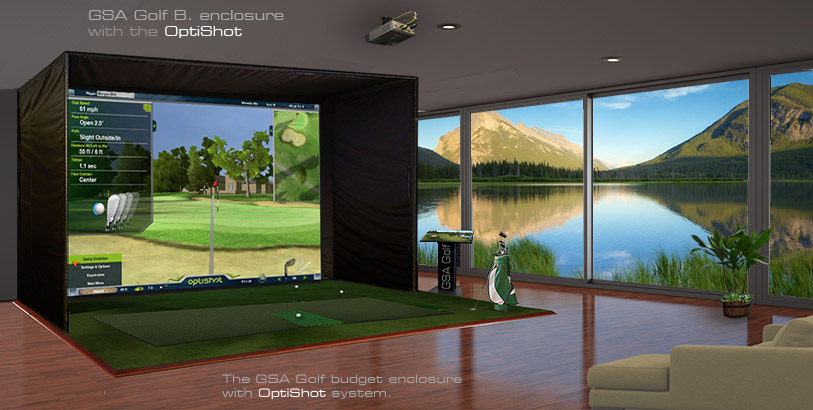 LP series golf simulators from just $1,438!