---

Buy CX4
Please note!
Please note that GSA Golf camera systems are not plug 'n' play and can require some considerable time to setup.
There's a learning curve involved in getting to know the ins and outs of the GSA Control Panel and the first time user should be aware of this.
While most tech savvy users have no problem setting up their camera systems in a few days or so,
others - with lower technical abilities - may require weeks to setup the systems and require a lot of support.
If in doubt then we recommend using our basic, super easy setup FSR systems
Includes TGC 15 course software, GSA Golf single course software and E6 single course trial



Warning! Multiple camera systems of 4 or more cameras require that the host PC be capable of running 4 or more cameras.
If not using our custom made and dedicated PCs, GSA Advanced Golf Simulators LLC cannot guarantee that multiple cameras consisting of 4 or more cameras will function correctly
Use extra $199 slave PCs in case 4 or more camera do not function on your single PC

CX4 price
$6,999

Note that most people have a low ($2000 to $4000) credit card transaction limit on their cards to prevent fraud.
Please contact either us or your credit card bank to purchase this product if your credit card limit for this purchase is too low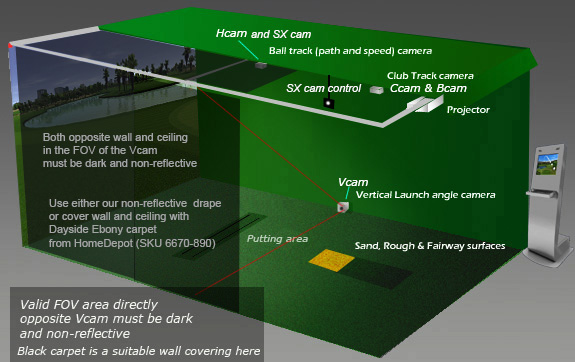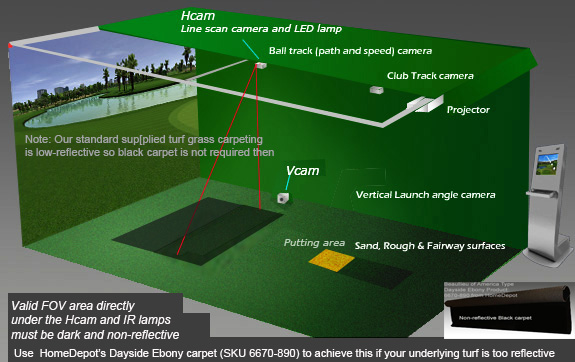 Important ! Note that camera systems require that two areas within the enclosure be dark and non-reflective
and that there should not be too much ambient light getting into the enclosure. ie daylight windows near the enclosure and / or other electric lights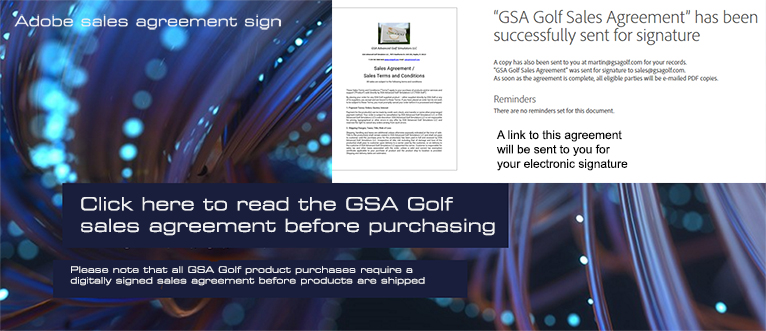 Please note CX camera systems require that both the flooring directly under the Hcam and the wall opposite in the Vcam be dark and non-reflective
in order that there is sufficient contrast between the ball traces and the background.
Walls should be covered in either non reflective light absorbing napped black drape or carpet.
Flooring must either be back light absorbing carpet or olive green turf.
A recommended carpet is : Beaullieu of America - Type: Dayside Ebony, Product 6670-890
which is available at your local Home Depot store at around $4.00 a per ft 6ft wide.
Non reflective light absorbing napped black drape can be purchased direct from our web site.
---