---


Technical News

System Updates & Development News
by Martin Paul Gardiner
Electronics and software development engineer and founder of GSA Golf
The GSA Golf range of golf 3D graphics software and electronic hardware is being updated with new features continuously.
New Features are being added and mods being made on nearly a daily basis so please check here regularly for your free updates.



Click on site map for all installation links
Click above buttons to see customer tech support examples

And ! All systems run with "The Golf Club" software
with over 58,000! golf courses and the Greg Norman Golf Course designer that allows you to easily make your own golf courses.
---
GSA Control Panel (CP) update V.8.2.7.0 - Windows 7 / 8 version
May 20 2015

Important !
Please be sure to read the download and update instructions before updating your GSA Golf CP (Control Panel)

Note: The above download is just an update for existing customers and not the full version Control Panel
Download Visual Studio Windows 8 x86 runtime components here

Click the above image to download the full version of the GSA Golf Control Panel (V.8.2.6.8)
Click the above image to download the GSA Golf single course software.
Course can be played with the Control Panel via either a mouse or manual launch parameter setup for evaluation.
Note: If you encounter a windows error message stating that it could not find d3dx9_30.dll when starting GSA Golf,
download and copy the d3dx9_30.dll to your windows\System32 and Windows\SysWow64 folders.
Download here d3dx9_30.dll

The above API / SDK can be used to interface GSA Golf products to other golf game software
---

Sales or Support ?
Due to the heavy work load on at the moment with development and fulfilling orders we may not be able to get to the phones.
If you have questions or require support please e-mail and we will get back to you within 24 hours.
Remote access support is free of charge so please contact us if you are having setup problems. Click above "TeamViewer" image to download free of charge.
Please also note that we are closed on weekends and national holidays
(we need this time for new developments and testing)

Note! All GSA Golf software and hardware updates (yes! product hardware updates too) are free of charge for life
GSA Golf are constantly researching and working on improvements to their product line.
If we find better methods and improvements for any processes we pass them on to our customers free of charge to ensure that their investments are secured.


---
May 23 2015
CTS Pro Color LED Flash units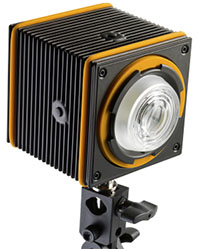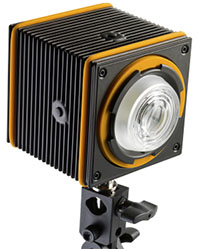 The CTS Color will be using two of these high speed LED flashes that have zero recycle time - unlike Xenon flashes that require 4 or 5 seconds to charge.

---
May 21 2015
CTS Pro Color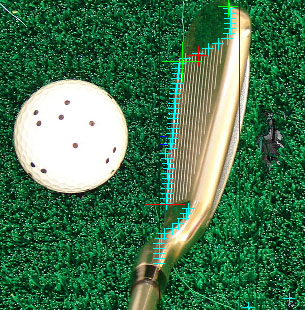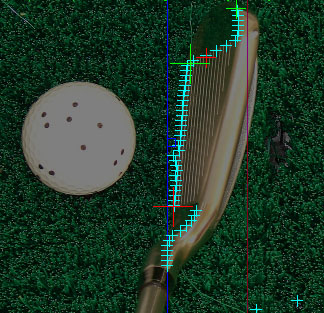 The above two images show the new CTS Pro Color cub tracking system detecting face angle with an iron.
The right image uses the new "darken image" feature to accentuate the points of the club face that have been detected.
---
May 20 2015
LX & CTS Pro Color
V 8.2.7.0
LX : System sometimes detects a ball when teeing up which can cause inadvertent ball launches. A method to detect this is implemented in this version of the CP.
LX now has a new 3 pin din connector for the trigger mat.
CTS Pro Color second stage release in this version of the CP
---
May 18 2015
LX Pro calibration
The LX Pro is getting new calibration software soon using a calibration pattern board placed in front of the unit. Users that would like to do this themselves can print this pattern out from an image download.
---
May 16 2015
CTS Pro Color
V 8.2.6.8
CTS Pro Color first stage release in this version of the CP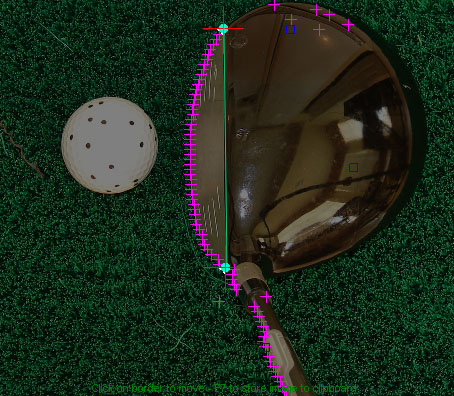 The above image shows how today's version of the CP software is detecting the club face perimeter.
The pink cross hairs show only a tenth of the actual number of club face perimeter points that are detected so it is very accurate. i.e. If all the over 1000! plus points would be shown then it would be a continuous line of cross hairs.
Notice that the software is also detecting other parts of the club other than the club face itself. i.e some parts of the club shaft are detected as not being the underlying grass mat surface as are stray parts of the club top and grass mat.
These, however, are eliminated by grouping the points and determining which group is the largest which would normally be the club face. Once the largest group of points has been detected then we just take the two ends to calculate the club face angle.
This is done for the second frame as well and using the two frames we can determine the club path.
As the two frames are precisely timed to be 2 milliseconds apart, we can thus determine the exact speed of the club by measuring the distance the club has traveled during this time window within the two frames.
The CTS Pro's hardware has already been developed and tested (Trigger and Xenon IR flashes) so we are only a few days away now from production.
Note that the CTS Pro Color (which is used without tracking dots) can be used as a stand alone system to play a complete round of simulated golf as well as an add on the the CX2 ball tracking system.
The CTS Pro Color with the CX2 ball tracking systems has been named "CX4" and retails for $4,999.
The CTS Pro Color alone is priced at $2,799 which includes the two HD color cameras, two zoom lens, two LED flash units and a 24" *12" fairway grass true feel trigger mat.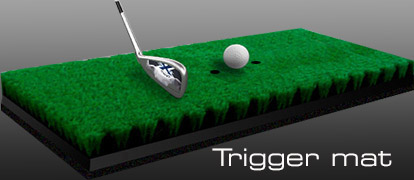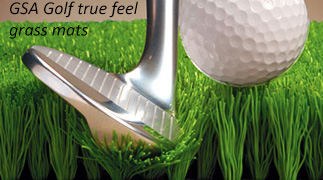 The next system "The CX5" will additionally include the ball spin camera.
---
May 14 2015
CTS Pro Color
The development of the color version of the CTS (Club Tracking System) is well underway now.
Below are a couple of sample images of what it will look like in the CP.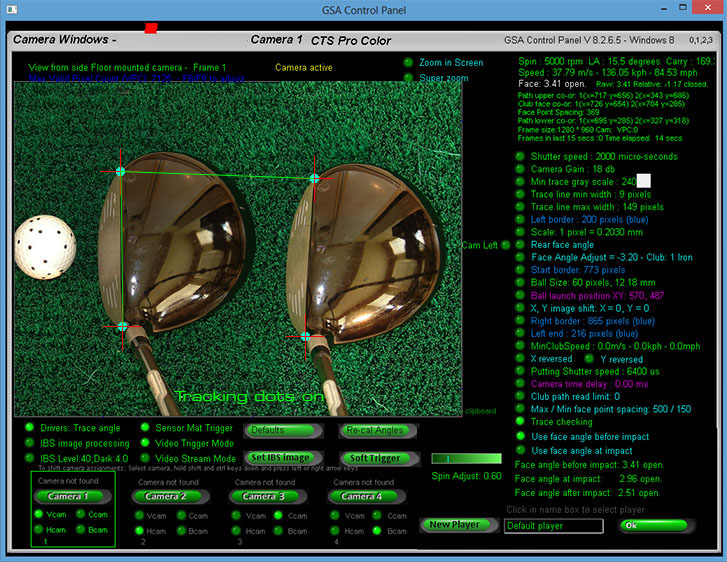 Two HD images are captured with the dual USB 3 color cameras in the CTS Color Pro. Note that no tracking dots need to be applied to the club with the CTS Color Pro.
You can use any club as is as long as the club isn't any shade of green.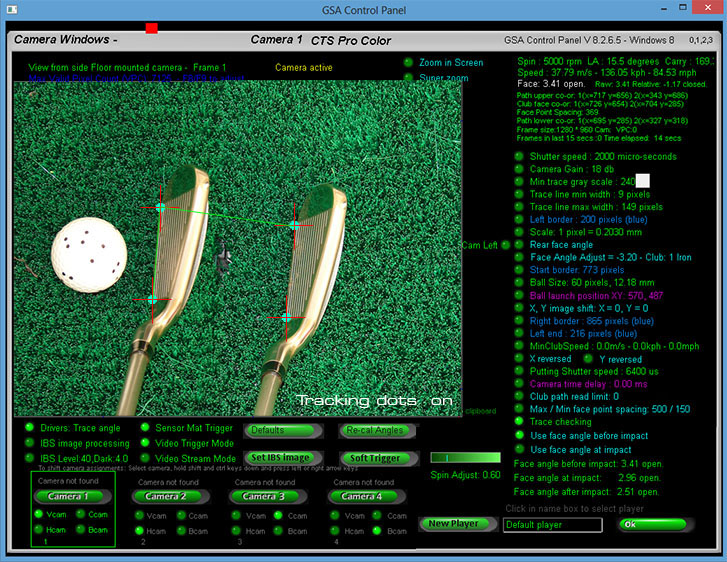 Image processing consists of removing pixels that are associated with the underlying mat which will leave just the club head, shaft and ball.
Further processing will detect the club face angle at impact to the ball, club speed and path.
---
May 13 2015
V 8.2.6.5
Update for The Golf Club users only.
---
May 10 2015
New Control Panel video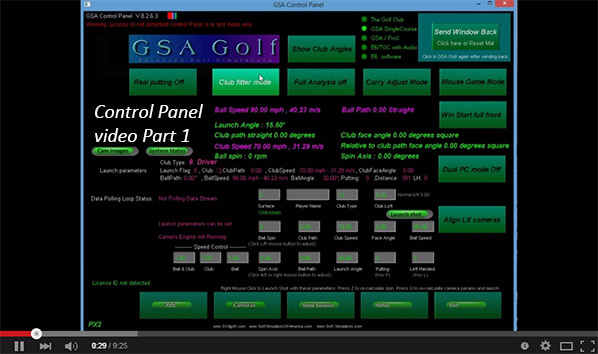 May 9 2015
New "The Golf Club" video with voice club data feedback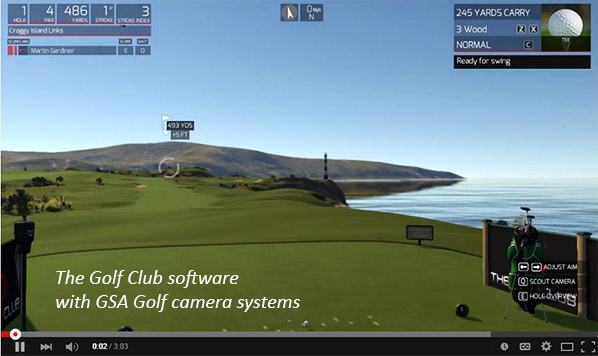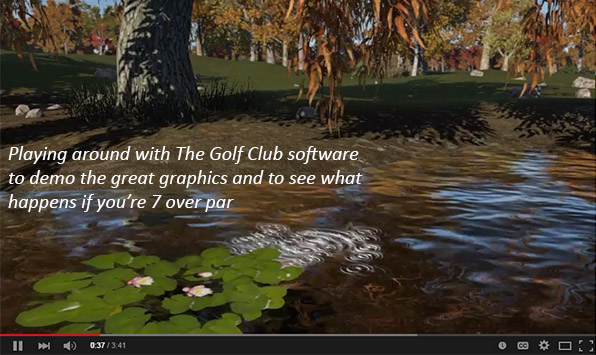 I've re-done the E6 videos in HD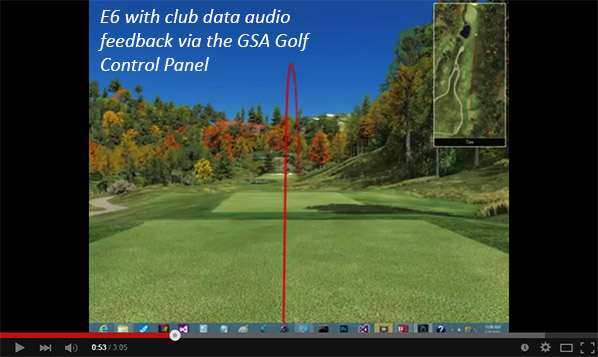 ---
May 8 2015
Club data audio feedback for E6 and The Golf Club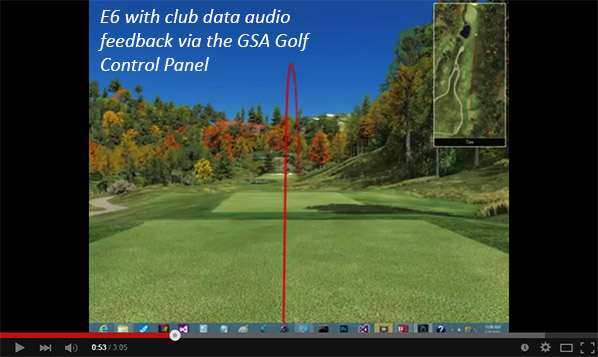 V 8.2.6.2
Many customers have requested that the club data audio feedback that we put in the RedChain software also be available in E6 and The Golf Club software.
Today's CP update now has this feature included which can been seen (or rather heard) in the above demo video with E6 and The Golf Club software.
---
May 7 2015
E6 St. Andrews & Pebble Beach
Click on above images to see great E6 renderings of St. Andrews and Pebble Beach courses
V 8.2.6.1
Issue with LX Pro soft triggering causing both cameras to be triggered fixed.
LX Pro Sweden radio buttons removed from camera windows.
LX Pro option to calculate LA between frame 1 and 2 or Frame 2 and 3 now in camera window.
---
May 6 2015
CP Sweden now replaces the regular CP
The regular CP is now the CP Sweden. The name CP Sweden is thus now obsolete as is the old CP.
update V.8.2.6.0
Today's update features increased ball brightness range for the LX. i.e. the ball is detected in both low and high lighting.
And a second ball path detection method that compares the dot distances in the frames instead of ball sizes. Switch this feature on or off in the camera window. (left hand side of screen radio button called "DotDistancePath).
---
May 4 2015
CP Sweden update V.8.2.5.7
Error in Release version causing system to sometimes hang when using LX launch monitors located and fixed.
---
May 3 2015
Red Chain software Video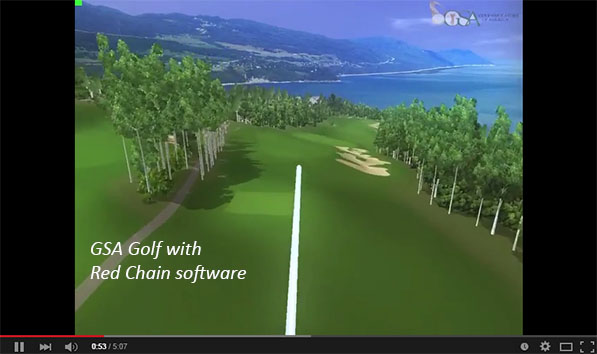 To complete the video triolgy of the golf game software we offer, here's a video of the Red Chain software in action with the GSA Golf camera systems.
---
May 1 2015
The Golf Club software Video 1
in action with GSA Golf camera tracking systems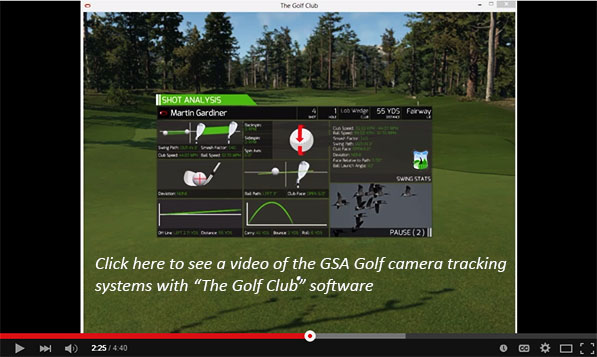 Here's the first of many videos featuring "The Golf Club" software with our camera tracking systems. Many more to come.
---
CP Sweden update V.8.2.5.6
Feedback info data from TGC added to the GSA Golf / TGC interface. i.e. Player's club, distance to pin, surface lie, putting mode etc etc.
This data is also now shown in the GSA Golf Mouse play window.
GSA Camera systems require the putting / not putting info as camera exposure times are switched to a longer exposure when putting and a shorter exposure time when playing regular shots.
V 8.2.4.0
E6 sometimes not updating the putting flag in the interface causing the system to occasionally hang in putting mode. If this happens, hit the P key on the keyboard to toggle putting/not putting with this new version of the regular CP.
---
April 30 2015
Interface to "The Golf Club" Online Game Software now ready

Integration of "The Golf Club" software is now complete. When using "The Golf Club" software switch to it in the GSA Golf Control Panel.
I'll be publishing videos of this software in use with GSA Golf products next week. Click the above image to learn more about "The Golf Club" software.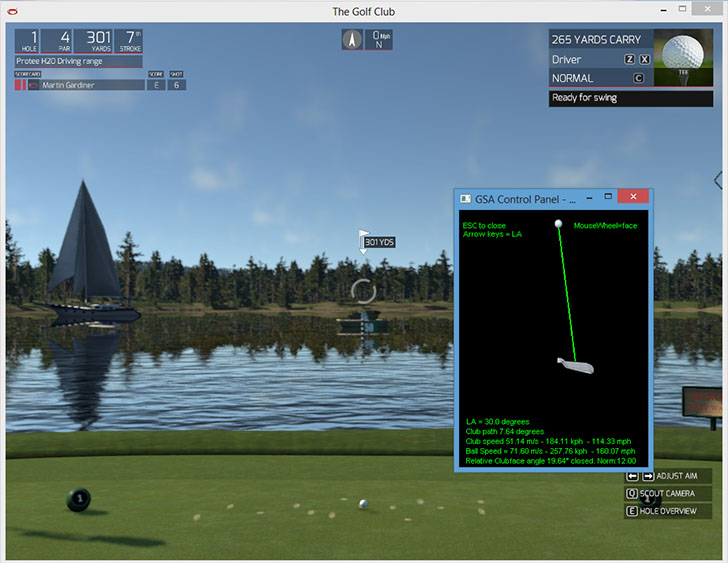 CP Sweden update V.8.2.5.5
I've added Launch Angle (LA) to the CP mouse play now. The mouse play is useful when testing game software (E6, RedChain or TGC) and you want to setup exact launch parameters.
If you want to test game software like this and you don't have a tracking system yet, you'll need to download the full version CP, install it and then download the CP Sweden update and follow the update instructions on the link at the start of this web page.
---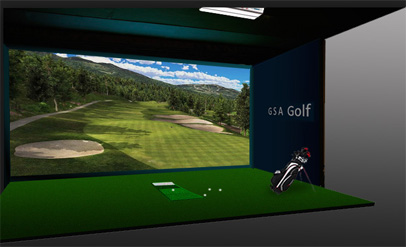 Installation
CX Camera Systems
Software installtion and PX2/PX5 sensor mat

-
-
Club track camera installation
Ball Spin camera

---