---






Technical News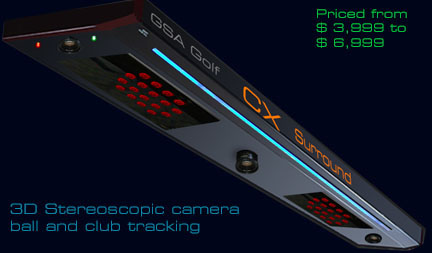 System Updates & Development News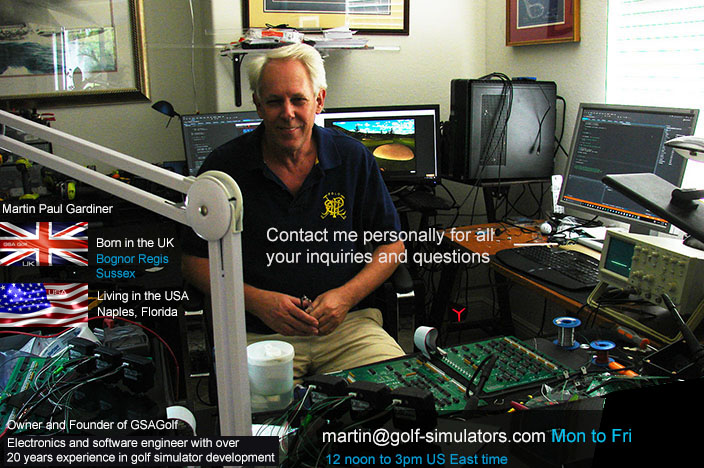 Hi! I'm Martin Paul Gardiner
Electronics and software development engineer and founder of GSA Golf
Regularly check out my tech news page for all our latest developments and free updates
if you have any questions
please feel free to contact me personally anytime at


Did you get a response to your e-mail?
We get really busy at times and e-mail responses can be late or even forgotten at times.
Please remind us again if you didn't get a response to your e-mail.

Please note that GSA Golf is currently flooded with orders, production, development, sales inquiries and support appointments
and have thus had to reduce the number of hours per week we can devote to telephone sales and support in order to keep up with production and orders.
We've had to reduce our telephone sales and support line now to between 10 am and 3pm, Tuesday to Thursday.
Times from 8am to 10am and from 3pm to 6pm are now devoted exclusively to production and development
as are all day Mondays, Fridays and Weekends.
Sorry for any inconvenience these new reduced telephone sales and support times may cause.
As before, we have 10am to 3pm, Monday to Friday E-mail sales and support.
---
GSA Golf Control Panel (CP) downloads

GSA Control Panel (CP) update V.8.7.6.0 - Windows 8 / 10 version
April 19 2018
Download VC redistributables hereHere
Don't forget to run the download after it's downloaded!
A number of customers don't realize that a CP update is a dual process
i.e first download and then run the download
Note that anti-virus programs will probably try to block the GSA Golf CP update download but - be assured - there's no malicious software in the download update
so just ignore any warnings from your anti-virus programs and choose the "More options" and "Run anyway" option.

GSA Control Panel (CP) full version download
Note that the full version installation will overwrite any user settings if you have had any previous GSA Golf CP installations
Download standard configuration files hereHere

GSA Golf Game software download
Warning! if you already have the full version GSA Golf /RedChain software installed, downloading this free single course version will prevent the full version from running correctly
Note: If you encounter a windows error message stating that it could not find d3dx9_30.dll when starting GSA Golf,
download and copy the d3dx9_30.dll to your windows\SysWOW64 folder.
Download here d3dx9_30.dll
Download d3dx9_30.dll 64 bit version here d3dx9_30.dll
Full version GSA Golf/ RedChain software Download here GSA Golf Setup Note: USB dongle key required for this full version
Camera Viewer 2.11 33MB FlyCapture Viewer 2.11
Cam drivers PGRUsb
FlyCapture2-2.7.dll FlyCapture2-2.7.dll

Experimenting and testing shots with manually entered launch parameters
You can test shots by manually setting the launch parameters in the Control Panel.
Right or Left mouse click in the Edit fields to change the parameters.
To see the trajectory of the ball in flight just click the "Launch Shot" button while having the GSA Golf software running in the background.
---
In case of issues you can manually install the CP update .exe file by following these instructions

Note: The above update download is just an update for existing customers and not the full version Control Panel
---



-

-

-


-
-


-

-



---
April 19 2018
TGC connection errors
We've had a few reports of TGC losing connection to the server during a game. This version of the CP checks for this and automatically re-connects.
PX2-V or F2
Important updates for PX2 - V / F2 users (i.e. using a PX2 mat with just one Vcam).
Stereoscopic
Most of the updates the updates in this version are for the new stereoscopic vision cameras.
---
April 13 2018
Faint ball traces - IR Filters on V and H cams no longer recommended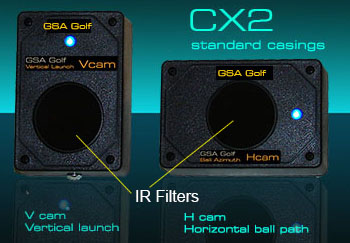 Even though the cameras are IR sensitive and the lighting is IR, we have noticed that when the cameras have the IR filter on them the ball trace brightness is significantly reduced.
If users are experiencing faint ball traces then we recommend removing the IR filter from the cameras in order to increase the ball trace brightness.
Removing the filter is quite easy. To remove: unscrew the four screws holding the case lid to the case and press the IR Filter inwards to break the hot glue seal and discard the filter.
Afterwards, re-screw the lid to the case.
Note that ball trace gray scale levels and/or camera gains in the V and Hcams of the CP will have to be re-adjusted to suit the new brighter images.
All new CX shipments will feature cameras without the IR filter from now on.
---
April 7 2018
Stereoscopic camera calibration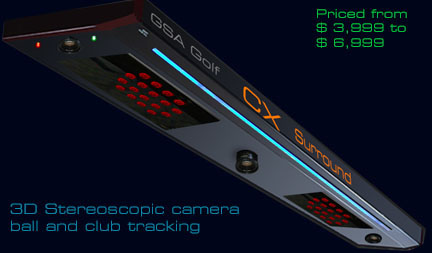 Coding for the new stereoscopic camera calibration is underway using so called disparity depth maps created by holding checkered alignment boards under (or in front) of the cameras at various positions and heights.
Current results show a significant increase in ball tracking accuracy compared to the current XY camera setup. i.e. with one camera mounted on the ceiling and one camera at mounted floor level.
Current CX users can also switch to the stereoscopic setup where both cameras are mounted on the ceiling as soon as the new software is complete ( sometime in May).
---
April 5 2018
Auto Trigger delay switching for users using a Trigger array
An issue causing the various camera trigger delays for the Hcam to not automatically switch has been fixed in this version.
---
April 4 2018
CX Surround with new slim line case
We'll be coming out with the CX Surround this year with a new slim line case.
Prices will be between $3,299 - for the 2 camera system and $4,999 for the 3 camera system.
Existing CX customers can also have their standard CX and Ccam cameras retro fitted into this case if they choose too
---
March 31 2018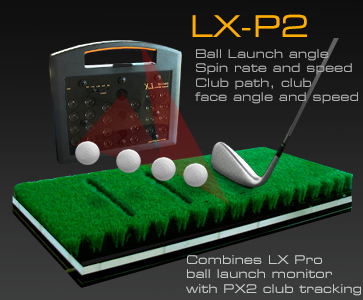 Update for LXP2 users
Users now have the option to set the system to launch shot with club data only and without ball data.
i.e. if - for some reason - the ball data is not captured for the shot then the shot will launch anyway using club data to calculate ball data.

Switch this option on/off in the setup window.
---
March 30 2018
Combining both the SX line scan camera and the trigger array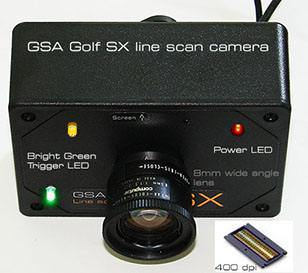 Using a connection box (or using the new trigger array that has the connection circuit built in) , both the SX and trigger array can be used to trigger the cameras.
This combination is recommended in situations where the player is further than 3 feet away from the trigger array or where
- due to lighting conditions or higher reflective turf carpeting - the line scan camera is not able to pick up lower shots and/or putts.
With this setup, the trigger array will pick up all shots at floor level and shots lower than 4ft and the SX camera will pick up all the higher shots
Note: when using an IR lamp instead of a halogen lamp over the trigger array,
the max height a ball being detected passing over the array is limited to around 4ft.
The reason for this is that IR LED lamps do not have a single light source like a halogen lamp does
but rather has numerous light sources depending on the number of IR LEDs in the lamp.
These multiple light sources cause the shadow of the ball to diffuse as the ball gets higher and thus nearer to the LED lamp
and this diffused ball shadow does not provide enough darkness and contrast for the optical sensors in the array to trigger.

-
-Raised flooring
Note that in order to be able to putt a ball when using a trigger array the flooring has to be raised to the height of the trigger array (i.e. 1 1/4") so that the ball rolls over array.
Click the Turf Grass Flooring button to read more about flooring and how to raise flooring.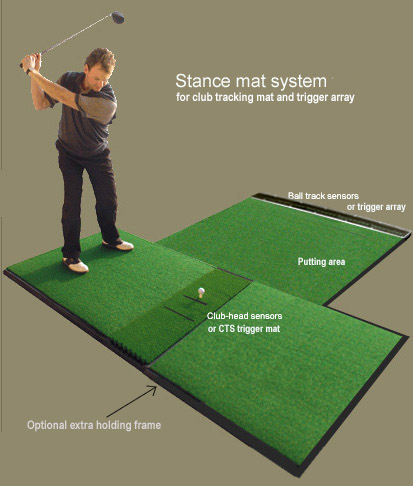 Users can either raise the entire flooring or use our 1 1/4" high stance mats to achieve this
Note that raised flooring - whether or not a trigger array is used - is required anyway as the hitting mats or trigger mats are also 1 1/4" high
---
March 28 2018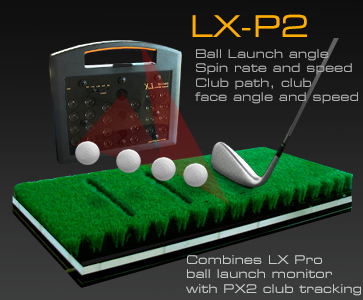 Important update for LXPro and LXP2 users
Fix 1: The PX2 mat has a user defined loop count that should be set to 2 when using it with the LX Pro (i.e. LXP2). This is now done automatically. If set higher than 2 then the system won't wait for the club data and launch the ball without it.
Fix 2: When the LX Pro is set down closer than 12 inches to the ball then the ball images will appear larger and this increase in ball image size prevented the image processing from detecting the ball. Now fixed with this update.
Trigger mat now has 3 flash activation sensors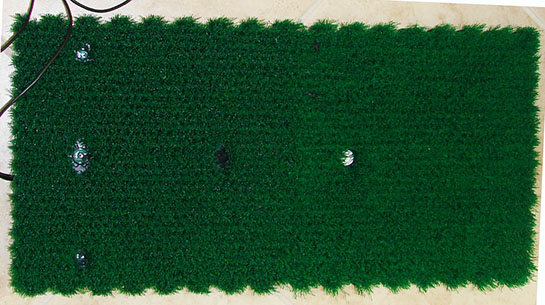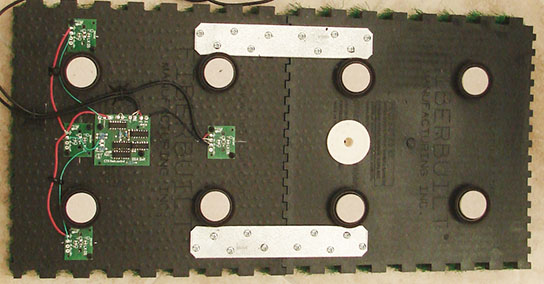 We've added 3 flash activation sensors now to the CTS trigger mat to ensure that back swings in an arc are better detected.
---
March 24 2018
Lighting issue - wide angle IR LED lamps causing lens ghosting and faint ball traces
Since moving over to wide (90 degree plus) IR LED lamps, I've noticed a stark increase in the number of customers experiencing lens ghosting from the light getting back into the cameras.
In addition, ball traces are much fainter - sometimes hardly detectable in fact - as the IR light from wide angle lamps is less concerntrated.
We're testing new 60 degree 200 LED IR lamps this week to see if these fix the issues.
---
New "Optical Sensor Shot Detector" prevents inadvertent ball launches in game when retrieving balls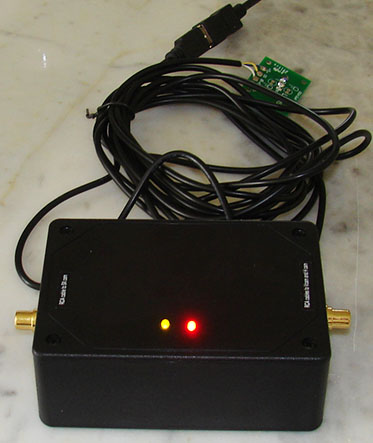 As inadvertant ball launches can occur when retreiving balls in the enclosure when using just a CX2 system - ie a system that doesn't feature club tracking - we've decided to add a ball shot sensor with all these systems from now on.
Note" the CX2 price has increased accordingly.
This sensor is emedded in the hitting mat just in front of the ball launch position.
How it works: The RCA cable that is normally connected to the Vcam from the SX Line Scan camera is instead plugged into the Shot Detector and the output of the ShotDetector is plugged back into the Vcam.
In the Shot Detector's normal state, all trigger signals coming from the SX cam to the Vcam that are produced by walking around the enclosure are then blocked.
The optical sensor - that is emdedded into the hitting mat just in front of the normal hitting position - detects the ball shadow as it passes over it when struck
This opens a Gate for around 3 seconds that allows the trigger signal coming from the SX cam to get back to the Vcam and thus the ball will launch in the software.
---
March 22 2018
A number of small updates in this version - including:
Fix: When in putting mode and the user has the Hcam window open, the putt data would time out after a putt and the "Ball path not detected" message would appear.
New: User adjustable putt roll distance table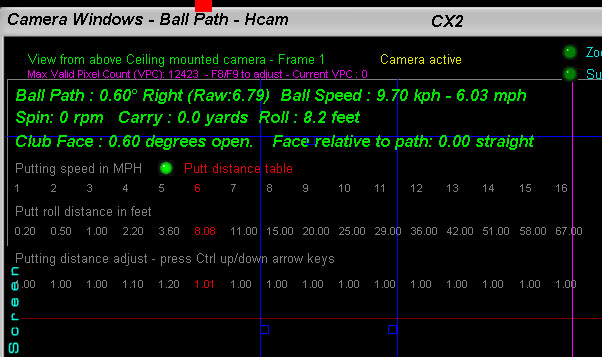 The CP can only estimate putt roll distance as it doesn't know the green speed, terrain or break.
Currently the roll distance is calculated from a speed/distance table made from putting at various speeds on a green in E6.
However, users can now adjust this table as they see fit.
After a putt, the main current table entry used will be shown in red. Note that speeds that have a factional part -
e.g. 6.5 mph - will use a weighted average of the distance at 6 mph and 7mph i.e. (8 ft + 11ft) / 2 = 9.5ft
In order to adjust all the distances, a putt should be made and then - temporarily using the scaling factor - adjust the speed to get to the required table entry.
Note: the default adjustment factor is 1.00
---
March 8 2018
Hcam trigger delays now separate for normal shots, putting and chipping when using a trigger array
When using a trigger array instead of a line-scan camera for the H and V cams, an Hcam trigger delay has to be set to prevent the trigger array casing from being captured within the image of the H cam.
As ball speeds for putting and chipping are far slower for regular shots, the trigger delay has to be greater for these putts and chip shots.
Thus there are now separate Trigger delay settings for putting and chipping.
To set in the Hcam window:
Press the P key to go into putting mode and set the trigger delay to around 80 Milli-seconds.
Press the C key to go to Chipping mode and set the trigger delay to around 20 Milli-seconds.
In normal shot mode, set the Hcam trigger array to around 4 Milli-seconds.
Customer request to mount the CTS at 12ft
Customer Brad wants to mount the CTS 12ft off the ground instead of the normal 9ft height.
The CTS software has been updated in this version to allow this.
---
February 22 2018
CX3 club tracking camera de-activation
While the V and H cams require a de-activation time to prevent balls bouncing back off the screen or the following club head re-triggering the cameras, the Ccam doesn't require any de-activation.
Camera de-activation time is now only for V and H cams.
CX4/CX6 flash sync
Possible error in camera assignments causing flash to go out of sync with camera frames in the CTS now fixed.
Occasional incorrect spin calculations when not using the Bcam ball spin camera or when the Bcam didn't detect the spin.
Now fixed in this version of the CP
TGC connection status
We've received a few reports that the CP is losing connection to TGC during a game.
This CP version shows more TGC connection status messages that will help us trace the cause of the issue.
---
February 10 2018
New ideas and options about raised flooring


New trigger array installation instructions

---
February 8 2018
Adjust carry and spin directly in the Vcam window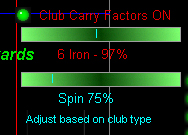 There's a new slider bar in the Vcam window that allows users to adjust the LA based carry and spin factors directly in the Vcam window and thus see the results of carry adjustment immediately.
---
February 6 2018
New speed & spin adjustments based on launch angles as well as club types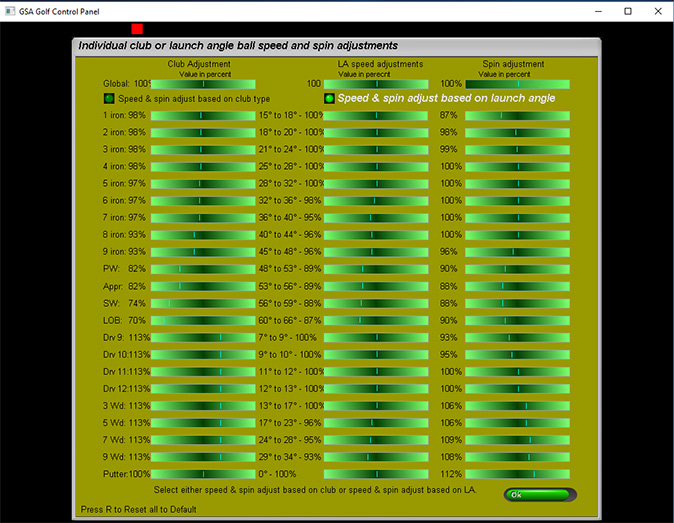 In addition to the carry & spin factors based on the club being used, there is now a carry (ball speed) factor and spin rate factor based on ball launch angles.
This should be more accurate than the club based method as it cannot be what the launch angle is based on the club selection.
Note that these carry and spin factors are either club or LA based and not both together. If "Carry factors" are switched OFF then neither will be used.
The third column in the window is used to set spin rate factors for specific clubs or launch angles. Again, if "Carry factors" are switched OFF then these spin factors will not be used.

Also note that the standard LA speed increase or decrease is still active in the Vcam window when selecting carry factors ON.
Click the above image and scroll down to Q 16 to read more about standard LA speed adjustments.
---
February 3 2018
New screen box frame assembly instructions on the screens page

---
February 2 2018
Business news - record breaking season for GSA Golf
Well, I must say I'm totally overwhelmed by all the sales orders we're getting this season - $60,000 worth of sales orders this past week alone!
Full scale simulator $17,000 F6's are flying out the door these days.
The good news for consumers is that we will be expanding our support services, product quality assurance and product development to give an even better experience going forward.
Thanks so much to all for all your support and patience over the years.
Martin Gardiner
GSA Golf founder and president
---
February 1 2018
Club fitter mode fix
Club fitter mode was closing out after a swing. Now fixed.
Mouse play game mode
Mouse play game mode only functions when no cameras or sensor mats are connected to the PC. A warning message is now shown if the user attempts to start game mode with cameras connected.
LX-P2
This CP update is for the new LX-P2 launch monitor.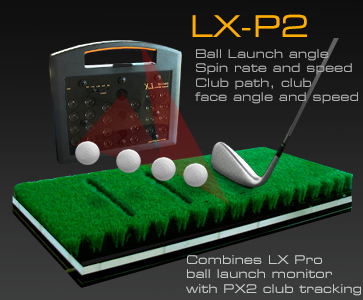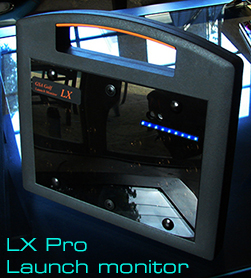 The new LX-P2 is now in production. Price $3,999.
System features the LX Pro dual camera launch monitor ball tracking with the PX2 93 sensor club tracking 3 X fairway grass mat.
---
January 26 2018
Hcam trigger delay when using a trigger array instead of a SX line scan camera to trigger the V and H cam cameras
When using a TX trigger array instead of a line scan camera to trigger the V and H cam cameras, there has to be a trigger delay on the Hcam to prevent that the trigger array itself does not appear in the valid FOV of Hcam images.
This version of the CP allows users to increase the trigger delay in hundreds of Milli-seconds instead of having to manually increase the delay in micro- seconds - which can take a while.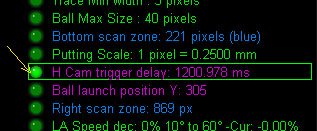 The above image shows that the H cam trigger delay is set to just over 1200 milli-seconds (i.e 1.2 seconds)
The sensor arrya unit is 5ft in length and features 48 sensors that detect any ball passing over them.
Its advantage over the SX line scan camera trigger is that it doesn't require a non reflective floor surface that usually requires black carpet to be placed under the SX camera, doesn't require any setup and works well in most lighting conditions.
---
January 22 2018
Vcam IR Filter causing Lens ghosting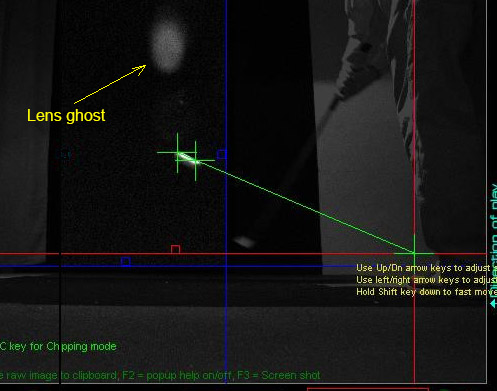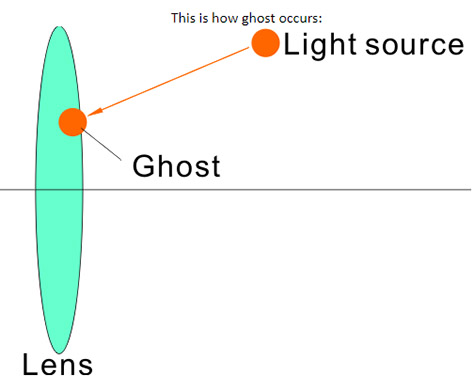 On a number of occasions now, users have sent in Vcam images showing a light spot on their back drop that actually isn't there on the back drop.
The phenomena is known as "Lens Ghosting" and is caused by light from the ceiling mount IR lamp hitting the IR filter at an angle greater than the lens angle.
i.e. the IR light is outside the FOV of the camera so you don't see the light itself but its reflection is still there.
Lens ghosting like this can cause havoc with the CP's image processing as it may well be picked up as part of the ball trace.
There are two ways to eliminate this issue:
1. Place a lens hood of some kind on top of the Vcam camera case that extends some 4 to 5 inches out.
2. Remove the lens IR filter from the camera case lid. ( You can usually just push the IR filter out by pressing firmly on the filter rim from the outside breaking the black hot glue seal on the inside of the lid).
In fact, the latter is now being considered as standard on all V and H camera shipments. i.e. all Vcams ( and possibly Hcams as well) will be supplied without an IR filter on them.
Without the IR filter the captured images will appear quite a bit brighter so the camera gain will have to be reduced to suit.
---
January 21 2018
CP "Using color camera" option
This option is used when users want to use a color camera as a monochrome camera i.e. a CTS color camera as a V, H, B or C cam
This option has been removed from the CTS window as when set ON and the user is already using a color camera, then a memory access violation error will occur
---
January 19 2018
Customer request : CP System Administrator Mode
We've had a number of requests add a lock mechanism to the CP so that unqualified persons do not play around with any of the CP's settings and setup.
This feature is of particular interest to commercial indoor golf facilities and also home users that may have kids accessing the CP.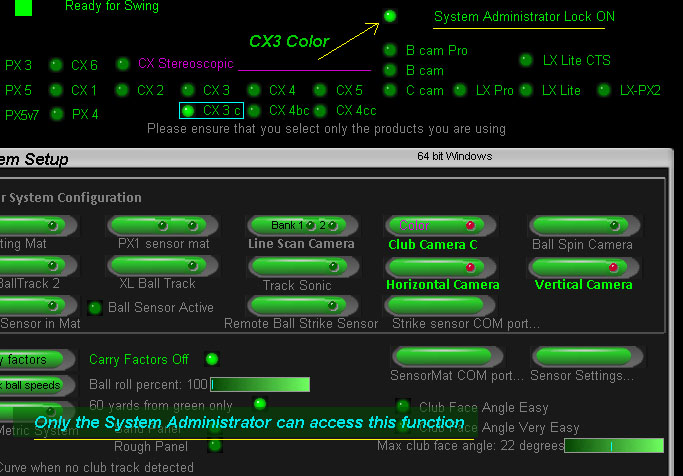 The System Admin Mode is not particularly secure at the moment (i.e. anyone can switch it on or off without having to use a password) but better than nothing.
Secure passwords will be added later.
You can switch the System Admin mode on or off in the CP's Setup window.
When on, any changes made to the CP's setup will not be saved so that re-starting the CP will bring the original setup back again.
Some actions are blocked immediately but no all at the moment and those that aren't will not be saved.
CTS bug
A small bug in the CTS functions of the CP prevented triggered CTS images from being captured. This is now fixed in this CP version.
---
January 15 2018
Customer requests:
Dual lane hitting surfaces for Left / Right handed players not playing down the center line.
Customers Jim and Chris - who called within and hour of each other last week - request that the software be able to allow playing the ball off the center line of the enclosure
when the enclosure width is too small and to allow both left and right handed players to play the ball from the center line of the enclosure.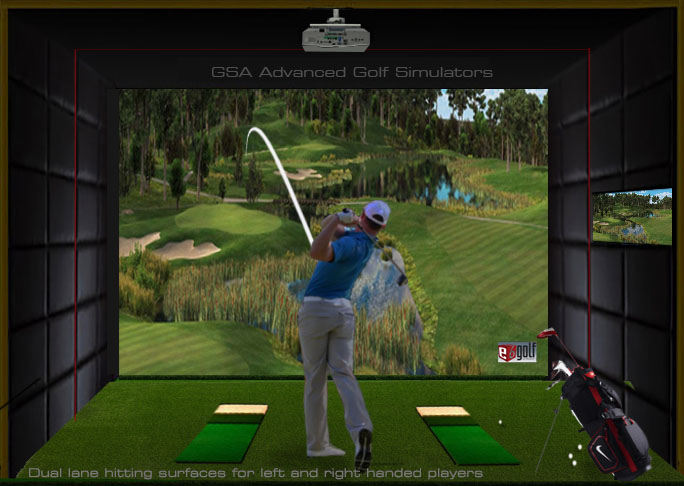 If your enclosure width is too small for you to always play the ball down the center line of the enclosure
then you can select the new "Dual Lane" mode of play if the simulator is to be used by both left and right handed players.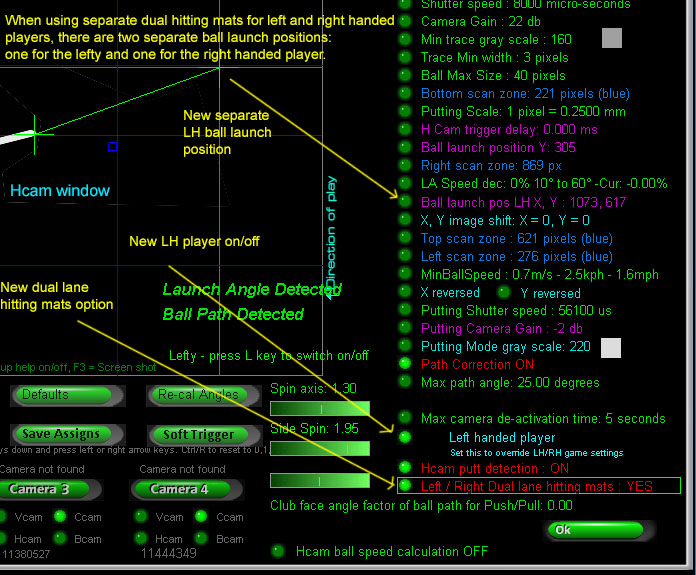 Click "Left handed player" ON in the Hcam window to set the Left handed player's ball launch position.
Switch "Left handed player" OFF in the Hcam window to set the Right handed player's ball launch position.
When playing, the left and right handed player will be automatically set by the game software as the player comes up.
Note that dual lane hitting mats require that two line scan cameras be used and if club tracking is required for both left and right handed players
then dual club tracking systems will be required.
Perfect Parallel software now free of any GSA activation charges
\

Click the above image for futher information
---
January 8 2018
Fixing and securing the hitting mat to the floor. Level playing surface options
Customer "Tom" wanted to know how to fix the hitting mat to the floor and how to bring the stance area up to the height of the hitting panel grass surfaces.
I've updated the "Flooring" page today with some tips and options on how to to this.

---
January 7 2018
Fix: PX5 - Ball track cameras not waiting long enough for club data to come in with fast shots
PX5 users may have noticed that with slow shots the club track data from the sensor mat is being used while with fast shots club data is being calculated from ball data and the real club data from the sensor mat is being ignored.
This is now fixed in this version of the CP. i.e. the system will wait a second or so for the incoming data from the mat - which is slower to come in than data from the cameras.
Fix: PX2 / PX5 club tracking sensor mat - measured club face angle being reduced with increasing club speed
I'm not quite sure why this club face reduction code was put in the system some 10 or so years ago (probably to make the mat more forgiving) but it's removed now.
Customer "Vincent" pointed this out and tests now show the issue is fixed.
---
January 2 2018
Customer requests
Customer "Brian" wishes to have the "Factory Calibration" option stay off when switched off and restarting the CP.
Customer "Steve" wishes to have the "Smooth Calibration " option stay off when switched off after restarting the CP.
Customer "Mathew" is complaining that he can't see any images in the V and H cameras after they are triggered or in video stream mode when setting the camera shutter speed to just 2 micro seconds when the normal setting is supposed to be 10,000 micro seconds.
- at a shutter speed of just 2 micro seconds you would only see black in the images unless a super powerful Xenon flash is used - Minimum shutter speed for V and H cams is now 6000 micro seconds.
These customer requests are now featured in this CP update.
Let us know if you too have any small requests and we'll put them in asap.
---
December 27 2017
User defined Side spin / Spin axis factors increased by 200%
A customer was complaining that ball flight curve (Hooks, Slices, Fades and Draws) was too forgiving so we've increased the user defined spin axis and side spin factors by over 200%.
---
Separate calibration percentages for left and right ball paths

---
December 1 2017
Fixed assigns
Its been noticed that some customers forget to press the "Save Assigns" button before switching on "Fixed Assigns" in the Vcam window.
In fact, even I forgot this once. So now the camera function assignments are automatically saved when fixed assigns is switched.
What are Fixed Assigns?
To refresh:
Fixed camera assignments
Up until this version of the CP, camera assignments where automatically stored every time the CP was closed out in the sequence that the cameras were detected on the USB bus.
The problem with this is that if not all cameras connected to the PC were detected on the PC at CP start up or they are appear in different sequence on the USB bus, then a new - incorrect - assignment set will be saved
requiring the user to re-assign cameras when all cameras are detected on a later PC boot.
The new assignment method - which has taken over 20 hours to code - assigns cameras via their serial numbers to the functions ( i.e. Vcam, Hcam, CTS cams 1 and 2 and Ball spin cams 1 and 2)
e.g. if a camera with serial number 4820826 is assigned to be the Hcam, then this camera will always be the Hcam and will appear as the second camera in the CP's camera window.
Once stored, (via a manual button click) these assignments will never change unless the user wishes to change them.
The issue more concerns customers that have many cameras (i.e. a CX 6 camera system) but can also occur with just a 2 camera setup.


A new "Save Assignments" button in the CP's Vcam window is used to store the current cameras to their assigned functions. Click this button after all the camera assignments have been made.
---
November 21 2017
Spin axis and side spin now displayed and can be adjusted in the Hcam window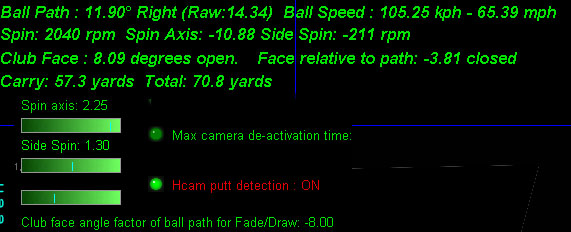 ---
August 19 2017
For PX5 users


Fix: Putting not functioning when the new "Allow putting without swing being detected" was ON
More popup help
More popup help added. F2 key toggles Popup Help on/off. Popup help automatically times out after 4 seconds. Move the mouse cursor to re-activate the help box.
Putting speed calibration

Putting speed calibration instructions are now on the Putting and Chipping page
Hcam ball speed
Usually ball speed is measured by the length of the ball trace in the floor mounted Vcam camera that views the ball from the side.
However, it is also possible to measure ball speed via the ceiling mounted Hcam that views the ball from above.
The advantage being that very high lofted wedge shots will be in the FOV of the camera whereas these shots may
may be too high to be in the FOV of the Vcam camera if the Vcam is mounted closer to the center line of the enclosure.
Note that this is a new feature that requires a complete new calibration table set and won't be ready until Fall 2017.
---
July 25 2017
New "Software Swing Detector" prevents inadvertent ball launches in game when retrieving balls


If you have a CTS club track camera with trigger mat or a PX2 club track sensor mat (as with the PX5) then you can optionally setup the system so that it will only launch a ball if a swing (or any movement) over the mat is detected.
You should see a new "Swing detected" message at the bottom right hand side of the CP's main window after a swing. This message appears for about 2 seconds.
Shots will only be detected by the V and H cams during this 2 second window so you can walk freely around the enclosure without any inadvertent ball launches.
Note that this option requires that all shots are made from the mat - including putting unless the "Allow putting without swing being detected on mat" is set on
Switch the "No ball launch without swing being detected on mat" in the CP's Setup window.
---
May 21 2017
Spin factors for back spin , side spin and spin axis can now be adjusted directly in the "Show Club Angles" window

---
February 23 2017
Manual club selection in CP Vcam window

You can now manually select clubs and adjust club specific spin rate factors in the Vcam window. The adjusted spin is immediately shown.

The Global spin rate adjust factor is now split in two : One for woods and the other for irons. Hold the shift key down to switch.
The adjusted spin is now also immediately shown.
Manual club selection in CP Main Window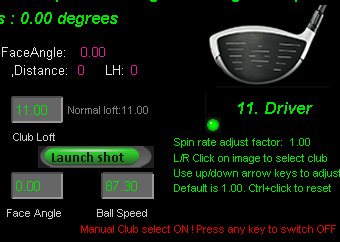 You can now manually select club types in the CP main window.
The CP will automatically switch to "Manual Club Select Mode" when selecting a club and won't get updated from any game software club selection when in this mode.
Press any key to switch this mode off.
Smash factor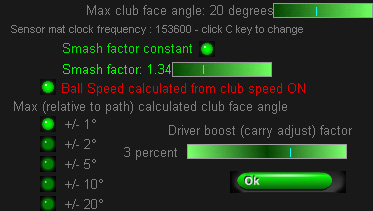 Smash factors can now be manually adjusted for PX1, PX2 or PX5 users that select the "Ball speed calculated from club speed" option.
The selected smash factor can either be a constant factor for all clubs or can be club type adjusted
CX6 updates
Fix: Left/Right LA adjustment values not being stored
---
Typical screen shots are as in the below images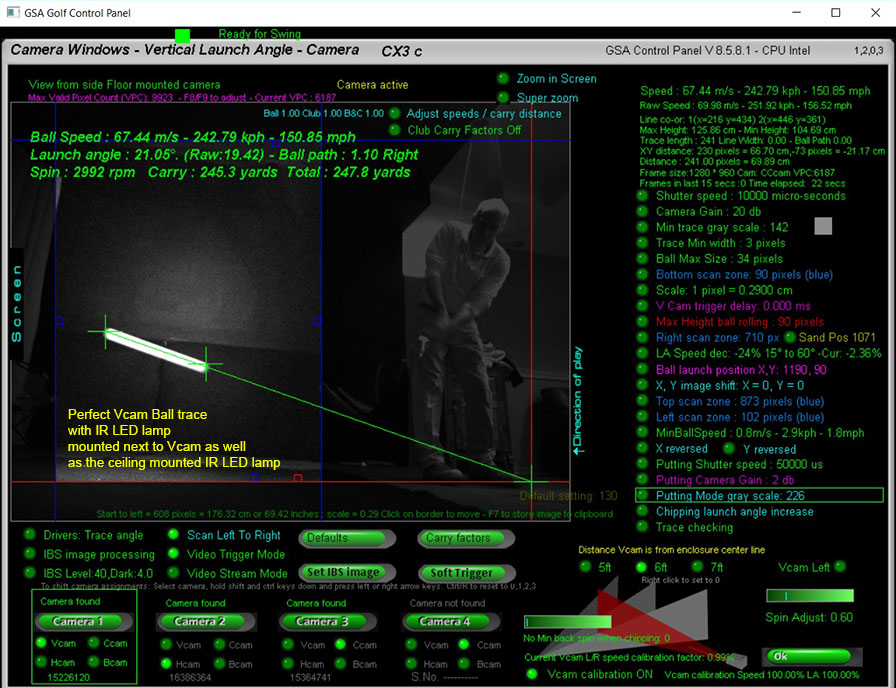 The side mounted Vcam detects vertical launch angle and speed of the ball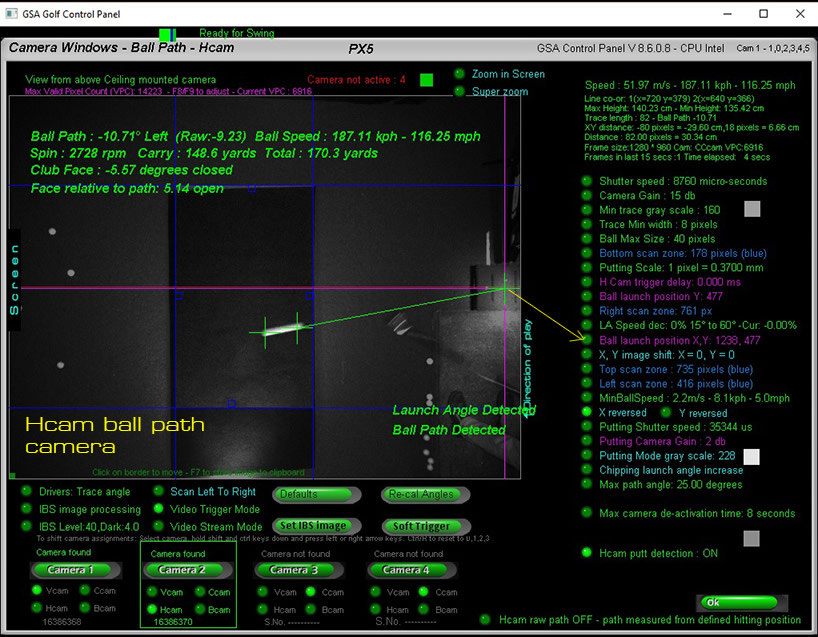 The ceiling mounted Hcam camera detects ball path for normal shots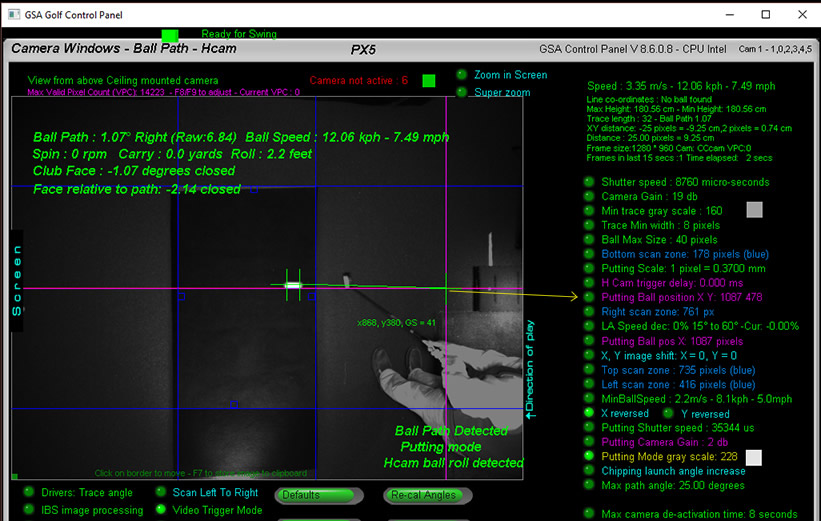 and ball path plus speed when putting
Installation



---


Factory
Based in Naples, Florida,
all GSA Golf products are meticulously assembled and tested by hand to meet the highest industry standards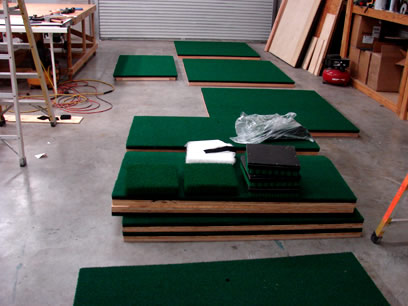 ---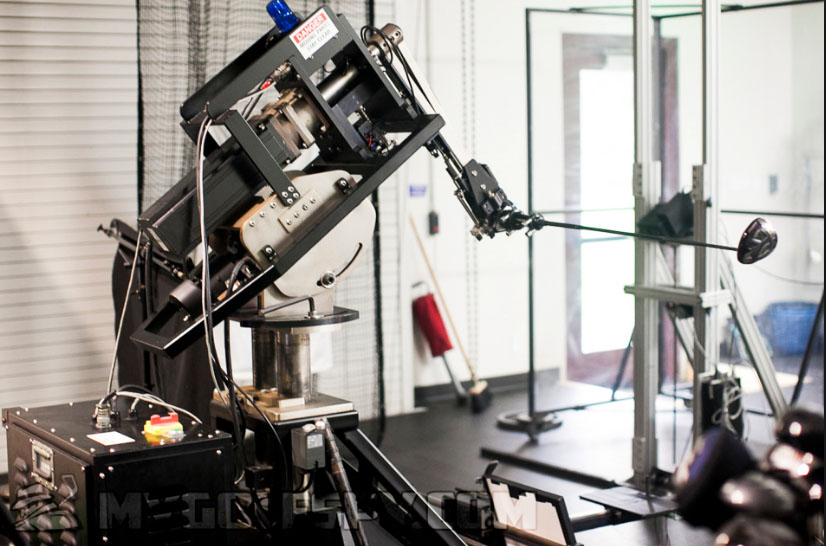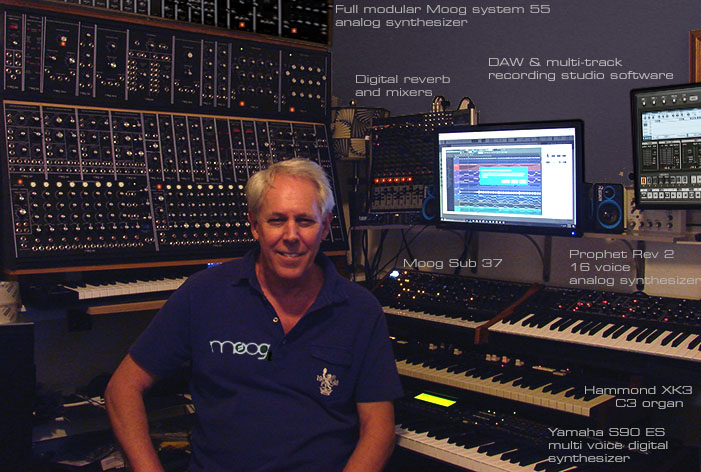 BTW - When I'm not developing golf simulators, you'll find me in my music studio



---