---


Technical News

System Updates & Development News
by Martin Paul Gardiner
Electronics and software development engineer and founder of GSA Golf
The GSA Golf range of golf 3D graphics software and electronic hardware is being updated with new features continuously.
New Features are being added and mods being made on nearly a daily basis so please check here regularly for your free updates.



Click on site map for all installation links

Click above image to go to The Golf Club software with stunning graphics and over 80,000! golf courses for just $999

---
GSA Control Panel (CP) update V.8.4.1.3 - Windows 7 / 8 version
February 4 2016

In case of issues you can manually install the CP update .exe file by following these instructions

Note: The above download is just an update for existing customers and not the full version Control Panel

For full version GSA Golf Control Panel software, click the above image to go to the Software page
where you can purchase the complete software evaluation suite including E6 and RedChain 18 hole course software

GSA Golf Kits
Assemble yourself and save even more money

Click on the above link to purchase GSA Golf products at the component level
---

Sales or Support ?
Due to the heavy work load on at the moment with development and fulfilling orders we may not always be able to get to the phones.
If you have questions or require support please e-mail and we will get back to you within 24 hours.
Remote access support is free of charge so please contact us if you are having setup problems. Click above "TeamViewer" image to download free of charge.
Please also note that we are closed on weekends and national holidays and that telephone office hours are 9 am to 4 pm.

GSA Golf are constantly researching and working on improvements to their product line.
If we find better methods and improvements for any processes we pass them on to our customers free of charge to ensure that their investments are secured.


Click above to read about the latest VisTrack development news
---
February 6 2016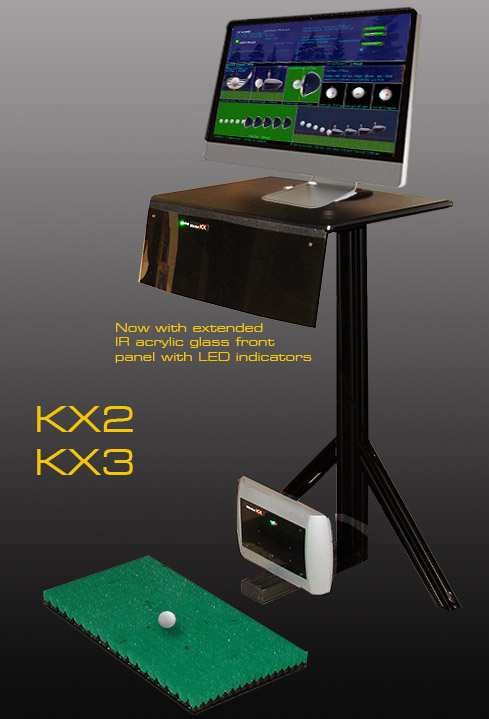 We decided to extend the new IR acrylic glass panel to curve around the monitor base for a cleaner look and cover up the underlying VisTrack, cables and flash units.
Even though the photo of the KX here doesn't look quite so hot , in real life with all it's LEDs lit up, it's looks really great. Considering all it's features most would think the KX is more like a $10,000 product instead of just $2,999.
Total assembly time is around 30 hours so it's a really good deal when compared to our competitor's golf launch monitor products that don't even see a club let alone measure any club data.
We currently have a multitude of orders for the KX and keeping up with demand may be an issue, Current lead time is at least 4 weeks.
---
February 4 2016
KX software activated
---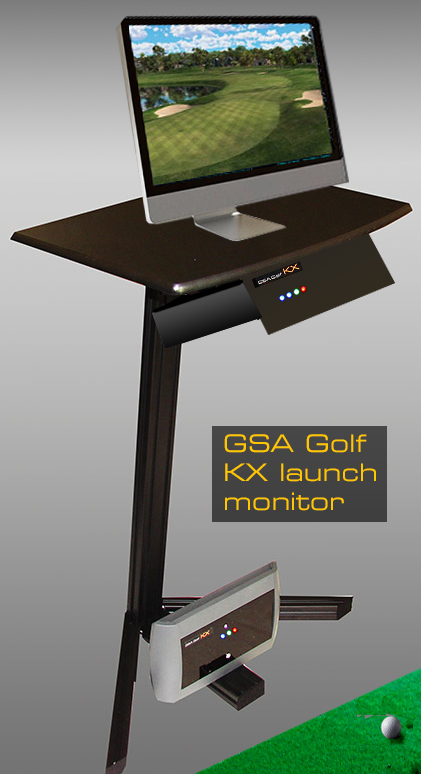 Building the KX today we noticed that the LED indicators in the top cameras (a VisTrack) weren't very visible so we've added an IR acrylic glass front panel and repositioned the LEDs on that.
There are a total of 7 LED indicators on the KX3 system now. The bright green LEDs indicate that both the upper and lower cameras have detected a ball on the mat and that the Xenon flashes are armed and ready for the shot.
The blue LEDs are trigger indicators and the red LEDs are power on indicators.
---
February 3 2016
The first VisTrack systems are being shipped now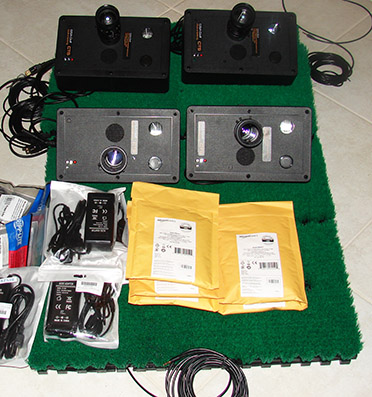 Here 4 VisTracks going out to customers in the UK and Canada
---
January 28 2016
The first KX systems are being shipped now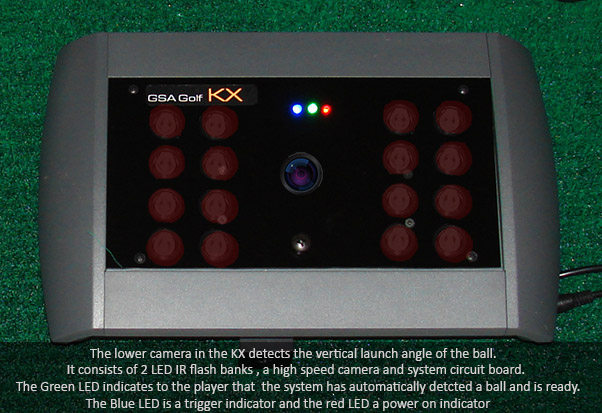 Click above image to read more about the GSA Golf KX launch monitors
---
January 26 2016
New - Super PGA Show special - The new GSA Golf X1 golf simulator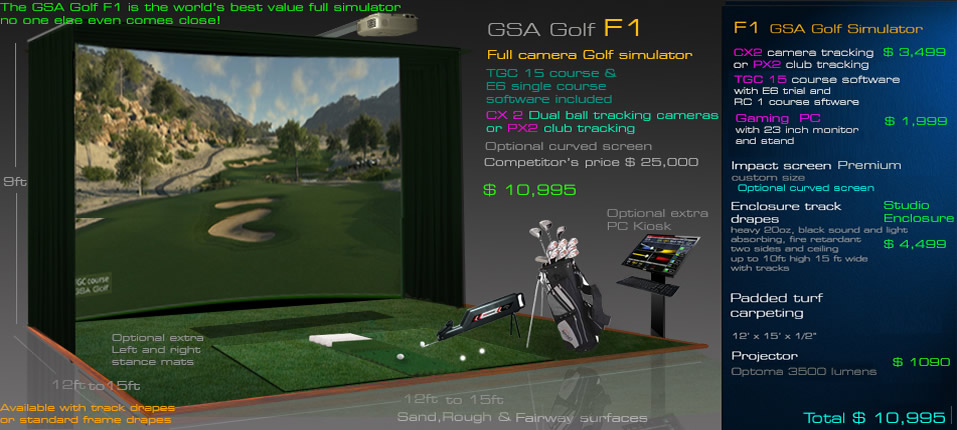 ---
January 25 2016
PGA Show
Note that we will be closed this week on Friday and the weekend for the PGA Show attendance in Orlando.
VisTrack production starts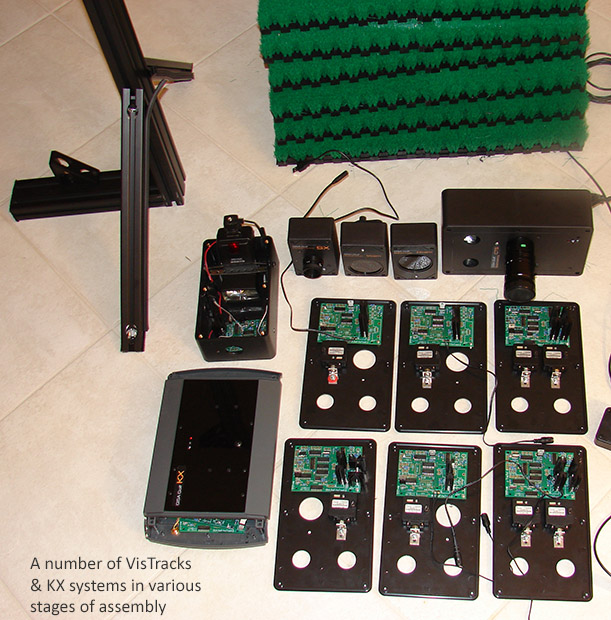 Here the first 6 units are going out this week as club tracking systems for CX3 and KX orders.
Due to a back log of orders there is currently a 2 week lead time on all GSA Golf products.
---
January 22 2016
VisTrack casings have arrived
Finally the VisTrack casings have arrived so we can start assembling VisTracks, KX and CTS systems for all the pre-paid back orders we have for these systems.
---
January 18 2016
New lower KX pricing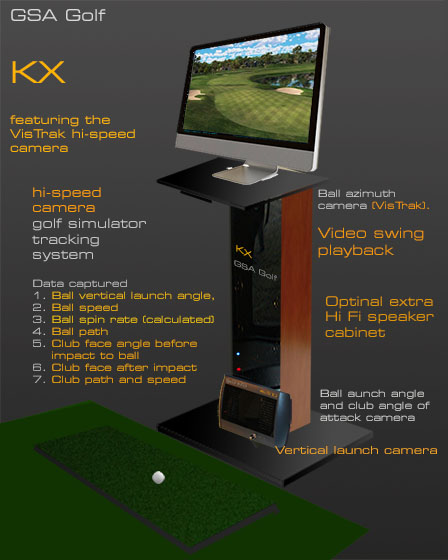 ---
January 16 2016
New CX2 with TGC software video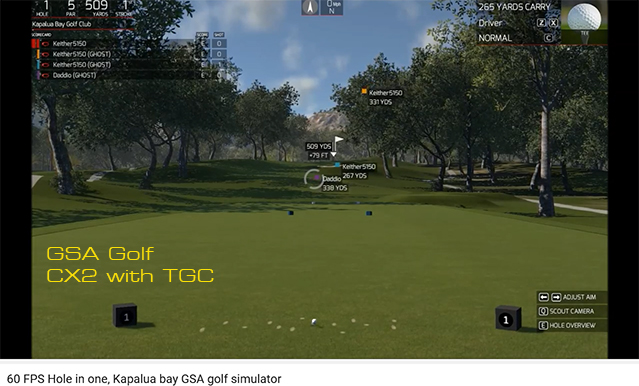 Many thanks to Keith in Canada for posting this on YouTube
---
January 14 2016
LX Lite setup part 1
LX Lite will also be playing an important role in the new VisTrack and KX series of launch monitors as it is integrated into these systems.
---
January 12 2016
VisTrack 4 / KX 4
Here we've used the KX cabinet IR acrylic glass panel to hide the lower camera (LX Lite) & aluminum stand and added a top surface for a monitor which additionally hides the VisTrack / CTS Pro unit.
The CTS Pro (Club Tracking System) dual color cameras fit nicely into the new VisTrack casing and the LX Lite (lower camera) is mounted directly onto the rear of the IR acrylic glass panel.
---
January 10 2016
VisTrack stand and KX Lite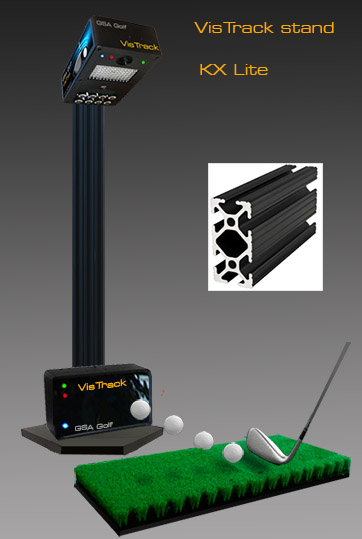 VisTrack stand
As not everyone will want to bother with mounting a VisTrack on the ceiling, we came up with a simple stand that makes the VisTrack portable
Stand price is $199
KX Lite
Essentially, 2 VisTracks on a stand is a KX system. We call this KX Lite
As an alternative to the quite heavy (30lbs) KX wood cabinet casing, the KX Lite weighs in at just 10 lbs.
Other than that, KX Lites have the exact same features as the cabinet KX systems.
KX Lites are also $1,000 less expensive than the cabinet KX systems.
---
January 8 2016
New GSA F series (Full system) super low prices
Click on above images to read more
---
January 7 2016
New!
GSA Golf Studio Enclosure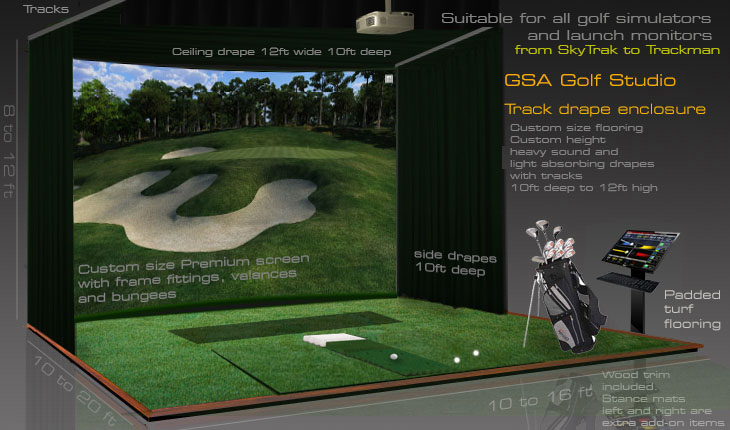 The GSA Golf Studio enclosure includes all stance mat turf flooring, wood edging, custom size impact screen, tube frames, 33 feet of drapes and projector mount
Enclosure can be self cut to size from 15 feet wide, 9 feet high and 15 feet deep down to whatever size you require below this
Use with any of our CX, KX, LX or VisTrack systems. Scroll down further for more details
Price: $ 2,999
without flooring
Price: $ 1,699
---
January 6 2016
GSA Golf Enclosure kits
New alu enclosure (15*10*5 feet) and screen tube frame kit for just $299
New 33 feet drape (light and sound absorbing) for entire enclosure just $399
Click above image to read more
---
December 30 2015
VisTrack update only
---
December 25 2015
Major CTS club face detection update

Click above image to see today's CTS test results
---
December 18 2015
VisTrack 3

Our independent golf professional VisTrack testers have reported some fundamental issues with VisTrack 1 and Vistrack 2 that can only be solved by adding a 3rd camera. Click above to read more.
VisTrack 2 software Beta release
The Force Awakens!
Well, not exactly "Star Wars" stuff but we have a solution for the Xenon flash units going into to sleep mode after 4 minutes of non use.
(They do this to conserve battery power but as we are feeding the Xenon flashes with a constant power supply source, we don't need this function)
Commercially available Xenon flash units - as used in the CTS, VisTrack and Bcam - will go into sleep mode after 4 minutes of non use and this will cause the systems to deliver images that are under exposed and thus not function correctly if triggered during this sleep mode.
All new CP releases will thus have a timer on incoming flash images and will send an "Awake" signal to the flash unit if the max 4 minute time period has elapsed.
---
December 17 2015
VisTrack 2 software Beta release

VisTrack 2 software Beta release is now online for VistTrack testers.
VisTrack 2 is the standard VisTrack combined with a Vcam vertical launch camera for more accurate vertical launch angle detection.
Note that the VisTrack series is currently being tested by a renowned independent company
Remote Line Scan camera sensitivity control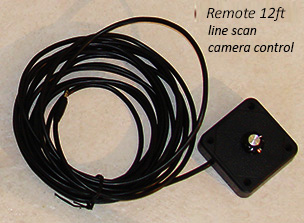 If using the CX or Vistrack systems in areas with varying ambient lighting conditions, then you'll like this.
The remote LS sensitivity control comes with a 20 ft cable and saves you from having to climb up a step ladder every time you need to adjust the sensitivity.
---
December 7 2015
VisTrack software
The VisTrack software is nearing completion now and the first Beta release should be ready tomorrow
CX lighting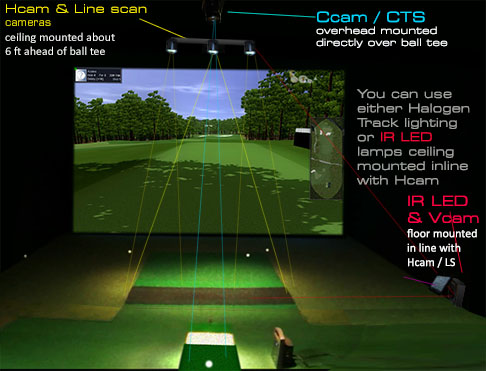 A number of customers have been experiencing problems with the IR LED lamp being too intense for the underlying surface.
i.e. there being too much reflection back into the line scan camera and thus it's sensitivity couldn't be adjusted to pick up putts and low flying shots.
As an alternative, we're now recommending halogen track lighting for the Line Scan camera and placing the IR LED lamp next to the Vcam on the floor (as shown in the above image).
The track lighting costs around $50 with 3 lights. Halogen bulbs should be 50 watt 10 to 24 degree beam.
---
November 25 2015
CTS testing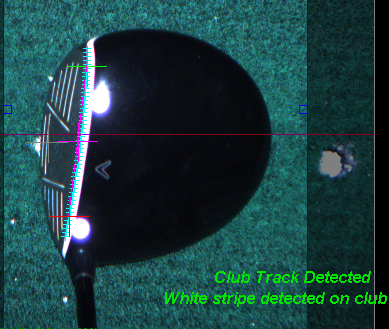 We're investing a good 40 to 50 hours a week testing various clubs with the CTS now. Today's CP results can bee seen by clicking on the above image
---
November 24 2015
CTS Pro Color now available in both HD (Hi definition) and SD (Standard definition) versions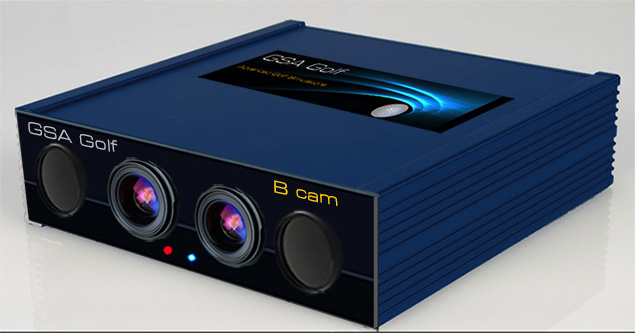 CTS Pro SD Price $ 2,799.00
CTS Lite SD Price $ 1,999.00
The above two images are from the new CTS Pro SD version. For all intents and purposes the SD - Standard Definition - version of the CTS is just as good as the HD (Hi Definition) version.
the terms HD and SD are somewhat misleading here as the cameras in both versions are exactly the same. The only difference between them is the lens.
The HD version features a powerful zoom lens that allows us to zoom in close on the club whereas the SD version has a standard non zoom lens.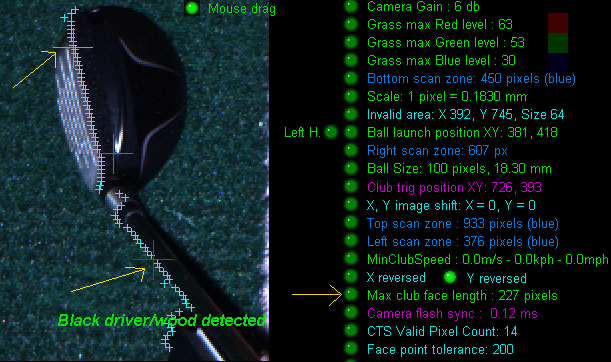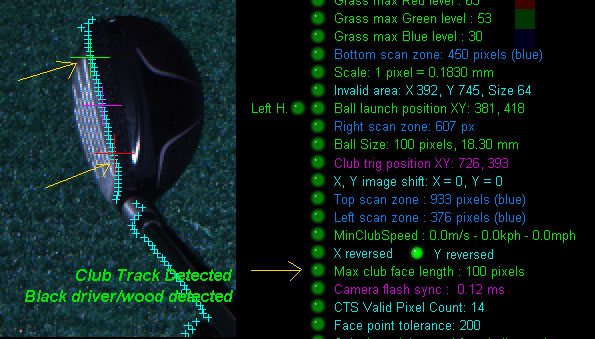 In order to prevent the club shaft from being picked up as part of the club face (as in the above left image) a new max club face length number has been added to the CP.
Measured in pixels, it should be set to around 100 for the SD version and 200 for the HD version of the CTS.
---
November 19 2015
CX Hcam update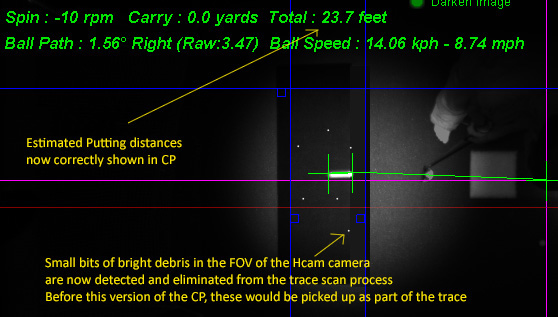 A couple of updates today in the Hcam image processing
1. Putt distance is now correctly estimated when not using any game software. i.e. using just the CP
2. Small bits of bright debris in the FOV of the Hcam camera were being picked up as part of the trace. Now fixed with this version of the CP.
---
Super Improved fades and draws in E6 when using CX or LX systems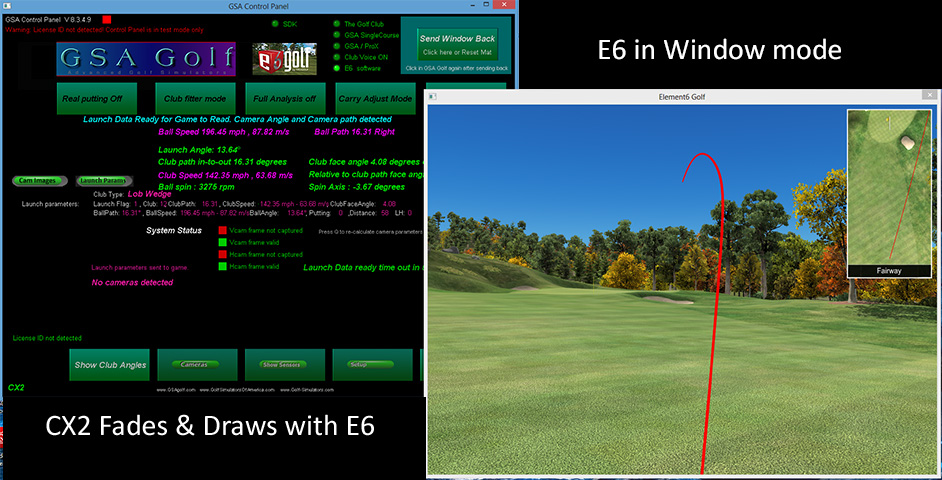 Super Improved fades and draws in E6 when using CX or LX
Up until now E6 with GSA Golf CX systems has been way too forgiving with hardly a draw or a fade in sight. Not anymore with this CP update though. Super fades, draws, hooks and slices and now standard if not hitting straight.
BTW just in case you want to run E6 in a Window instead of full screen mode (great for testing with the CP) then do the following:
Open the defaults.stg file in the TruGolf folder with Windows Notepad and change the bWindowed="False" entry to bWindowed="True"
---
November 15 2015
TaylorMade mini driver
INovember 14 2015
Improved CTS color club face detection
Standard CTS color club face detection has been improved in this version of the CP

CTS club detection using IBS development
IBS methods are still in development. Main issue is that the background mat image without a club doesn't always match the mat image with the club although the images are captured at nearly the same time.
In this case, subtracting the background mat pixels from the foreground mat pixels leaves white noise all over the resulting image and the club face detection fails.
Note that the new IBS feature is in beta test mode only until further notice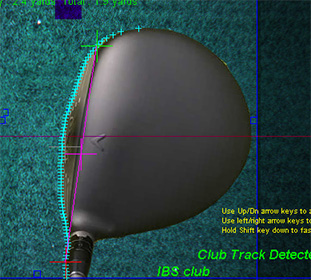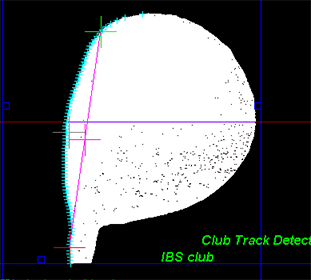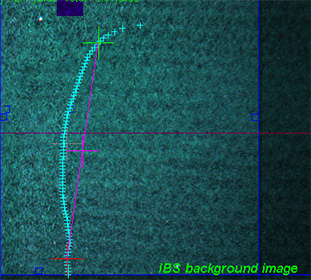 The above images show that the current CP's IBS (image background subtraction) functions perfectly when the background image is very near identical to the background in the club image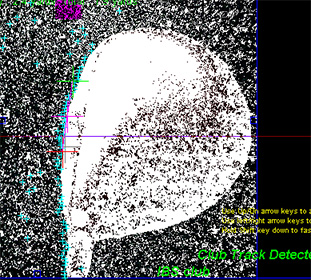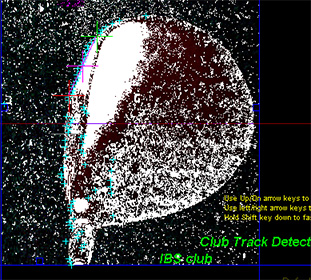 Problems, however, occur when the background in the club image changes slightly (due to slightly different flash intensities or variations in the way the camera captures and converts color into RGB pixels).
We can reduce the noise to an extent by allowing more color variation tolerance in the subtraction process but then the club itself starts to loose definition as well.
If the mat was a pure uniform green - like a sheet of paper - then there'd be no problem but grass fiber mats produce millions of varying small reflections that change with every image capture.
I knew there'd be some variation but quite surprised that the variations are so dramatic even though - to the human eye - the backgrounds appear absolutely identical.
Still, we're working on it and I'm sure we'll have a solution soon.
Until then though, this new IBS feature is in beta test mode only until further notice
Vcam Trace tapering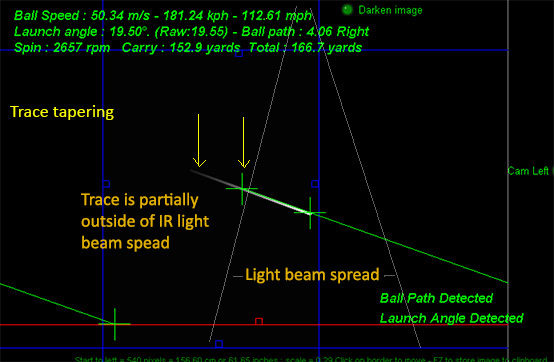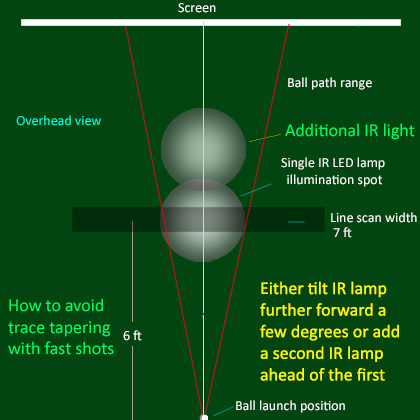 As measured ball speed is directly proportional to the length of the ball image trace , it's important that the ball trace from beginning to end is well illuminated.
With really fast high speed shots, it is possible that the ball won't be sufficiently illuminated to leave a solid trace and appears to taper out towards the end.
The image processing software in this case won't detect the full length of the trace and thus the measured ball speed will be too slow.
In order to avoid this problem additional illumination (either IR LED or Halogen) has to be added further ahead towards the screen
---
CTS club detection using IBS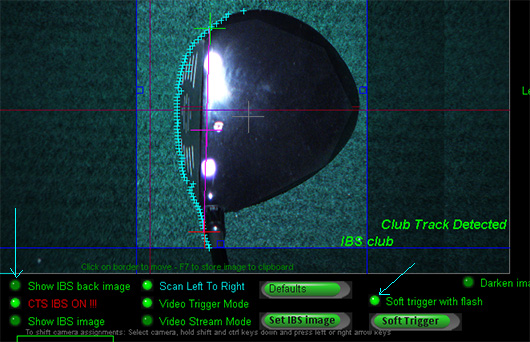 A couple of new functions have been added to the CTS IBS.
"Show IBS back image" displays the captured background image
"Soft trigger with flash" enables the Xenon flash when soft triggering
There's still a fair amount of work to be done yet on the IBS software but we're getting there.
Note that the new IBS feature is in beta test mode only until further notice
---
November 11 2015
CTS club detection using IBS
CTS IBS is now available with this version of the CP.

Click the above button to see how to set it up.
Improved trace checking
For CX2 users, there's now improved trace checking that helps prevent inadvertent ball launches when walking in the FOV of the cameras.
---
November 10 2015
CTS club detection using IBS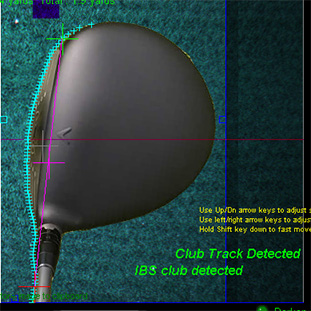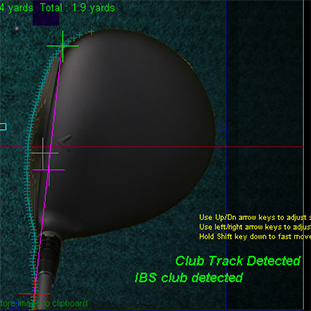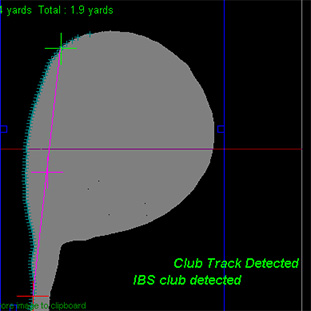 Using IBS (image background suppression) the CTS can now detect any club no matter what its color is or how dark it is or what ever color variations appear on the club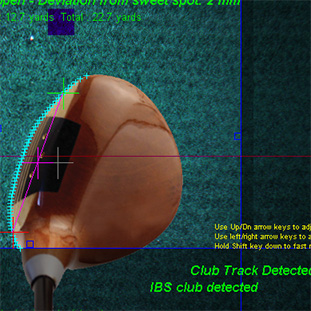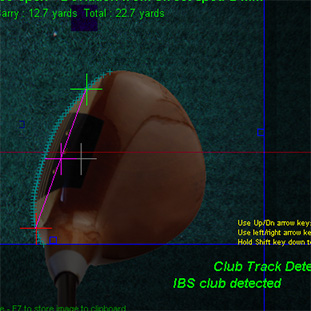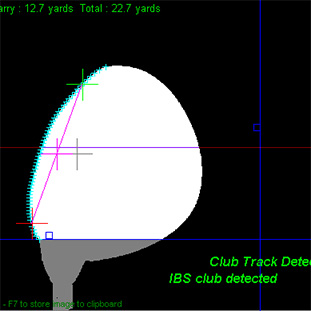 Even woods made of real wood with no metallic faces can be detected.
IBS for CTS software will be ready later this week.
---
November 8 2015
Improved CTS color club face detection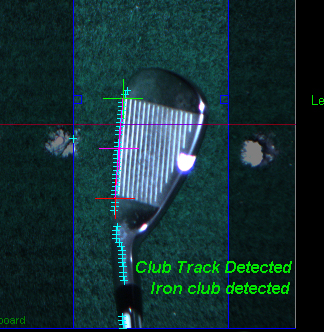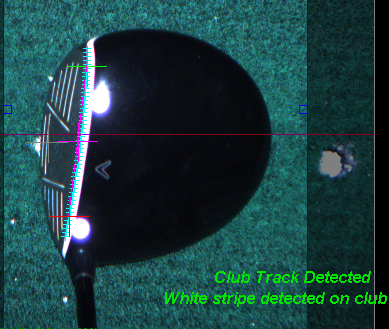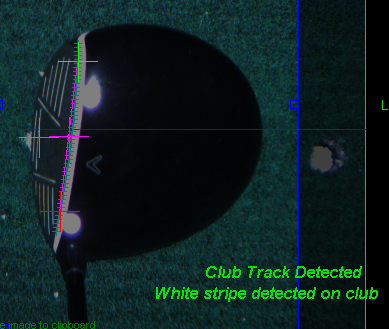 The new CTS club tracking software now detects face angle of drivers/woods that don't have bright metallic faces or a white stripe on them. (Image left)
In addition, the club type (wood or iron) can be detected and whether or not the club has a white stripe on it.
---
November 4 2015
CX left / right shot detection range
One current issue we have with a customer in Quebec Canada at the moment is the detected ball path left and right range. ie; balls going further than 2 feet left or 2 feet right are not being detected.
We suggested adding more lighting left and right and possibly adding more line scan cameras but a simple solution would be to simply move the hitting position further forward towards cameras or move the cameras - including the IR LED lamp - further back towards the player.
To-date we have been recommending that the ball hitting position be at least 6 feet behind the cameras but we're now thinking that 4 or even 3 feet would work just as well and thus increase the ball left/right ball path detection range.
Using the new "Scan left to right feature" would eliminate the issue of the club head entering the FOV of the cameras and the left / right ball path range would be significantly improved.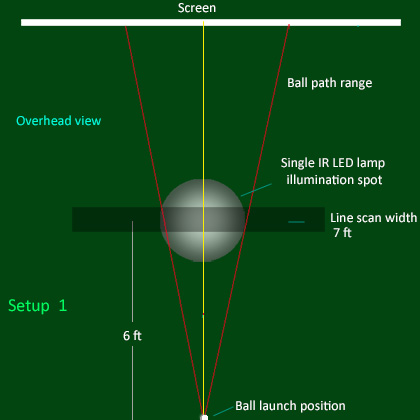 --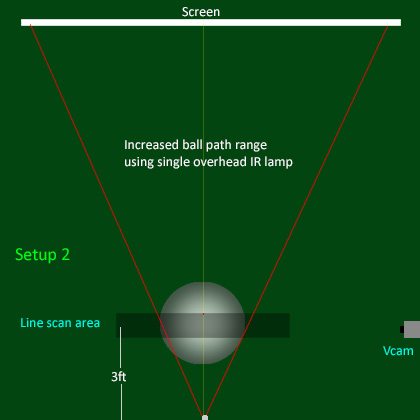 --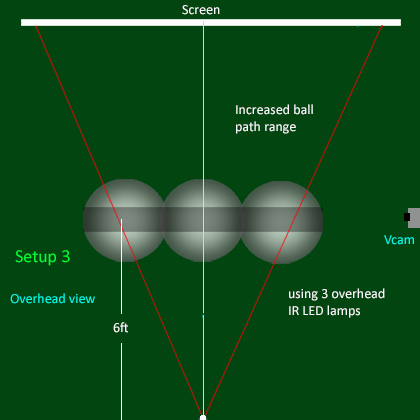 In the above images, Setup 1 is probably the standard setup for most users. The problem is that the ball path detection range (direction left and right) is quite limited so if balls are hit to the far left or right side of the screen, they won't be detected.
The problem is not so much the line scan camera's FOV - which has a 7 foot plus scan width at ground level - but the overhead lighting which doesn't produce a wide enough beam angle.
In Setup 2, the cameras and lighting have been moved further back towards the launch position and this increases the ball path range nicely.
The only problem is that the ball cannot be played so far ahead as before. i.e. when playing from rough and sand grass panels that are positioned ahead of the normal fairway grass tee position.
In Setup 3, the range is increased by adding more IR LED lamps so that the ball is still detected by the line scan camera when being hit far left and far right.
---
November 3 2015
Taylor Made's new M1 driver with CTS

The CTS software has now been modified to detect accurate club data with clubs like the M1 driver from Taylor Made that feature a dark club face and a white top.
The new CTS software mod scans the club image to determine the color of it's top and accordingly changes the face detection to this color. Face angle detection is then the transition points to this color instead of the face itself.

The new method also works with pink clubs.
CP update with this feature will be ready by the weekend.
---
October 28 2015
Artificial turf Anti reflective treatment tests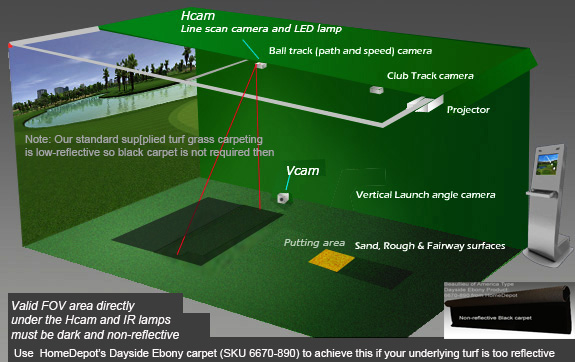 Click the above image to see the results of some grass turf anti reflective treatments
---
October 22 2015
New default values for left / right speed adjustments

Calibration was done using a white yard stick to simulate a constant ball trace. Ball speed measured with these settings was the same when ball path was 20 degrees left, straight and 20 degrees right.
Color camera to monochrome image conversion.
Using a color camera for functions other than a color CTS (for example switching a color CTS camera to a ball spin camera or switching from color CTS to tracking dot CTS) the image must be converted to monochrome.
Use the new "Using color camera" option in the camera window to activate this.
---
V 8.3.2.9 Raw angles and chipping
If using the new RAW angle method to measure launch angle instead of measuring launch angle from a predefined position, this updated version of the CP will automatically switch back to a predefined launch position if the ball speed is below 20mph.
This is to prevent incorrect and possibly negative launch angles being measured when chipping.
---
October 8 2015
Scan direction

Up until now the system has been scanning from right to left to detect the ball trace in the Vcam.
The problem with that has been the club head may occasionally enter the valid FOV of the camera as well as the ball and be picked up instead of the trace itself. The above image demonstrates this.
Using the new "Scan Left To Right" setting solves this problem. Note: This setting is now default.
Raw Angle / Launch Angle

If you like you can now switch to Raw launch angles. The raw angle is the angle between the start and the end of the trace instead of between the defined ball launch position and the beginning of the trace.
Use the new "Use RAW launch angle" button to switch this on or off.
Note that when using raw angles the angle measured between small traces won't be so accurate and when chipping, the ball may already be on the downward path in which case the ball launch reading will be negative.
---
September 29 2015
CX2
New algorithm to calculate club face angle for fades, draws, hooks and slices
The previous method worked well with TGC software but not with RedChain and E6 which was just producing pushes and pulls without or little curve in the flight.
Note CX2's have no club tracking hence it has to be calculated from ball tracking data.
---


Installation

CX Camera Systems
LX Camera Systems
Software installtion and PX2/PX5 sensor mat

-
-
Club track camera installation
Ball Spin camera
Click above buttons to see customer tech support examples



---