---




Technical News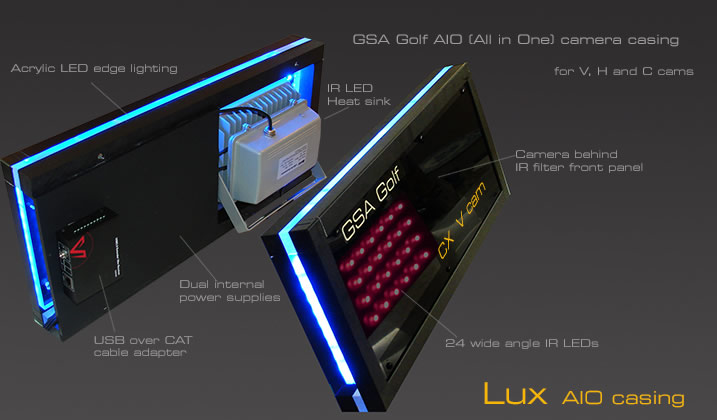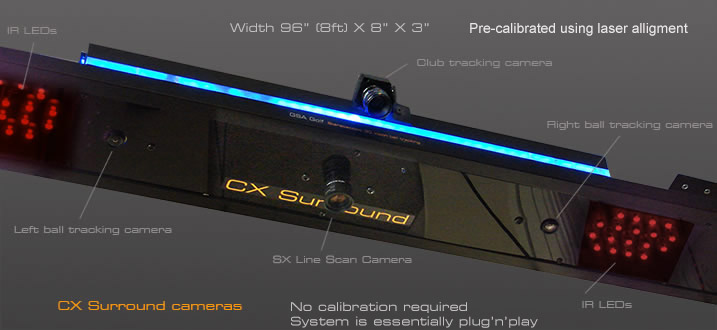 System Updates & Development News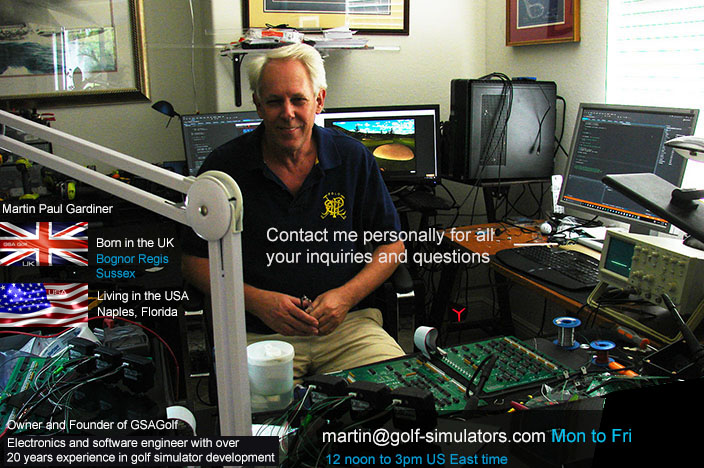 Hi! I'm Martin Paul Gardiner
Electronics and software development engineer and founder of GSA Golf
Regularly check out my tech news page for all our latest developments and free updates
if you have any questions
please feel free to contact me personally anytime at


Did you get a response to your e-mail?
We get really busy at times and e-mail responses can be late or even forgotten at times.
Please remind us again if you didn't get a response to your e-mail.

---
GSA Golf Control Panel (CP) downloads

GSA Control Panel (CP) update V.8.8.0.5 - Windows 8 / 10 version
September 18 2018
Download VC redistributables hereHere
Don't forget to run the download after it's downloaded!
A number of customers don't realize that a CP update is a dual process
i.e first download and then run the download
Note that anti-virus programs will probably try to block the GSA Golf CP update download but - be assured - there's no malicious software in the download update
so just ignore any warnings from your anti-virus programs and choose the "More options" and "Run anyway" option.

GSA Control Panel (CP) full version download
Note that the full version installation will overwrite any user settings if you have had any previous GSA Golf CP installations
Download standard configuration files hereHere

GSA Golf Game software download
Warning! if you already have the full version GSA Golf /RedChain software installed, downloading this free single course version will prevent the full version from running correctly
Note: If you encounter a windows error message stating that it could not find d3dx9_30.dll when starting GSA Golf,
download and copy the d3dx9_30.dll to your windows\SysWOW64 folder.
Download here d3dx9_30.dll
Download d3dx9_30.dll 64 bit version here d3dx9_30.dll
Full version GSA Golf/ RedChain software Download here GSA Golf Setup
Camera Driver 2.11 33MB FlyCapture Viewer 2.11
Your GSA Golf cameras require that the camera drivers are installed. If you missed this during the initial installation process then download and install the above linked software

Experimenting and testing shots with manually entered launch parameters
You can test shots by manually setting the launch parameters in the Control Panel.
Right or Left mouse click in the Edit fields to change the parameters.
To see the trajectory of the ball in flight just click the "Launch Shot" button while having the GSA Golf software running in the background.
---
In case of issues you can manually install the CP update .exe file by following these instructions

Note: The above update download is just an update for existing customers and not the full version Control Panel
---



-

-

-


-
-

-


-

-

.




---
September 18 2018
Balls lying around on the floor in the FOV of the H cam camera
Small issue with this new feature now resolved.
Issue was : ball lying on floor behind the ball trace was being ignored and sometimes being picked up as part of the ball trace.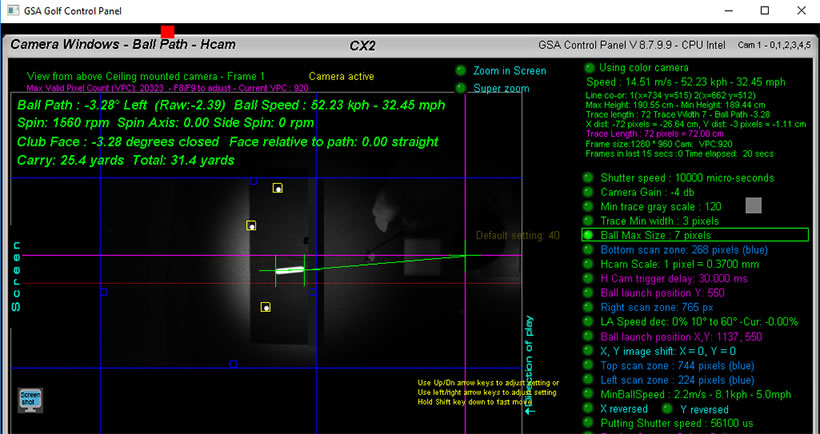 ---
September 13 2018
All new super looking AIO casings for the CX cameras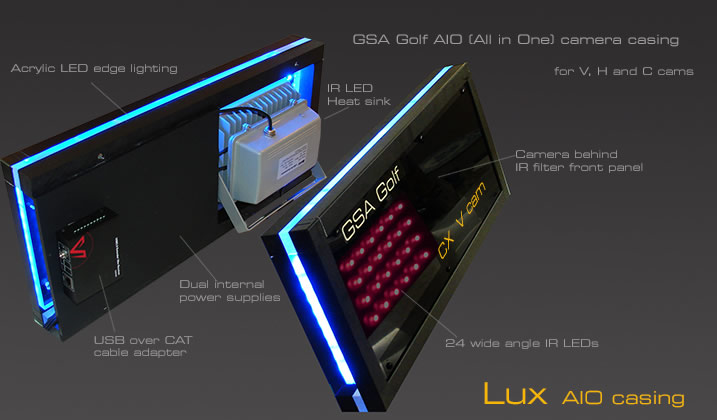 As we liked the CX Surround casing so much we decided to offer the same type of casing for the H, V and C cams too.
The AIO casings include all cameras, lighting, USB over CAT adapters and power supplies for a far easier and cleaner installation
and - in addition - have a super cool look with the IR Acrylic front panels and acrylic blue edge lighting.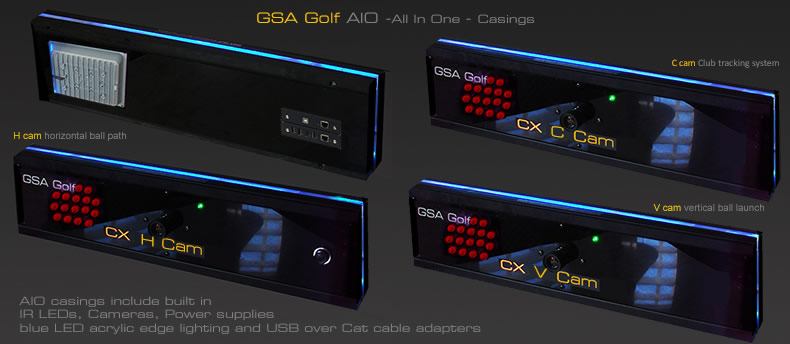 ---
September 12 2018
Hcam / CX Surround IBS tests


IBS (Image Background Subtraction) tests of ceiling mounted cameras using the regular turf carpet with varying ambient light conditions (i.e. next to an open window with sunlight and cloudy skies) show that IBS still works well.
Other than a few small dots appearing the image, the ball trace is still very well high lighted. Note that IBS will probably be used in the new CX Surround to ensure that high speed balls with faint ball traces will be detected.
Balls on floor detection
Improvements to this feature have been made in this version of the CP
---
Balls lying around on the floor in the FOV of the H cam camera issue now solved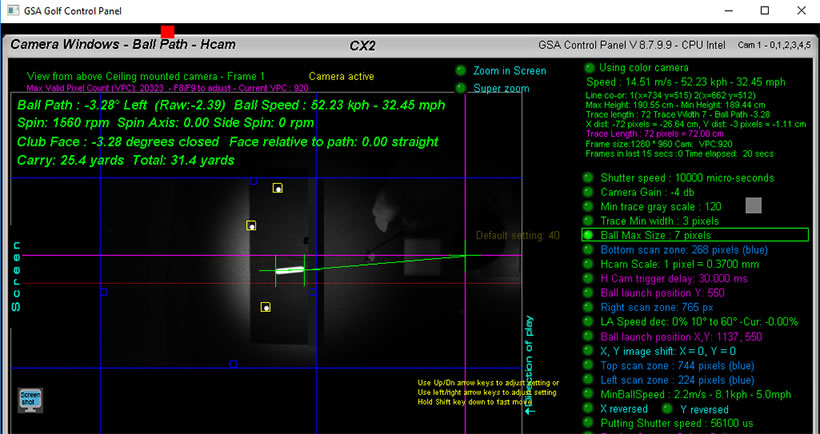 Balls that bounce back from the screen and lay around on the floor in the FOV of the Hcam can cause problems with the ball path detection of the Hcam.
This version of the CP now automatically detects such balls and declares them as invalid areas so that the correct ball path can be measured.

As this is a new feature, this option can be switched on or off.
Click the above images to read more about this new feature.
---
September 9 2018
CX Surround cameras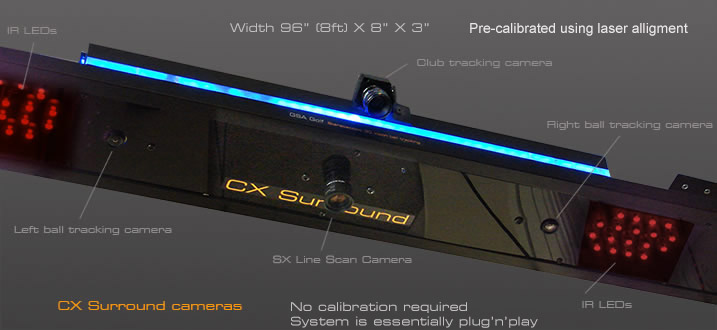 The CX3 Surround features 3 full frame IR cameras and 1 Line scan camera
---
September 5 2018
Two bug fixes:
1. Ccam club data camera - even though "Face angle at impact" is selected, system still used "club face angle before impact". Now fixed
2. When V and H cam calibration is switched OFF, system did not show the Left / Right ball speed adjustments. Now fixed.
CX Surround stereo calibration updates
Distance terminology confusion
The term Distance in the stereoscopic calibration window was being used twice for different meanings. 1. for distance ball traveled. 2. distance white calibration strip is from camera.
Distance traveled is now Trace length and distance from camera is now D from C.
A number of improvements have been made to the calibration process.
Focal length and Pixel Width adjustments now showing results immediately.
Focal length and Pixel Width adjustments are now explained on the Stereo Setup and Calibration page.
CX Surround mounting.
Mounting the 4ft long 12lb CX Surround to the ceiling will normally be a two man job using two step ladders.
It's too dangerous to try it alone while standing on a step ladder 6ft off the ground doing a balancing act holding the unit up to the brackets and trying to thread the holding bolts at both ends at the same time.
I actually managed it though. I really wanted one installed in my office so I can do some small tests here without having to drive to the showroom every day (a one hour drive) and there was no one around on Labor Day to help.
Using two hoists made of nylon rope and cable latches at both ends made the process easy and safe. Took an hour though.
---
September 1 2018
CX Surround / GC Hawk comparison
How does the GSA Golf CX Surround compare with the GC Hawk?
i.e. is the GSA Golf Surround a poor man's GC Hawk like the SkyTrak is a poor man's GC2?


Click the above button to read about this subject on the CX Surround Tech News
---
August 29 2018
Click above to see installation instructions, options and pricing of our new raised flooring.
---
August 19 2018
GSA Studio enclosures with other brand tracking systems
The GSA Golf Studio Enclosure ($4,499) with
SkyTrak (add $2,000) with GC2 (add $7,000) with FlightScope (add $15,000) with Trackman (add $19,000)
As we're selling as many - if not more - Studio enclosures for use with other brand systems these days than with our own tracking systems, there's now a dedicated page on this web site for these.
Of interest, nearly all our GSA Golf Studio packages using other brands are less than half the price of most other resellers.
---
August 17 2018
CX Surround production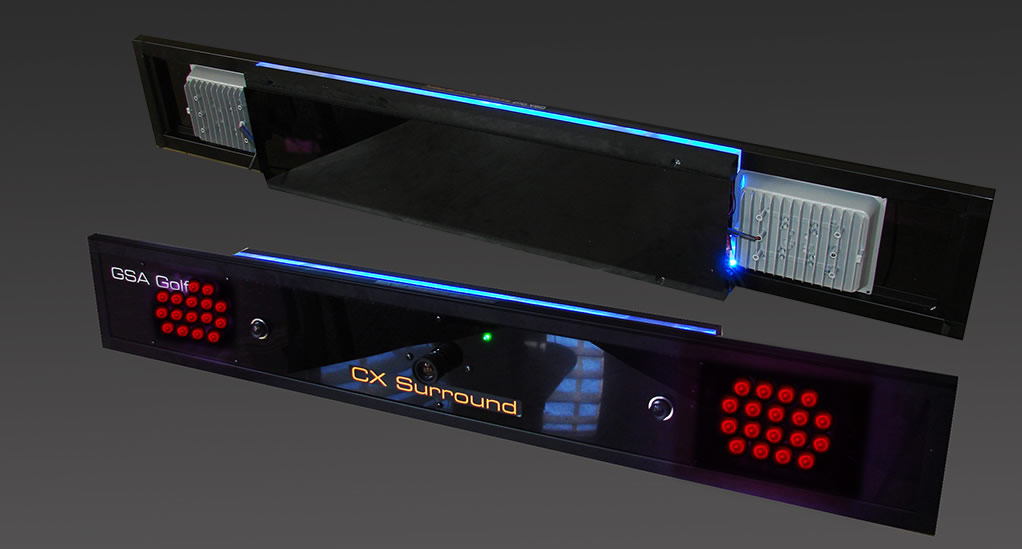 The above are the first photos of the CX Surround production model.
The casing differs somewhat from the initial design but still looks really cool. Especially with the LED Acrylic edge lighting (on both sides).
I had a dickens of a time making the photos with the IR Leds switched ON. To the human eye, the Leds just glow a dark red but the photos showed them glaringly bright. I guess the pixels in the camera are very sensitive to IR light.
The unit actually looks better in real life.
Note that we have left the LED heat sinks exposed on the back of the unit as they get quite hot.
Even though the cameras are USB, the CX Surround will come with built in USB over CAT converters so there will not be any issues with cable lengths. (Up to 50ft).
The power supplies (dual 5 amp 12v and 5v supplies ) are built into the unit so there's only the 120v power cable plus the two camera CAT cables going into it.
Dimensions: 50" L x 8" W x 2.5" H. Weight : 12.3 Ilbs
---
August 7 2018
Minimum ball speed reduction when in Chipping Mode now limited to 50% instead of 2.5% as number of customers reported ball distances when in chipping mode were only a couple of feet.
A remote support session showed that their chip ball speed reduction was set to 2.5%.

The "What's in the Box" page has been completely updated.

Lots more info and ideas on how to raise flooring on the flooring page.
---
August 3 2018
USB over CAT5
There's a new wiring diagram for the PX5 system using USB over CAT cabling on the wiring page now
---
July 30 2018
New IBS - Image Background Suppression method
IBS has been significantly improved in this version of the CP.
With IBS ON, the background is reduced in brightness to reveal the ball trace.

Click above to read more about IBS
---
July 14 2018
Dual club tracking mats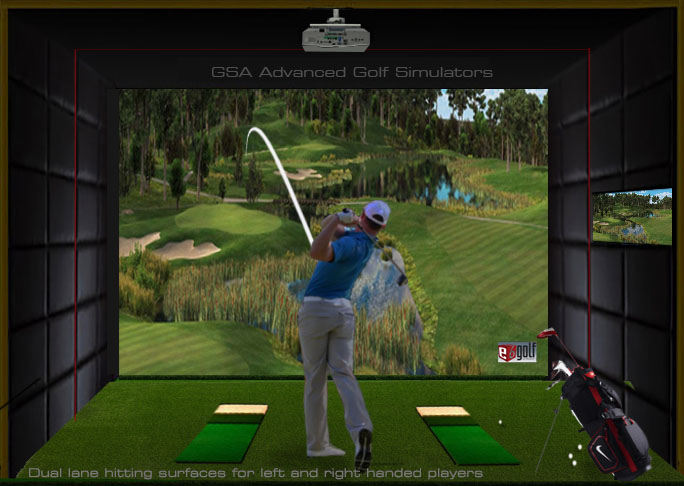 The software update for those using a dual lane PX5 system is now complete.
The system automatically switches from left mat to right mat and vice versa when a left or right handed player is up.
New "Carry Adjustments" page

One of the most asked questions is how to adjust the carry distances in GSA Golf.
I've thus made an extra web page just for this.
---
July 11 2018
Fix for TGC sometimes not excepting shots
The fix for the above issue is now available in this CP update.
July 11 2018
TGC sometimes not excepting shots
We've noticed that TGC can sometimes seem to hang and not except shots.
We are currently seeking a solution to this problem with ProTee and a fix will be available shortly.
In the meantime, if you find that during a game TGC suddenly stops excepting shots, press the "ESC" key and select "Rewind shot" in TGC.
---
June 18 2018
Bcam and LX systems.
Measuring ball spin using the ball's logo.
New logo matching end detection.
An issue with measuring ball spin using the ball's logo is that the correct matching ends of the logo must be detected in order to correctly measure the amount of rotation within the time frame..
i.e. if one end of the logo is found in image 1 then that same end has to found in image 2. Failing to do this can result in very different ball spin rate measurements.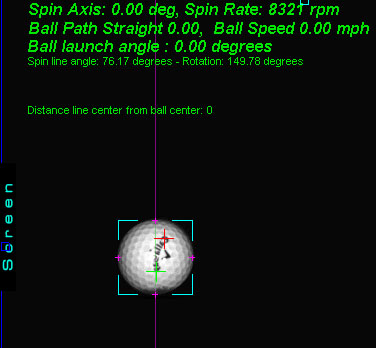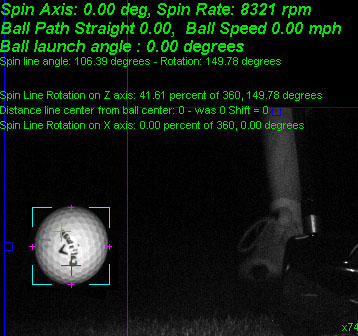 The above two images show a ball spinning at a rate of 8321 rpm. We know this because the amount of rotation within the 2 ms frame delay was 149.78 degrees.
And we only know the correct amount of rotation because the Letter "C" in the Calloway logo has been detected correctly in both frames. This is shown by the two red cross hairs over the letter "C".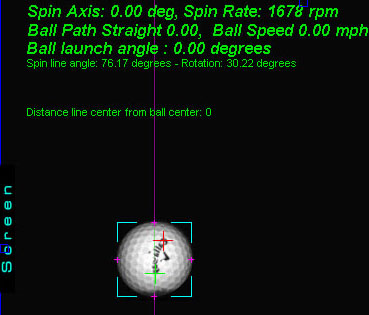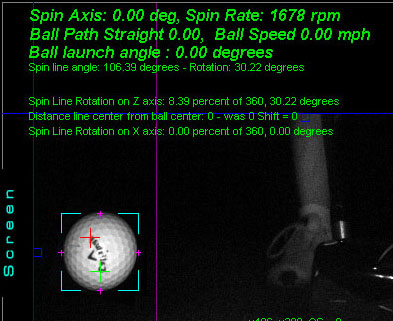 Without this new "Matching logo end detection" feature, the CP image processing may well get the ends mixed up and then a totally different amount of rotation will be measured
(i.e. 30.22 degrees here) and thus a totally different and false ball spin rate will be calculated. (Note that the two sets of images are from the same shot.)
As can be seen from the above two images, the letter "C" in the Calloway logo has not been detected in image 2 (i.e. there's a green cross hair on the "C" instead of a red cross hair).
And thus a false spin rate measurement was calculated (i.e. 1678 rpm instead of the real 8321 rpm).
It should be noted that not all ball logos have a dominant end and thus it may be required to use a black magic marker or black ink pen to accent one end of the logo.
Note that measuring ball spin using the logo (or any marked balls like those with A systems) is the only way a camera method of ball spin detection is able to do this in real time. i.e. without a long 2 to 4 second or so lag time (SkyTrak / GC2 etc).
While radar systems (Trackman, FlightScope etc) require metallic dots be applied to the ball and the ball be placed with the dot facing upwards.
---
June 15 2018
LX & Bcam ball spin calculation error now fixed
An error causing incorrect ball spin measurements was detected today in the LX and Bcam products.
The occasional error caused very high spin rates to be calculated (usually capped at 9999 rpm). This is now fixed in this update.
---
April 28 2018
Hcam launch for high lofted shots that are out of the FOV of the Vcam

As it's possible that the ball trace with very high lofted shots will be out of the FOV of the Vcam camera, we've added a new feature that will allow the ball to launch with just the H cam data.
Switch this feature on or off in the Hcam window (lower right side of screen).
Note that this feature has 3 modes. 1. OFF, 2. only ON when in chipping mode, 3. Always ON
Default is 3. Always ON
When ON and a valid shot is detected in the Hcam but no valid trace is detected in the Vcam, the speed and direction of the of the ball will be measured just from the Hcam.
Vertical launch angle will be taken from the loft of the selected club.
Low trace brightness

The Vcam ball trace brightness can be substantially increased by using high intensity narrow beam IR lamps next to the Vcam that are pointed at the trace capture area.
The above 200 LED IR lamp is just $69 on Amazon. The ball trace on the left of the above image was captured without a floor mounted IR lamp. The same ball trace is on the right but with the narrow beam high intensity IR lamp.
As you can see, there's an amazing difference in ball trace quality.
---
---
Typical screen shots are as in the below images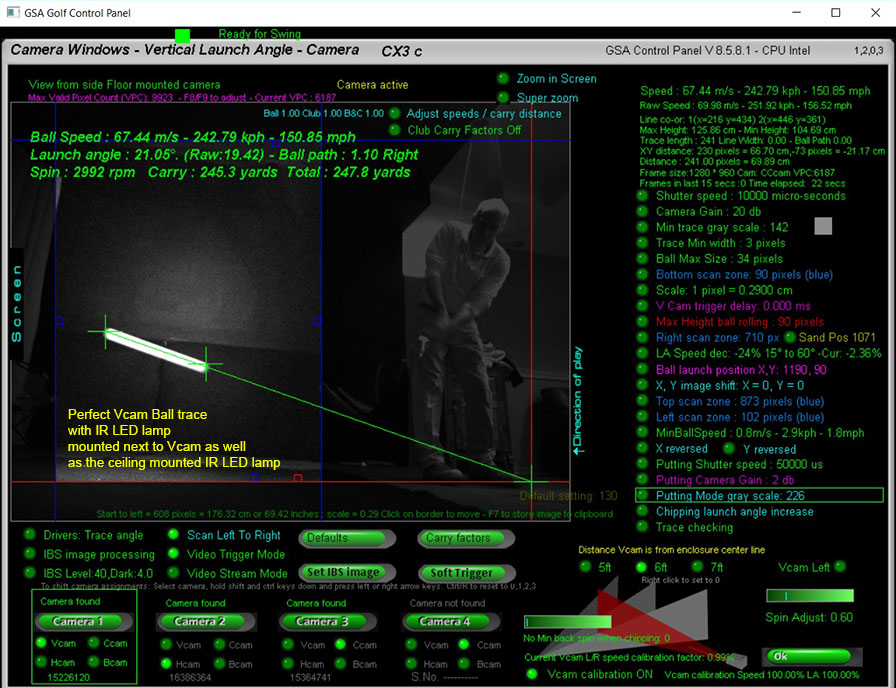 The side mounted Vcam detects vertical launch angle and speed of the ball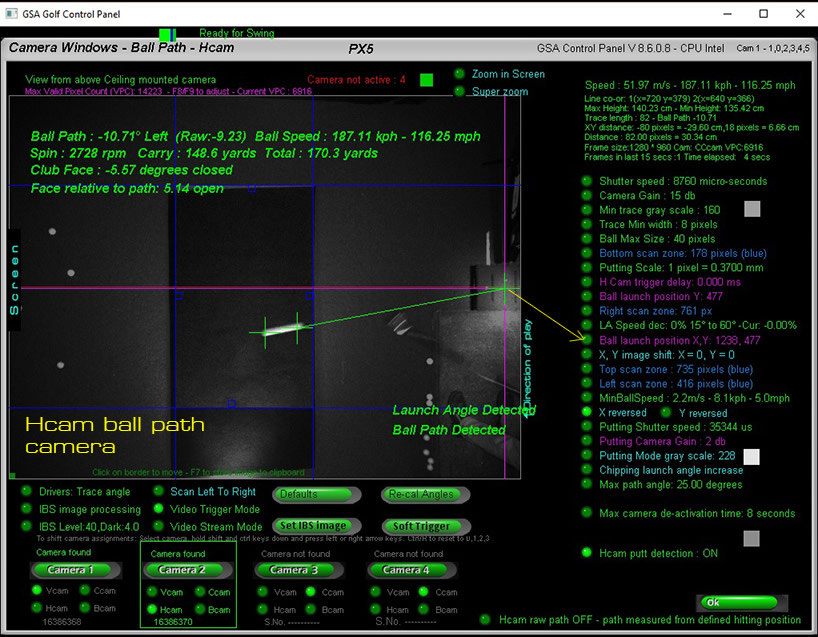 The ceiling mounted Hcam camera detects ball path for normal shots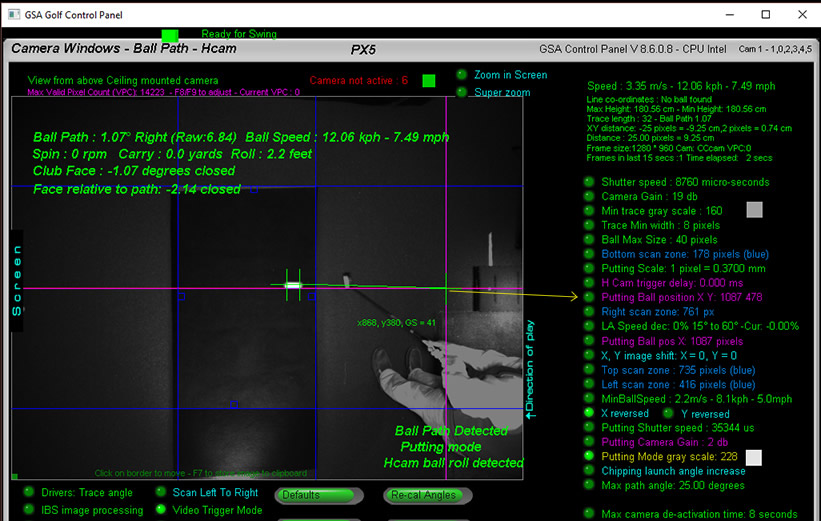 and ball path plus speed when putting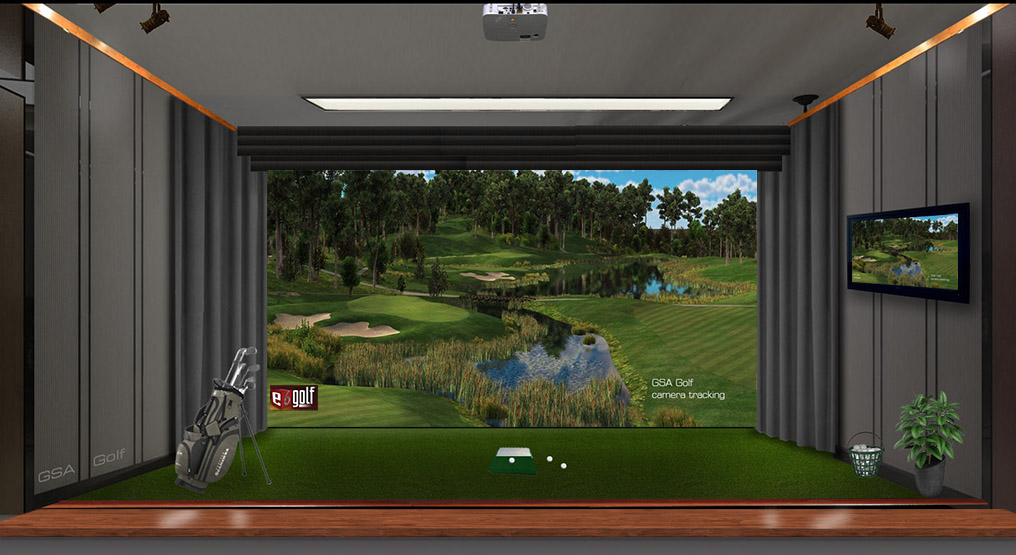 Installation



---


Factory
Based in Naples, Florida,
all GSA Golf products are meticulously assembled and tested by hand to meet the highest industry standards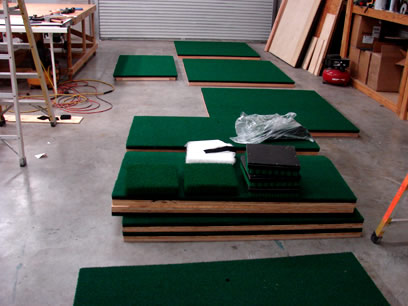 ---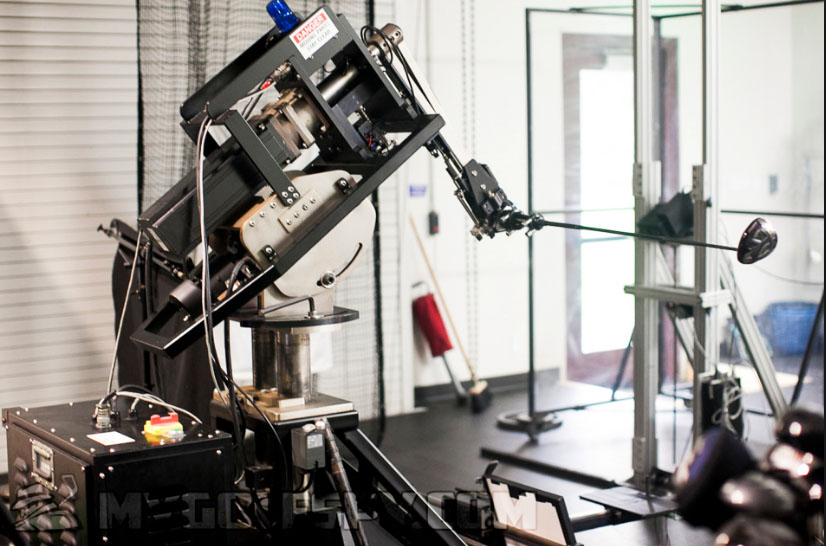 A bit about me just in case anyone is interested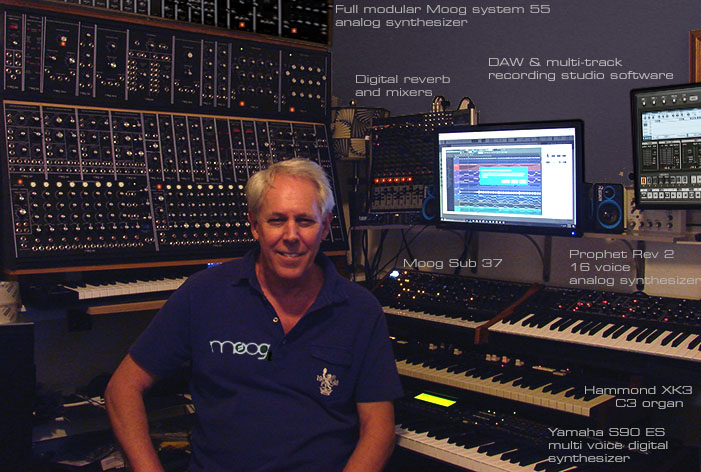 When I'm not developing golf simulators, you'll find me in my music studio



---