---


Technical News

System Updates & Development News
by Martin Paul Gardiner
Electronics and software development engineer and founder of GSA Golf
The GSA Golf range of golf 3D graphics software and electronic hardware is being updated with new features continuously.
New Features are being added and mods being made on nearly a daily basis so please check here regularly for your free updates.



Click on site map for all installation links

Click above image to go to The Golf Club software with stunning graphics and over 58,000! golf courses for just $999

---
GSA Control Panel (CP) update V.8.3.2.7 - Windows 7 / 8 version
October 8 2015

Note !
The current update download has an installer. Just click on the Install button after down loading and running.
In case of issues you can manually install the CP update .exe file by following these instructions

Note: The above download is just an update for existing customers and not the full version Control Panel
Download Visual Studio Windows 8 x86 runtime components here
Click the above image to download the full version of the GSA Golf Control Panel (V.8.2.6.8)


Click the above image to download the GSA Golf single course software.
Course can be played with the Control Panel via either a mouse or manual launch parameter setup for evaluation.
Note: If you encounter a windows error message stating that it could not find d3dx9_30.dll when starting GSA Golf,
download and copy the d3dx9_30.dll to your windows\System32 and Windows\SysWow64 folders.
Download here d3dx9_30.dll
The above API / SDK can be used to interface GSA Golf products to other golf game software


Click on the above link to purchase GSA Golf products at the component level
---

Sales or Support ?
Due to the heavy work load on at the moment with development and fulfilling orders we may not always be able to get to the phones.
If you have questions or require support please e-mail and we will get back to you within 24 hours.
Remote access support is free of charge so please contact us if you are having setup problems. Click above "TeamViewer" image to download free of charge.
Please also note that we are closed on weekends and national holidays and that telephone office hours are 10 am to 4 pm.

Note! All GSA Golf software and hardware updates (yes! product hardware updates too) are free of charge for life
GSA Golf are constantly researching and working on improvements to their product line.
If we find better methods and improvements for any processes we pass them on to our customers free of charge to ensure that their investments are secured.

---
October 8 2015
Scan direction

Up until now the system has been scanning from right to left to detect the ball trace in the Vcam.
The problem with that has been the club head may occasionally enter the valid FOV of the camera as well as the ball and be picked up instead of the trace itself. The above image demonstrates this.
Using the new "Scan Left To Right" setting solves this problem. Note: This setting is now default.
Raw Angle / Launch Angle

If you like you can now switch to Raw launch angles. The raw angle is the angle between the start and the end of the trace instead of between the defined ball launch position and the beginning of the trace.
Use the new "Use RAW launch angle" button to switch this on or off.
Note that when using raw angles the angle measured between small traces won't be so accurate and when chipping, the ball may already be on the downward path in which case the ball launch reading will be negative.
---
October 7 2015

New Exclusive GSA Golf reseller in India
---
October 6 2015
New exclusive GSA Golf reseller in Russia
GSA Golf is currently also in negotiations with resellers in France, Holland, South Africa, Taiwan, South Korea, Singapore and many more.
Announcements to be made soon.
---
October 4 2015
V 8.3.2.6 Improved CTS Color club tracking
Click above to see New CTS results
---
New exclusive GSA Golf reseller in Italy
---
September 29 2015
CX2
New algorithm to calculate club face angle for fades, draws, hooks and slices
The previous method worked well with TGC software but not with RedChain and E6 which was just producing pushes and pulls without or little curve in the flight.
Note CX2's have no club tracking hence it has to be calculated from ball tracking data.
---
September 28 2015
New GSA Golf resellers
Par2Pro - Exclusive reseller for Canada

GolfTec- Exclusive reseller for Australia and New Zealand

US Classics - Exclusive reseller for Germany
Exclusive reseller for Russia - to be announced shortly
---
Control Panel SDK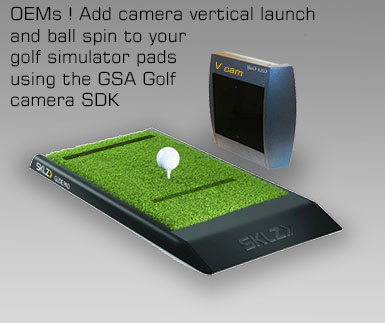 GSA Golf Control Panel SDK (System Development Kit) nearing completion.
The SDK is for Golf Simulator OEMs that wish to integrate cameras to their existing products without the CP being visible to the end user.
---
September 27 2015
LX New auto camera brightness (gain)

The above image shows the new auto adjust brightness feature.
The method involves detecting a ball brightness level by summing all pixel values and dividing by the number of pixels within the ball perimeters during the auto detect ball mode (or camera alignment mode)
and adjusting the camera's gain so that the brightness level is within tolerances. The tolerances are the Max and Min brightness levels.
Both these max and min levels are at present user adjustable but will probably be within 130 and 190.
Note that the auto brightness adjust can be switched on or off.
The purpose of this feature is to ensure that under varying ambient lighting conditions, the dots or markings on the ball are clearly visible and that the ball's image size has been correctly measured.
If the image of the ball is either over exposed and thus too bright or under exposed, the markings won't be clearly visible
---
September 26 2015
LX New auto camera brightness (gain)
The new auto gain feature detects the brightness of the ball image and adjusts the gain to suit the ambient light.
CTS New Invalid or block area feature
Click above to read more about this
---
September 23 2015
New GSA Golf resellers
We're currently finalizing talks for exclusive GSA Golf distributorship's in Australia, Germany and Russia. Announcements will be made this week.
Still up for grabs are France, Sweden, South Africa, South America, Canada, India and all far east countries.
---
September 19 2015
LX / KX Auto camera gain
We've had a couple of reports now that the default LX camera gain setting is too high when the LX is used in well lit environments which result in ball images appearing too bright and the spin dots are no longer visible.
The new auto gain feature detects the brightness of the ball image and adjusts the gain to suit the ambient light. This feature will be ready sometime next week.
---
September 14 2015
New user produced CX2 Video using The Golf Club software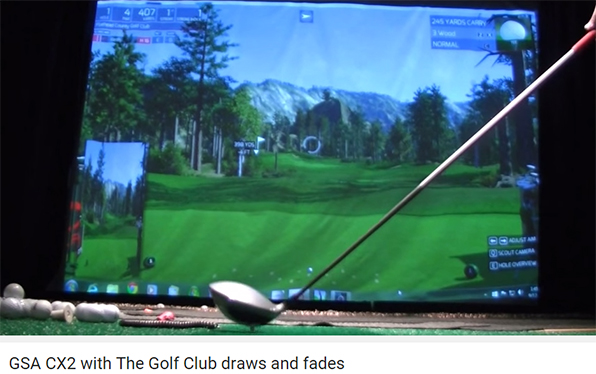 Thanks to Keith in Canada for sharing this with us.
New Control Panel SDK

Coming later this week. GSA Golf Control Panel SDK (System Development Kit).
The SDK is for Golf Simulator OEMs and programmers that wish to control all the CP controls and features via their own software without the CP being visible to the end user.
---
September 10 2015
Surround casings arrived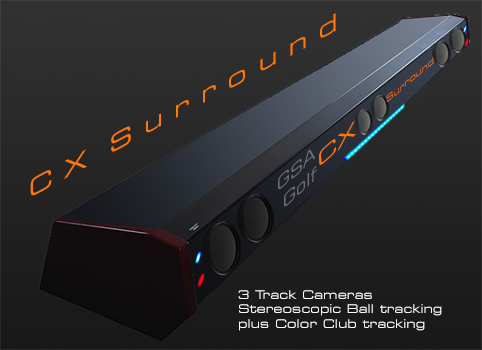 The first Surround casings have arrived today so we'll start building these units as well now.
---
September 9 2015
First KX launch monitor being assembled
I'm currently assembling the first KX launch monitor. It looks so great that even my wife is not adverse to having it in the home.
I'll be keeping the first off for myself so finally I get to have a golf simulator in the comfort of my own home.
Production will start at the end of September
---
September 7 2015
GSA Golf now at number 3 in organic Google ranking in the US without us using any SEO what-so-ever
see business news
New LX Pro / LX Lite Video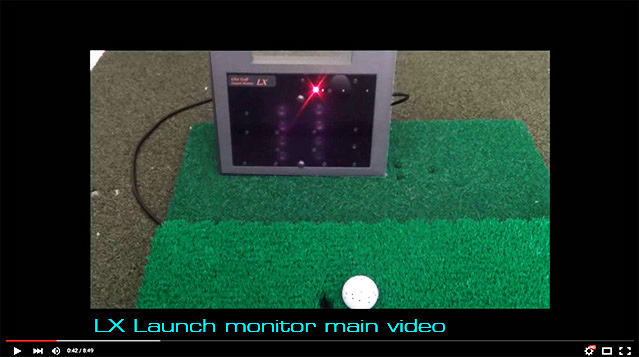 This new LX video shows all the new features and supersedes all other LX videos
The new LX Pro / LX Lite software updates are now completed.
---
September 3 2015
LX Pro / LX Lite
New software updates
The new LX Pro / LX Lite software updates are nearly completed now. I'll publish a video about them this weekend or sooner.
---
September 2 2015
LX Pro vs LX Lite
We're doing a lot of LX Pro / LX Lite comparison testing at the moment and will be publishing the results later this week with a number of software updates for both systems.
In particular, the LX Lite - which will be used in the new KX systems - is looking very good.
---
September 1 2015
CP update
Just camera registrations for new customers. No need to update.
KX model pricing

We've decided to offer the KX console launch monitor in various models to suit customers budgets. Above is a list of the models and their prices.
---
August 31 2015

GSA Golf API
A number of changes to the GSA Golf API (Application Program Interface) have been made and the new API DLL (Dynamic Link Library) is now Online for download. The download also includes a simple example source code program (Visual Studio 2013).
Note: The GSA Golf API is for Golf Simulator OEMs and hobbyists that wish to interface their software with our camera tracking systems.
KX and Surround casings
Both the new KX and Surround casing should arrive this week so we'll be able to ship products using these casings in a week or so.
GSAgolf.com website
The GSAGolf.com website ( which is basically just a link to this web site) has been updated.
---
August 26 2015
KX Driving range model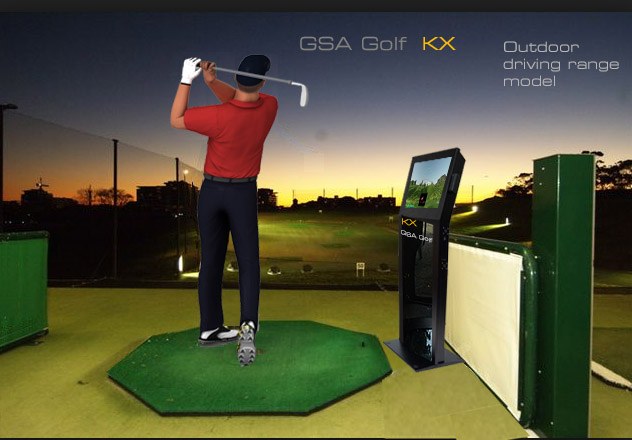 An outdoor model of the KX is also available for use on driving ranges
---
August 25 2015
KX/LX Launch monitor trigger
We'll be offering a new micro processor controlled trigger for the KX and LX systems shortly that identifies the club and detects club motion instead of just triggering on any bright object.
KX Launch monitor
A number of people have asked whether or not the KX can be used with a projector and impact screen and not just a net and viewing the game on the monitor
The answer to that is Yes. Just run a HDMI or DVI cable from the PC in the KX to the projector and you're ready to go.
---
August 21 2015
KX Launch monitor
Here's an interesting design we're working on at the moment.
The KX (Kiosk) stand alone launch monitor featuring ball and club tracking with built in PC. It's a variation on a theme i.e. combining already developed products (LX Pro, CTS and Hcam) into a single case for ease of transport and setup.
More about this exciting new product later.
---
August 18 2015
CTS Pro
CTS Pro software can now display composite frames in order to show club face angles before and at impact to the ball as well as club path.
---
August 15 2015
New FX series and a quick review of GSA Golf's business model
We often get inquiries from customers that would like to order all components for our golf simulators in a complete package instead of having to choose individual components and then have to shop around for other parts.
The new FX series addresses this need. The F standing for "Full system".

---
August 14 2015
CX3c CP update
Improved features for the new CX3c system.
---
August 12 2015
CTS & LX Pro CP update
Today's CP features improved CTS color camera club tracking and a user definable max ball search loop count for the LX.
CTS color camera club tracking
We're very pleased with the response we're getting at the moment about the new CTS color club tracking camera and as orders have already exceeded any of our expectations,
it looks like it will replace both the standard Ccam monochrome club tracking camera that required tracking dots to be applied to the club and the PX2 optical sensor mat.
As this is such an important product, we're spending more time now testing and improving the CTS software. Today's CTS update fixes an occasional problem that can arise when the club face is extremely open or closed (i.e. greater than +/- 40 degrees).
On occasions with such club face angles, the shaft or club toe would be detected as the club face. This is now fixed.
LX Pro
Use the LX search loop count to limit the time the software searches for a ball in a camera image.
Under normal circumstances the LX will find the ball very quickly - usually on the first loop - but if camera setup is not correct than the search process can exceed numerous seconds or even minutes.
The LX search loop count should normally be set to 3 loops. If the ball hasn't been located within that time then there is something wrong with the setup and further investigation is required.
---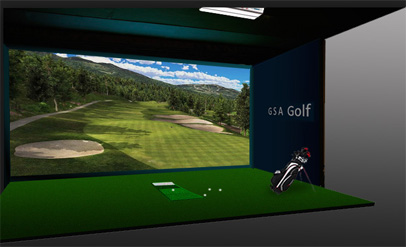 Installation
CX Camera Systems
Software installtion and PX2/PX5 sensor mat

-
-
Club track camera installation
Ball Spin camera
Click above buttons to see customer tech support examples


You can purchase all GSA Golf Products direct from this web site or via any of our resellers

Click above to see a list of all GSA Golf resellers

---