---


Technical News

System Updates & Development News
by Martin Paul Gardiner
Electronics and software development engineer and founder of GSA Golf
The GSA Golf range of golf 3D graphics software and electronic hardware is being updated with new features continuously.
New Features are being added and mods being made on nearly a daily basis so please check here regularly for your free updates.



Click on site map for all installation links

And ! All systems run with "The Golf Club" software
with over 58,000! golf courses and the Greg Norman Golf Course designer that allows you to easily make your own golf courses.
---
GSA Control Panel (CP) update V.8.3.0.9 - Windows 7 / 8 version
July 27 2015

Note !
The current update download has an installer. Just click on the Install button after down loading and running.
In case of issues you can manually install the CP update .exe file by following these instructions

Note: The above download is just an update for existing customers and not the full version Control Panel
Download Visual Studio Windows 8 x86 runtime components here

Click the above image to download the full version of the GSA Golf Control Panel (V.8.2.6.8)
Click the above image to download the GSA Golf single course software.
Course can be played with the Control Panel via either a mouse or manual launch parameter setup for evaluation.
Note: If you encounter a windows error message stating that it could not find d3dx9_30.dll when starting GSA Golf,
download and copy the d3dx9_30.dll to your windows\System32 and Windows\SysWow64 folders.
Download here d3dx9_30.dll

The above API / SDK can be used to interface GSA Golf products to other golf game software

GSA Golf products currently in development and/or currently being tested
1. LX Pro calibration methods to improve ball path detection accuracy: Expected to be completed by July/August 2015 or sooner
2. CX3c Surround Expected to be completed by August/Sept 2015 or sooner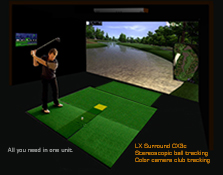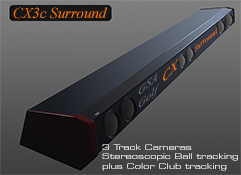 Electronics and software have already been completed for this product. Just the casing now.

---

Sales or Support ?
Due to the heavy work load on at the moment with development and fulfilling orders we may not be able to get to the phones.
If you have questions or require support please e-mail and we will get back to you within 24 hours.
Remote access support is free of charge so please contact us if you are having setup problems. Click above "TeamViewer" image to download free of charge.
Please also note that we are closed on weekends and national holidays
(we need this time for new developments and testing)

Note! All GSA Golf software and hardware updates (yes! product hardware updates too) are free of charge for life
GSA Golf are constantly researching and working on improvements to their product line.
If we find better methods and improvements for any processes we pass them on to our customers free of charge to ensure that their investments are secured.




---
July 27 2015
Bcam video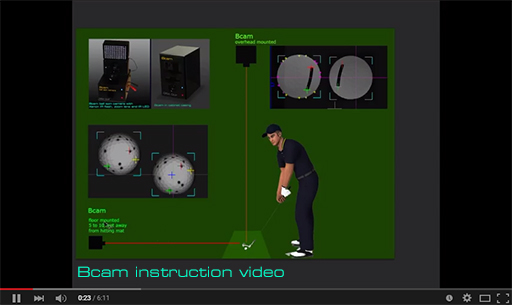 Click above image to see the Bcam in action
---
July 25 2015
CX2 draws and fades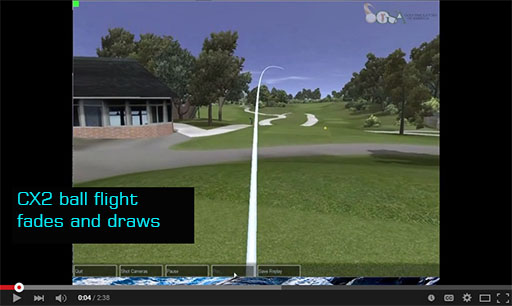 The above video shows how fades and draws can be produced with the CX2 system even though CX2 doesn't detect club face so that spin tilt or side spin can be calculated.
---
New CP for Bcam
A good additional 10 hours of coding went into the new Bcam ball spin camera software today in this CP update.
Setup and demo videos should be ready this weekend.
CX2 draws and fades
A number of CX2 users have contacted us asking if we could add some curve into the ball flight to make it look more realistic.
The CX2 measures ball speed, ball path and ball launch angle but can't detect spin axis (unlike the CX3 and CX4 ) so all shots have little or no curve in their flight. (i.e. fades, draws, hooks and slices).
To address this issue, we'll be adding a user definable club face angle factor into the system this week. i.e. if you know you usually hit a fade (or even a slice) then you can setup the system to reproduce these shots.
---
July 23 2015
CTS Color setup and demo videos
Click on the above images to see the new CTS Lite Color setup and demo videos. CTS Color Pro videos coming later.
Bcam video coming this weekend
---
July 20 2015
New Bcam and CTS Color standard casings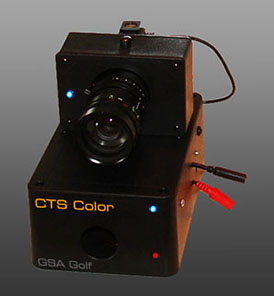 Both Bcam and CTS Color cameras come now in smaller more compact casings and have their flash units and lighting fixed to the camera to form a single unit.
New CP for Bcam and CTS Color
Today's CP features a number updates for the above systems (Bcam and CTS Color). No need to download if you are not using these systems yet.
Bcam and CTS Color demo videos
Demo and setup instruction videos will be published later this weekend.
---
July 14 2015
Financing now available
Customer financing via our new financial partners is now available on all GSA Golf products valued at $1000 or more
---
July 11 2015
Bcam ball spin camera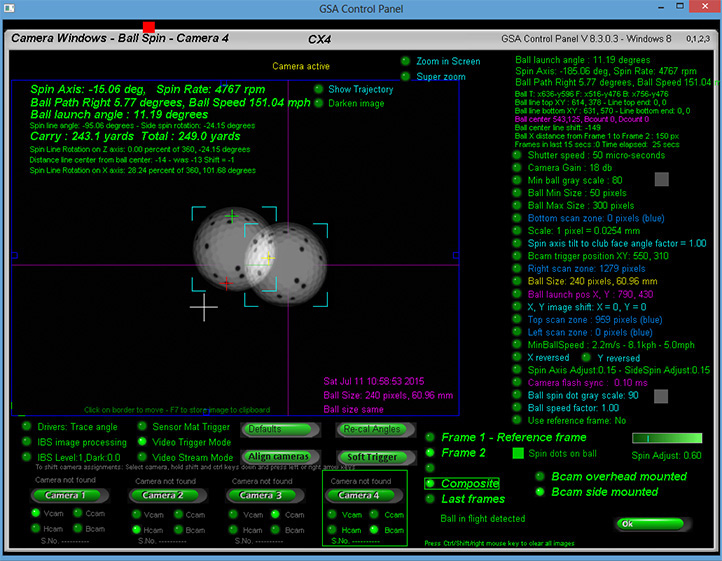 The new Bcam ball spin software is nearing completion now. The above image shows a composite of frames 1 & 2 as viewed from Bcam when side mounted. Note that when the Bcam is side mounted (up to 9 feet away), the system functions exactly the same as our LX Lite launch monitor. The main difference only being that the camera features a zoom lens and uses an IR Xenon flash instead of an LED flash.
Today's CP update features all the new Bcam software, however, setup instructions haven't yet been completed. These will be ready next week though.
---
July 9 2015
CTS Color
Today's CP features all of the new CTS color club tracking software and new Bcam ball spin camera software.
The update also includes a couple of color club test images that will load if the CP is in test mode (i.e. when there are no cameras connected to the PC).
The above image shows the system in the new "CX3 C" mode. The "C" standing for color club tracking camera. ( the standard CX3 uses the monochrome club tracking camera requiring tracking dots).
In addition, there are new "CX4 BC" and "CX4 CC" modes. CX4 BC is a 4 camera system using a single color club tracking camera and a single ball spin camera and CX4 CC uses two color club tracking cameras.
All systems use - as before - dual ball tracking cameras (V and H cams).
Note that the club face deviation from sweet spot is calculated from the known ball launch position (red cross hairs).
The white cross hair is the club trigger position (under the club) that is used to calculate club speed when using single CTS camera.
A great deal of testing was done with the CTS Color system over the past few weeks and to our pleasant surprise it was noted that the Xenon flash recharge time is so fast that even when waggling the club over the trigger many times and immediately taking a shot, it will always produce sufficient flash light intensity for brilliant sharp freeze frame images of the club at impact to the ball. We can thus eliminate the requirement for a line scan camera to detect a back swing to activate the flash (i.e. open the trigger gate).
We were actually expecting the Xenon re-charge (or cycle time) to be in the region of 4 seconds but it turns out that the flash can recharge in less than 1 second.
We're expecting that the new CTS Color will supersede both the standard monochrome Ccam camera (which requires tracking dots and can't detect face angles on irons ) and the PX2 optical sensor mat.
The above assumption is based on a lot of customer feedback indicating that they don't want optical sensor hitting mats (i.e. not accurate enough and prone to malfunction) and don't want to apply tracking dots to their clubs when using cameras to track the club.
At present then, it looks like GSA Golf are the only golf simulator manufacturer that offers "affordable" color camera club tracking which we are sure - with the added bonus of our new Bcam ball spin camera - will put us at the forefront of all "affordable" camera based golf simulators. (Not that we've noticed that there are any other affordable all camera based golf simulators on the market anyway though).
There is, however, another company also offering color club tracking but according to our customers that inquired about these, they have been told that the price is $39,000 for the cameras, PC, Beamer and software. And that's not even including the enclosure, any flooring and not even a frame to mount the impact screen.
For those customers that have already purchased a standard Ccam camera, we'll be offering a very affordable upgrade if they would prefer to use the CTS Color.
---
July 7 2015
LX launch monitor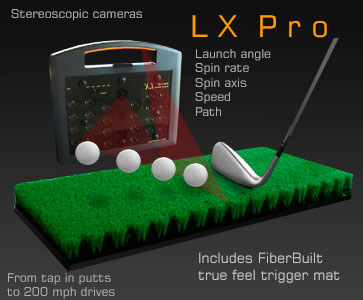 A couple of small changes to the LX Pro production.
1. For those using the optional supplied trigger mat, a base plinth is now supplied to raise the height of the LX unit to the level of the mat.
2. Trigger methods are now only either mic (i.e. audio) for outdoor use or trigger mat for indoor use when system is used as golf simulator.
Note that the mic trigger method is not suitable for detecting chips and putts whereas the trigger mat will detect the smallest of putts and chips.
Also note that when using the trigger mat, you should mount the LX Unit on a base or plinth to bring the unit up to or near the height of the mat if the mat is not embedded into the flooring or stance mat .
3. The LX now features adjustable height rear feet so that tilt angle can be adjusted.
---
July 3 2015
CX panel casings
CX panel camera casings now feature super cool blue LED lighting
---
July 2 2015
LX Pro
Faster image processing. Spin dot ball / Ball logo selection now also shown in CP camera window.
---
June 27 2015
PX5
Fix: Hcam putting not functioning correctly with PX5 systems. Now fixed.

Click above button to read more about Hcam putting
---
June 24 2015
VPC
The Max VPC (Valid Pixel Count) shown in the Vcam window of the CP now also shows the current VPC.
Set this number - using the F8/F9 keys - to around 4000 or to just over the max trace VPC you see after a shot to avoid inadvertent launches in the system when walking in the FOV of the cameras.
---
June 24 2015
New TGC version
Click on above image to download the new version of TGC
---
June 23 2015
CP update for CX3 users
Fix: when using a CX3 system, the camera de-activation wasn't working on camera 1. Now fixed.
(this is used to prevent rebounding balls from the screen re-triggering the cameras and thus the image of the shot would be overwritten and the user couldn't analyze the shot images.)
---
June 22 2015
LX Pro update
A number of important updates have been made to the LX Pro software in the CP today.
LX Pro installation instructions have also been updated.
---
June 21 2015
CTS Color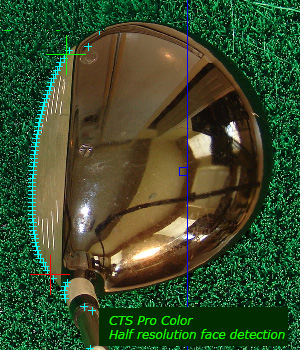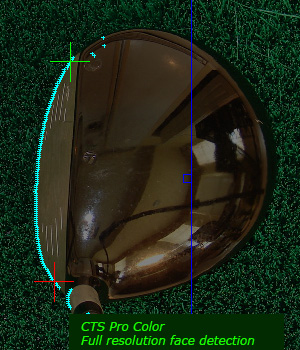 Above, the new CTS Color software high precision club face detection with the HD CTS color cameras.
---
June 19 2015
CTS Color/ new Bcam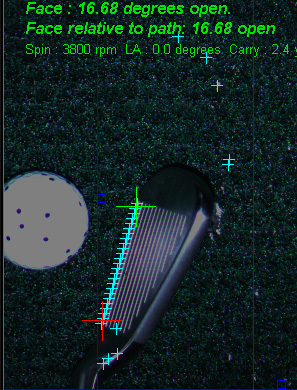 Above, new CTS Color club tracking camera images using the Xenon flash. Camera exposure was set at 50 micro-seconds with 10 db gain. Left image is using the "Darken image" feature to show the cross hairs more clearly.
Camera and flash unit are mounted 10 feet over the hitting mat. A lens is used on the Xenon flash to concentrate the flash to a small 12 inch diameter area on the mat. The visible light flash - although noticeable - is not distracting we find.
Development of new Bcam software is also coming along nicely. We expect to have both these products ready within the next couple of weeks.
---
LX CP update
June 16 2015
A number of mods and improvements made for LX Pro users.
---
LX CP update
June 12 2015
In case the ball is not being detected in an image but is visible, reasons for this are now being displayed. In almost all cases, this is due to the camera gain being too high or too low.
System now detects this and advises to either increase or decrease gain.
When the gain is too high (i.e. the image is bright or the mat grass fibers in the FOV are too bright, system can take up to 30 seconds to attempt to detect the ball).
Up until this update, attempting to adjust the gain caused the ball search process to start all over again. This is now fixed.
In addition, on CP start up, images will be grabbed from the cameras and again the search process will start - taking up to 30 seconds if the gain is too high. This has now been fixed with this update.
---
June 11 2015
CTS Color flash - a better solution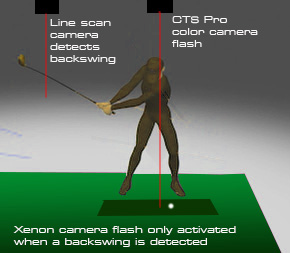 A better solution to using multiple Xenon flash units to solve the flash recycle time problem (as described yesterday below) is to only activate the flash after a backswing is detected.
This method allows the player to waggle the club as many times as he wants without triggering the flash. Also, no flash will be generated during the back swing itself.
A line scan camera behind the player will sense the club on the backswing and activate the flash for 2 or 3 seconds so that when the club head reaches the ball on the downswing, the flash will trigger to get sharp freeze frame images of the club.
---
Couple of small bug fixes
1. Spin rate adjust slider bars not being displayed in camera window when using PX5
2. Min ball speed not being displayed in camera window when using LX
---
June 9 2015
Min back spin when chipping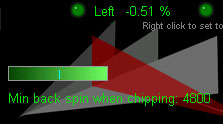 If you find that the roll out of a chip on the green is too long (using any of the game software), you can set this new minimum back spin value so that the ball roll out decreases.
---
June 8 2015
Game software images

Depending on what game software the user selects, an appropriate image is now displayed in the CP's main window.
Bcam, CTS Color, Stereoscopic vision development update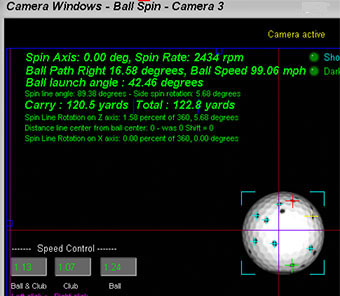 The Swedish ball and spin dot detection software has been integrated in the Bcam software. Still some work to do ahead though.
Stereoscopic vision
More testing has been done on the stereoscopic method of ball tracking and all seems to working well now. Setup video coming soon.
---
June 6 2015
Speed controls
Speed controls now always visible in camera windows (useful for adjusting carry)
Hcam putt not detecting full length of trace. Now fixed.
June 5 2015
Putting bug
A bug was detected that caused cameras not to switch to putting mode when the ball went on the green or a putter had been selected. This bug is now fixed.
More updates for TGC (The Golf Club) users
Note! CP updates are now using an installer. Click on "Install" after downloading and running.
---
June 2 2015
V 8.2.7.6
Couple of bug fixes in today's CP version.
1. Hcam putting not working for E6. Now fixed
2. TGC shots causing CP to generate endless beeps
These issues were due to the transistion from the standard CP to the Sweden CP i.e. we had two versions of the CP software for a while and updates to one weren't always be made for the other.
---
June 1 2015
New Ball Spin Camera
Click above Bcam image to read more about the new Bcam ball spin camera
The development of the new LED lighting for the CTS Color allows us to redesign the ball spin camera system.

And adding this camera to the new CX4 system brings us up to a CX5
V 8.2.7.2
Today's CP update features (amongst other things) the new stereoscopic vision software for the CX systems.
Switch on/off "Stereoscopic" in the Setup window. Do not use this if not using the V and H cams in stereoscopic mounting positions (i.e. both cameras ceiling mounted).
I'll be publishing setup instructions for this later in the week.
New Stereoscopic vision software for LX Pro ball path detection
The new stereosopic vision software that doesn't require the second camera in the LX to be re-mounted has arrived from Sweden today. Testing will start this week.
---
May 28 2015
New GSA Golf main UK and European distributor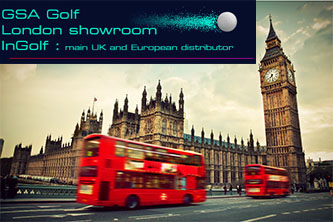 Our main UK and European distributor - InGolf - will be opening their new GSA Golf show and demo center next month. Details and pictures coming later.

---
May 28 2015

Coming this weekend: Stereoscopic vision camera software for your CX camera systems
As an alternative to the standard X,Y camera setup for CX camera systems, the new stereoscopic image processing software will allow you to mount both ball tracking cameras on the ceiling instead of one on the ceiling and the other on the floor.
This software development is being done as some customers would prefer not to have any cameras mounted on the floor.
The disadvantage with the stereoscopic method, however, is that the user can no longer see the exact ball launch angle and path in the captured images as the traces in the images will appear skewed.
If you are interested in changing to this new stereoscopic setup I'll be doing a video of the camera setup procedure for stereoscopic vision later next week.
Click above image to read more
---
May 27 2015
CTS Pro Color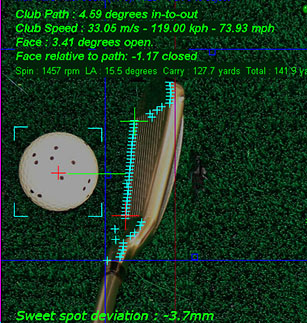 As the CTS Pro Color captures freeze frame HD color images of the club just before impact to the ball and the ball is clearly visible, it can calculate the ball on club face deviation from the sweet spot.
---
May 23 2015
CTS Pro Color LED Flash units
The CTS Color will be using two of these high speed LED flashes that have zero recycle time - unlike Xenon flashes that require 4 or 5 seconds to charge.

---
May 21 2015
CTS Pro Color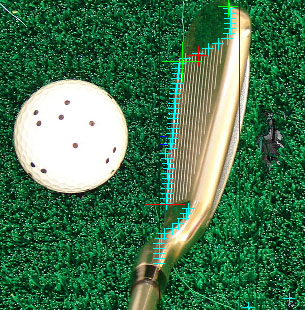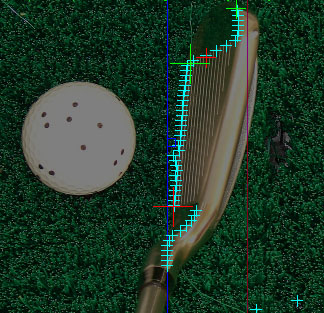 The above two images show the new CTS Pro Color cub tracking system detecting face angle with an iron.
The right image uses the new "darken image" feature to accentuate the points of the club face that have been detected.
---
May 20 2015
LX & CTS Pro Color
V 8.2.7.0
LX : System sometimes detects a ball when teeing up which can cause inadvertent ball launches. A method to detect this is implemented in this version of the CP.
LX now has a new 3 pin din connector for the trigger mat.
CTS Pro Color second stage release in this version of the CP
---
May 18 2015
LX Pro calibration
The LX Pro is getting new calibration software soon using a calibration pattern board placed in front of the unit. Users that would like to do this themselves can print this pattern out from an image download.
---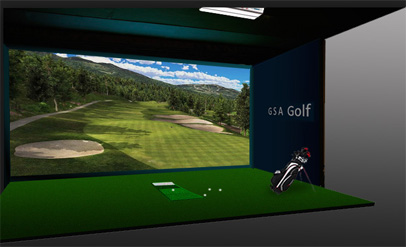 Installation
CX Camera Systems
Software installtion and PX2/PX5 sensor mat

-
-
Club track camera installation
Ball Spin camera
Click above buttons to see customer tech support examples

Based in Europe or the UK ?
Please contact our London UK based European distributors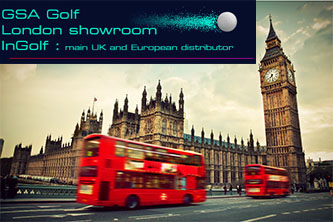 ---