Padded grass turf flooring by the roll


Padded grass turf. Color: OliveGreen
12ft * 20ft Price $999 + $269 shipping
12ft * 15ft Price $899 + $269 shipping
12ft * 12ft Price $799 + $269 shipping
---
Stance mat flooring
Recommended flooring layouts when using our 4ft square stance mats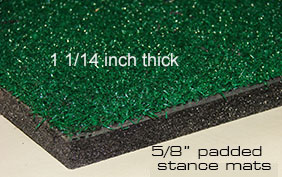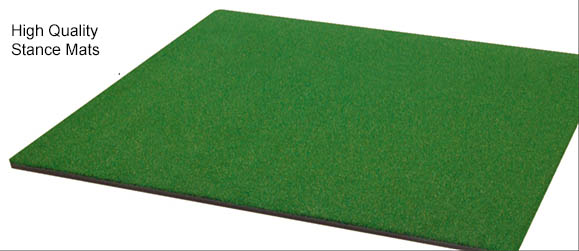 Stance mats are available at www.Fiberbuilt.com for around $160 each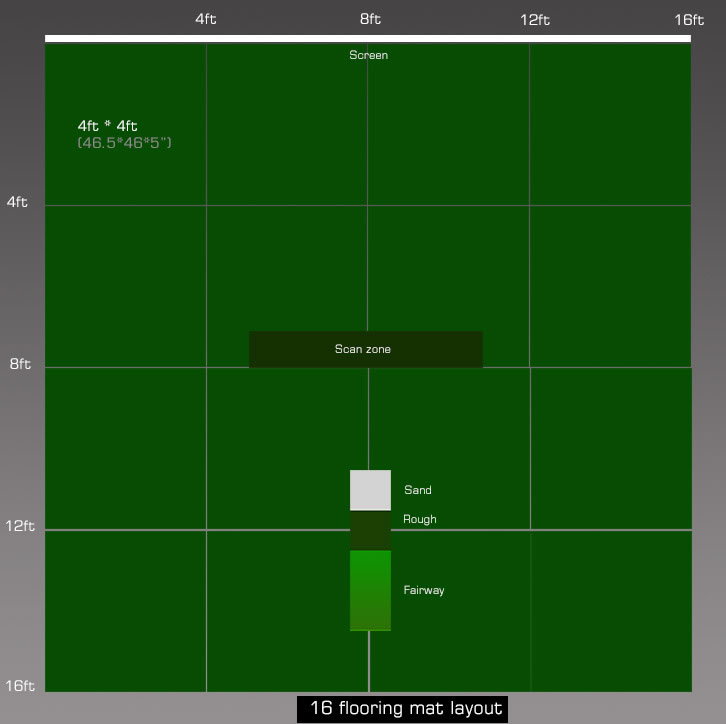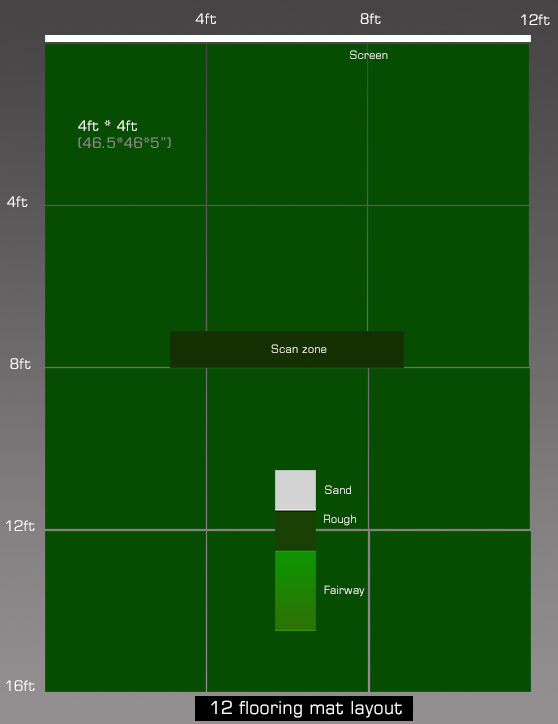 16 x $160 = $2,560 ----- 12 x $160 = $ 1,920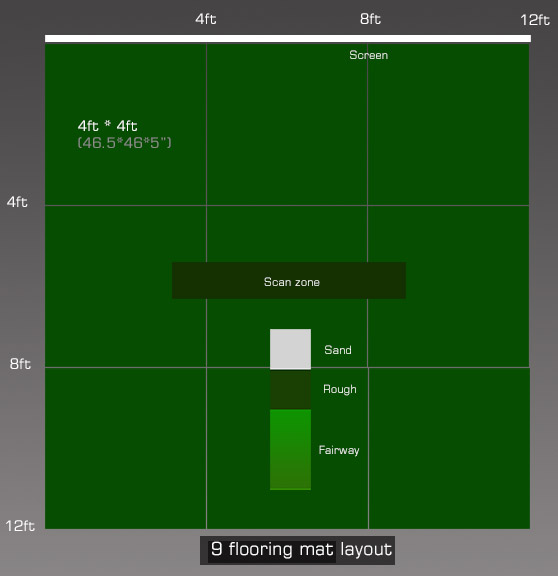 9 x $160 = $ 1,440
---
Raised flooring
If you want the grass hitting mat panels to be flush (i.e. at the same height) as the turf grass flooring
then there are two methods:
1. Either the area around the hitting surfaces or the entire flooring has to be raised
2. Use stance mats next to the hitting surfaces
-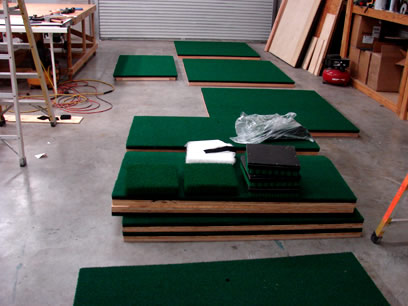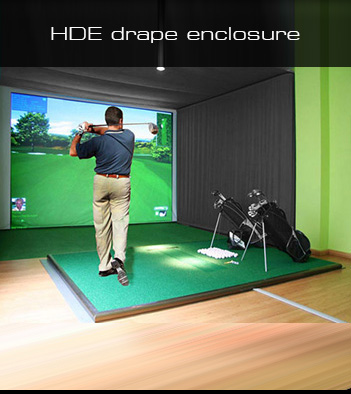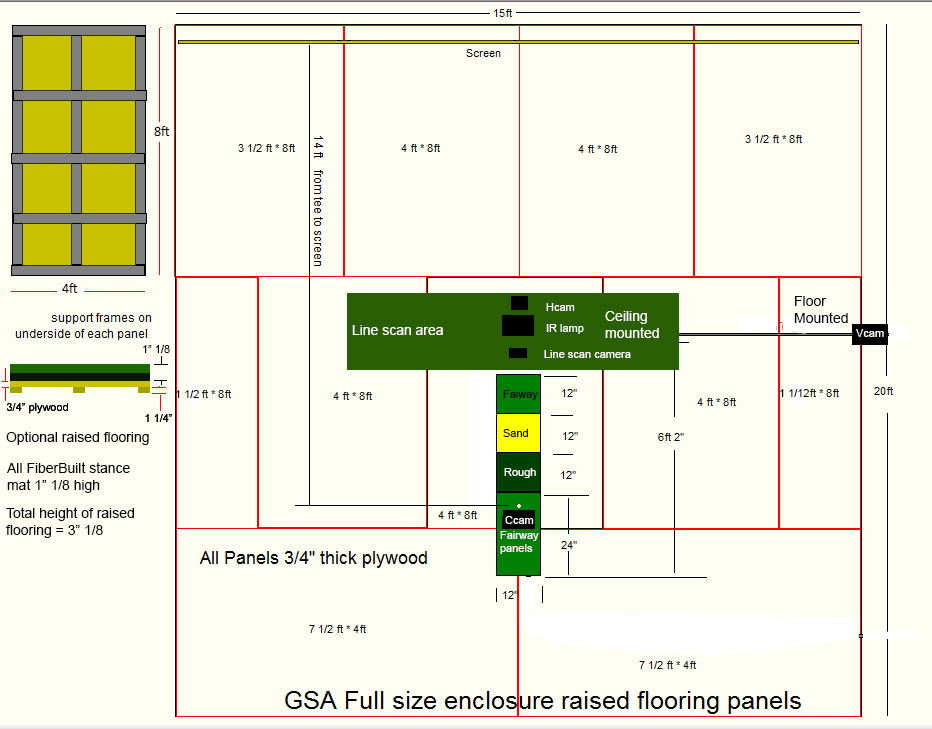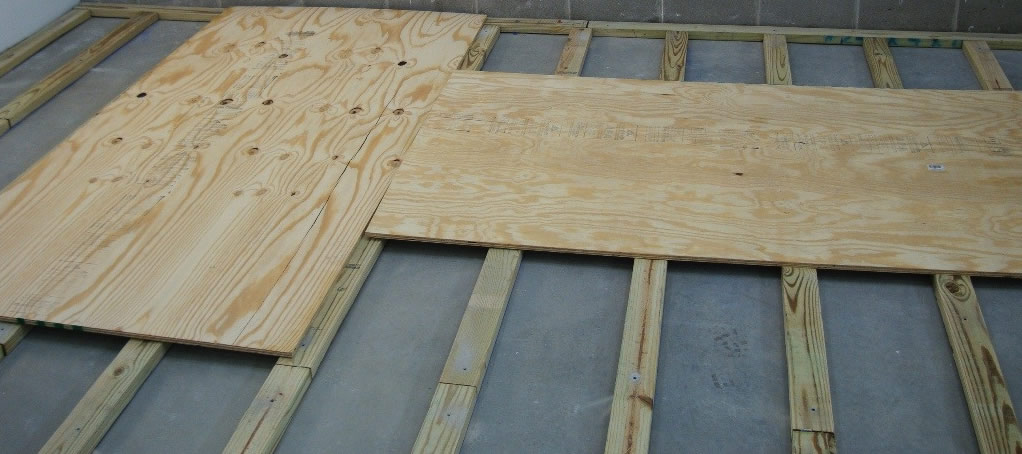 DIY 2x4 wood frames with plywood panels to raise floor 2.5 inches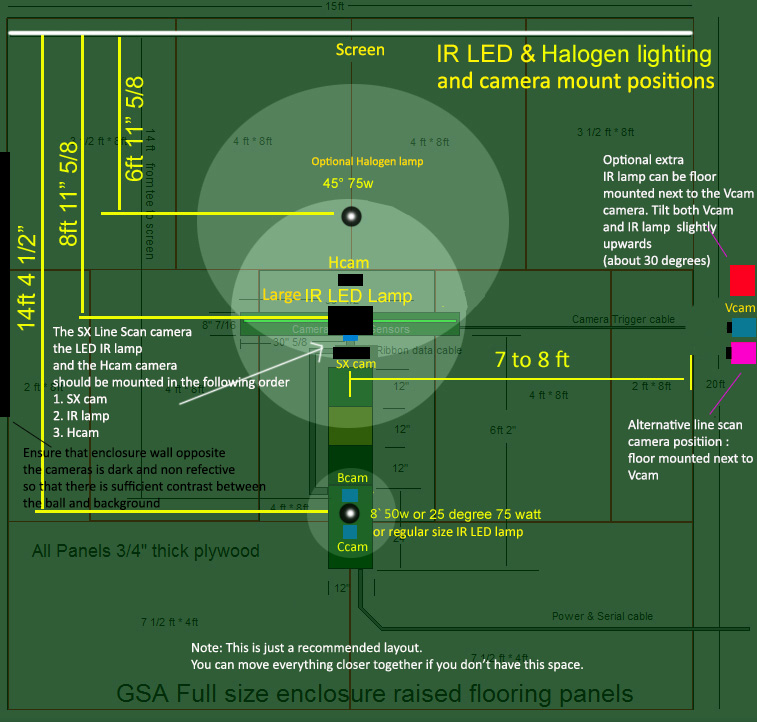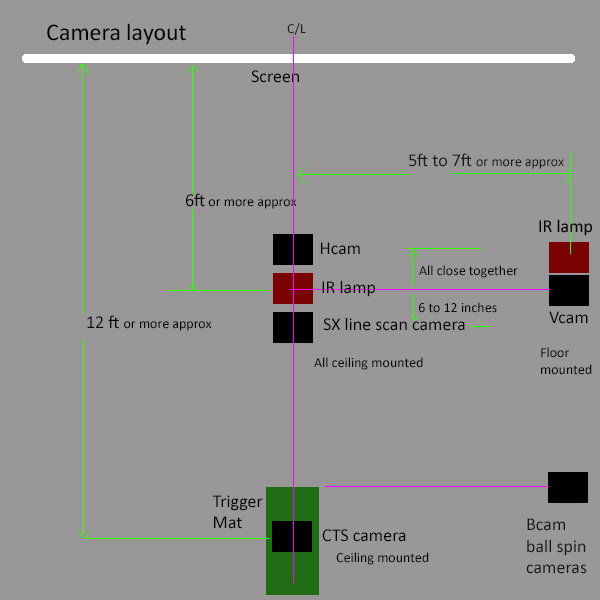 ---
Stance mats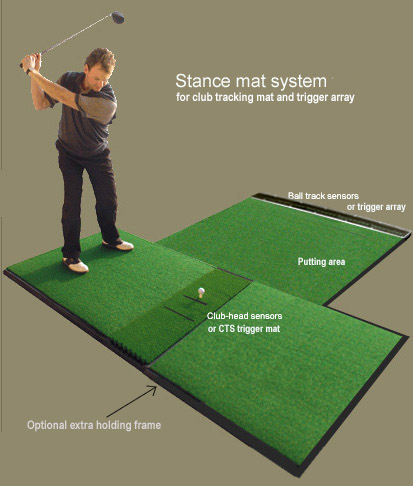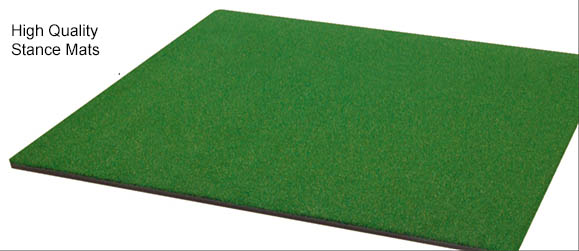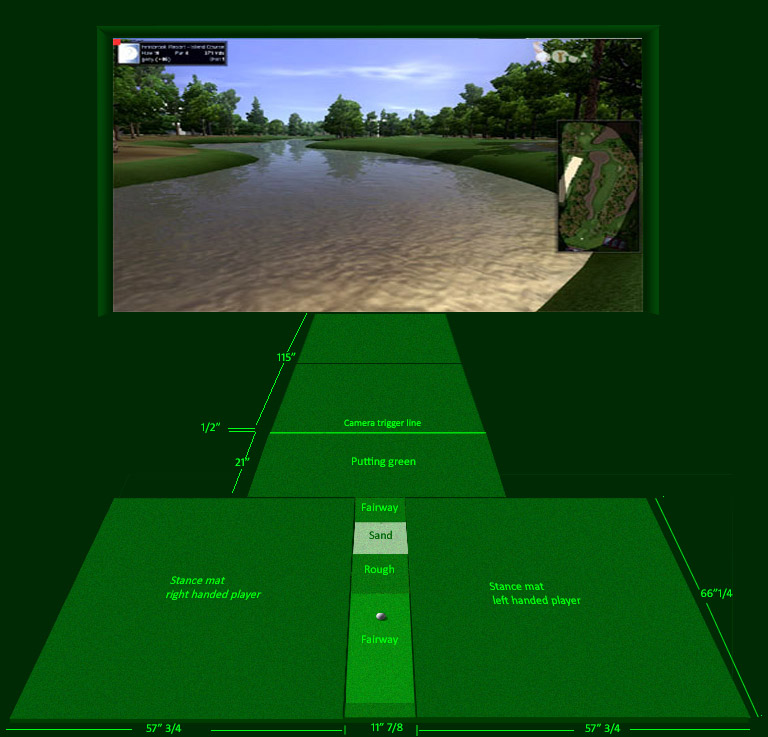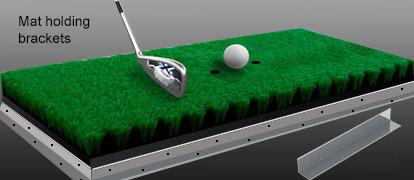 If using stance mats then the grass panels will have to be anchored to the floor.
Aluminum or steel 1/2" angled extrusion can be used to anchor the grass panel hitting surfaces to the floor for a more rigid hold.
Extrusion is not seen when stance mats are buffeted up against the grass panels
If level playing surfaces are not required then at least a cutout in the turf carpeting around the hitting mat is recommended
Either the angled profile (as shown above) or screws direct through mat is used to secure the mat to the flooring
---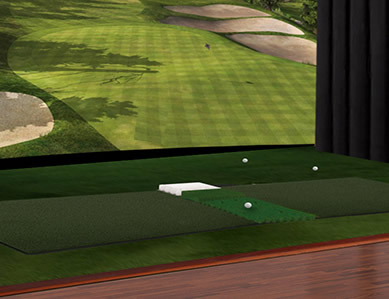 All F series golf simulators include simulated rough,sand and fairway surfaces
Additional fairway, rough and sand panels are available at www.Fiberbuilt.com for around $60 each
Note that when playing the ball from these other surfaces (i.e. rough, sand or greens) then club tracking will not function
as the CTS camera trigger sensor or club tracking sensors are only in the fairway panels.
Wood flooring transition trim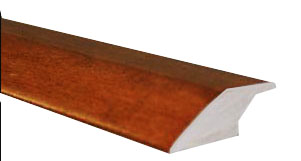 can be purchased at Lowes or Home Depot for around $37.00 per 6 ft length.
---
Floor scan area
When using our camera systems with line scan cameras
SX line scan cameras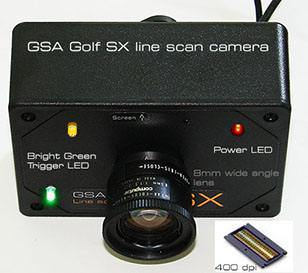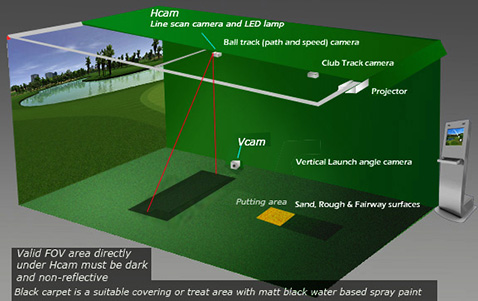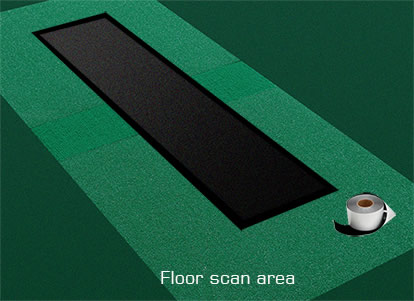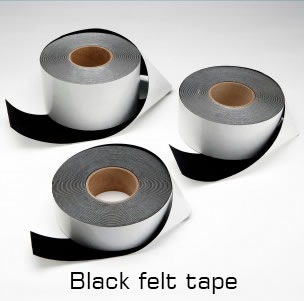 The flooring area directly under the line scan camera, IR lamp and Hcam camera must be dark and non reflective.
You can either use non-reflective black carpet or low reflective olive green padded turf

Example of low reflective turf:
6ft * 12ft less reflective padded turf grass mat suitable for camera systems
Price $399 + $99 shipping
You may find that the turf carpeting you are already using works well too so try this first
You can also use a black carpet strip (5ft * 5ft)
Note that treating the flooring in the scan area requires masking off the area and spray painting with a matt ( flat ) black spray.
When using the non-reflective black carpet,
you can use 4 inch wide black felt tape to transition the carpet edges to the turf flooring
In case you need to purchase the scan area black non-reflective carpet and felt tape :
Price : $ 150.00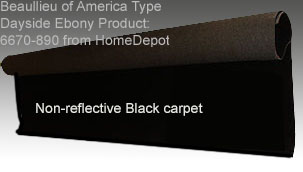 A recommended carpet is : Beaullieu of America - Type: Dayside Ebony, Product 6670-890 which is available at your local Home Depot store at around $4.00 a per ft 6ft wide.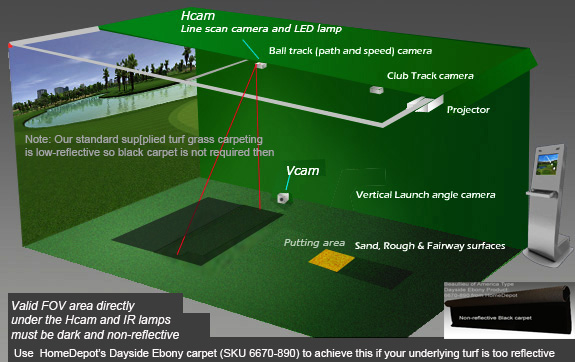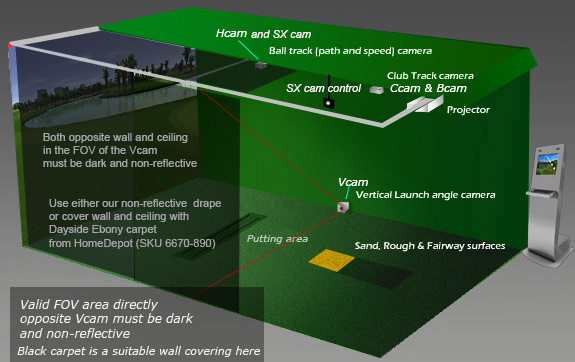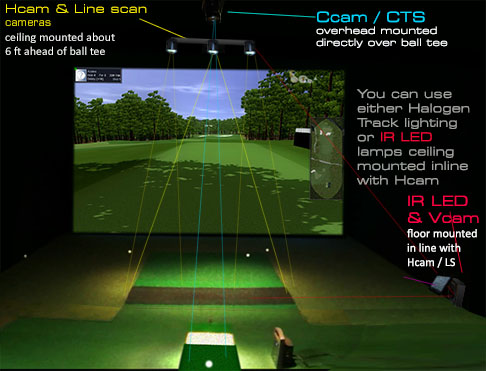 The above image shows what the spray painted scan area treated method looks like.
It's advantage is that there is no lip in the flooring.
When using the non-reflective black carpet,
you can use 4 inch wide black felt tape to transition the carpet edges to the turf flooring
Trigger arrays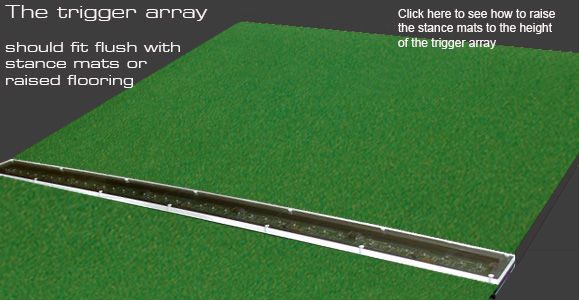 If using camera trigger arrays instead of line scan cameras, then the turf flooring doesn't have to be totally non reflective

-

-