---

GSA Golf - Hi-end golf simulators without the hi-end price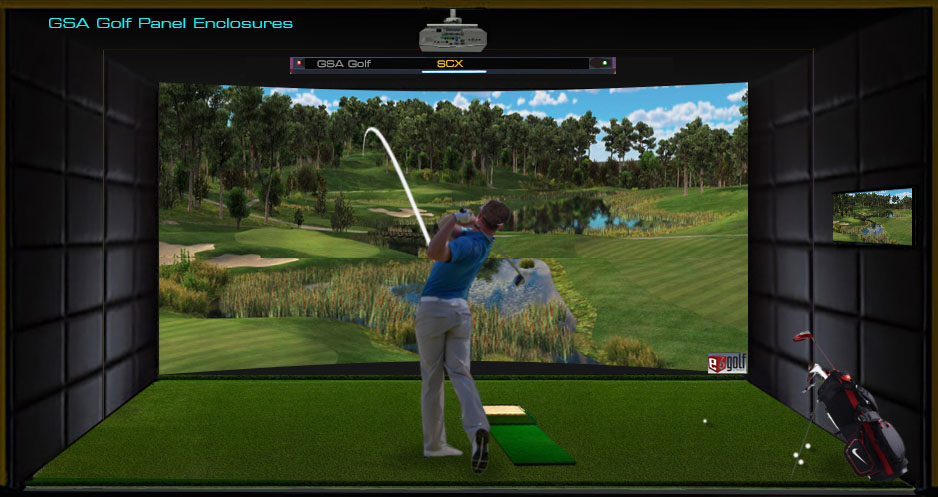 Note that all GSA Golf systems are completely modular - start with just 1 camera or sensor mat and add more cameras and features as and when requirement or budget allows.

GSA Golf - World class golf simulators you can afford





Home/Studio track drape enclosures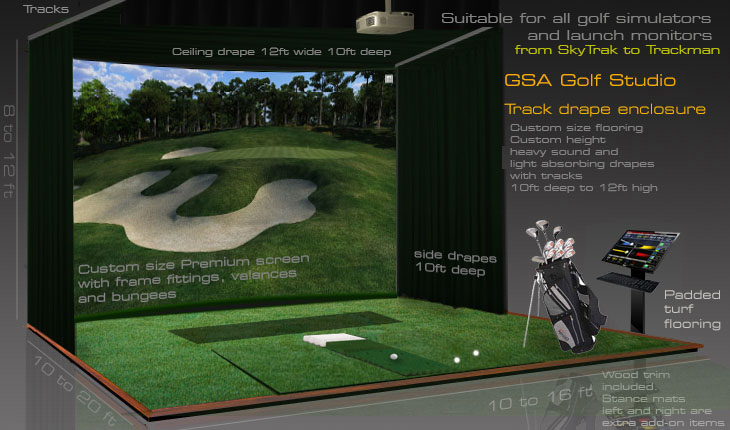 PX Optical systems from just $1,299 !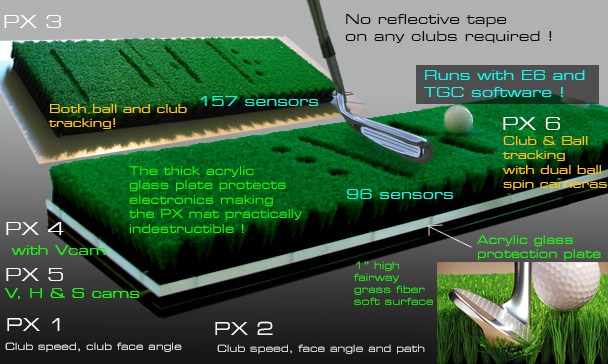 The PX Vcam features built in IR LED lighting and a high speed machine vision camera that captures ball launch angles from 0 to 90 degrees.
Priced at just $ 899, the PX Vcam is an affordable add on to your PX sensor mat
Our all round best selling system ever !
PX 5 is a professional golf simulator system with full club tracking and 3D dual camera ball tracking
The PX 5 can be used with both left and right handed players and allows the ball to be played from fairway, rough, sand and green surfaces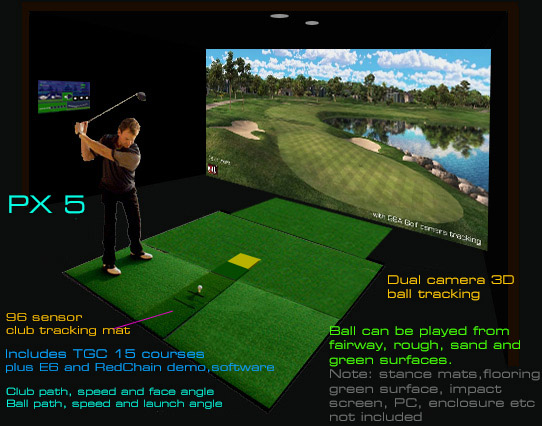 PX5 with dual single course software (RedChain and E6)
Plus TGC 15 course software !
$ 4,999.00



CX Camera systems from $2,699 !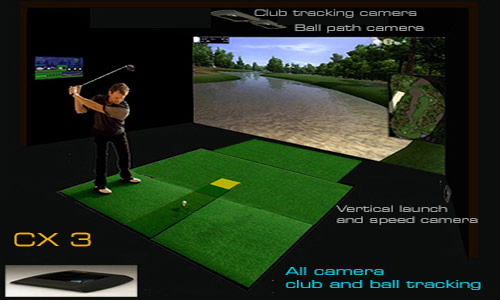 All data can be verified with real photographic evidence after each shot !
Note that this feature is unique to only GSA Golf systems. No other golf simulators on the market can provide this.
With all other golf simulator systems on the market, the player is forced to take the manufacturer's word that the data captured is correct.
There is no way for the player to verify that their measurements are in anyway correct.
Build your own golf simulator with any of the above CX camera systems
CX camera systems include all cables, lighting and golf game software


F series Full scale systems from just $6,995 !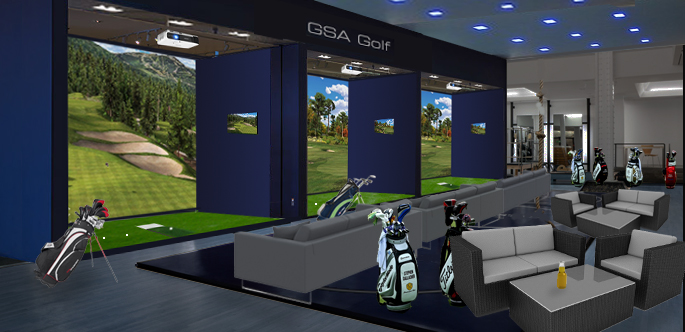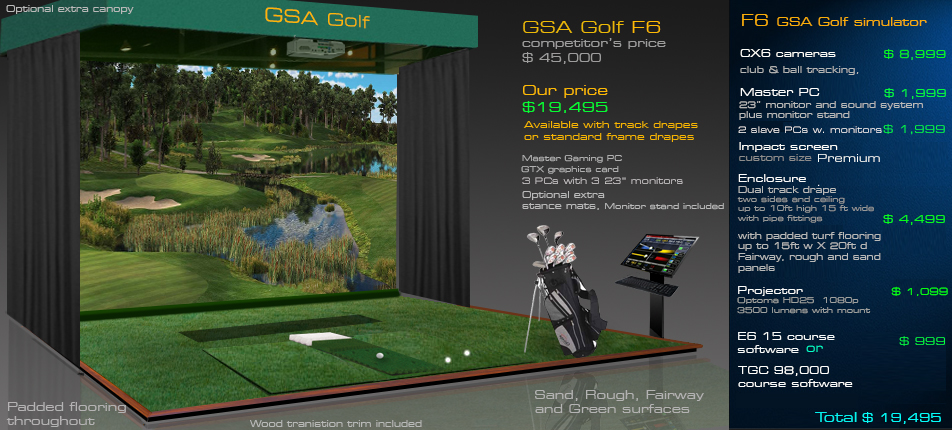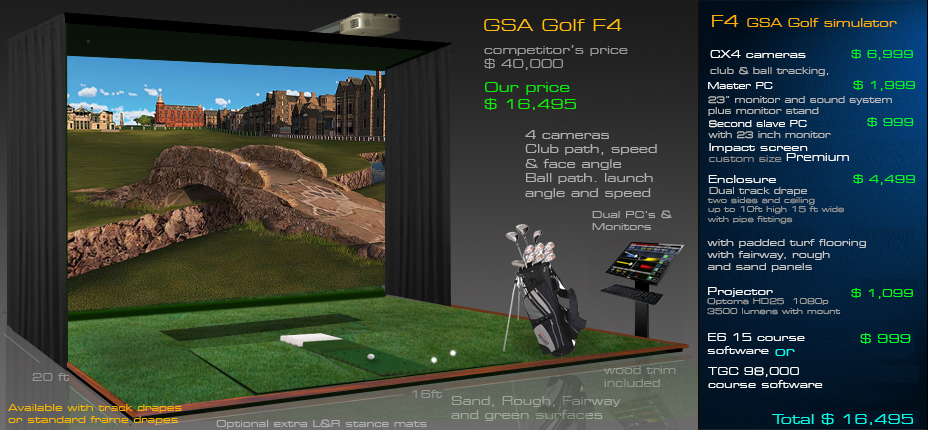 Systems detect fades, draws, hooks, slices, pulls and pushes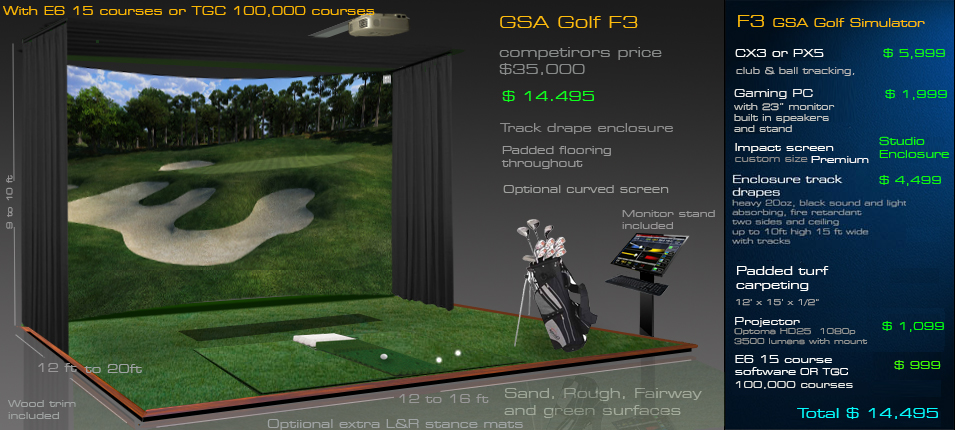 Note that the F3 simulator is available with either the CX3 3 camera system with CTS club tracking or the PX5 2 camera with PX2 club tracking
see CTS vs PX2club tracking systems on the PX Systems page


System detects fades, draws, hooks, slices, pulls and pushes
Note that you can add, subtract or replace any of the items in the F series systems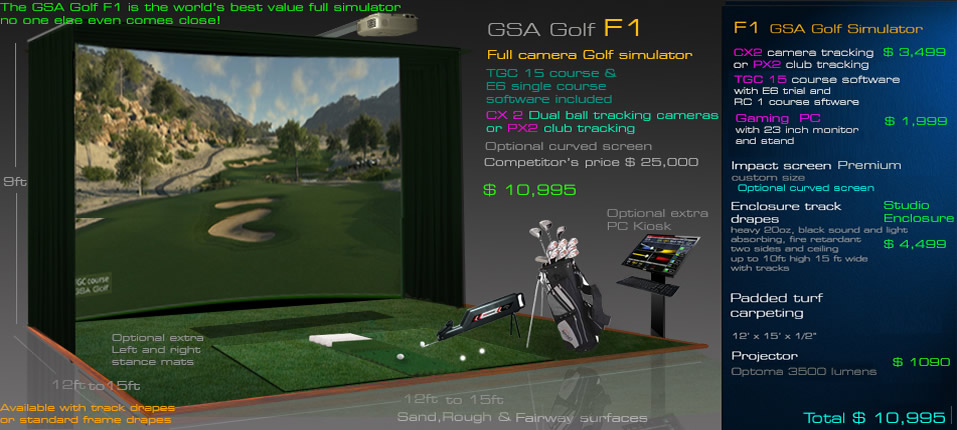 F1 Systems detect fades, draws, hooks, slices

All our F series systems feature the GSA Golf high-end PCs and Projectors

High end camera 3D ball and club tracking systems you can afford






Individual tracking cameras from $ 749.00

Click above image to read more about CX cameras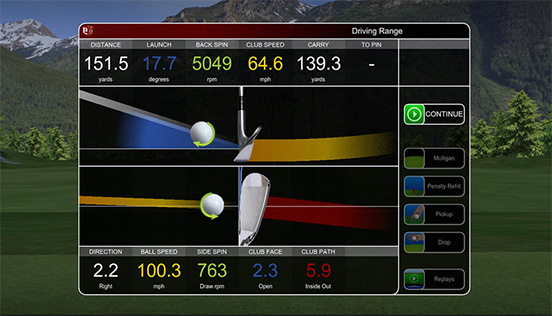 Full swing analysis after every shot
Full scale golf simulators from just $9,995

Add E6 V1.6 golf course software for just $1,450 extra on all CX systems
E6 demo Free with every GSA Golf product

Click above to see more

Add "The Golf Club" 98,000 golf course software for just $999 extra on all CX systems
Add "The Golf Club" base version 15 course plus driving range software for just $299
"The Golf Club" software
with over 80,000! golf courses and the Greg Norman Golf Course designer that allows you to easily make your own golf courses

Click above image to see the F series packages




Click above image to read more about the CTS club tracking

---
Try it before you buy it
GSA Golf Control Panel, camera SDK,18 hole GSA Golf course & E6 software suite



Purchase the full GSA Golf Control Panel, full camera SDK, Red Chain and E6 18 hole course software suite
Play all courses with the mouse for testing, experiments, learning and evaluation
when you don't have a GSA Golf camera tracking system
Note! This software suit is supplied free of charge with every GSA Golf camera system purchased
and should you purchase any of our products then this price will be refunded
Price just: $ 149.00
---

Ball Spin Detection System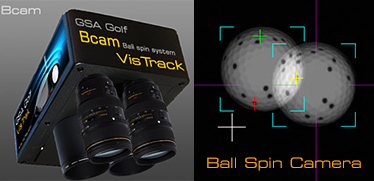 GSA Golf Bcam ball spin detection system
Add-on for CX2, CX3 or CX4 systems


GSA LX and KX launch monitors are all you need to play all the great GSA,TGC and E6 golf courses while working on your game



VisTrack systems coming later this fall
Click above image to read more about VisTrack systems


Photocell optical sensor systems
from just $ 1,299



GSA Golf PX-f full system golf simulators
Systems include enclosure with custom size impact screen,
padded turf grass flooring
light and sound absorbing heavy track drapes
Projector and PC included
PXn-F prices from
$ 5,995.00

The PX system range
Photocell and Camera combinations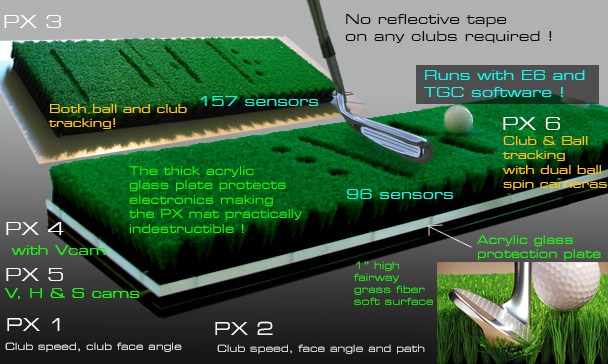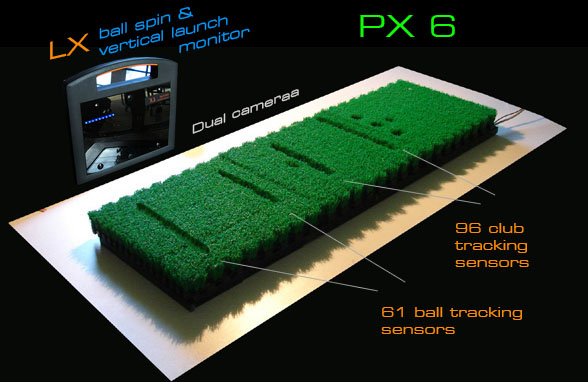 Click on any of the above text images to read more about the GSA Golf PX systems

The CX system range
Pure Camera systems

Click on any of the above text images to read more about the GSA Golf CX systems

GSA Golf Control Panel (CP) downloads
Update your current Control Panel with the latest GSA Golf CP version
Download standard configuration files hereHere
GSA Control Panel (CP) full version download
Note that the full version installation will overwrite any user settings if you have had any previous GSA Golf CP installations

GSA Golf Game software download
Experimenting and testing shots with manually entered launch parameters
You can test shots by manually setting the launch parameters in the Control Panel.
Right or Left mouse click in the Edit fields to change the parameters.
To see the trajectory of the ball in flight just click the "Launch Shot" button while having the GSA Golf software running in the background.



GSA Golf Studio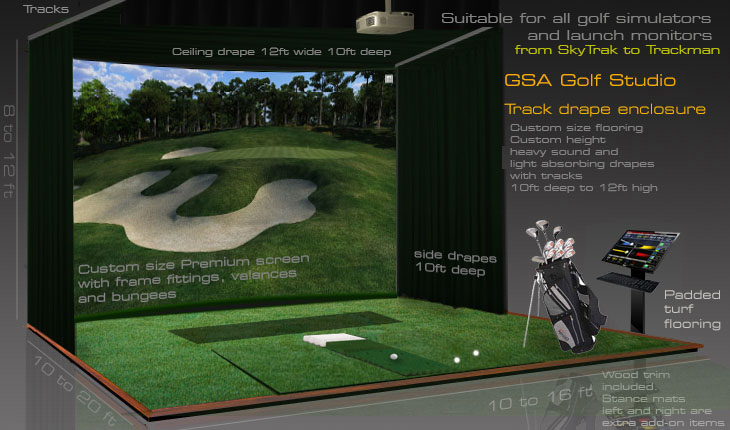 Drape enclosures from $ 1,499
Click above image to read more

Software

GSA Golf offer an amazing selection of golf simulation software

Choose from 5 different software systems
E6, TGC, RedChain, Perfect Parallel and ProX
Choose from all these state-of-the-art golf course software versions
with over 90,000! golf courses

Click above image to read more about the GSA Golf software range

GSA Golf Control Panel, camera SDK,18 hole GSA Golf course & E6 software suite

GSA Golf Control Panel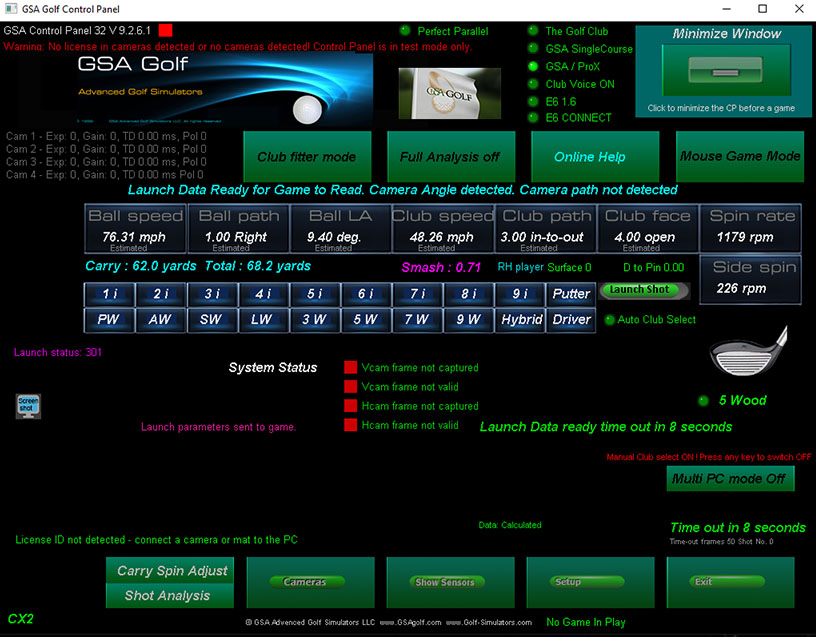 Courses can be played with the Control Panel via either a mouse or manual launch parameter setup for evaluation.
---
View camera images of your shots in the GSA Golf Control Panel camera windows !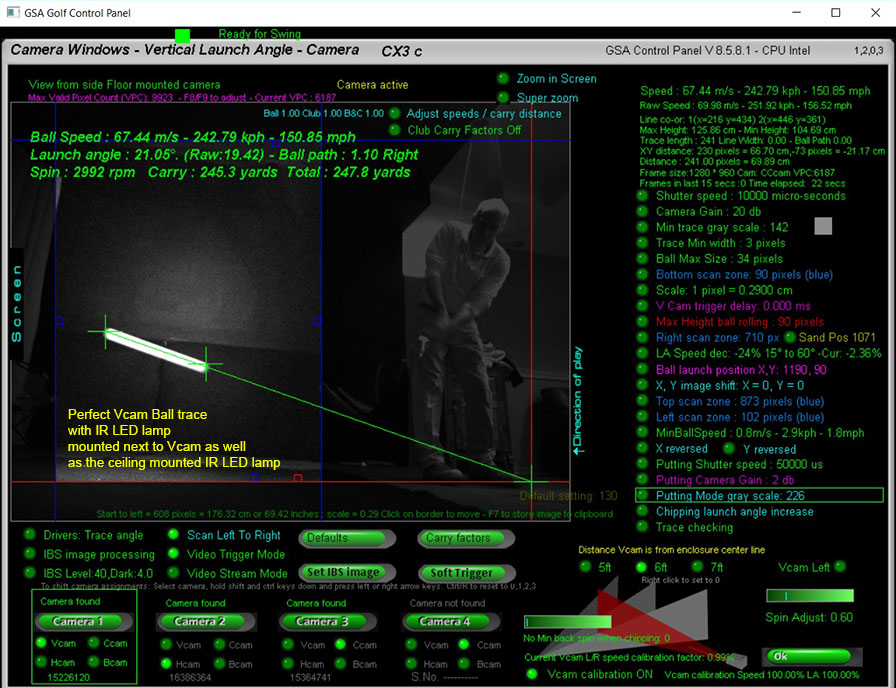 The side mounted Vcam detects vertical launch angle and speed of the ball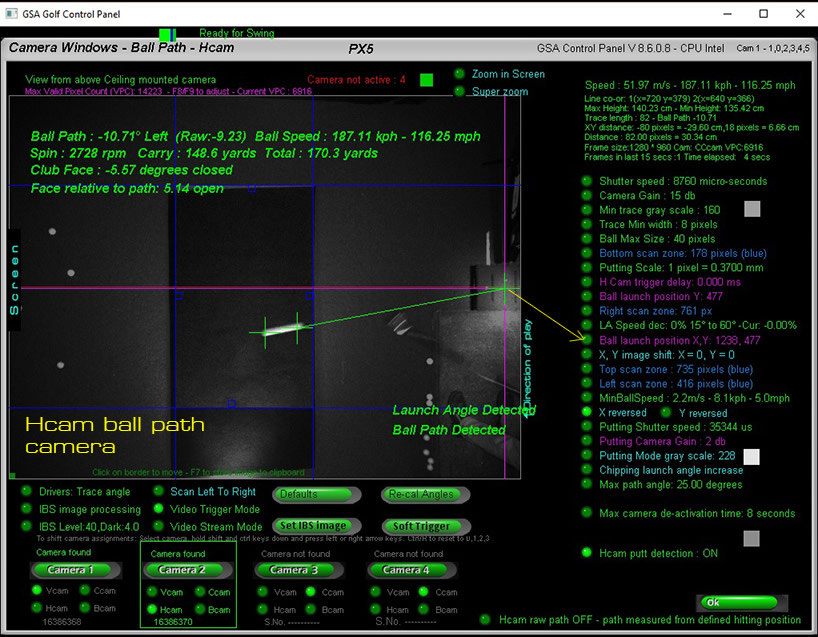 The ceiling mounted Hcam camera detects ball path for normal shots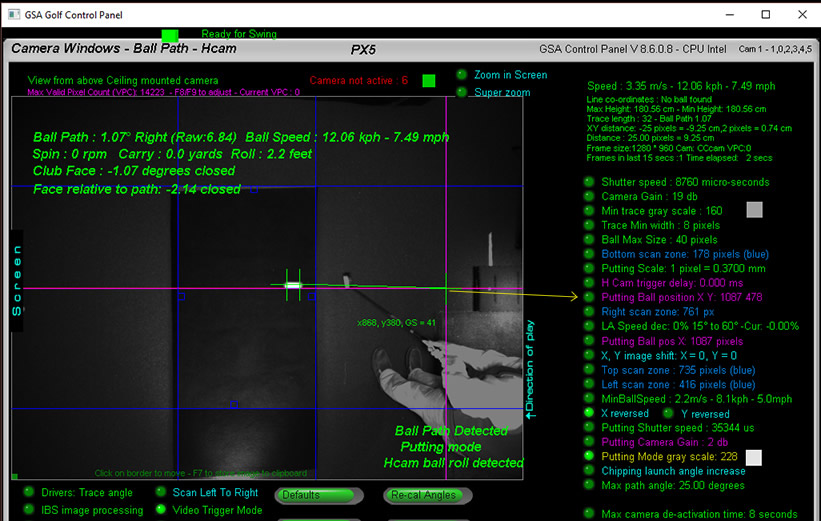 Ball path plus speed when putting

Bcam ball spin detection cameras
Club tracking cameras
Note that no other golf simulator manufacturer in the world can display real photo post shot images like these

---

Installation




---
Game software videos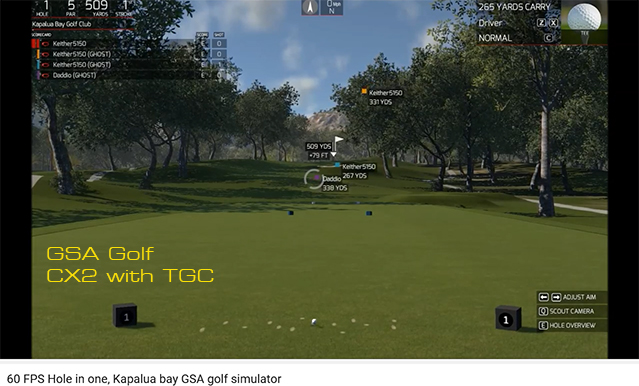 Many thanks to Keith in Canada (a CX2 customer) for posting the above video on YouTube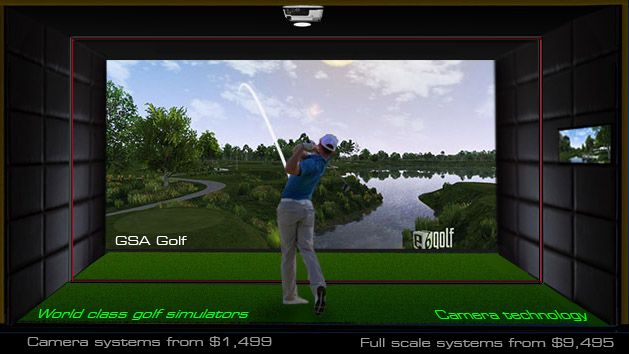 Don't forget !
High-end software will require an adequate high-end gaming PC to run it all
Your average PC probably won't be up to scratch
GSA Golf Custom built PCs
Note that multiple camera systems will require a PC that is capable of running multiple cameras.
While most good gaming PCs can run at least 2 or even 3 cameras GSA Golf does not guarantee that your own PC
(i.e. not using our PCs) will be able to run all the cameras
Click above to read more about PC's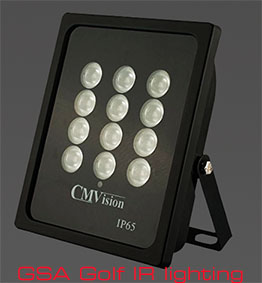 All GSA Golf camera systems come complete with dual IR LED panel lighting

Projectors

Click above to read more about Projectors

GSA Golf Kits
Assemble yourself and save even more money

Click on the above link to purchase GSA Golf products at the component level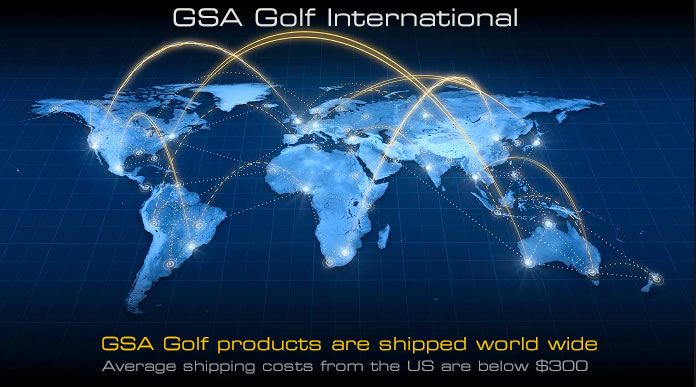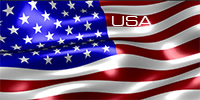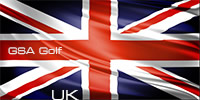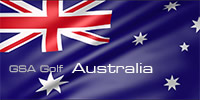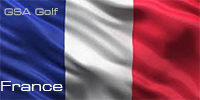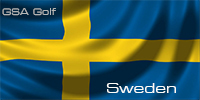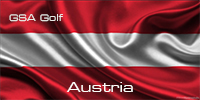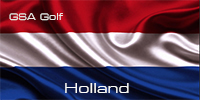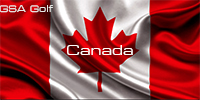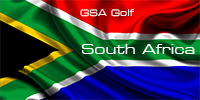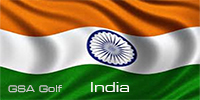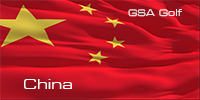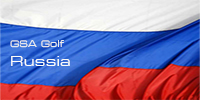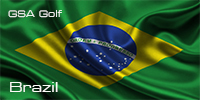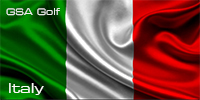 These are just a small number of the international countries GSA Golf regularly ship to other than our USA home country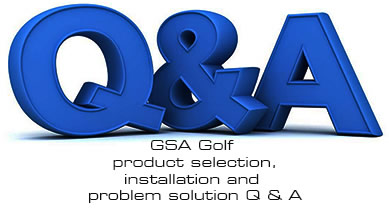 -
-