---


Reviews
Note that this page is new ( so there'll be more reviews to come later
Note that all reviews are independent customer reviews
Click on the images to see the videos as published on the Forums
Recent customer comments
Hi Martin, I just wanted to drop you a note to say how amazing the new VisTrak camera is.
I am still playing around with the settings and learning but the video capture and being able to see the frame by frame impact is awesome!
I also really like the way you show the ball ready/playback buttons as an overlay on the TGC.
The best part of my day is going to the tech page and seeing your latest updates - keep up the good work!
Richard L. Illinois 12/17/2020

Hi Martin- I wanted to let you know how much I appreciate your efforts.
I could have bought any of the expensive and well-known golf simulators, but I'm glad I ultimately took the chance and bought your products.
It wasn't an easy decision, as it takes a leap of faith to take the road less traveled, but it has made all the difference.
I love that your products are not perfect (no one's are) but that you strive for perfection while pushing innovation.
You're clearly never satisfied. As soon as you develop a new software feature, or build a new camera system, you're immediately back at it working on the next iteration.
You're a true inventor and engineer. Almost every day I download the latest beta and see how it enhances the simulation.
It's like Christmas morning everyday.
Sometimes there's a marked improvement. Sometimes the new feature "breaks" something else.
But over days and weeks, I feel how the collective innovations are improving the overall experience.
Your products aren't for everyone but they are a clear alternative to the high-margin corporate products that have an arm's length association with their user base.
Buying a GSA product is buying into you and becoming part of your user community.
You listen, you care, and you explore. I know many of us appreciate it but perhaps not enough of us say thanks.
Martin, thank you for an enjoyable and rewarding journey with your products in 2020.
You've made a COVID 19 year more endurable.
Eric P. Burien, WA 12/25/2020

Matt P. 1/15/2021
Hello Martin, I have had 2 weeks of excellent play and stability in Eagle Mode! This has been very enjoyable! Matt T.

Matt T. 1/14/2021
Hi Martin, I see your daily updates on the Tech News page and I just want to say thank you for all your hard work and dedication.
Your passion for golf and engineering clearly shows and thank you!

Mike B. 05/03/2021
Thanks Martin……..
I appreciate the excellent customer service and fair pricing! And the very informative website!
Have a great day!
Mike.

"The CX3 / F3 is as realistic a ball flight as I have ever seen!"
01/16/2019
Russell Quigg - "On the Tee" commercial indoor golf center, Massachusetts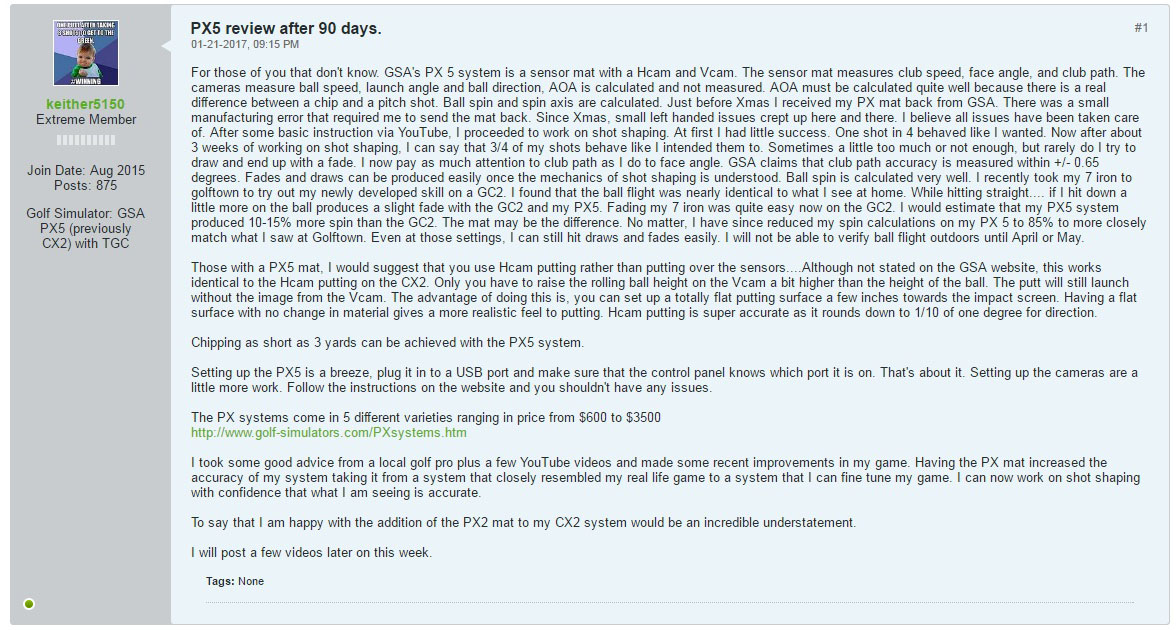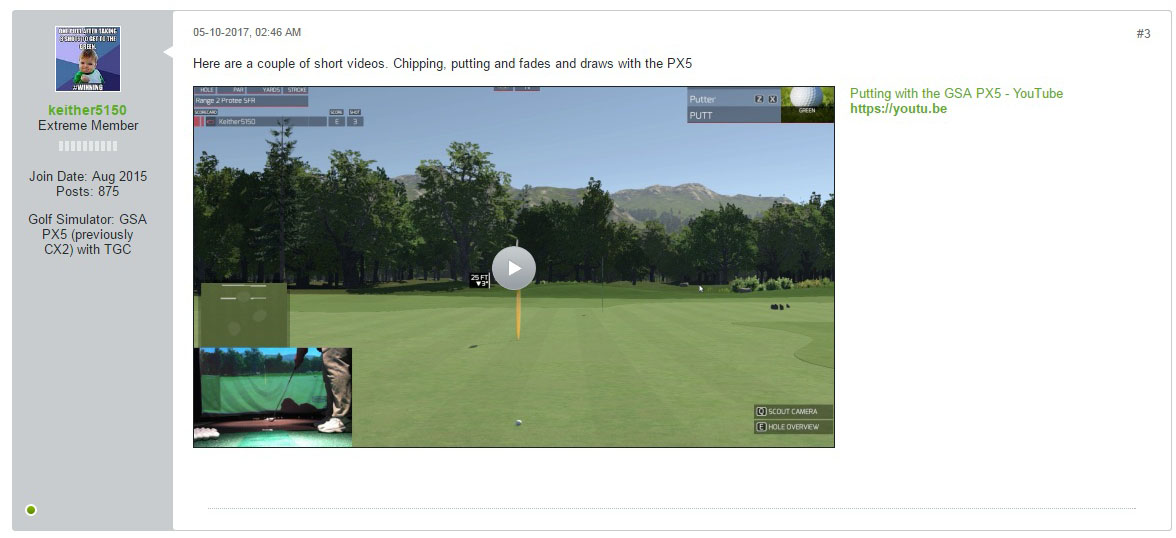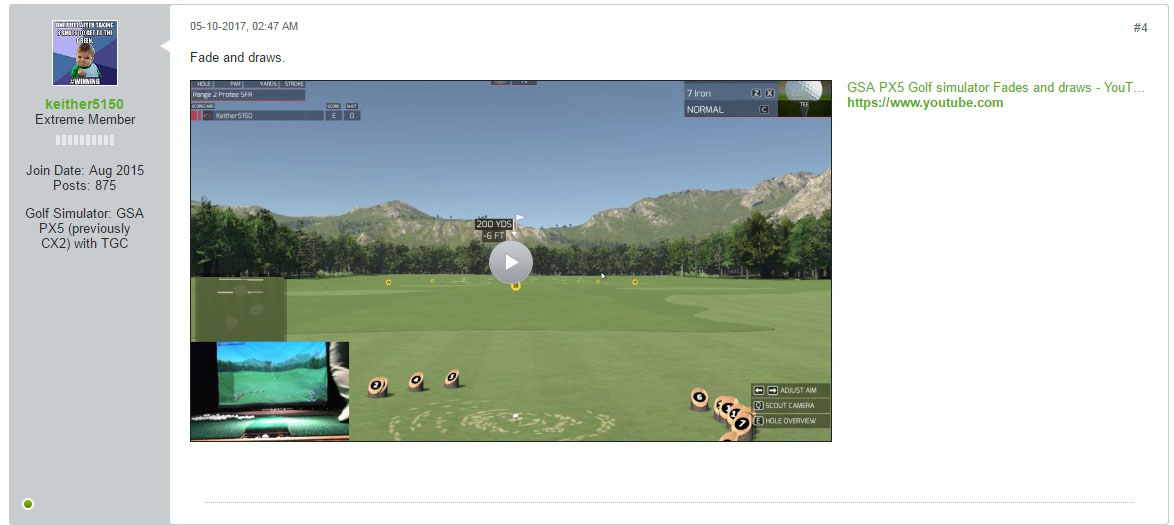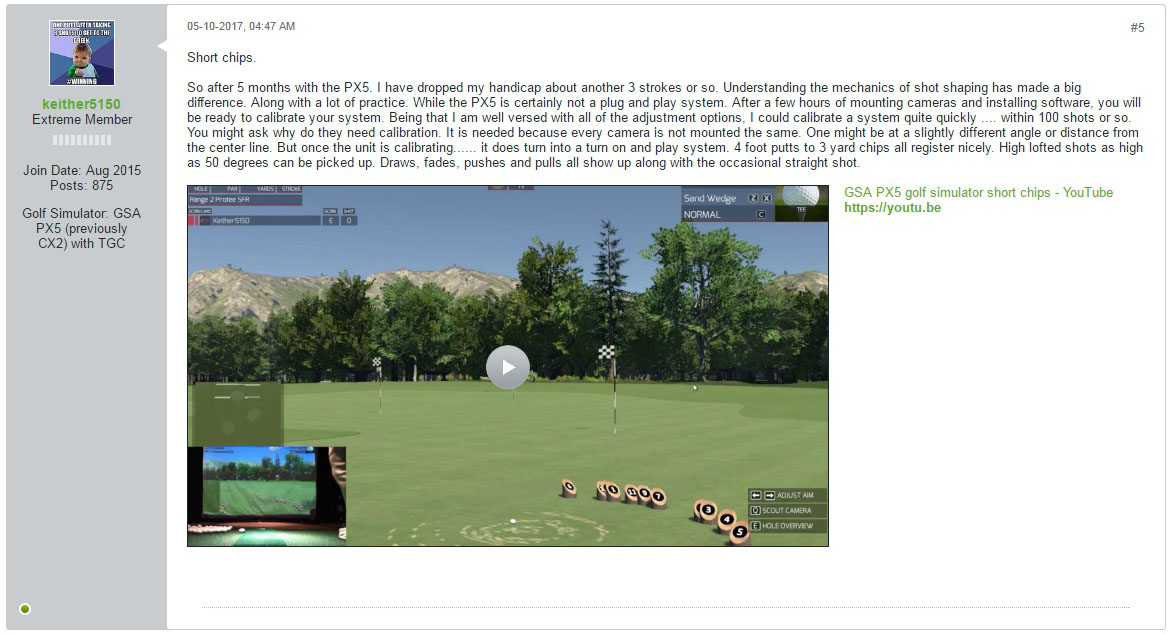 Kevin and Keith's comments
I decided to start with little brook manor as you suggested. I know it well since it is one of the R-Motion courses. -I get consistently good traces on full swings as well as putting.
-Putting seemed pretty good! I am no expert and I am out of practice but I felt pretty confident with the distances. -Short chips are a problem with spin. I
like to play bump and runs and the ball would carry the proper distance but instead of running they would backspin. I turned down chipping within 17yards down to 3000 from 5000.
I may turn it down more. -Most full swing shots I would say were great! Fat shots were short and pure shots went what I would say is my norm. I had a few baffling shots. I hit my 5 iron in the 170-180 range
. I had a few fly over 200yards (uphill!). I also hit my 4hybrid about 215. Most were in that range when struck well. I had one that went 265 which is in no way possible for me
I checked the cameras and both traces picked up properly. (I should have taken screen shots) -I believe I corrected my wedge issue with the clubhead getting into the FOV.
I am positioning the ball just in front of the rear line sensor which moved me back just enough. I am a little concerned how this may effect club face and direction if it may move the ball left or right.
Kevin
I figured out a way to get a proper LA with my set up. I shifted the image up so that I can move my launch position back.
I also added a 12x12 fiberbuilt fairway piece ahead of my hitting area. I chip from there and find that the ball flight and carry is pretty accurate on slow chips.
Because I moved the launch position back, full shots are within ½ degree of the raw angle shots. So, good news!!!!! You don't have to add anything to the control panel.
Chips that carry 4 yards in the basement, carry 4 yards in the game ( after reducing my LW and SW to 90%)
Flop shots have to be taken from further back as the club head sometimes comes into play. I think that I have everything working as well as my X,Y system.
Short chips are working well now.
Keith
Martin, Yesterday I was having trouble with IBS when it switched to putting. The screen filled with white specs. Today I tried it with the putting camera gain turned all the way down to zero. Problem solved. I suppose that this is the case due to the difference in shutter speed. I did a computer reboot and found that I didn't have any no reads during the 13 holes that I played today. Maybe suggest that a reboot might be helpful after a CP update. IBS was turned on and it works great. I will be switching out to a full putting green shortly and I am hoping that I won't have any issues. I have tested the LS cam with pieces of my stance mat from FB. I can adjusted it the it works fine. Chipping and putting was working great. Off the tee, I thought that the ball flight was too straight…. Maybe too forgiving. So I set up for a big draw. I managed to get 27 degrees of right SA……so my system can pick up mishits for sure. Then I set up for a fade but with less SS. The ball started right about 2 degrees and had left SA of 9.7 degrees. So the ball started right and faded back to the left nicely. I am really happy with the new stereo set up. It seems like Kevin is dialing in his settings as well. And the best part…. There is nothing for you to fix at this time.
Keith
11/23/18
Hey Martin and Keith, I just wanted to say thanks and I am in love!!! I believe I have made almost all of my adjustments and the PX5 is awesome! Keith kept telling me to use IBS and I finally switched over tonight.... WOW! The images and reads are great. Attached is two 6 iron pics to show my IBS images. I played a full round tonight. No reads were at a minimum. I had one putt, one tee shot (which I launched from CP), but then I did have to close TGC and GSA and reopen when I was trying to take a half wedge shot that wasn't reading after multiple attempts. After the restart I believe I had one more no read. Keith- I started Q school tonight. My TGC username is Swiggs. It looks like you check on some of the scoring so I wanted to let you know I had one rewind near the very beginning. I hit my hybrid (on 5 wood setting) and it travelled 45 yards too far. I went into the CP and noticed spin was at 7000 and speed was 117%. I brought down to 100% and 3000ish spin and used the CP to relaunch after. ( I don't want to be the new guy who cheats and still gets last place! ha!)
Kevin
11/23/18

Testimonials