Note that currently, our telephone sales and support lines are closed due to the coronavirus
August 8 3:00 pm

- V 9.3.9.9 Beta
Update for Quantum testers.
Fix 1: Issue with frame 2 not being captured on camera 1
(camera was being de-activated after capturing frame 1 - took me 3 hours to find that one)
Fix 2: When fist opening the camera window, the render buffers contained incorrect frames.
Multi-Sport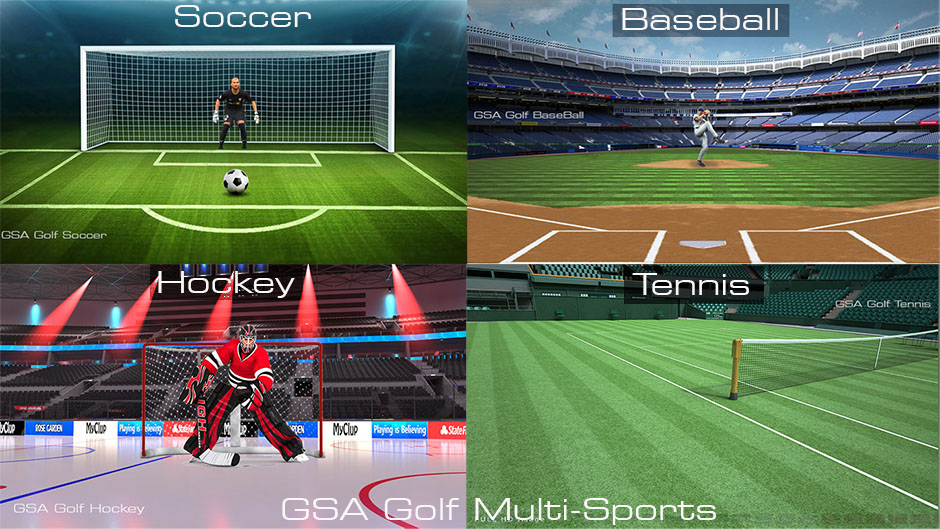 Before people start complaining that I'm starting new projects before the others aren't completed,
the reason I've announced it now is because many potential customers are making their decisions on purchasing based multi-sport capability.
e.g. A customer a while back contacted us to purchase 4 to 6 full feature sims for a commercial indoor golf facility but Multi-Sport features were a must.
I lost that big sale because of this and thus the customer purchased from one of our competitors. (can't have that can we).
Had he known that multi-sport was in the pipe-line, he would have gone with us. (as - in addition - our prices are that much more competitive).
BTW While others are charging over $7,000 plus for Multi-Sport, GSA Golf's Multi-Sport is free of charge.
Again, the Multi-Sport project will only start as and when all other tracking development is completed.
August 8 11:15 am

- V 9.3.9.8 Beta
Update for Quantum testers.
Cam 3 strobe indicator added
Update for VisTrak users.
Fix: If the Y reversed option is ON in the VisTrak camera, then balls may (and probably will) launch on their own after teeing up.
This is now fixed.
---
August 8 9:00 am
GSA Golf Multi-Sport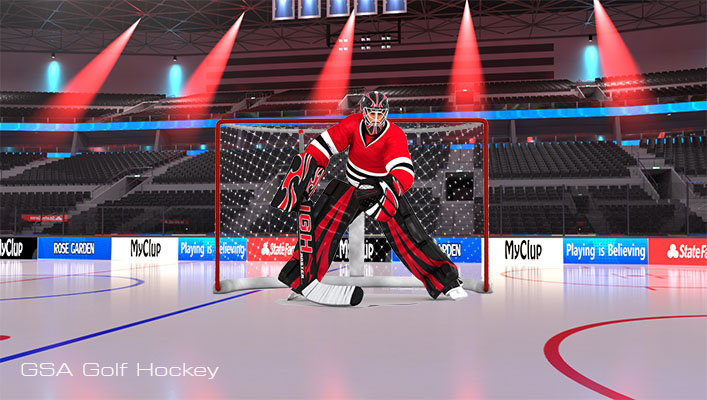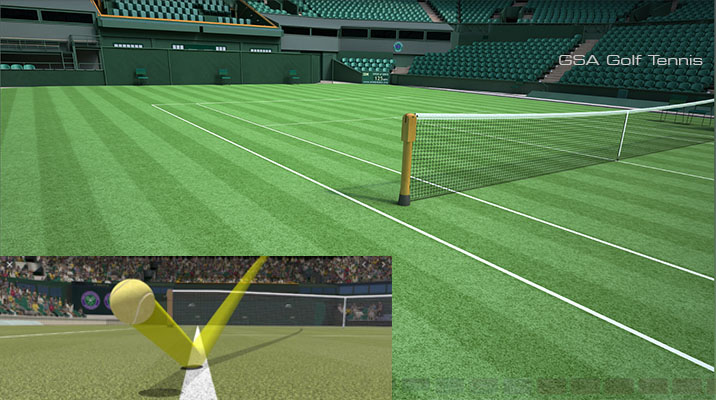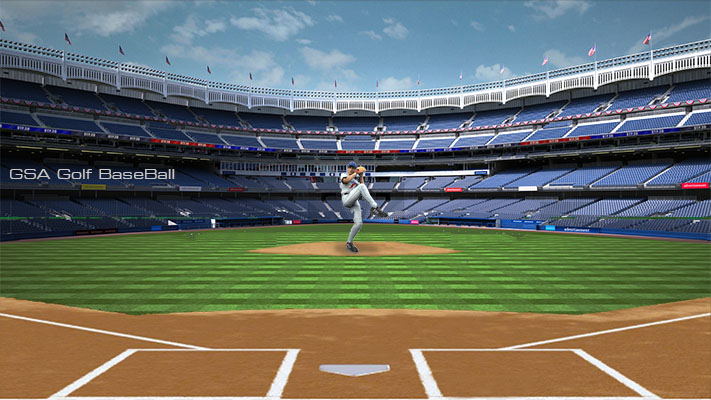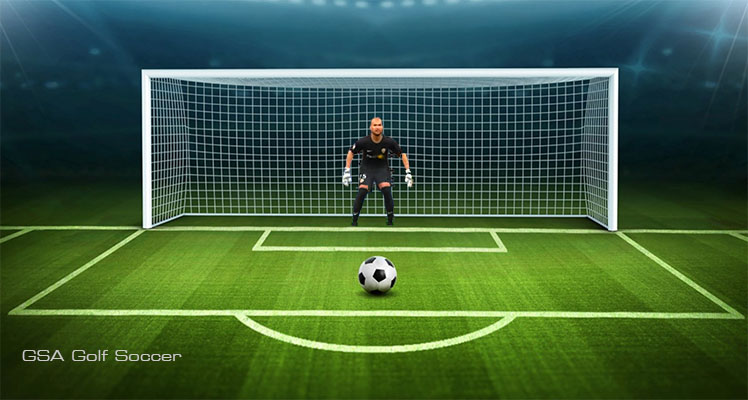 I made up some sample images from 3D models that are commercially available to use in the new ProX Driving range multi-sport range.
As soon as development of the current tracking systems is completed (hopefully within the next couple of months), I'll get to work on this new multi-sport project.
Release is expected for 2021.
BTW it appears that multi-sport software is not easily available for golf sim manufactures, so I'm happy to be able to do this in-house now.
---
August 7 5:00 pm
GSA Golf Multi-Sport

Anyone for Tennis?
How about Baseball, Hockey,Tennis or Soccer?
I've been getting quite a lot of inquiries about multi-sport over the years (3 this past week alone) and so I'll be looking into this shortly.
If I can't do any deals with the game software companies, then I'll convert my ProX Driving range to suit.
After all, these are primarily static background games with overlayed ball trajectories and some simple animation.
Should be fun to do and shouldn't take too long to complete.
I'll try with TruGolf first though, and see if the Chinese company that has contacted me about using GSA Golf's camera tracking for their Tennis simulator is willing to team-up.
August 7 4:30 pm

- V 9.3.9.7 Beta
Update for Quantum testers.

Testers: Keep an eye on the new "Strobe" indicators in the CP's main window.
They should go green (ON) after a shot and timeout back to Red (OFF).
August 7 1:30 pm

- V 9.3.9.6 Beta
Update for Quantum testers.
Confirmed: All 3 LA and Ball spin frames being captured
New 1 : Quantum shot LA and Ball spin images added to the auto generated video files (used for user support analysis).
New 2 : New safer camera power-up method for all cameras.
Fix 1 : Trigger delays not being set with Quantum systems.
---
August 6 12:40 pm

- V 9.3.9.4 Beta
VisTrak: Club mistaken for ball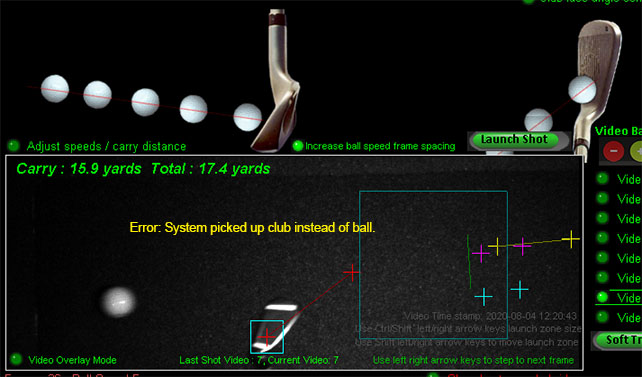 -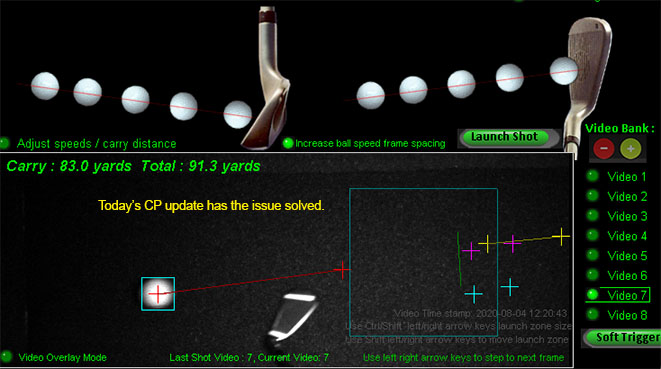 User Bob sent in a video showing that the club was mistaken for the ball in the video.
This CP version has ths issued solved.
---
August 5 11:00 am

- V 9.3.9.3 Beta
Update for Quantum testers.
New 1:
Faster trigger method.
Because I'm triggering the LA and Ball Spin cameras on the fly - i.e. during the VisTrak video capturing - It was noticed that the VisTrak video sometimes skipped frames at the trigger point.
A faster method of triggering the cameras was devised that sets the GPIO Trigger line high (positive edge triggering) and leaves it there.
i.e. we're not waiting a certain time before setting the trigger line down low again.
The trigger line is set down low again after video capturing is complete (also on any mouse click) and so there are no skipped frames anymore.
New 2:
For Quantum testers that have received a trigger cable that is wired to the VisTrak camera, there's a new temporary option in the setup window called
"Trigger LA and Ball Spin cameras from VisTrak camera". Switch this ON if you haven't yet received the new trigger cable.
Note: this option is not stored so you have to switch it ON again every time you restart the CP.
New 3:
Ball speed and path is taken from the VisTrak camera now. The other cameras are only used for LA and Spin
---
August 2 4:15 pm
More VisTrak Quantum installation instructions

August 2 1:00 pm

- V 9.3.9.0 Beta
Update for VisTrak Multi-camera users.
Fix: Serious error found in camera initialization process for systems using the VisTrak camera with CX cameras (i.e. VisTrak CX2, KX, VisTrak Quantum, VisTrak Stereo etc).
If you are using any of these multi-camera systems, please only use this - or higher - version of the CP.
Update for Quantum testers.
I'm please to say that the new camera trigger method for the Quantum works just fine.
Plus, I'm additionally pleased to save the time and money it takes to make up a 3 camera trigger cable.
This update has many important updates for Quantum testers/users, so please only use this - or higher - version of the CP.
---
August 1 5:45 pm

- V 9.3.8.8 Beta
Update for VisTrak Quantum testers
More testing and updates for the VisTrak Quantum system coming tomorrow noon time.
Possible trigger method change for Quantum systems
An interesting issue seems to appearing with the trigger method used with the Quantum.
I can't confirm this for sure yet, but there might be a problem with setting GPIO signal lines to trigger the ball LA and Spin cameras
from the VisTrak camera while the camera is running in full frame rate mode.
If this does turn out to be the case, then there's a simple solution which I hadn't thought of before.
The LA and Spin cameras are in an idle state during the VisTrak camera video capture period so - instead of instructing the VisTrak camera to trigger the LA and Spin cameras -
which is super busy capturing frames - why not just instruct the LA and Spin cameras to trigger themselves via their own GPIO signals.
i.e. we loop back their own GPIO trigger output lines back into their own GPIO input trigger lines so that they - effectively - trigger themselves via hi-speed line trigger instructions in the CP software.
I don't see any reason why this shouldn't work and - a nice added bonus for us - we don't have to make up any trigger cables.
I'll let you know tomorrow how this works out.
August 1 2:20 pm

- V 9.3.8.7 Beta
Update for VisTrak users
Testing in VisTrak Eagle mode today didn't reveal any big issues.
New 1: Ability to move and resize the launch zone from the VisTrak Video window
New 2: Ball path now more accurate with chip shots.
New 3: A number of cosmetic changes
More testing and updates for the VisTrak Quantum system coming later this weekend.
---
July 31 5:40 pm

- V 9.3.8.6 Beta
Updates for VisTrak Quantum testers
July 31 5:00 pm
VisTrak Quantum : Measuring ball launch angle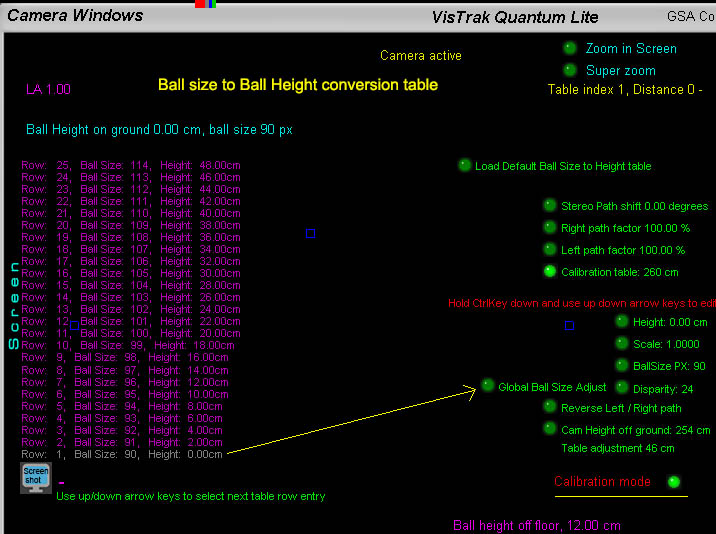 The VisTrak Quantum installation page now shows instructions on how to setup the LA table.
July 31 11:00 am
VisTrak Quantum installation page is nearing completion.
---
VisTrak Quantum IR Lite

The VisTrak Quantum IR and VisTrak Quantum Lite IR has all the 800 IR LEDs built into the casing
July 30 3:30 pm
VisTrak Quantum installation instructions will be published tomorrow
July 30 1:00 pm

- V 9.3.8.5 Beta
Updates for VisTrak Quantum testers
---
July 28 3:00 pm

- V 9.3.8.4 Beta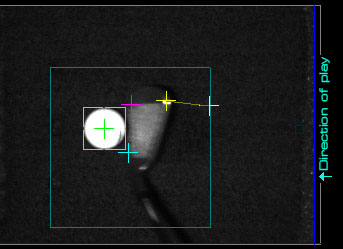 The CP can now detect club face angle nearer to the ball
July 28 1:00 pm
Modifications to the Quantum casing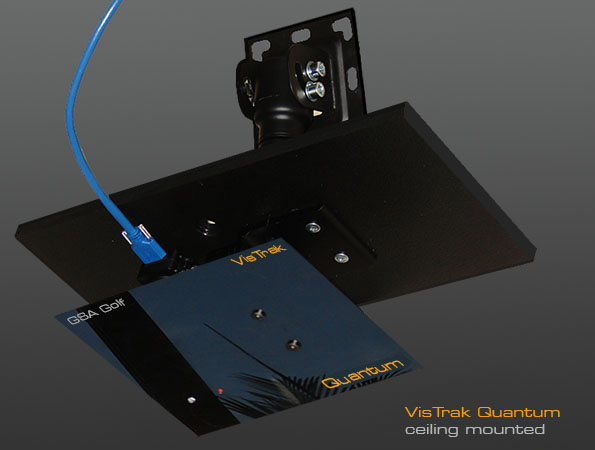 The brackets are no longer visible from the front and the IR panel is larger now.
---
July 27 7:00 pm
The new look CX Surround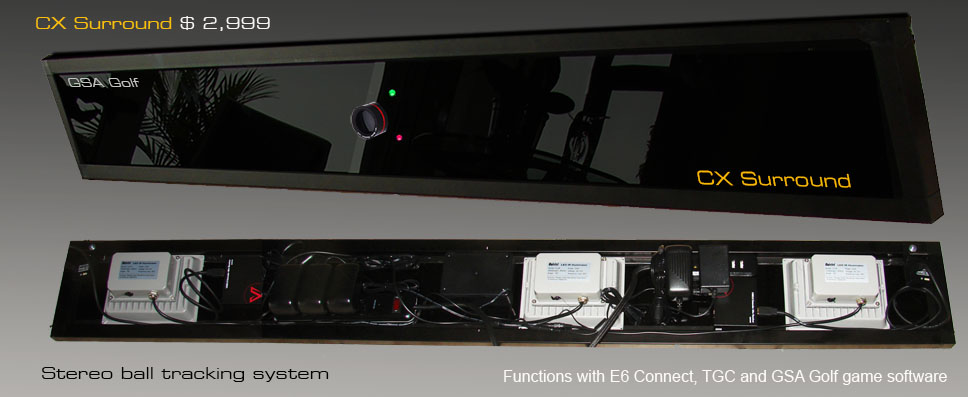 The CX Surround now gets the same casing as the VisTrak IR Stereo and VisTrak Quantum IR

Looks super cool to me.
---
July 26 6:00 pm

- V 9.3.8.3 Beta
Max club face

For those that are reluctant to apply tracking dots or white strips to their clubs, you can now set the maximum measured club face angle.
As it cannot always be guaranteed that the VisTrak will correctly detect club face angle without tracking dots or strip markings on the club,
we recommend setting this value quite low in order to prevent wild slices and hooks from incorrect club face angle readings.
BTW all camera club tracking systems on the market today - like the $16,000 GC Quad that requires up to 4 tracking dots to be applied to each and every club -
require reflective markings on the club in order to accurately measure club face angle.
---
July 26 10:45 am
Update for VisTrak Left handed users

- V 9.3.8.2 Beta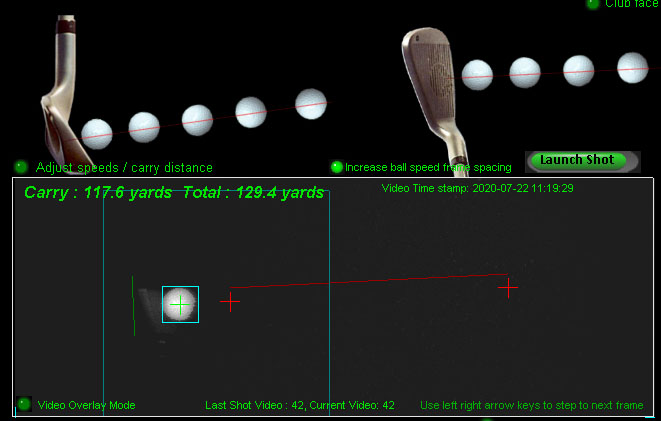 Fix : Ball speed and path increased frame spacing not functioning for left handed players.
i.e. system would only use the two frames required to measure ball speed and path, one frame apart. eg frame 6 and 7 = 1 frame apart.
If there are more frames containing ball images then increased frame spacing will result in more accuracy for lower speed shots.
eg frames 6 and 12 = 6 frames apart.
---
July 25 6:00 pm
All VisTrak Quantum sereies camera tracking systems now feature a projector mount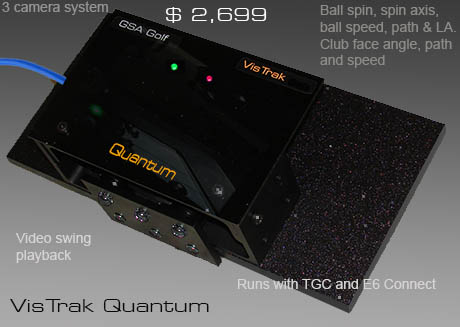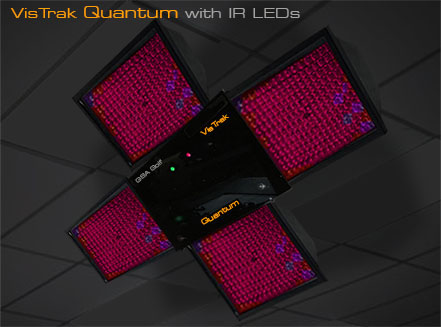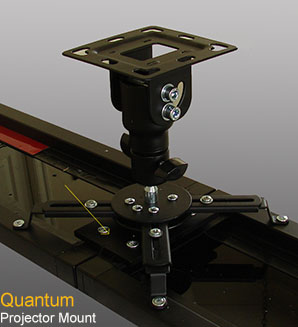 It was determined today that the standard plastic speaker mount used with the VisTrak Eagle is not suitable for use with the VisTrak Quantum due to the increase in weight.
July 25 4:00 pm

- V 9.3.8.1 Beta
Fix 1: Ball square frames not being shown in the VisTrak Video playback
Fix 2: Ball path slope line shown in inverse direction for left handed players
Note: V 9.3.8.0 is now the regular update and this V 9.3.8.1 version is now the new Beta test version
July 25 3:00 pm
Update for VisTrak CX2 users

- V 9.3.8.0 Beta
Fix: Bottom scan zone line not following "Max height off ground" value.
---
VisTrak video cross hairs

- V 9.3.7.9 Beta
As of this version, the data points (shown by cross hairs) are now stored and retrieved in every video file.
Data points for ball speed and path (red) club path and speed (yellow) and club face angle (cyan and pink) are stored.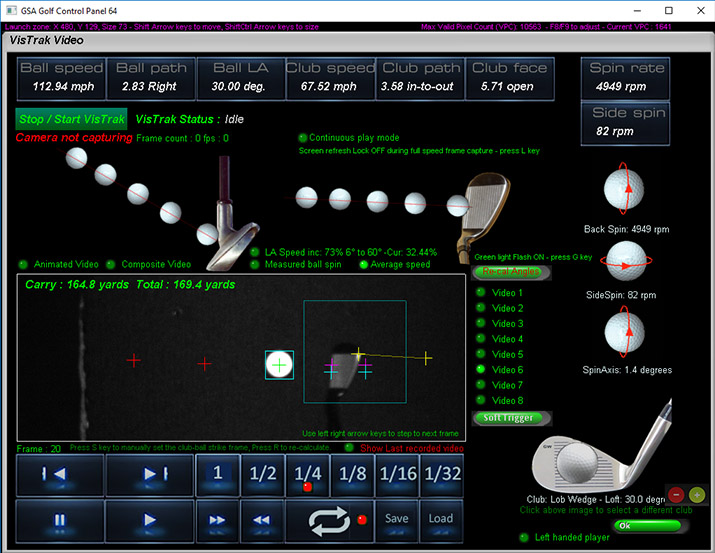 Previously, these data points were not shown or stored in the video file and in order to view them, the Re-Cal Angles had to be pressed.
This feature is also important for customer support video analysis.
---
Update for VisTrak Quantum testers

- V 9.3.7.8 Beta
Includes Quantum Lite updates
---
VisTrak IR Stereo
New photos of the VisTrak IR Stereo camera panel - inside and out.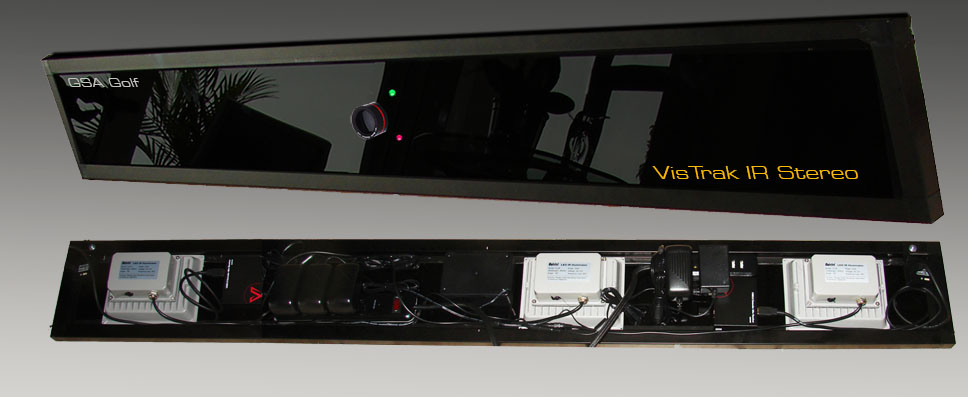 July 21 11:00 am
Update for VisTrak CX2 users

- V 9.3.7.7 Beta
Issues with VisTrak CX2 systems fixed
New 1: After the camera tests are completed when first starting the CP, a launch shot is no longer performed.
New 2: Current shown video number is now displayed in the VisTrak window
---
July 19 6:30 pm
A nuts and bolts weekend. Gearing up for the Fall/Winter season.
I must say, it's a welcome change to spend hands-on time constructing and assembling products instead of sitting at a computer working on software all day.
A number of VisTrak IRs, Quantums and VisTrak Stereo systems were completed this weekend.
VisTrak Quantum Lite Beta now for sale
I've decided to release a Beta version of the Quantum Lite now.
The only difference between the VisTrak Eagle and the Quantum Lite is the addition of the vertical launch camera, so there shouldn't be any big technical issues here.
In contrast, the regular 3 camera Quantum system that detects ball spin will have to go through some intensive testing before a release is available.
Depending on the results of Alpha testers, the release of the 3 camera Quantum may take several weeks, if not months.
---
July 17 2:00 pm

- V 9.3.7.6 Beta
Fix: "StereoScaleBallSize.csv" error message being inadvertently shown when not using the new Quantum system.
---
July 16 6:30 pm
VisTrak Base systems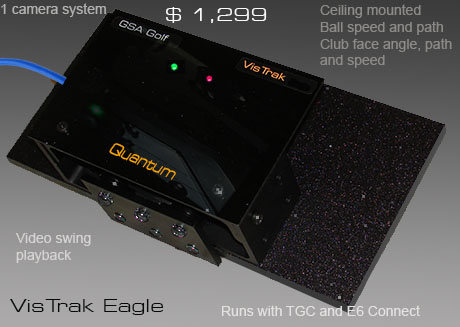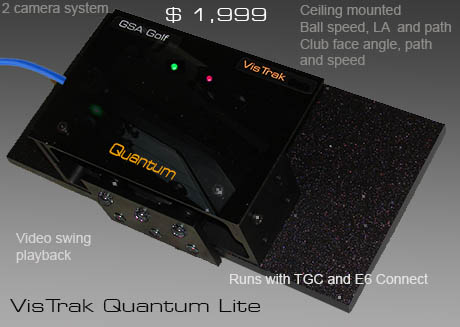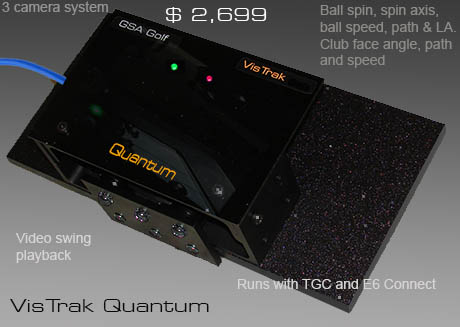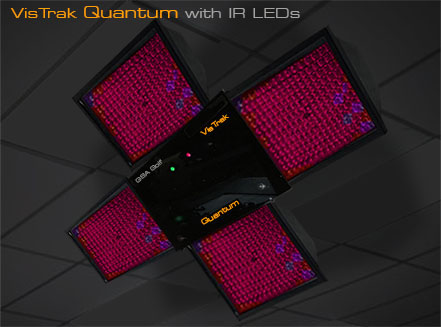 The new look VisTrak base systems.
July 16 12:20 pm
VisTrak Quantum Base new casing
While this casing probably won't win any ergonomic case design awards, it meets all requirements for an easy and functional installation.
The case consists of a base panel, camera mount and acrylic IR front panel.
The IR front panel can be rotated for easy access to the cameras for aiming and focusing adjustments and can also be easily replaced in case of damage.
Power supplies, electronics, ceiling mount and USB CAT converters are all attached (out of sight ) to the rear of the panel.
This casing (named the Quantum B) will replace the Quantum C casing.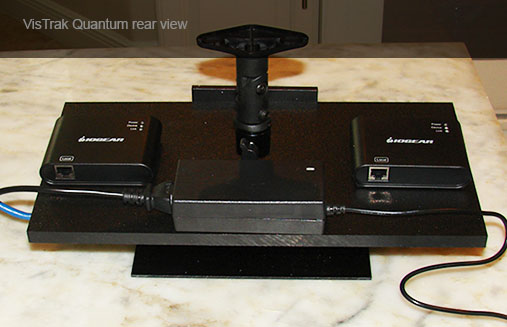 ---
July 15 7:40 pm
VisTrak Quantum C new casing
Building the VisTrak Quantum IR today sure showed how much work is required to assemble this product. i.e. at least 8 to 10 hours. (plus another 2 hours for packaging)
Frankly, I'm not sure I (or my partners) want to do it for the low margins that a retail price of $3,499 for this product has to offer. The price may therefore increase to at least $3,999.
From what I gather, price is of paramount importance in these trying times with some 50 million unemployed and no realistic sign in sight that things will get better anytime soon,
so I'm therefore going to push the VisTrak Eagle ($1,199), Quantum Lite ($1,599) and Quantum C ($1,899) as GSA Golf's main products going forwards.
Due to the difficulties of the last days with camera aiming, the Quantum C and Lite will feature a more simplified casing (essentially just a platform)
but with integrated USB CAT adapters and power supplies. Photos coming tomorrow morning.
These products may also include the new low profile IR Lighting systems from CM Vision.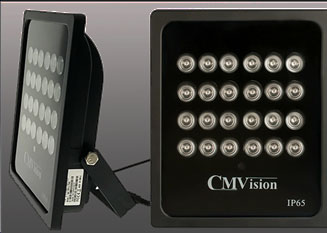 July 15 1:00 pm
VisTrak Quantum IR production prototype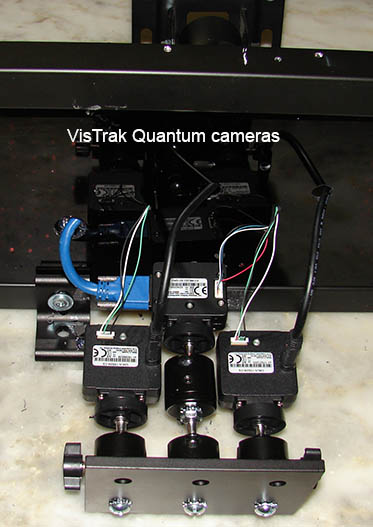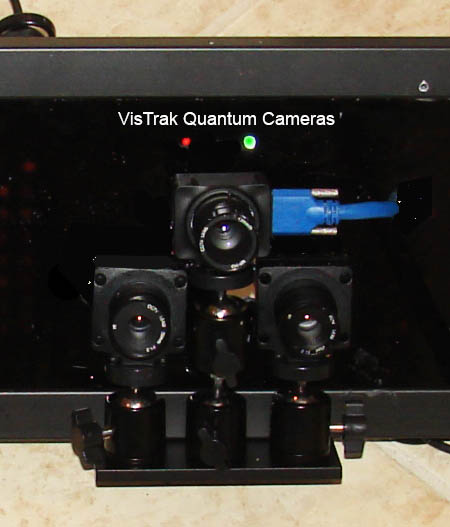 The above images show how the cameras are mounted onto the IR Panel. Each camera is mounted on a ball swivel joint so that the cameras can be aimed individually.

Rear view of the VisTrak Quantum IR showing the IR LED boards, power supplies for the cameras, LED boards with drivers, USB to CAT adapters, plug boards and projector mount
---
July 14 5:00 pm
VisTrak Quantum questions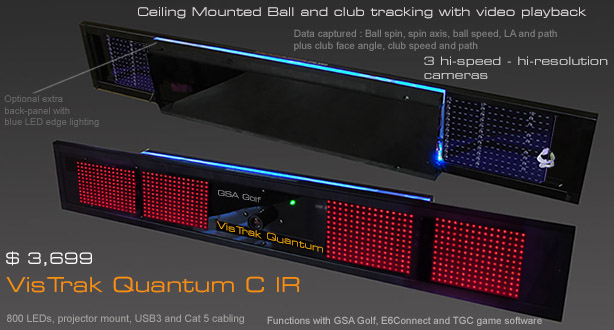 I get numerous emails a day from people that are interested in our new VisTrak Quantum so I would like to answer some of their main questions here:
Question 1: How does the VisTrak Quantum compare - and have you done any comparison tests with - Trackman, aG 3Track, GCQuad, GC Hawk, Uneekor etc?
Answer: No - we haven't done any comparison tests with our competitors products yet but - as all our data is user verifiable with photographic evidence
- we don't see any great necessity to do so for the moment.
e.g. When we claim that the club face angle at impact to the ball is a certain number of degrees open or closed, the user can simply view the shot video to verify this.
In contrast, our competitors either don't show this or can't show it (as with radar systems like the Trackman) . i.e. you just have to take their word for it.
Even our ball spin measurements are user verifiable.
BTW I'm not even aware that systems like the aG 3Track or GC Hawk actually measure any club data.
Question 2: Why is the VisTrak Quantum so much cheaper than its competitors?
Surely there's something major missing because this sounds like it's too good to be true. Where's the catch?
There's no catch
but there are a number of reasons why GSA Golf product prices are so much lower than its competitors.
Reason 1:
First and foremost, GSA Golf just don't take anywhere near the profits that our competitors do.
e.g. while we (or I) can spend tens of thousands of hours (spanning over many years) on development, we don't factor in these costs.
For us, golf simulator development is more a passion than a business. i.e. we don't wake up in the morning thinking about how much money we can make today.
Reason 2:
Our systems are not using integrated processing units inside the product itself.
i.e. All image processing is done in the host PC and thus we can save on these additional hardware costs.
GSA Golf camera systems essentially consist of just the cameras, power supplies and lighting. There's no integrated on-board CPU or other electronics.
Note that the cameras themselves feature integrated CPU's though.
Reason 3:
We do - somewhat - cut on the cost of the casings.
e.g. the Quantum IR uses just a frame with an IR acrylic panel to hold all the components.
i.e. There's no back panel to make a completely enclosed unit. The frame is nicely black anodized though, so still looks great and comes with a projector mount.
In addition to the extra costs a complete closed casing would come to (around $600 plus labor ) , we'd also have to add in cooling fans to dissipate heat.
Leaving the unit open solves all these costs - and as the open back panel is not even visible to the user when mounted on the ceiling -
it would seem this is rather a waste of money which could be better passed on to the consumer.
However, having said that, we can make complete enclosed casings for the Quantum for customers that would prefer this for an additional cost.
In fact, one of my partners can even make a teak cabinet for it. After all, customer is king and whatever they want, we can make.
---
July 13 2:50 pm

- V 9.3.7.5 Beta
Fix: VisTrak camera functions not activated when system in VisTrak CX2 mode
July 13 11:30 am
more VisTrak Quantum Case design changes
Adjusting camera aim in order to get all 3 cameras to point at one spot still proved to be difficult with yesterday's design.
All cameras are therefore now mounted externally on ball swivel joints.

---
JJuly 11 5:00 pm
VisTrak Quantum development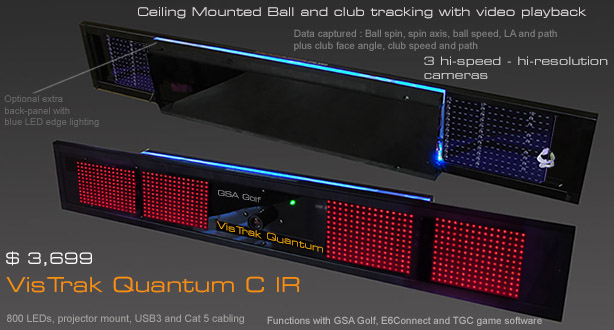 I spent most of today tweaking the VisTrak Quantum software code for Alpha testers. Looking super good now.
Initial test results from GSA Golf Alpha testers should be available in a week or so.
VisTrak Quantum sales estimates:

In theory, the VisTrak Quantum - selling at just a 3rd of the price of its nearest competitor (the Uneekor system)
and less than an 8th of the price of others like the GCquad, GChawk and aG 3Trak - should dominate the market.
Time will tell but I'm very optimistic to say the least. Can't wait to get going.
---
July 10 4:00 pm
CX/Vistrak camera to Quantum conversion
Please note that we are still testing the Quantum system so we recommend you don't start this conversion until tests are complete later this month.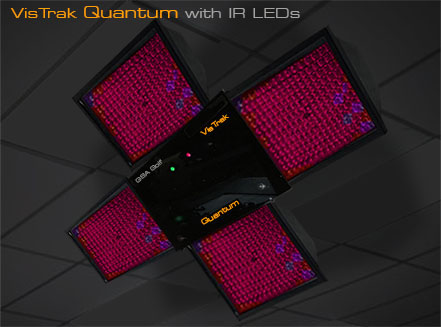 When converting a VisTrak Stereo or CX system to VisTrak Quantum, all cameras and lighting (either 4 IR LED lamps or a single LED SpotLight) are mounted close together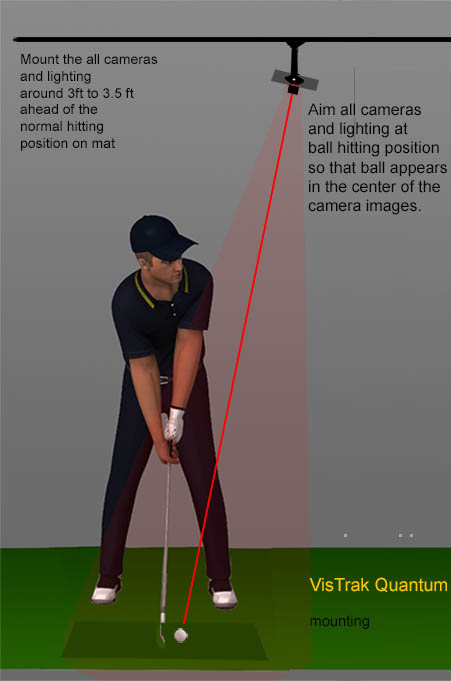 All cameras and lighting are mounted 3 to 3.5ft ahead of the player so that when putting or chipping, you don't block the field of view with your head.

The CX Stereo camera trigger signal comes out of the VisTrak camera and a special GPIO (General Purpose Input/Output) cable is supplied for this purpose.
Note that if you already have a VisTrak camera with a GPIO cable already on it that goes to the LED indicator board, this will have to be removed.
The small issue with this is that the VisTrak GPIO cable connector has a tiny plastic latch on it.
In order to remove the old GPIO cable, you'll have to press in the latch (either with your finger tip or a screw driver tip). It's a bit fiddly I'm afraid.
The supplied Quantum GPIO cable is then connected from the VisTrak camera to the other two CX cameras.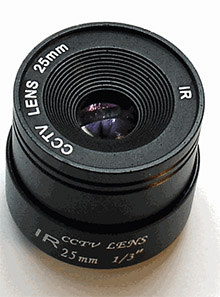 The old CX 3.5mm lenses are replaced with the new VisTrak Quantum IR 25mm lenses that are also supplied with the conversion kit.
You will have to run each camera in video stream mode separately and focus the lenses by turning the lens dial in or out.
CX/Vistrak camera to Quantum conversion kit
A complete conversion kit will be available soon that consists of the two 25mm lenses, the Quantum GPIO trigger cable and 10 pre-printed spin dot balls.
Price will be around $90.
Main VisTrak Stereo / VisTrak Quantum disadvantage
Straight off the bat, the main disadvantage with the Quantum compared to the VisTrak Stereo is that all balls have to be played from the same hitting mat.
i.e. you can't play the ball from other surfaces like greens (for putting) or rough or sand surfaces.
I believe this is also the case with all our competitors like Uneekor, Ag 3Trak and GC Quad launch monitors too (selling in the $6K to $18k range), so no big deal here.
July 10 3:50 pm

- V 9.3.7.4 Beta
Fix: Possible "no launch" when using just the VisTrak Eagle camera fixed
---
July 8 6:50 pm
GSA Golf spin dot balls for sale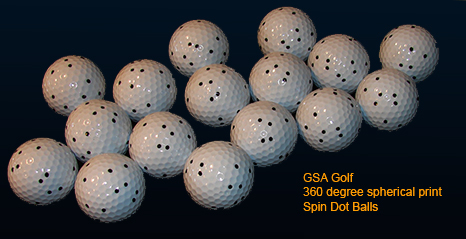 GSA Golf pre-printed spin dot golf balls can be purchased on the page linked to on the above image.
It is, however, recommended to wait until the results of the Quantum spin detection tests are in before purchasing.
Add-on's to the VisTrak Eagle
Should tests of the new VisTrak Quantum prove to be positive,
then the following VisTrak Eagle add-on's will be available:

Quantum Vertical launch angle detection
Add the Quantum vertical launch camera to your VisTrak Eagle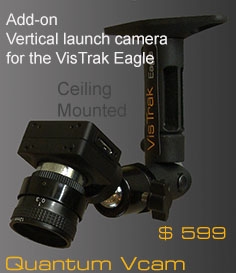 $ 599
Add the Quantum vertical launch and spin detection cameras to your VisTrak Eagle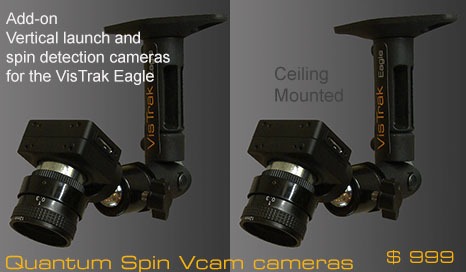 $ 999
July 8 1:30 pm
---
July 7 3:50 pm
DIY Spin dot balls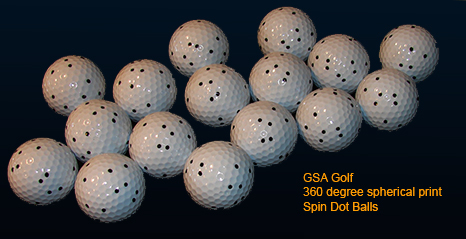 While we do have a number of pre-printed spin dot balls in stock, they are quite expensive ($25 for 10) and won't last forever. (i.e. the print will start to wear off after a while).
Customer Steve P. has a good suggestion for making your own spin dot balls though.
Steve writes:
I wanted to pass along a suggestion for something you and other GSA users might try if they want to try marking their own balls.
I can't guarantee that this method will work for everyone because I haven't tried it on multiple brands of golf balls, or on enough balls to be sure, but in the small experiment I tried it seems to have some promise.
This past winter I purchased some black colored cyanoacrylate adhesive off of Amazon (i.e. superglue, "TMI Products, Stick Fast 014 CA, Resists Shock and Cracking Flexible Glue, 1 oz Bottle, Black").
I put a few drops on a disposable piece of paper and dabbed spots onto a Titleist Pro V golf ball using a toothpick as a "paintbrush".
After letting the adhesive dry (which doesn't take long if there is enough moisture in the air) I added that ball to my my regular simulator ball rotation.
I would estimate that ball was hit at least a hundred times this past winter after the spots were applied before the ball finally cracked and I had to toss it.
All black spots stayed visible for the duration and I did not notice any transfer to my impact screen or my clubs.
An additional tip from myself: only apply the black glue to the inside a ball dimple.
This way, direct contact with the club and screen will be minimized and thus the wear and tear on the dot will also be minimized.
---
July 5 8:20 pm
VisTrak Quantum systems are easy to setup
I would just like to point out that, in comparison to CX systems and Vistrak Stereo systems, the Quantum products are a breeze to setup.
No Line Scan camera to deal with, no special low reflective flooring or walls required, no IR lamps or cameras mounted at floor level, no long trigger cables.
VisTrak Quantum products are as near as plug'n'play as we can get it.
GSA Golf Sales estimates correction:

Looking back on VisTrak sales this past 6 months, I can see we had already exceeded the 2 to 4 sales a year I previously estimated.
Actual VisTrak Eagle sales over the past 6 months were already 6.
This means we're looking good to sell at least 12 VisTrak Eagles units a year.
With the introduction of the Quantum series now - and judging from the positive response I'm getting - I'd say we're on track to sell at least another 12 of these systems a year too.
That brings the total VisTrak tracking systems up to around 24 a year.
VisTrak Quantum IR and VisTrak LX systems may also bring in another 6 sales a year.
GSA Golf web site clean-up
As VisTrak systems are our main selling tracking systems now, I've started cleaning up this web-site a bit.
All CX and PX systems (CX1 to CX6, PX1 to PX5) are now on separate linked pages instead of being bundled up in the camera and products page.
July 5 3:30 pm
VisTrak Quantum CP software
The first release of the new CP software for the Quantum systems will be ready tomorrow.
Quantum GPIO Trigger cables

I forgot to mention that - in addition to the two lenses ($50) - a VisTrak-to-Stereo camera trigger cable set is required ($30) when converting a CX system to a Quantum system.
While the trigger signal from the VisTrak is software generated, it is in fact a hardware signal that is sent via the camera's GPIO lines.
Tests showed that a true soft trigger command that is sent over the USB line is way too slow for a real time application like this.