January 28
General tweek update

Lots more VisTrak Stereo setup info on the VisTrak Stereo Installation page
---
January 27
Business news

Martin Gardiner - Founder of GSA Golf
That big grin on my face is mainly due to the reports I've seen of this year's PGA Show

From what I gather, there was nothing new of particular interest at the show regarding lower cost golf simulators and nothing that comes anywhere near competing with our VisTrak system.
Lots of people complaining about SkyTrak on the forums I read though. No new developments they say. Just the same old 4 second shot launch delay as before.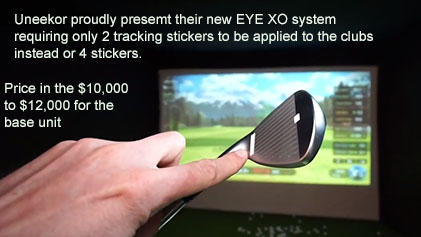 Uneekor's new system in the 10 to 12k price range for the base unit -that they proudly show only requires 2 tracking dots and markings
to be applied to the clubs instead of 4 - seemed to be a big highlight of the show for some obscure reason.
Seriously ? How about our VisTrak system that doesn't require any tracking stickers to be applied to clubs and sells in the $ 999 range ?
P3ProSwing out of business?
A customer called in today telling me that P3ProSwing went out of business a year ago.
I seriously didn't know that. Just too busy these days it would seem to notice such things. (I'm not a forum or social media follower).
The question begs, why?
Over time I've noticed a number of seemingly successful golf sim companies fold. ( Visual Sports, Swing Track etc come to mind).
My guess is that these companies take on investors and when the money runs out, they run up debts and then have to close in order to not have to payback their investors.
That's just my guess though so don't take my word for it.
Note that GSA Golf has not now and never will have investors. We're just an independent family business and will never have debts.
For us, golf simulators are as much a passion as a business. We don't care if we don't make any money at all in fact. We just love doing it.
---
January 26
VisTrak Installation Check Lists

Lots more info and tips on the "Common VisTrak User Issues" page.
The new "VisTrak Installation Check Lists" at the bottom of this page will be particularly useful for newbies to VisTrak and the GSA Golf Control Panel.
---
January 25
Video Overlay and Show CP overlay buttons
New 1: Current Video number displayed in buttons
New 2: Ability to select previous videos in the Video overlay
New 3: Last stored video is always first displayed when first opening the VisTrak window or Video overlay
New 4: Improved CP startup camera testing
New 5: Double launch checking
---
January 24
Auto camera pre-check

New 1: When first starting the Control panel, all cameras connected to the PC are now automatically checked to see if they are functioning correctly and grabbing frames.
An error message is displayed if not. The test takes a few seconds.
New 2: When grabbing frames, a check is now made to see that the camera corresponds correctly to its assignment.
i.e. if the VisTrak camera is incorrectly assigned to camera 1 instead of camera 3 in a VisTrak Stereo system, the system won't grab frames now.
Previously, grabbing frames with the incorrect assignment would cause a Memory Access Violation crash.
---
January 23
VisTrak Club path gray scale


There's now a new separate "Club Path Gray Scale" setting that can be used to better detect club path when the video images of the club are too dark..
VisTrak Video Overlay
New: The overlay video playback speed is always the same as that set in the VisTrak window.
January 22 - 9:37 am
Video Overlay and Show CP overlay buttons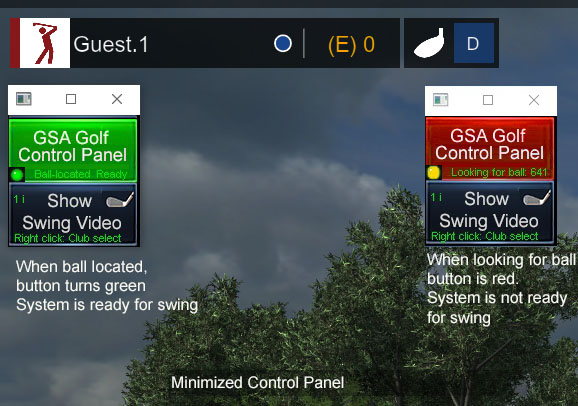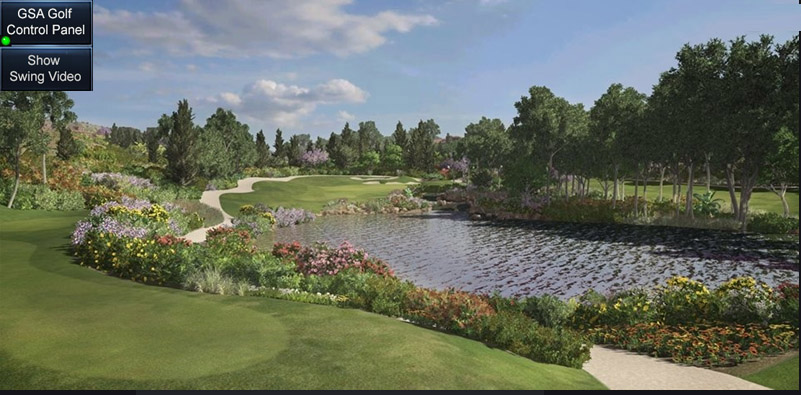 The Green LED in the Control Panel overlay button indicates to the user that the VisTrak camera is running. It turns Red if not.
Clicking on the "GSA Golf Control Panel" buttton opens the Control Panel overlay over the game software.
Clicking on the "Show Swing Video" buttton opens the Video Swing playback video as an overlay over the game software.
---
January 20 2020 - 9:30 am
Control Panel button displayed in game software option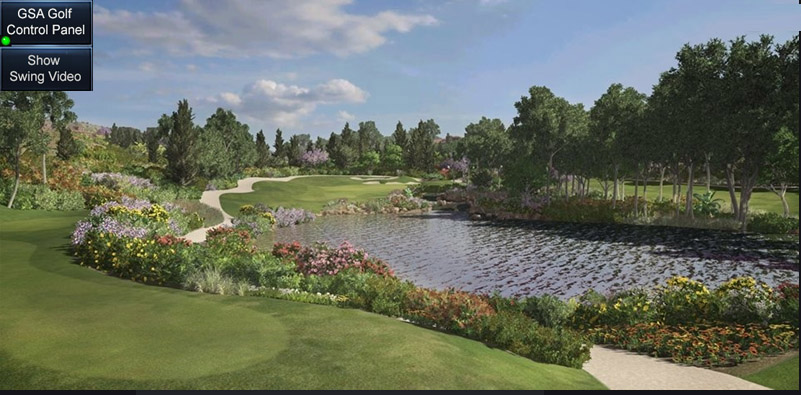 You can now access the Control Panel from the game software via a button overlay in the top left hand corner of the screen.
Select the "Show CP overlay button" in the setup window to activate this feature.
---
January 18 2020 - 3:00 pm
VisTrak Stereo

New 1:
Measured stereo ball LA, ball speed and ball path - plus club data - is now stored in the video file so that the video can be replayed with these original parameters.
Up until now, the system would re-calculate these parameters when loading the video file because the stereo camera images would be no longer available.
Thus the system would use only data available from the VisTrak camera video.
The user has can re-calculate the video data by switching on the "Re-cal angles" option.
The "Data:" display shows where the data is coming from i.e. from the current video or re-calculated.
Note that even the current shot data source is displayed as "Video" because the current shot data is also saved to the video file.
New 2: The frame and render buffers are cleared when starting the camera.
---
January 17 2020 - 12:28 pm
VisTrak Video overlay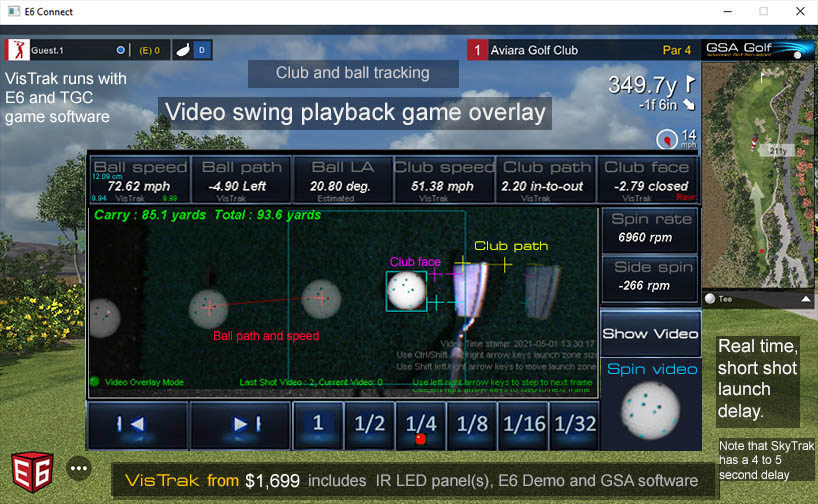 The Video swing playback overlay will be optionally displayed in the game software (TGC, E6 etc) after every shot.
---