---
Aug 4 4:25 pm
Currently working on ball spin axis tilt.
Initial tests should be completed by the weekend.
---
Aug 2 8:00 am
VisTrak Side Spin direction

The above shows the method used to calculate side spin from spin axis tilt.
---
Aug 1 5:30 pm
Other than the EVS spin axis detection coding, most of today was spent updating this website with many new features and tweaking prices.
A new VisTrak EVS page was also added.

Aug 1 9:30 am
VisTrak Vcam Spin Axis tilt direction

In order to determine the spin axis tilt direction, 2 matching dots in each frame will be required.
---
July 31 4:00 pm
VisTrak EVS
Now our top of the line, most comprehensive and most accurate system
$2,699
Ball and club tracking with Vertical Launch angle and Ball Spin and Axis Tilt detection
July 31 12:50 pm
VisTrak SCX vs EVS
Current comparison tests between these 2 systems is showing that the EVS system (ceiling and floor mounted) is vastly more accurate than the (all ceiling mounted) SCX system.
While both systems have the exact same functions, the EVS can measure ball spin and spin axis tilt to within a few rpm and degrees, whereas the SCX can be as much as 500 rpm off.
This is due to the fact that the side mounted VcamSpin system used in the EVS can see up to 360 degrees of ball rotation,
whereas the ceiling mounted SCX can only see 17 degrees of ball rotation within its 2 frames.
In addition, the SCX's method of detecting ball LA via variations in ball image size
is not as accurate as the Vcam's method, as the Vcam is viewing the ball from the side and thus sees the exact LA.
July 31 11:50 am
VisTrak Vcam Spin Axis tilt

The above method of measuring spin axis tilt from the floor mounted VcamSpin system is currently being tested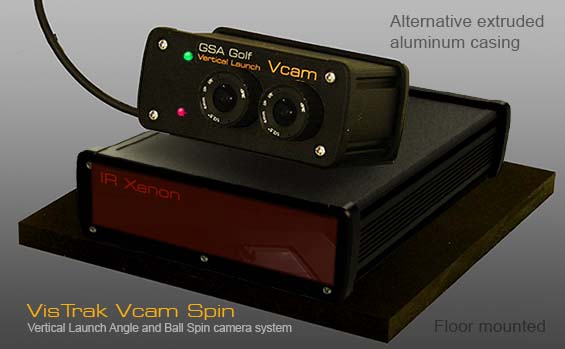 The above shows the new alternative casing to the carry case version of the VcamSpin system.
---
July 30 4:00 pm
VisTrak Vcam Spin
In addition to the current SCX ceiling mounted unit testing, the floor mounted version (VcamSpin) is also being extensively tested this summer.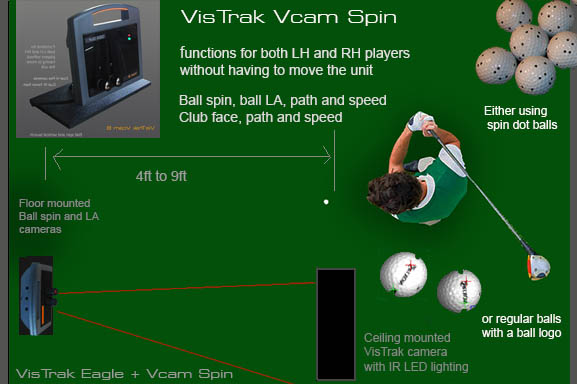 In particular, the ability to measure ball spin axis tilt by detecting the center of rotation via the spin dots or ball logo.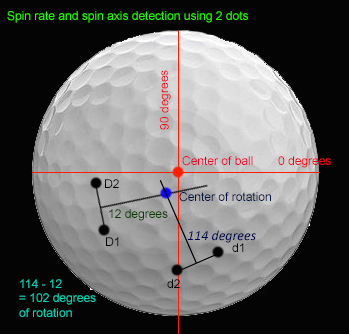 Spin axis tilt
The VcamSpin system also measures the spin axis tilt by detecting the center of rotation of the spin dot pattern.
---
July 29 3:50 pm
VisTrak SCX live testing
The SCX development is now in the live testing phase using real balls and clubs.
While a number of small issues had to be rectified, all is looking good so far.
I expect this phase to be completed over the weekend.
In theory, we could then go into a beta test production run - but as our stock of cameras has basically been depleted -
we're going to have to wait until the new camera shipment arrives sometime in October.
The shipment delay being caused by the current world-wide shortage of camera chips.
---
July 28 12:50 pm
VisTrak SCX spin tilt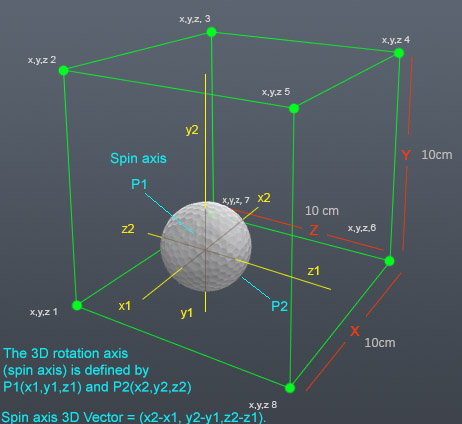 As ball spin axis is 3 dimensional, it cannot be shown as a simple number of degrees.
in order to actually show spin axis, you'd have to calculate a 3D vector which the average golfer probably wouldn't easily comprehend.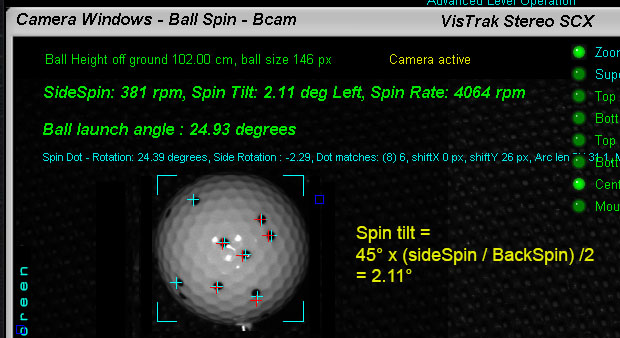 Spin tilt - on the other hand - is simple to understand as it can be shown as a number of degrees.
To calculate spin tilt, a ratio of Side Spin to Back Spin is used.
e.g.
if Side Spin is the same as Back Spin (i.e. 100 %) , then the ball will be spinning at a 45 degree tilted angle.
if Side Spin is 50% of Back Spin , then the ball will be spinning at a 22.5 degree tilted angle. etc, etc ...
The above shown simple equation is used to calculate the spin tilt.
i.e. side spin 381 / back spin 4064 = 0.09375 / 2 = 0.046875 x 45 = 2.11 degrees spin tilt
---
July 27 12:30 pm
VisTrak SCX side spin detection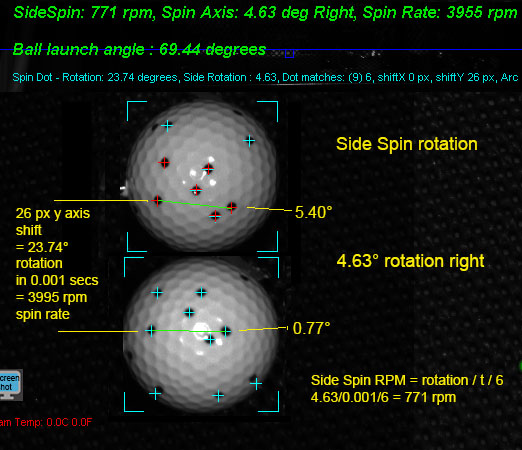 Coding and tests completed for the SCX side spin detection functions
As we all know, there's no such thing as side spin but the camera does see horizontal rotation (side spin) as well as vertical rotation (back spin).
As the camera sees the two 2D images of the ball, it would look like the ball is rotating in 2 directions at the same time but that is only due to the spin axis being tilted.
---
July 26 2:30 pm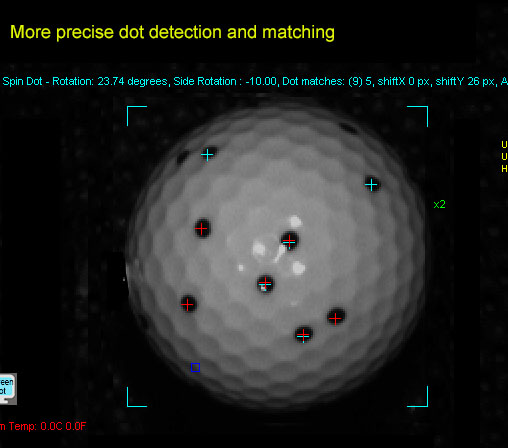 More precise dot detection and matching methods are now being used for spin dot balls.
---
July 25 6:00 pm

VisTrak Eagle purchasers may also be interested in the Vcam Spin XIR that can be added to your VisTrak Eagle at a later date.
Adding the Vcam Spin XIR to the VisTrak Eagle brings the system up to VisTrak SCX specs
Vertical Launch angle and Ball Spin detection camera system
featuring dual hi-resolution and hi-speed cameras with dual Xenon IR flash units.
Add On to the VisTrak Eagle
Ceiling mounted
$ 1,799
July 25 11:00 am
VisTrak SCX side spin detection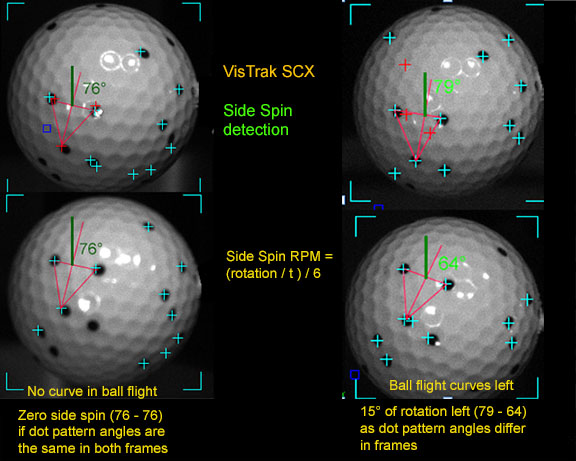 Camera tests today revealed that as long as the ball is struck square to the club path (no matter if path is straight, in-to-out or out-to-in), then no side spin or spin axis tilt is imparted on the ball.
If club face differs from club path, then side spin and axis tilt can be detected.
VisTrak SCX new longer case
---
July 24 1:45 pm

- V 9.6.7.2 Alpha3
Update for KX3 systems
Improved ball spin detection with logo balls and spin dot balls
July 24 1:30 pm
Spin dot ball testing with the ceiling mounted SCX cameras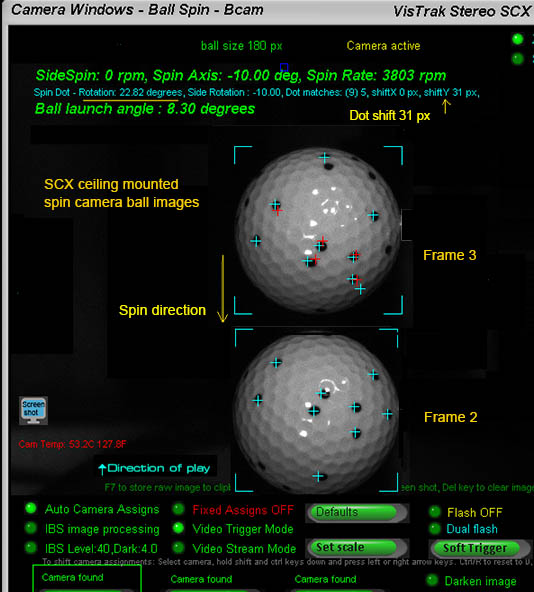 In order to measure ball spin from ceiling mounted cameras, close up hi-resolution images of the spinning ball are required.
The image shows that the ball dot markings shifted back 31 px which equates to a 22.82 degree of rotation within the 1 ms time frame
which in turn equates to a spin rate of 3803 rpm.
---
July 23 2:30 pm
Spin dot ball testing with the floor mounted KX3 and VcamSpin cameras
The same tachometer test as yesterday was made using spin dot balls instead of ball's with a logo on them today.
After a few minor tweaks, all worked out just fine and tachometer readings matched the CP's readings.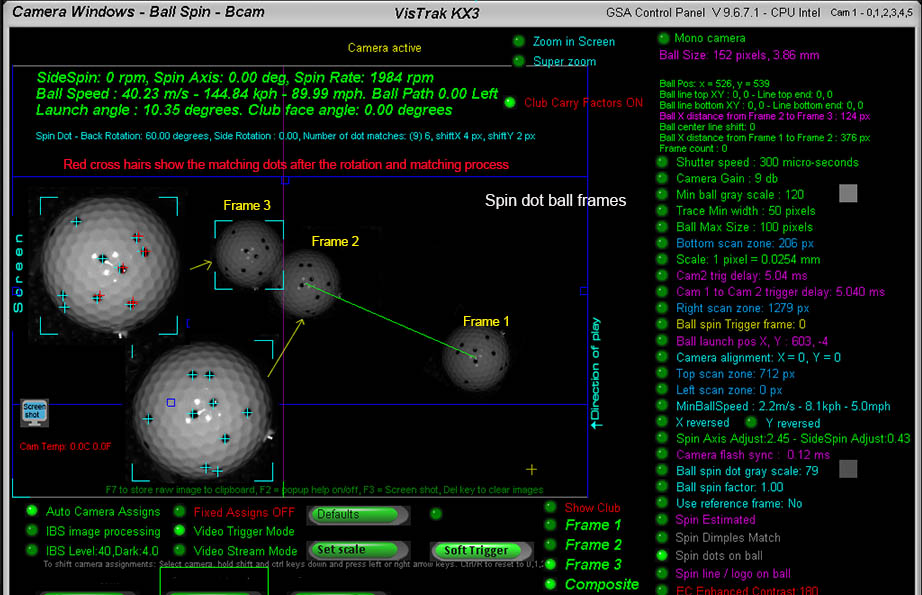 Spin dot ball testing with the overhead SCX and Stereo S cameras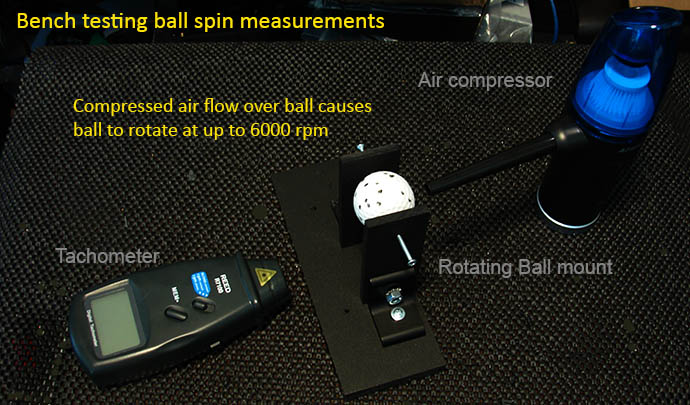 Next up will be testing the ball spin cameras that are ceiling mounted
---
July 22 10:30 am
Ball logo spin rate testing
Checking the spin rate calculations today didn't reveal any errors so yesterday's calculations where indeed correct.
The formula used is:
Angular Velocity= degrees of rotation / t
where t is the time in which the rotation occurs.
Divide by 6 to get RPM
Spin rate in RPM = w / 6
Spin rate comparison with laser tachometer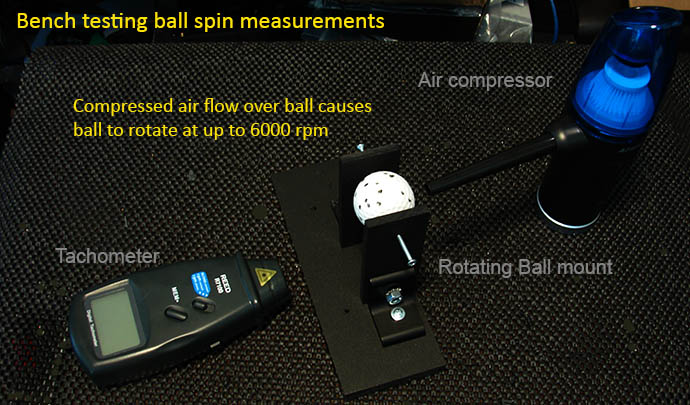 The above images show the bench test setup for testing the accuracy of the ball spin cameras used in the SCX.
To make the tachometer spin rate comparison, I connected a logo ball to an electric motor via a drill bit.
As the tachometer requires the ball to be black with a small white strip, I covered the top side of the ball all around with black felt tape leaving a small gap showing white.
The front of the ball, with its logo, was set to face the ball spin cameras. Motor was switched on at a low speed.
(had to be slow because the ball wasn't balanced and I feared it would fly off at any moment).
A tachometer reading showed a relatively steady 278 rpm.
After triggering the cameras, the control panel showed 280 rpm.
So there we have it. It's confirmed and it works.
At some point I'll make a YouTube video of the test using a balanced ball rotating at a far higher rpm.
---
July 21 3:00 pm
Ball logo spin rate testing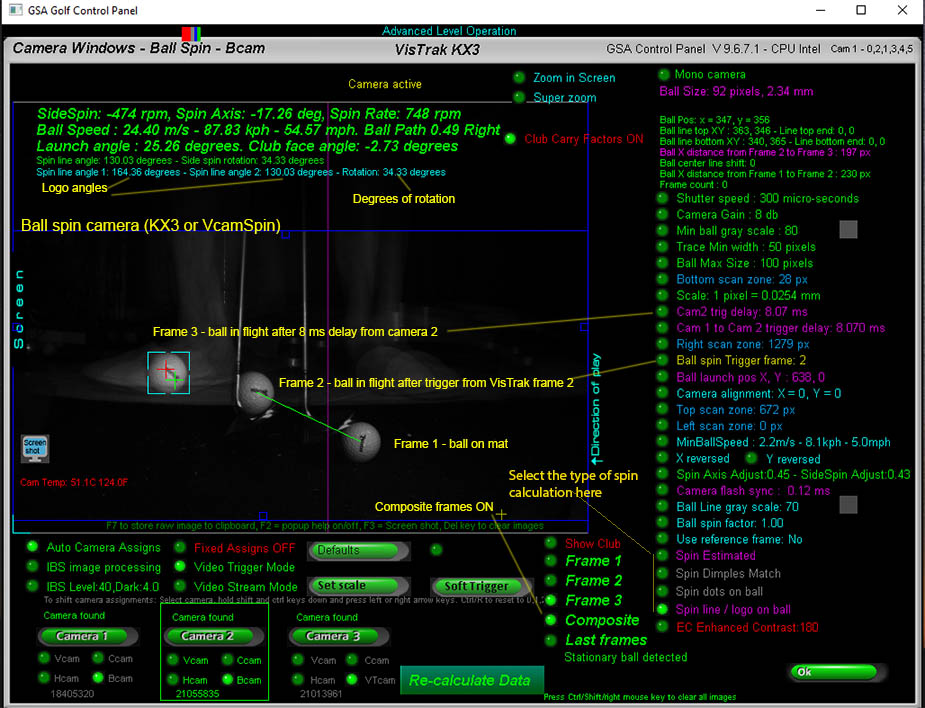 All in all, I'm quite pleased with the test results of using the ball's logo to measure ball spin today.
As long as the ball is not hit with a super wide open or closed face, the logo stays fairly centered and the system can detect the logo's angles in all the frames.
The above chip shot shows that the ball rotated 34.33 degrees within the time frame of 8 milliseconds.
Looks like I've made a mistake with the RPM calculations though as I expected the rpm to be a lot higher than 748 rpm with this sand wedge.
As all the ball logo angles are correct - as well as the calculated amount of rotation - it's probably a decimal point error as it looks like the result has been divided by 10.
July 21 7:20 am
Ball logo method of detecting ball spin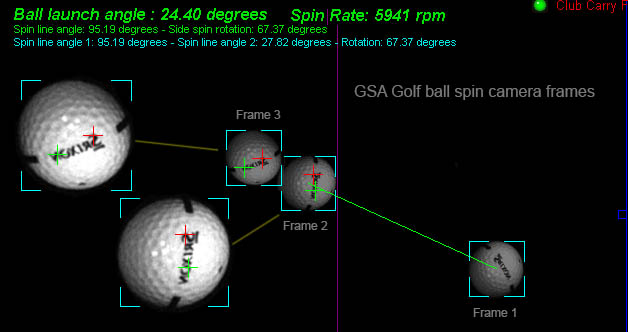 The above image shows the current state of the ball spin detection development using the ball's logo.
While the frames captured here show the logo nicely centered, this will not always be the case as side spin - imparted by an open or closed club face -
can easily cause the logo to shift way off center.
Extensive testing this week will reveal any short comings of this method.
---
July 20 7:00 pm
New look VisTrak Eagle
The VisTrak Eagle gets a new look slim line case using the board level VisTrak cameras

$ 1,499.00
July 20 4:00 pm
Ball spin detection: Spin dot ball VS ball logo methods
Much ball spin detection development has been done recently (and is still going on) but user feedback is indicating an adversity to using marked balls.
The obvious alternative - in this case - is to simply use the ball's logo as spin rotation reference points.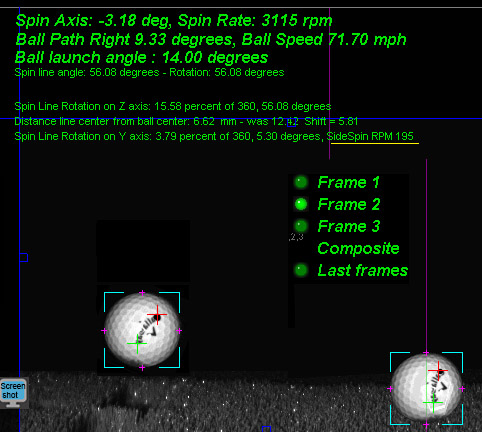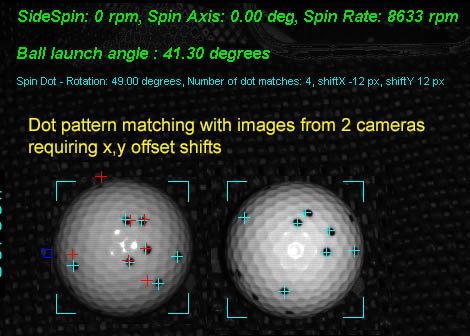 The only disadvantage of using the ball's logo to detect ball spin is that the user has to bend down and point the ball's logo towards the camera for every shot.
As this disadvantage doesn't seem to bother users of $20,000 radar tracking systems in the slightest
(i.e. to the best of our knowledge,
Trackman and Flight Scope systems require users to apply a metallic dot to their balls and additionally require the user to bend down and face the ball dot in a certain position
for every shot in order for the systems to detect correct ball spin)
then our ball logo method shouldn't be any bother either.
Our ball spin detection method using the ball's logo still requires a few minor tweaks but should be ready by the end of the week.
---
July 19 1:45 pm

- V 9.6.7.1 Alpha2
Update for KX2 and KX3 systems
Fix: An additional ball reference frame was added to the KX2 and KX3 systems recently but I forgot to add it to the saved video file.
While this didn't effect the operation of the systems, it is required for user support when the user sends the videos files in to us for analysis.
---
July 18 11:45 am
GSA Golf moving to board level cameras

As most GSA Golf camera systems are already being housed in a separate case, we're moving over to board level cameras instead of cameras that are supplied in a case from the manufacturer.
Apart from the lower cost of board level cameras, board level cameras are more readily available.
A sample board level VisTrak camera will arrive next week and if all goes well, we can reduce the prices again.
---
July 17 12:12 pm

- V 9.6.7.0 Alpha2
Major CP update for VisTrak multi-camera systems
Due to the triggering method previously used for multi-cameras systems, the VisTrak camera itself could skip frames.
This issue is now resolved in this update
---
July 16 3:49 pm
Major CP update for VisTrak multi-camera systems coming this weekend
Due to the triggering method currently used for multi-cameras systems, the VisTrak camera itself could skip frames.
The cause has been located but coding and testing to resolve the problem is taking longer than expected.
However, I do expect this CP update to be ready sometime tomorrow or Sunday.
Worldwide chip shortage causing new camera shipments to be delayed
Our camera supplier and manufacturer has informed us today that there will big delays on new camera orders and shipments.
We're trying to secure a delivery of 40 cameras by October but more than that will only be available next year in 2022.
As we are currently running very low on stock of cameras here at GSA Golf ourselves, we'll probably have to either drastically increase prices or stop selling tracking systems for a while.
Fortunately, 90% of our revenue is made with enclosures and parts so this issue won't hurt us too much financially.
---
July 15 10:30 am

- V 9.6.6.9 Alpha2
Fix: "Set Scale" button not showing in VisTrak camera window with Stereo LS systems.
July 14 11:00 am

- V 9.6.6.8 Alpha2
Non valid stereo frames issue with VisTrak stereo systems using the latest CP Alpha2 versions has now been fixed.
---
July 13 9:00 am
KX3 lower cameras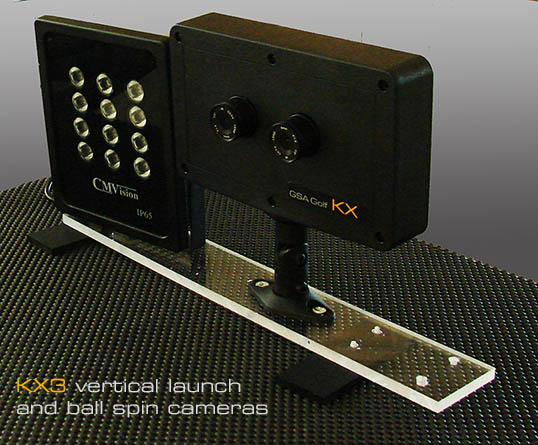 The KX3 lower cameras are now mounted on a separate base that is attached to the side of the monitor stand.
---
July 12 2:35 pm

- V 9.6.6.6 Alpha2
Fix: Cameras not always switching when selecting a different camera
New: KX3 updates - more details and photos later
---
July 10 12:25 pm

- V 9.6.6.5 Alpha2
Fix: when clicking on the Re-calculate button, shot data results would vary on every click.
Cause: system wasn't restoring the original shot data and was thus applying carry distance factors etc on to the already adjusted data.
New 1: Global ball and club adjustment fields now shown alone in the VisTrak Video window when activated by the "carry adjustments" button.
New 2: Club speed checks are now made to ensure the measured club speed is within a tolerance for the particular club.
if not, then the club speed will be adjusted to produce the following smash factors according to recent PGA Tour statistics:
Driver 1.477876
3 Wood 1.476636
5 Wood 1.475728
Hybrid/Utility Club 1.460112
2 Iron 1.454545
3 Iron 1.448980
4 Iron 1.427083
5 Iron 1.404255
6 Iron 1.380435
7 Iron 1.333333
8 Iron 1.321839
9 Iron 1.282353
Pitching Wedge 1.228916
Gap Wedge 1.222222
Sand Wedge 1.157895
---
July 9 4:30 pm
VisTrak SCX ball spin measurement testing
The bench test spinning ball mount was completed today in ready for the compressed air ball spin induced method.
I'd estimate that the ball on this mount is rotating at around 20,000 rpm with the compressed air stream at full power.
In order for the laser tachometer to read the RPM of the spinning ball, I have to make a black ball with just one reflective strip on it as the tachometer only sees the repeating reflective strip per revolution.
Should be a fun weekend to get this working at least. Photos coming this weekend too.
Global ball speed, club speed and estimated carry measurement adjustments
These user adjustments will be more visible in the CP's windows in the next CP update.
Up until now, they were hidden unless activated by clicking on the "Show Carry Adjustments" button.
---
July 8 4:30 pm
VisTrak SCX ball spin measurement testing
The air compressor and laser RPM tachometer arrived today so I can start on the ball spin measurement testing now.
A short test with the air compressor showed that I can get a golf ball to spin at very high spin rates - up to 70,000 rpm.
As the SCX has very high speed cameras (up to 10,000 fps), I am super confident that measured ball spin will be equally as accurate as the tachometer.
If all goes well, I'll be publishing a YouTube video of the tests.
July 8 3:00 pm
VisTrak Vcam C update

- V 9.6.6.4 Alpha2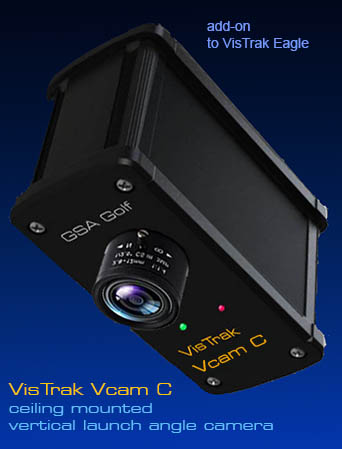 Alpha2 test version of the Vcam C now available.
Much work and testing is being carried out on the Vcam C at the moment as this camera is also being used in the SCX.
Click the above VcamC image to read more.
---
June 27 3:40 pm
VisTrak SCX testing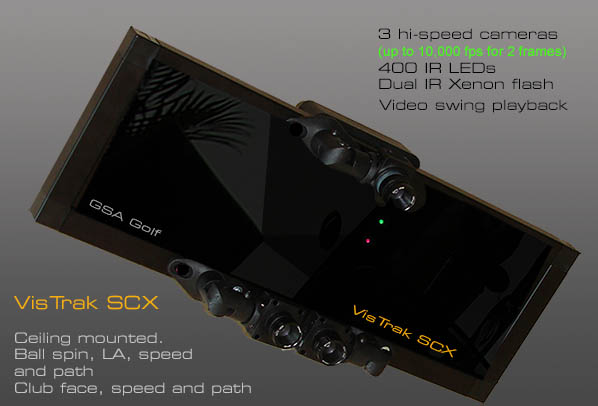 A number of changes to the component layout ( cameras, flash units, circuit boards and power supplies) where found necessary today while building the first test production unit.
Photos coming soon.
Main objective this coming week is to test and compare the differences between the software and hardware methods of flash timing.
Flash and trigger timing for the 2 ball spin cameras has to be exactly timed (usually 1 mill-sencond apart) .
i.e. ball spin camera 1 is triggered as the ball reaches a certain and known distance from the ball strike position, and camera 2 a known time later ( probably around milli-second).
Knowing the amount of ball rotation - and the time taken to reach this amount of rotation - allows us to caculate the exact ball spin rate.
While I know the hardware method works just fine (using a FIFO counter shift register)
the software method would allow more flexibility and the component count would be far less.
In addition, numerous - and somewhat time consuming - overall system tests will be performed over the next few weeks.
Current estimated release date of the SCX is now between bewteen the 3rd and 4th week of July.
---
June 26 4:00 pm
Ball spin video - now increased to 16 frames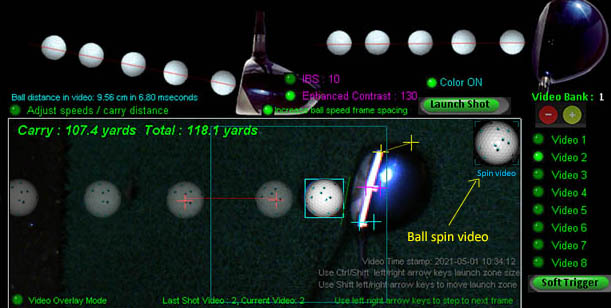 The 16 frame ball spin video will show the ball spin axis more clearly.
---
June 24 10:00 am
Ball spin video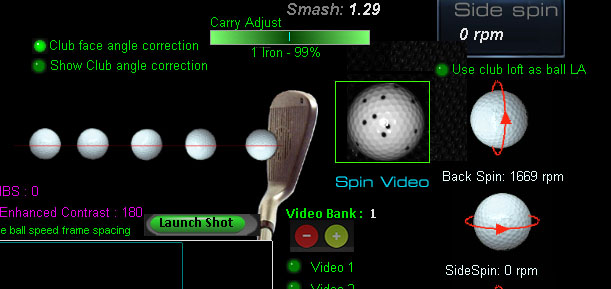 Coding of the ball spin playback video went faster than expected and is now completed.
June 23 5:45 pm
Ball spin video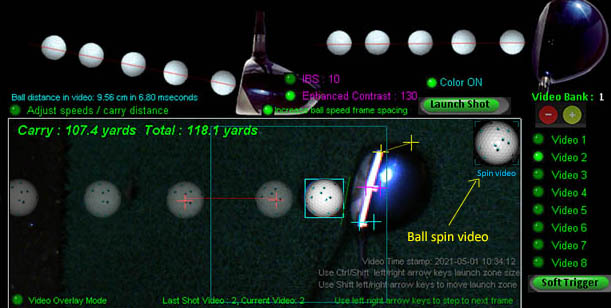 Main objective for the remainder of this week is to code in the ball spin video that will be shown in the upper right corner of the regular VisTrak swing playback video.
(as shown above)
This feature - for the VisTrak Stereo S and SCX systems that measure ball spin - should be ready by Friday.
June 23 1:30 pm

- V 9.6.5.7 Alpha2
---
June 16 4:00 pm
Ball speed dependant trigger delays
BTW - for those that are interested - this feature is capturing linear ball speed (i.e. the rate at which the ball is moving forward - irrespective of its vertical launch angle)
and not true ball speed that requires that the vertical launch angle be known.
Thus, knowing the rate at which the ball is moving forward and the desired ball image capture distance is from the strike position,
allows us to calculate how long to wait until this desired distance can be reached.
Note: True ball speed is then calculated after the system has acquired the vertical launch angle.
Also note that when using this feature,
any user defined camera internal trigger delays are set to zero as the trigger delay is then controlled by the CP's SpeedTrigger software function.
June 16 12:15 pm

- V 9.6.5.1 Alpha2
Ball speed Dependant trigger delays
Coding and tests of this new feature are now completed.

If using a VisTrak Vcam, VisTrak Stereo (LS or non LS versions) or the new VisTrak Vcam S or Stereo S systems, you can opt for this new speed Dependant trigger delay.
Switch on or off from the Setup window.
Adjust the "Capture Distance" with the up/down arrow keys when the mouse is over the "Use SpeedTrigger" button.
The capture distance is where the Vcam or Stereo cameras will be triggered from the ball strike position so that the captured ball images
- no matter what speed they are traveling - will always be close to this distance.
Note: if using a LineScan camera, you can unplug it as this feature replaces the LineScan camera
(providing you are always playing the ball from the VisTrak launch zone and not playing the ball from other surfaces).
---
June 15 8:00 am
Ball speed dependant trigger delays
"Speed Triggers"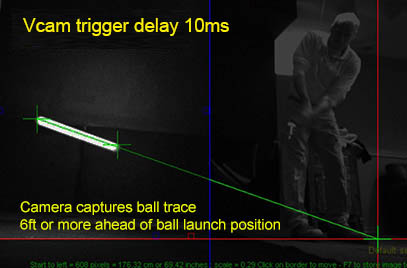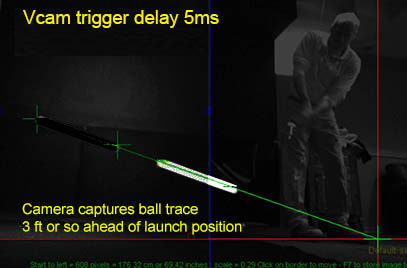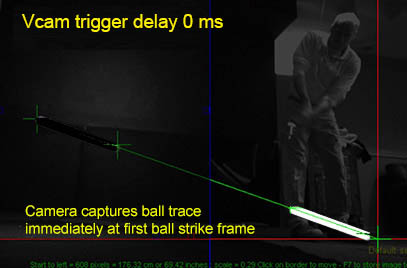 The new "Speed Trigger" method of delaying the Vcam, Stereo or Ball Spin camera triggers will solve a major issue that the current fixed method of delaying the trigger has.
Namely: the ability to capture images of the flying ball at a set distance from the ball strike position.
The above images illustrate the issue when using a fixed trigger delay.
Depending on the speed of the ball, the captured images of the ball or ball trace are not in a fixed position. i.e. they can appear anywhere in a large FOV.
In order to correct this, a speed dependent trigger delay is required that reduces the trigger delay for high speed shots and automatically increases the trigger delay for lower speed shots.
Using this "Speed Trigger" method, the ball or ball trace will always appear within a small (3ft or so) area.
While this is not so critical for detecting Vcam ball traces (as shown above), it is of paramount importance when capturing high resolution images of the ball for ball spin detection
using 25mm zoom lenses that have a very limited FOV.
Using this method also eliminates the requirement to use a Line Scan trigger camera with VisTrak Stereo LS systems as the effect is similar to a Line Scan trigger camera.
Of course, in order to vary the trigger timing on the fly, the ball speed must be known beforehand.
To do this, a super fast and easy method of ball speed detection has been devised that measures ball speed within the VisTrak frames as they are being captured.
An additional feature is that the user can set and vary the distance the ball is captured from the ball strike position
so that it is consistent for all ball speeds - from small 10 mph chips to full 200 mph drives.
Coding of this new "Speed Trigger" feature should be completed sometime later today.
---
VisTrak vs Uneekor : data point cross hairs
BTW I found another feature that VisTrak has over the Uneekor systems: namely "data point cross hairs".

To the best of our knowledge, Uneekor systems don't show the captured data points in their video swing playback.
In contrast, the VisTrak system clearly shows the exact detected data points with user visible cross hairs.
These include club face angle at impact to the ball, club path and ball direction.
The user can then easily verify that the data points are correct or not.
If the data points where displayed with cross hairs and they weren't correct, that may not look too good.
Best to hide them in case of errors maybe?
Of course, I could be wrong about this and they do show them, only I've never seen them in their videos.
And yet another advantage of VisTrak systems over Uneekor systems (as if half the price wasn't enough)
VisTrak vs Uneekor :
Vistrak systems can use color cameras!
To the best of our knowledge, Uneekor systems don't offer color versions of their cameras.
In contrast, VisTrak customers can choose between color or monochrome cameras.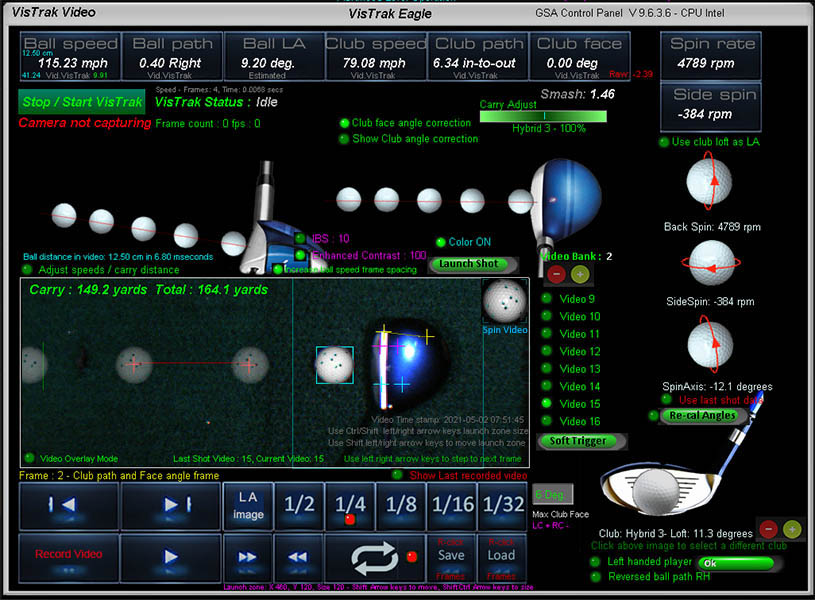 June 14 11:00 am

- V 9.6.5.0 Alpha2
New "ball on mat detected wait time" setting

The wait time setting in the Setup window now corresponds exactly to the "ball detected wait time" displayed in the CP's main window
Min wait time is still 3 seconds. Users may have to adjust their settings as previous CP versions were adding 6 seconds in the background.
---
June 1 5:20 pm
GC Hawk camera layout and the VisTrak Stereo S

To the best of my knowledge, the GC Hawk ceiling mounted quad camera tracking system (which from what I gather, retails for around $20,000) consists of 2 center and 2 outer cameras.
Without knowing for sure, I'm assuming the 2 outer cameras are used as a stereoscopic system to determine (amongst other things) the launch angle of the ball,
and the 2 inner cameras are used to measure ball spin.
My tests today also confirm that this camera layout makes sense, as attempting to measure ball spin from 2 cameras that are not close together would not work.
In order to compare frames of a spinning ball to detect ball spin, the ball images would have to be obtained from either a single camera or 2 cameras that are close together,
otherwise spin dot comparison (whether real or virtual) would not be possible.
This (somewhat obvious detail) presents an issue for my new VisTrak Stereo S system as we can't use both stereo vision in order to detect ball launch angle
and ball spin detection from the same 2 cameras.
There are, however, 2 solutions to the issue:
1. The VisTrak Stereo S has to use 2 additional (inner) cameras - as the GC Hawk - in order to detect ball spin - making it a 5 camera system
( the 5th camera being used to capture club data - which, from what I gather, the GC Hawk doesn't capture )
2. The VisTrak Stereo S uses the existing 2 stereo cameras, but mounted closer together (i.e. the inner cameras) to detect ball spin
and uses a different method to detect vertical launch angle.
And that "different method to detect vertical launch angle" would be the "ball image size" comparison method.
i.e the larger the ball size image is, the higher it is off the ground and thus there is a direct relationship between ball image size and vertical launch angle.
I'll thus being doing more accuracy comparisons of the "stereo" method of LA detection and the ball "image size" method soon.
BTW the last time I did this, the results showed that there is no real advantage between the 2 methods, but I'll check again.
---
May 31 8:00 am
Ball spin videos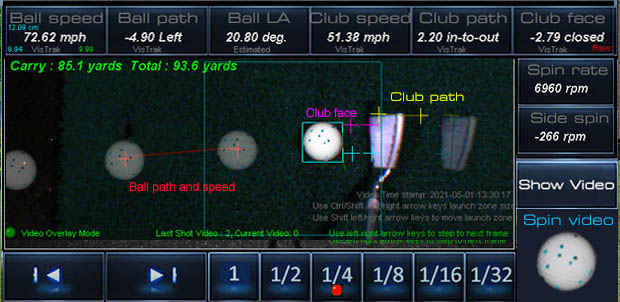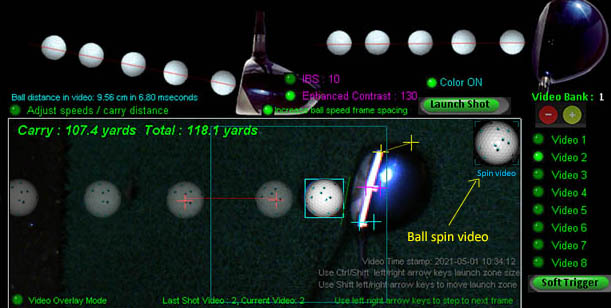 In addition to the regular ball and club shot video, a separate ball spin video is now also shown.
---
May 10 12:05 pm

- V 9.6.4.0 Alpha
Full panel post shot video overlay

For those that would prefer to see the VisTrak video full panel after a shot instead of the smaller window video,
you can now set this option ON in the setup window.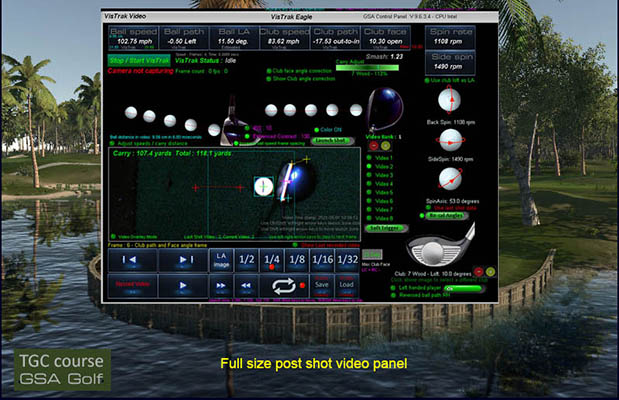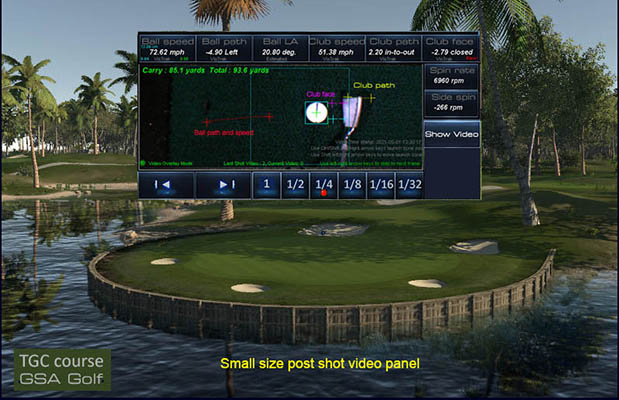 ---
January 19 9:35 am

- V 9.5.3.0 Alpha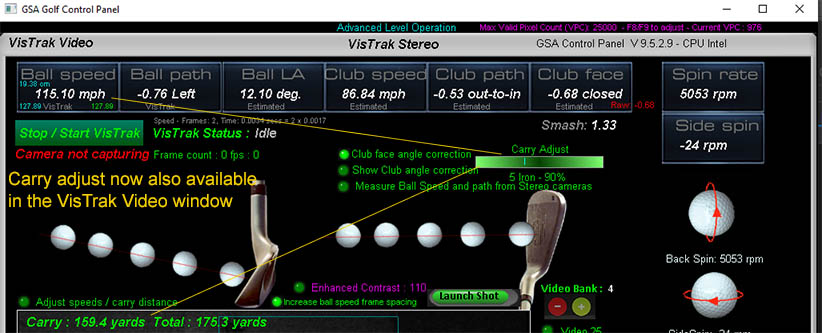 New: You can now adjust carry distances (i.e. ball speed) directly in the VisTrak Video window and see the results immediately.
---