---




Technical News




System Updates & Development News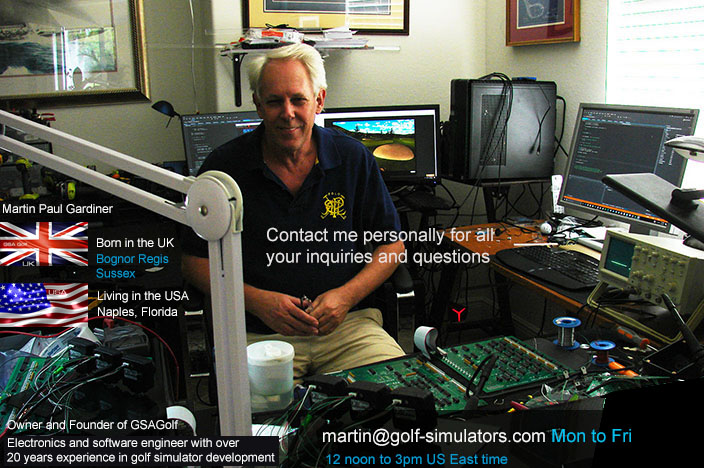 Hi! I'm Martin Paul Gardiner
Electronics and software development engineer and founder of GSA Golf
Regularly check out my tech news page for all our latest developments and free updates
if you have any questions
please feel free to contact me personally anytime at


Did you get a response to your e-mail?
We get really busy at times and e-mail responses can be late or even forgotten at times.
Please remind us again if you didn't get a response to your e-mail.

---
GSA Golf Control Panel (CP) downloads

GSA Control Panel (CP) update V.8.8.3.9 - Windows 8 / 10 version
January 14 2019
Download VC redistributables hereHere
Don't forget to run the download after it's downloaded!
A number of customers don't realize that a CP update is a dual process
i.e first download and then run the download
Note that anti-virus programs will probably try to block the GSA Golf CP update download but - be assured - there's no malicious software in the download update
so just ignore any warnings from your anti-virus programs and choose the "More options" and "Run anyway" option.

GSA Control Panel (CP) full version download
V.8.8.3.2

Note that the full version installation will overwrite any user settings if you have had any previous GSA Golf CP installations
Download standard configuration files hereHere

GSA Golf Game software download

Warning! if you already have the full version GSA Golf /RedChain software installed, downloading this free single course version will prevent the full version from running correctly
Note: If you encounter a windows error message stating that it could not find d3dx9_30.dll when starting GSA Golf,
download and copy the d3dx9_30.dll to your windows\SysWOW64 folder.
Download here d3dx9_30.dll
Download d3dx9_30.dll 64 bit version here d3dx9_30.dll
Full version GSA Golf/ RedChain software Download here GSA Golf Setup
Experimenting and testing shots with manually entered launch parameters
You can test shots by manually setting the launch parameters in the Control Panel.
Right or Left mouse click in the Edit fields to change the parameters.
To see the trajectory of the ball in flight just click the "Launch Shot" button while having the GSA Golf software running in the background.

GSA Golf camera Viewer and driver software
Camera Driver 2.11 33MB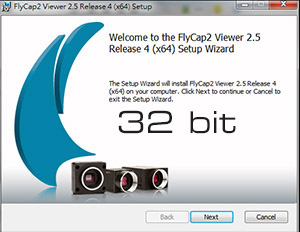 Your GSA Golf cameras require that the camera drivers are installed. If you missed this during the initial installation process then download and install the above linked software
---


Got issues? Click the above Tech Help Q& A
Please check the above to see video setup instructions

-

-

-


-

-

-


-

-

.



Click the above button to read about how to verify your current camera setup calibration



Coming in 2019 from GSA Golf
As GSA Golf's tracking systems become more and more solely camera based,
nearly all the 1200 hours alloted to system development in 2019 will be software development
In addition to improvements to the camera image processing i.e. ball and club tracking
at least half of this time will be allocated to the much needed improvements to our own in-house developed ProX game software.




Total number of GSA Golf camera systems sold to-date : 1,004
---
January 14 2019
Update 1: Customer request: When camera calibration is switched off, it should stay switched off when re-starting the CP.
Update 2: New camera registrations for new customers this week.
---
January 12 2019
GSA Golf's camera system sales break the 1,000 mark.

Thanks to all from your's truly, Martin
Optical sensor systems past this marker too.
---
December 31 2018
LA Raw angle option now automatically switched off if using Calibration.
Max VPC limit now set to 9000.
Max min trace width for Ccams now set to 10
Ccam RAW face angle now displayed in the Ccam window (i.e. face angle before any iron face angle corrections).
Issue with Ccam face angle for Left handed players when "face angle before impact" is selected fixed.
---
December 23 2018
Perefact Parallel not sending correct surface lie and club type back to the CP.
For analysis only, this version of the CP is showing what codes are being sent back from PP, if any.
Issue with shared memory name when using (PP) Perefact Parallel fixed
If ball is on green, then club is automatically set to putter when using PP.
---
December 17 2018
Max VPC (valid pixel count) of a ball trace range now automatically set to 2000 to 5000.
see below for more details about VPC
Min ball gray scale in putting mode for the Vcam set to 100.
Customer "Jose" in Mexico set this value to 0 in the Vcam window today so that - no matter what - a Vcam trace would always be detected.
In order for putting to function, only the Hcam should detect the ball and no ball traces should be detected in the Vcam. The min putting mode gray scale is thus set to 100.
---
December 10 2018
Dual lane putting

l
"Dual lane putting only" is now an option in this version of the CP.
If you only want to putt from the left and right side of the regular hitting surfaces and still hit regular shots from a single lane hitting surface then select dual lane putting ONLY.
IMPORTANT: even though both left and right handed players are hitting regular shots from the same hitting surfaces,
you still have to set the ball launch position for both left and right-handed players - which - of course - should be exactly the same.
Switch to "Putting mode" and set the ball putting position for both left and right handed player separately. (Use the "L" key to switch from right handed player to left-handed player).
Stereo putting launch position
There is now a separate ball launch position for putting when using the stereo setup.
Stereo regular shot launch position
The launch position for regular shots when using the stereo setup can be set below the FOV of the camera. i.e. the Y position can be negative.
Stereo Direction Of Play
When using the stereo converging camera setup, the direction of play is from the bottom of the image to the top ( in order to increase ball path range)
This is now shown in the left and right cameras.
Ball spin camera for CX2, CX3 and PX5
A customer request was to use a ball spin camera together with the CX2, CX3 and PX5 systems.
This version allows you to select and add the "Ball spin camera" in the setup window for these systems.
---
December 3 2018
Update for Ccam users - Setting the default face angle adjustments of irons
As the Ccam is now our preferred method of club tracking, we're adding a number of nice new features to this system.
One major adjustment required with the Ccam when using Irons is to automatically convert the measured club face angle from the tracking dots placed on the top edge of the irons to real leading edge club face angles.
Instead of the user having to enter all these values manually for every iron, there is now a default set of adjustments that can be set with a single mouse click.
The values were obtained by measuring the top edge angle of all the clubs and placing the results in a table. Some clubs may differ so the user can still manually adjust if required.
BTW The Club tracking method using tracking dots is also used by the world's No. 1 golf Launch monitors from Foresight Sports with their GCquad and GC2hmt.
i.e. If it's good enough for them then it's definitely good enough for our products at less than half the price.
---
November 30 2018
Update for Ccam users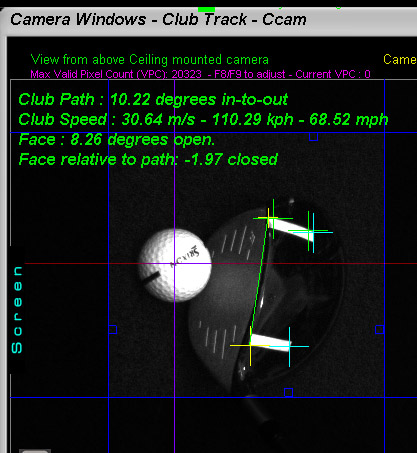 Ccam users can now set the exact scaling factor for club speed measurements by placing a ball on the mat and pressing the new "Ball detect Mode".
The Ccam window now also features an easier Club select button (switch the new "show club" option ON).
CX3 users that use the Ccam club tracking system can now set the new "do not use club data" in the CP's Setup window so that the system calculates club data from ball data.

This feature is primarily intended for commercial users that may have customers that don't want to stick the tracking dots to their clubs but the system should still detect a swing
so that inadvertent ball launches don't occur during ball pickup in the enclosure.
BTW the CX3 system using the Ccam club tracking camera is now our main recommended system as the Ccam club tracking accuracy out performs all our other club tracking systems
plus it's far easier to use and setup then the color CTS dual camera system that usually requires multiple PC,s to run and (for the most part anyway) still requires tracking dots to be applied to the clubs which defeats the whole object of using dual color cameras.
Preventing inadvertent shots when retrieving balls solution
as of this version:
1. set the option "No ball launch without swing being detected on mat" ( this is now for both camera club tracking mats as well as optical sensor -px2 - mats.
This simply means that if some kind of swing was detected on the club tracking mat ( it doesn't have to be valid, just that data or frames came in ) then - and only then - do we allow the shot to launch either with or without club data.
No launch when putting if the Vcam captures data
2. set the option "Allow putting without swing being detected"
When putting, the "No ball launch without swing being detected on mat" won't work because you won't be putting from the club tracking mat.
Today's Solution:
A putt is only recognized if the Hcam sees the ball but the Vcam doesn't as the Vcam's valid FOV is set to higher level than a rolling ball.
Thus, if the system is in putting mode or a putter has been selected and Vcam data has been captured, we don't launch the ball.
i.e. if walking around the enclosure in order to retrieve balls you will certainly trigger both the H and V cams and in this case we dis-allow the launch.
No launch when valid pixel count in the Vcam is over the user defined maximum
In addition to the above methods of preventing a launch when retrieving balls, the CP features a "Valid Pixel Count" known as VPC.
The VPC counts the number of valid pixels - i.e. the number pixels in the Vcam that are equal to or are above the "Min Gray Scale" setting.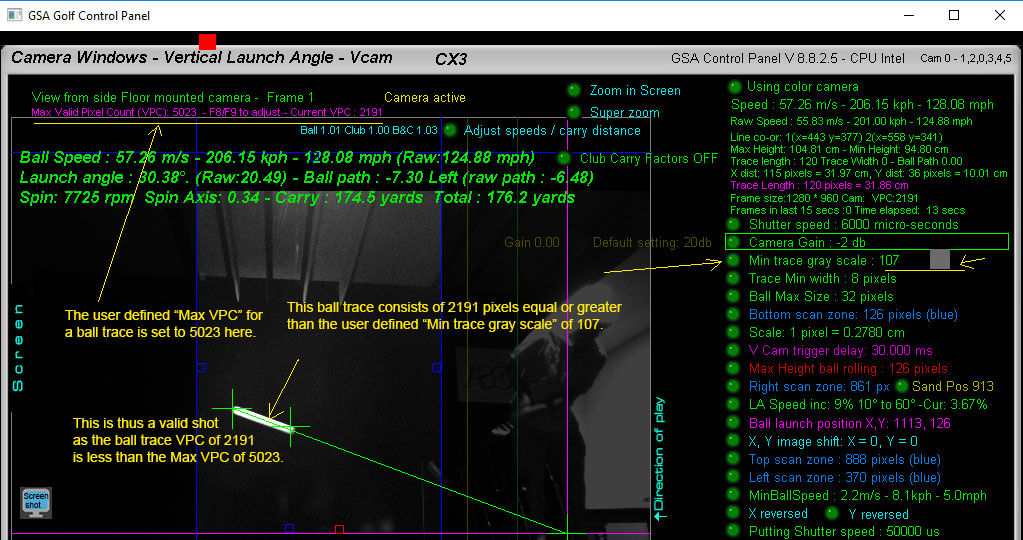 If the VPC count is less than the max VPC then it will be assumed that image contains a ball trace and the ball will launch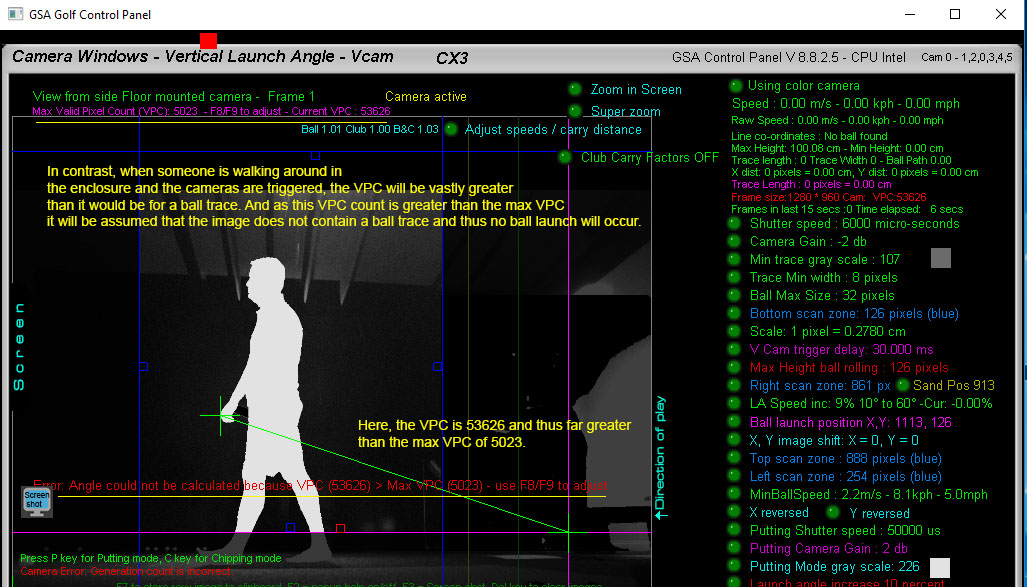 Note that this method won't work if the player just reaches out with his club to retrieve a ball as club head can look like a small ball trace.
In this case, either the player shouldn't use a club to retrieve balls or the club tracking swing detection method should be used.
Setting the max VPC value
To set the max VPC value, simply strike a number of balls and note the current VPC count displayed in the Vcam window after each shot.
You'll probably find that - even with the longest shot - this value will be in the 2000 to 4000 value.
In this case, set the max VPC count (using the F8 - to decrease and F9 keys - to increase) to the max value you've seen plus a tolerance of 500 of so.
---
November 21 2018
Data wait count
The "data wait time" value is visible in the Setup window of the CP as of version 8.8.1.8
This number is used to force the CP to wait until club or ball spin data has been sent to the CP
Usually the V and H cams will capture the ball before club data coming over slower lines arrives at the CP.
In order to prevent the ball from immediately launching without club data in the game
the system will wait a while for the club and or spin data to arrive.
The wait counter is set to this value when both the V and H cams detect a shot.
If this number counts down to 0 then the shot will be launched with just the ball data from the V and H cams.
If you notice a significant delay between striking the ball and the ball launching in the game, reduce this wait count value in the Setup window of the CP.
---
November 20 2018
Converging stereo camera test results
Customers Keith and Kevin are doing a great job of testing the new stereo camera setup.
The first results look very promising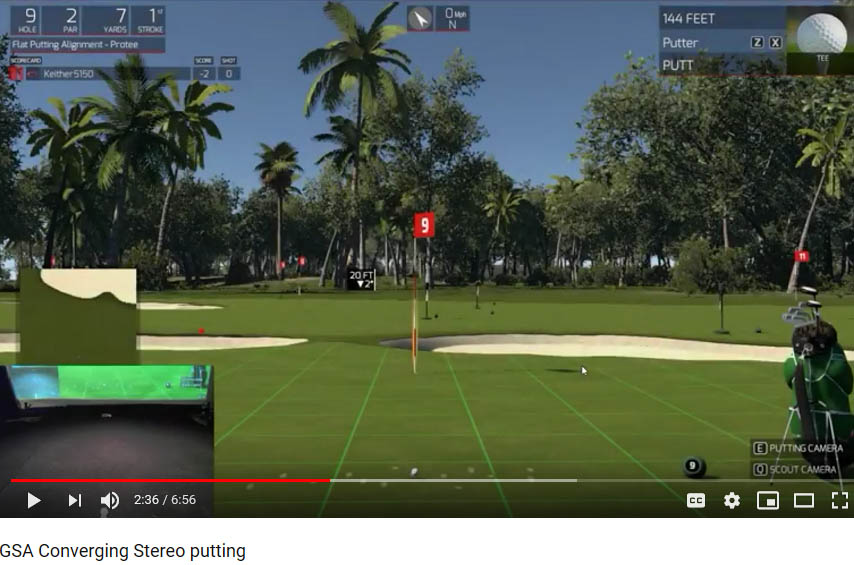 The above video is from customer Keith showing putting using the new converging stereo setup.

Click the above to see screen shots of Kevin's full swing shots on the "Converging stereo setup" page and read some of Keith's and Kevin's comments
---
November 19 2018
Ball spin detection improved for LX and Bcam systems.
---
November 14 2018
Ball spin axis reverse option for Lefties only.
This setting can be made for left handed players only now.
Bug fix.
Calibration table for Converging stereo cameras not being saved.
---
November 12 2018
There are now two optional ball putting positions - 1 for left and 1 for right handed players.
This option is useful when there is insufficient distance between the end of the hitting mat surfaces and the SX line scan camera and/or trigger array.
The player then putts from the side of the regular hitting surfaces and the game feedback to the Control Panels tells the CP if the current player is a left or right handed player.
The CP will then automatically switch the puttiing ball hitting positions.
To switch this option on , hold the shift key down in the Hcam window and - on the far lower left - click the "Left/Right dual hitting lane" option "ON".
Note that this option also sets two regular shot ball hitting positions so you'll have to set the regular ball hitting positions for both left and right handed players too.
These will be in the same position if not using real dual lane hitting mats.
Ball spin axis reverse option.
A left-handed player commented that he thinks the ball spin axis is reversed for left handed players. We couldn't reproduce the issue but there is now a "Reverse spin axis" option in the "Setup window".
---
November 10 2018
Verifying your current camera calibration

Click the above button to read about how to verify your current camera setup calibration
---
October 26 2018
Balls lying around on the floor in the FOV of the H cam camera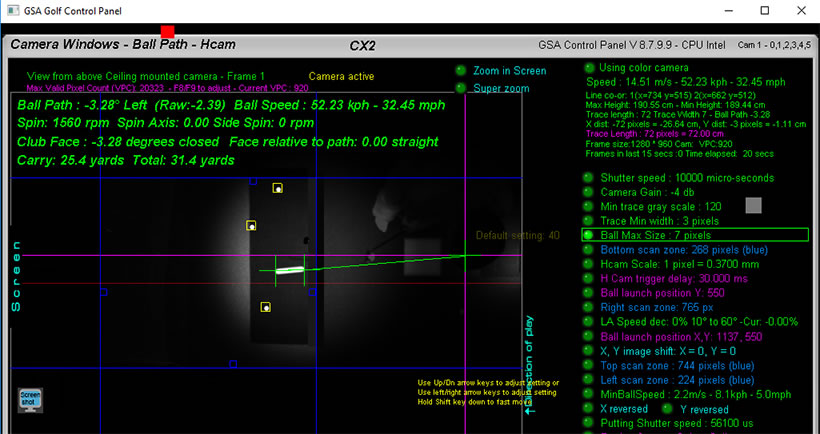 More improvements to this new feature.
CP bug causing occasional erratic ball speed measurements and carry distances up to 100 yards off.
The relative new "Hcam launch" feature has a bug in it causing occasional erratic ball speed measurements and carry distances that can be 50% or 100 yards off.
Until a solution is found we strongly recommend either switching this option OFF (lower right side of the Hcam window - keep clicking until it states "OFF") or installing this new release of the Control Panel were the option has been de-activated.
What is "Hcam launch" you may be asking?
" Hcam launch" is used when very high lofted shots are made so that the ball is not in the FOV of the Vcam but the Hcam picked it up.
In this case, the ball speed will be measured from the length of the trace in the Hcam only.
The problem (or bug) is a timing issue. i.e. while the Hcam picked up the shot, the system doesn't always wait long enough for the Vcam image to come in
and thus uses the Hcam to measure ball speed which isn't very accurate for normal shots but good enough for high lofted chip shots. i.e. it was agreed to better launch the ball for a high lofted chip than not at all.
BTW. The issue of very high lofted shots not being in the FOV of the Vcam can be better resolved by simply moving the Vcam further towards the hitting position.
---
October 18 2018
GSA Golf (www.golf-simulators.com) website updates
Numerous updates to this website have been done recently and many more to come.
Current updates include:
1. https SSL Secure website certificate secured
2. Mobile phone friendly updates on all pages (this update took 2 full days alone). To be honest I didn't want to do this as this website looks so much better on a full desktop screen
but I guess I have to go with the times and make it more mobile phone freindly even though I hate the look of this website on a tiny mobile phone.
Google says they will drop my rankings if not - so okay - I'll do it. "Whatever you say boss".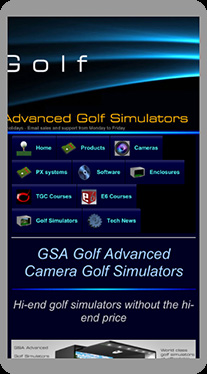 3. There are now sub menus on most pages to allow for easier navigation.
4. more CSS style coding, XML site maps and SEO.
5. optimized images to allow for faster page loading times. Page load times are now at least 2 or 3 times faster than before.
To come soon:
1. splash and sliding images
2. simplified product selection
BTW. I still love my "easy on the eyes" dark blue background on this website where the images really pop out.
Looking at very bright glaring white background sites are a real strain on the eyes after a while in my opinion and seem to be more hard sell - in your face- sites which this website isn't and nor are we.
BTW 2. in case you're wondering why we have two web sites (GSAgolf.com and Golf-simulators.com). The reason is because we've had www.golf-simulators.com for over 20 years now and it has a good organic Google ranking
whereas the newer www.GSAGolf.com doesn't. The GSAgolf.com website is now only a link to the main "Golf-simulators.com" website.
Note that without a Google ranking for our website we'd either be none existent in this industry or would be forced to use Google AdWords advertising which can cost up to $1,000 a day if the ad should appear on page one internationally all day and everyday.
We do - in fact - have a low budget ($500 a month) Google AdWords ad running but it is usually clicked out to it's max daily budget within a few hours so you probably won't see it.
---
September 29 2018
Converging stereo camera software now ready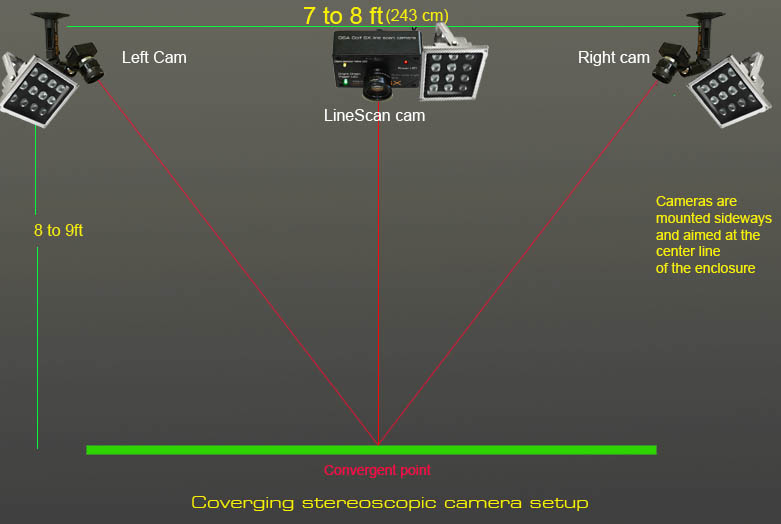 This version of the CP includes the new Converging stereo camera functionality.

Click above to read more about the CX Stereo
---
September 25 2018
Converging vs Parallel stereo setups
As can be seen from the above images, the FOV of the converging camera setup is far greater than that of the parallel camera setup.
At present, the CX Surround and CX2 stereo systems are using a parallel camera method which has a restricted FOV. i.e. the ball path and ball height range is limited.
In order to compensate for this restriction, the cameras have to be mounted far closer to the ball hitting position which means the player will be confined to playing the ball from only a single position on the mat.
i.e. playing from rough and sand surfaces will not be possible and - most probably - putting will also have to be made from the fairway mat.
In contrast, the converging camera method - with its far greater FOV - will allow the user to play from other surfaces.
Work on the new converging camera software is now underway and should be finished by the weekend.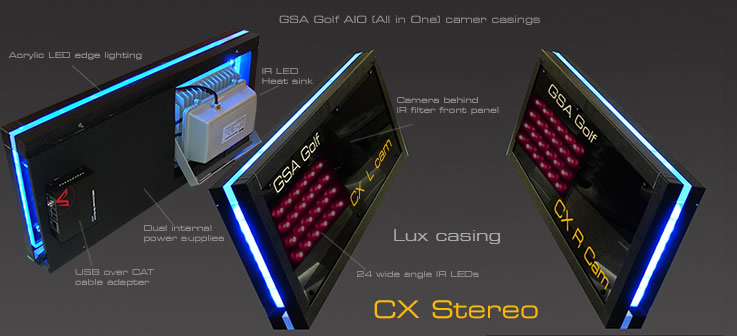 Note that in order to spread the cameras so far apart (up to 12ft) it will not be practical assemble the cameras in a single long case.
We have thus split the CX Surround casing into 2 separate units.
---
September 13 2018
All new super looking AIO casings for the CX cameras
As we liked the CX Surround casing so much we decided to offer the same type of casing for the H, V and C cams too.
The AIO casings include all cameras, lighting, USB over CAT adapters and power supplies for a far easier and cleaner installation
and - in addition - have a super cool look with the IR Acrylic front panels and acrylic blue edge lighting.
---
September 12 2018
Hcam / CX Surround IBS tests


IBS (Image Background Subtraction) tests of ceiling mounted cameras using the regular turf carpet with varying ambient light conditions (i.e. next to an open window with sunlight and cloudy skies) show that IBS still works well.
Other than a few small dots appearing the image, the ball trace is still very well high lighted. Note that IBS will probably be used in the new CX Surround to ensure that high speed balls with faint ball traces will be detected.
Balls on floor detection
Improvements to this feature have been made in this version of the CP
---
Balls lying around on the floor in the FOV of the H cam camera issue now solved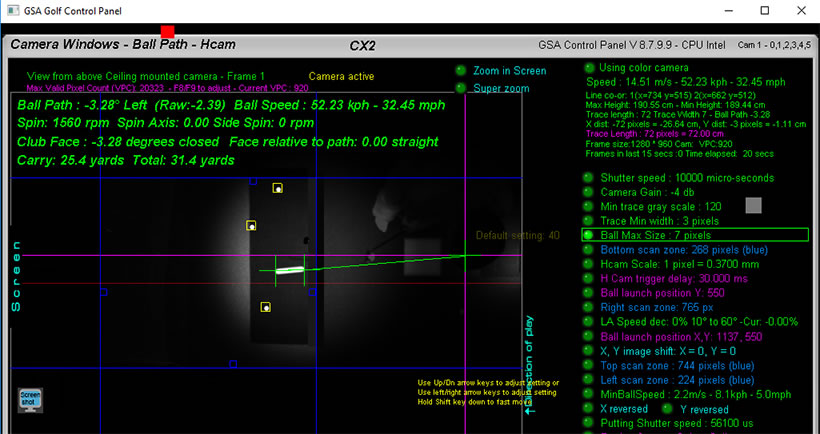 Balls that bounce back from the screen and lay around on the floor in the FOV of the Hcam can cause problems with the ball path detection of the Hcam.
This version of the CP now automatically detects such balls and declares them as invalid areas so that the correct ball path can be measured.

As this is a new feature, this option can be switched on or off.
Click the above images to read more about this new feature.
---
---
September 5 2018
Two bug fixes:
1. Ccam club data camera - even though "Face angle at impact" is selected, system still used "club face angle before impact". Now fixed
2. When V and H cam calibration is switched OFF, system did not show the Left / Right ball speed adjustments. Now fixed.
CX Surround stereo calibration updates
Distance terminology confusion
The term Distance in the stereoscopic calibration window was being used twice for different meanings. 1. for distance ball traveled. 2. distance white calibration strip is from camera.
Distance traveled is now Trace length and distance from camera is now D from C.
A number of improvements have been made to the calibration process.
Focal length and Pixel Width adjustments now showing results immediately.
Focal length and Pixel Width adjustments are now explained on the Stereo Setup and Calibration page.
CX Surround mounting.
Mounting the 4ft long 12lb CX Surround to the ceiling will normally be a two man job using two step ladders.
It's too dangerous to try it alone while standing on a step ladder 6ft off the ground doing a balancing act holding the unit up to the brackets and trying to thread the holding bolts at both ends at the same time.
I actually managed it though. I really wanted one installed in my office so I can do some small tests here without having to drive to the showroom every day (a one hour drive) and there was no one around on Labor Day to help.
Using two hoists made of nylon rope and cable latches at both ends made the process easy and safe. Took an hour though.
---
August 29 2018
Raised platform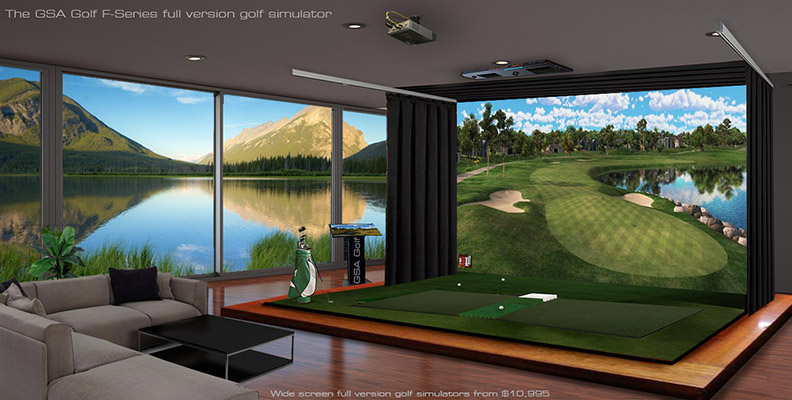 Click above to see installation instructions, options and pricing of our new raised flooring.
---
August 19 2018
GSA Studio enclosures with other brand tracking systems
The GSA Golf Studio Enclosure ($4,499) with
SkyTrak (add $2,000) with GC2 (add $7,000) with FlightScope (add $15,000) with Trackman (add $19,000)
As we're selling as many - if not more - Studio enclosures for use with other brand systems these days than with our own tracking systems, there's now a dedicated page on this web site for these.
Of interest, nearly all our GSA Golf Studio packages using other brands are less than half the price of most other resellers.
---
August 7 2018
Minimum ball speed reduction when in Chipping Mode now limited to 50% instead of 2.5% as number of customers reported ball distances when in chipping mode were only a couple of feet.
A remote support session showed that their chip ball speed reduction was set to 2.5%.

The "What's in the Box" page has been completely updated.

Lots more info and ideas on how to raise flooring on the flooring page.
---
August 3 2018
USB over CAT5

There's a new wiring diagram for the PX5 system using USB over CAT cabling on the wiring page now
---
July 30 2018
New IBS - Image Background Suppression method
IBS has been significantly improved in this version of the CP.
With IBS ON, the background is reduced in brightness to reveal the ball trace.

Click above to read more about IBS
---
July 14 2018
Dual club tracking mats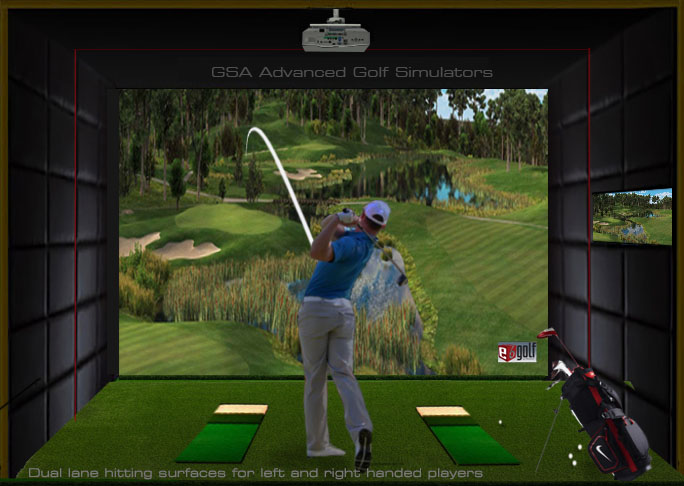 The software update for those using a dual lane PX5 system is now complete.
The system automatically switches from left mat to right mat and vice versa when a left or right handed player is up.
New "Carry Adjustments" page

One of the most asked questions is how to adjust the carry distances in GSA Golf.
I've thus made an extra web page just for this.
---
July 11 2018
Fix for TGC sometimes not excepting shots
The fix for the above issue is now available in this CP update.
July 11 2018
TGC sometimes not excepting shots
We've noticed that TGC can sometimes seem to hang and not except shots.
We are currently seeking a solution to this problem with ProTee and a fix will be available shortly.
In the meantime, if you find that during a game TGC suddenly stops excepting shots, press the "ESC" key and select "Rewind shot" in TGC.
---
June 18 2018
Bcam and LX systems.
Measuring ball spin using the ball's logo.
New logo matching end detection.
An issue with measuring ball spin using the ball's logo is that the correct matching ends of the logo must be detected in order to correctly measure the amount of rotation within the time frame..
i.e. if one end of the logo is found in image 1 then that same end has to found in image 2. Failing to do this can result in very different ball spin rate measurements.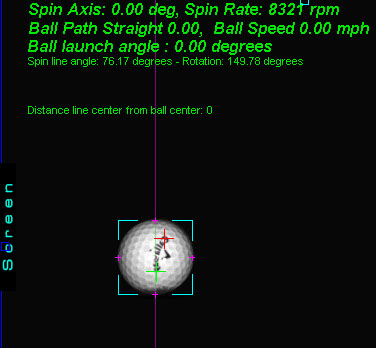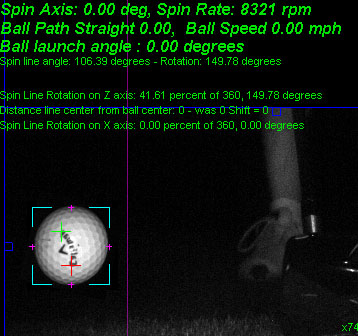 The above two images show a ball spinning at a rate of 8321 rpm. We know this because the amount of rotation within the 2 ms frame delay was 149.78 degrees.
And we only know the correct amount of rotation because the Letter "C" in the Calloway logo has been detected correctly in both frames. This is shown by the two red cross hairs over the letter "C".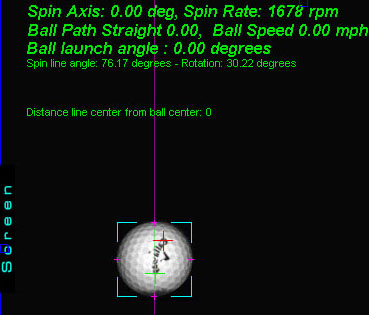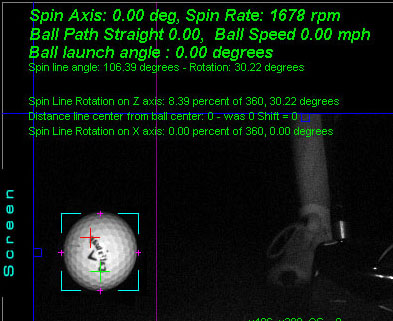 Without this new "Matching logo end detection" feature, the CP image processing may well get the ends mixed up and then a totally different amount of rotation will be measured
(i.e. 30.22 degrees here) and thus a totally different and false ball spin rate will be calculated. (Note that the two sets of images are from the same shot.)
As can be seen from the above two images, the letter "C" in the Calloway logo has not been detected in image 2 (i.e. there's a green cross hair on the "C" instead of a red cross hair).
And thus a false spin rate measurement was calculated (i.e. 1678 rpm instead of the real 8321 rpm).
It should be noted that not all ball logos have a dominant end and thus it may be required to use a black magic marker or black ink pen to accent one end of the logo.
Note that measuring ball spin using the logo (or any marked balls like those with A systems) is the only way a camera method of ball spin detection is able to do this in real time. i.e. without a long 2 to 4 second or so lag time (SkyTrak / GC2 etc).
While radar systems (Trackman, FlightScope etc) require metallic dots be applied to the ball and the ball be placed with the dot facing upwards.
---
June 15 2018
LX & Bcam ball spin calculation error now fixed
An error causing incorrect ball spin measurements was detected today in the LX and Bcam products.
The occasional error caused very high spin rates to be calculated (usually capped at 9999 rpm). This is now fixed in this update.
---
April 28 2018
Hcam launch for high lofted shots that are out of the FOV of the Vcam

As it's possible that the ball trace with very high lofted shots will be out of the FOV of the Vcam camera, we've added a new feature that will allow the ball to launch with just the H cam data.
Switch this feature on or off in the Hcam window (lower right side of screen).
Note that this feature has 3 modes. 1. OFF, 2. only ON when in chipping mode, 3. Always ON
Default is 3. Always ON
When ON and a valid shot is detected in the Hcam but no valid trace is detected in the Vcam, the speed and direction of the of the ball will be measured just from the Hcam.
Vertical launch angle will be taken from the loft of the selected club.
Low trace brightness

The Vcam ball trace brightness can be substantially increased by using high intensity narrow beam IR lamps next to the Vcam that are pointed at the trace capture area.
The above 200 LED IR lamp is just $69 on Amazon. The ball trace on the left of the above image was captured without a floor mounted IR lamp. The same ball trace is on the right but with the narrow beam high intensity IR lamp.
As you can see, there's an amazing difference in ball trace quality.
---
---
Typical screen shots are as in the below images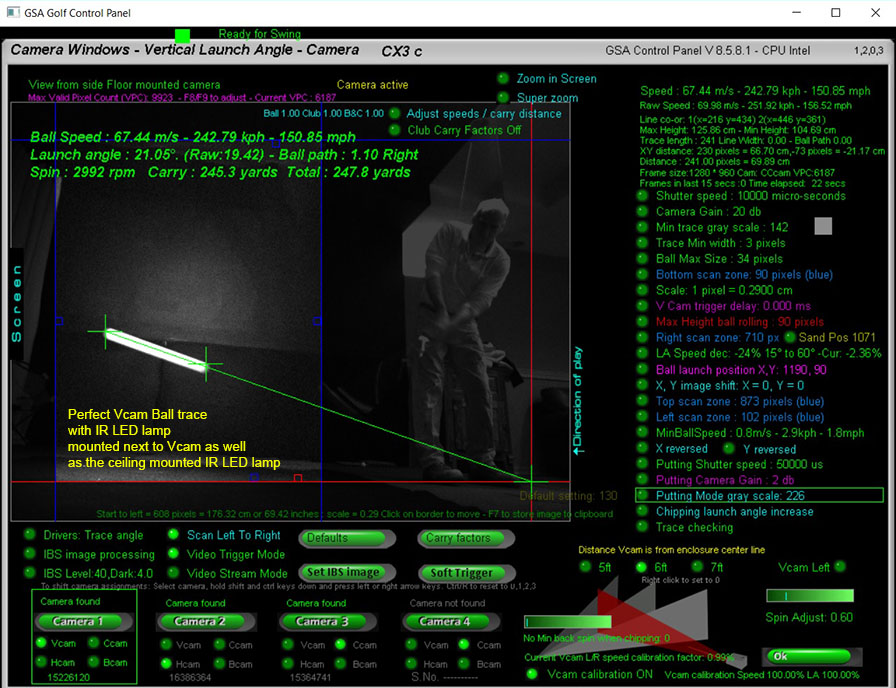 The side mounted Vcam detects vertical launch angle and speed of the ball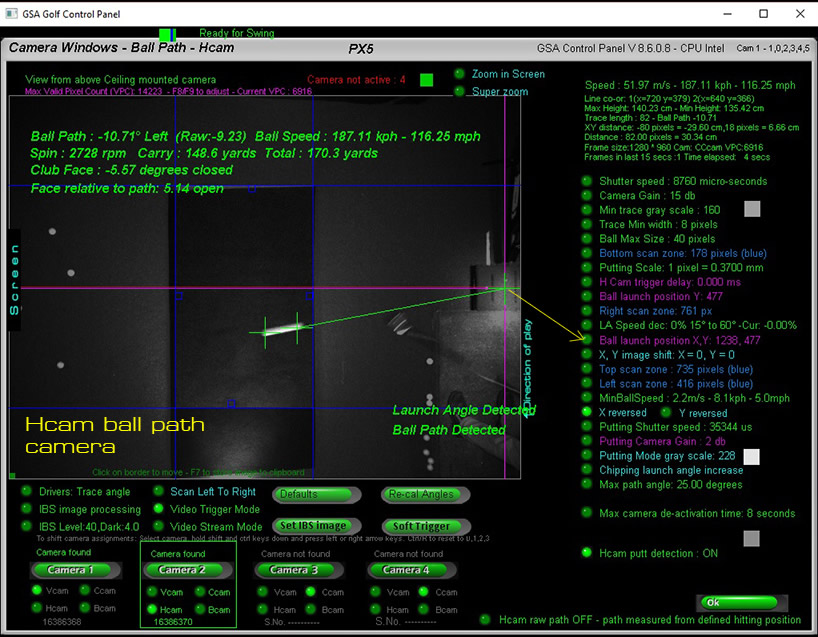 The ceiling mounted Hcam camera detects ball path for normal shots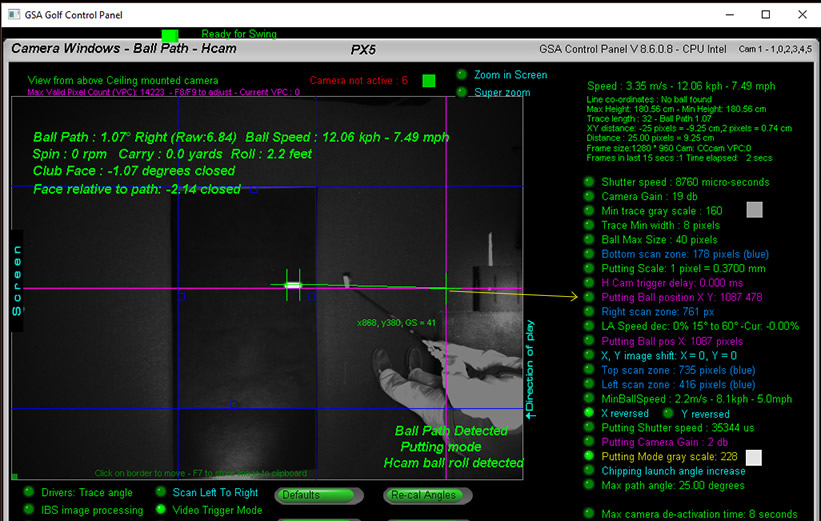 and ball path plus speed when putting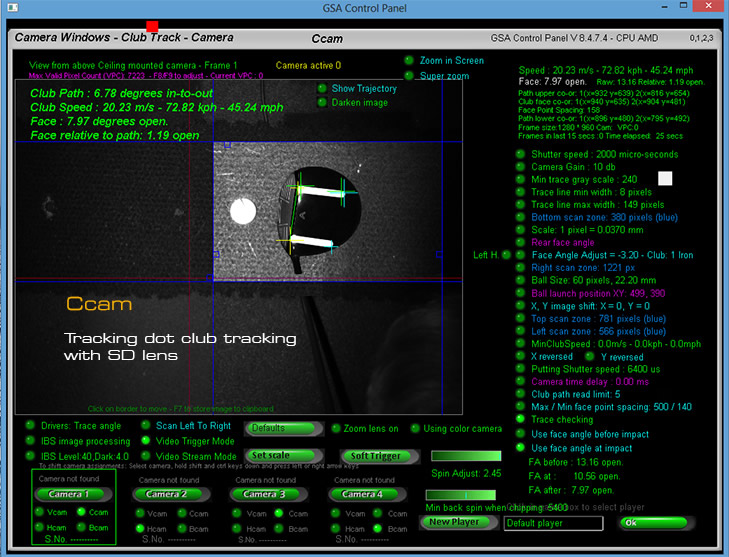 Ccam club path, speed and face angle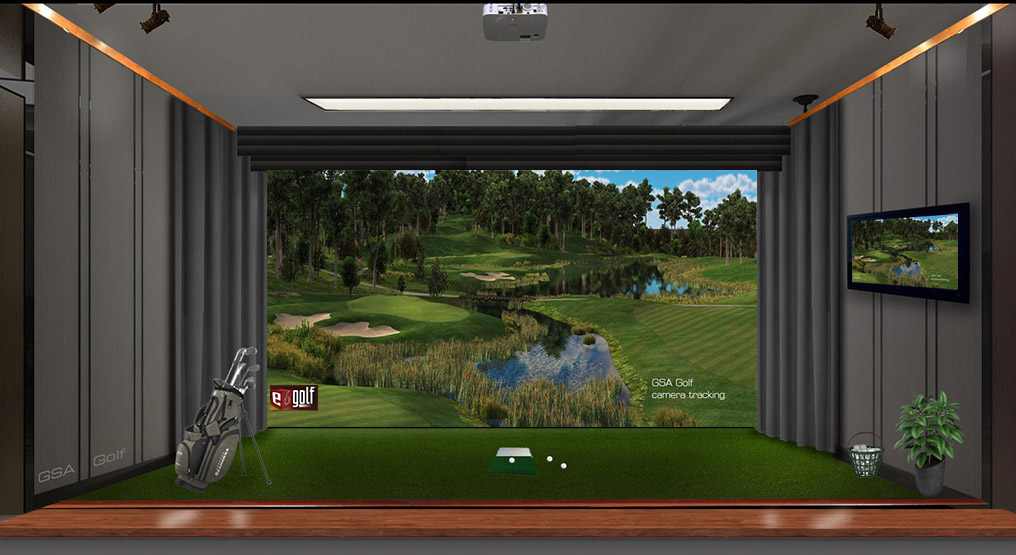 Installation



---


Factory
Based in Naples, Florida,
all GSA Golf products are meticulously assembled and tested by hand to meet the highest industry standards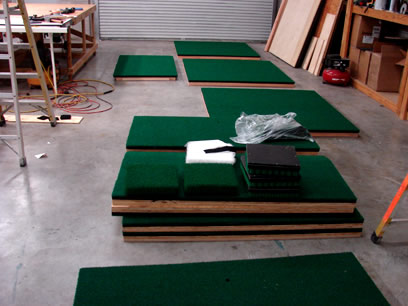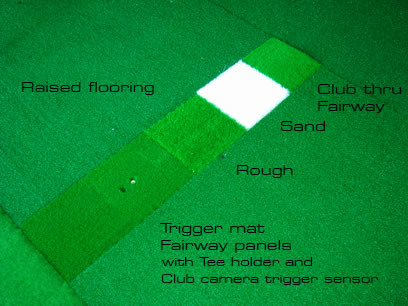 ---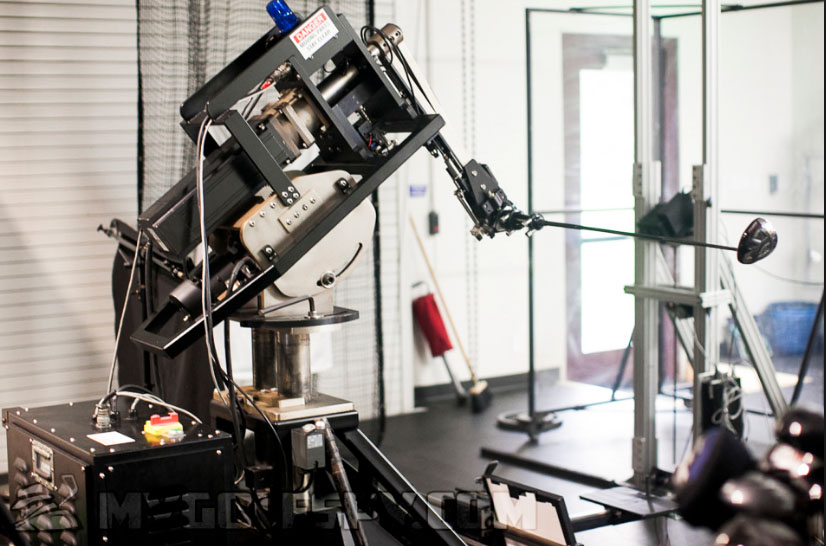 A bit about me just in case anyone is interested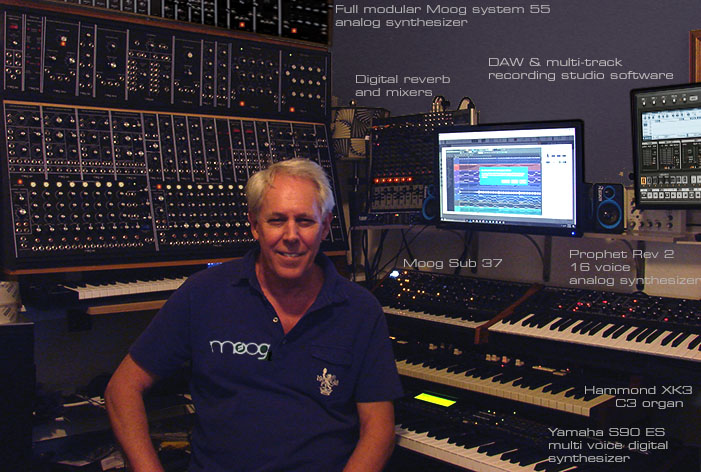 When I'm not developing golf simulators, you'll find me in my music studio



---