---
January 15 2:00 pm
VisTrak CX systems get a separate putting zone area
One of the big advantages of the VisTrak CX systems - in contrast to the regular VisTrak Eagle based systems that have very confined launch zone area -
is that the FOV (Field of View) of the camera is very large.
This feature allows the ball to be played from various other surfaces including separate putting surfaces.
As of the new CP version, the user can now set a pre-defined putting launch zone area that is way ahead or apart of the of the regular shot launch zone area.
VisTrak CX system require that the USB3 camera driver be installed
Camera Driver 2.11 33MB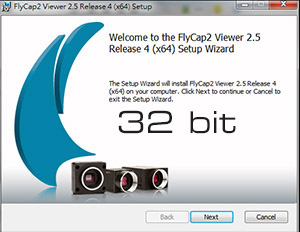 Even though the VisTrak CX systems use a different SDK, the USB 3 camera driver - that is a part of the FlyCapture SDK -
is not installed when just installing the "Spinnaker" SDK.
In order to install the USB3 driver, the "FlyCatpure" SDK has to be additionally installed.
Failing to do this will result in the camera not being detected.
---
January 14 12:45 pm

- V 9.7.1.4 Alpha 15
Mod 1: Carry factors based on LA option activated
Mod 2: Min back spin when chipping can now be de-activated by setting slider bar to zero
Mod 3: Duplicate spin adjustment slider bars no longer appear in the camera window - now only visible in the VisTrak window
---
January 13 1:35 pm

- V 9.7.1.4 Alpha 14
New: Extended ball detection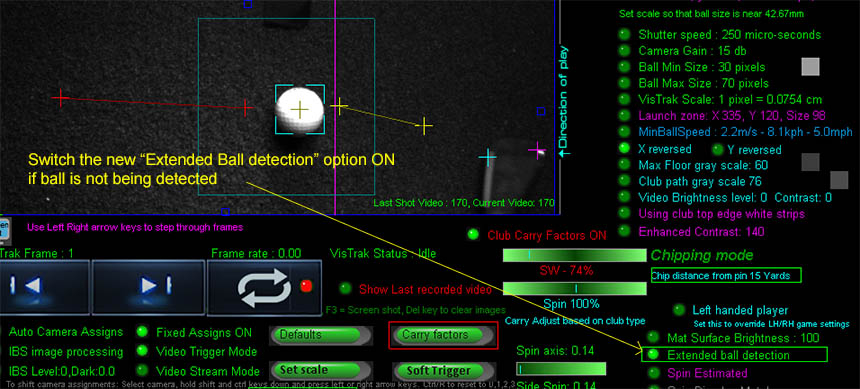 Switch this new option ON if ball is not detected.
When not ON, the system will process the video faster but if the ball is not immediately detected, then more image processing is required.
---
SCX - EVS fix:
January 2 10:35 am

- V 9.7.1.2 Alpha 14
SCX - EVS fix:
Red/Green status indicators on the CP's main window not showing that camera 1, frame 1 was captured even though it was.
---
December 30 12:15 pm

- V 9.7.1.1 Alpha 14
Faster shot image processing for 1 second less lag time between ball strike and ball launch in game software.
Numerous small other updates and improvements for all systems
---
December 26 3:10 pm

- V 9.7.0.8 Alpha 13
New: When adjusting carry distances with the slider bar, a complete re-calculation of all parameters is made with every mouse move now if not using a ball spin system (i.e. EVS, SCX or KX3).
If using an EVS, SCX or KX3 system and you want this feature, then the Re-Calculate option in the VisTrak window has to be switched ON.
New for 2022
As essentially all VisTrak Eagle cameras are now sold out and won't be available again until August 2022
(at least according the the camera manufacturer due the world-wide chip shortage)
I'll be concentrating on the new CX systems, current system development and customer support from now on - as of February at least.
BTW not only are the VisTrak Eagle cameras in dire short supply now, but also the CM Vision IR LED illuminators that are used in the Stereo and SCX panel systems.
Alternative IR LED lighting systems have been ordered though.
---
December 19 12:56 pm

- V 9.7.0.7 Alpha 13
Fix: Reference frame not being captured with SCX and EVS systems
Note: The reference frame (frame 1) is not being used if "manual launch position" is set ON
The frame is used to calculate ball LA and determines where the ball was before ball strike if "manual launch position" is set OFF
---
December 18 12:05 pm

- V 9.7.0.6 Alpha 13
A number of smaller updates concerning SCX and EVS systems
---
December 11 2:05 pm

- V 9.7.0.3 Alpha 13
New: Mat surface brightness setting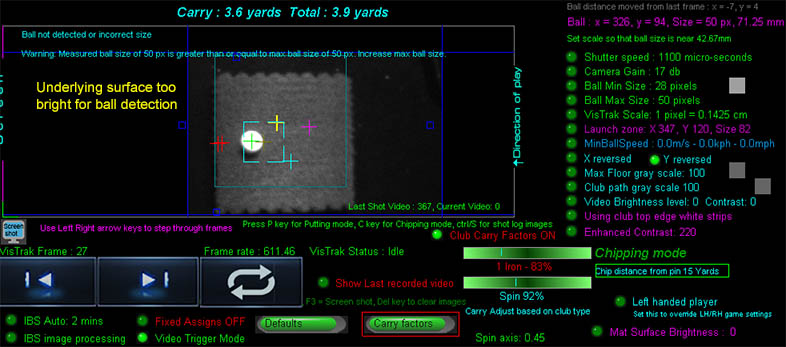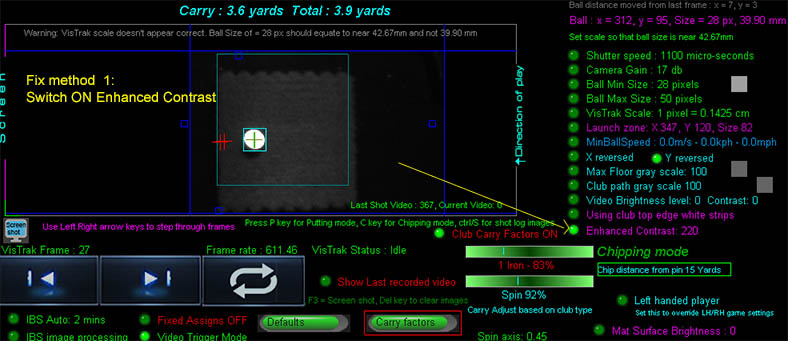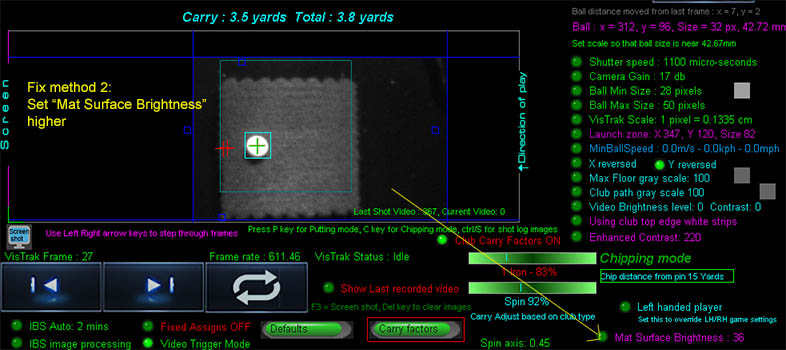 Fix: when setting the scan zone borders in the VisTrak Eagle camera, system didn't black out areas outside of scan zone when in video stream mode.
Mod: Incorrect scaling factor detection improved
---
December 4 11:45 am

- V 9.7.0.2 Alpha 12
Update for VisTrak EVS, KX3 and SCX systems
EVS/SCX/KX3: Improved ball spin dot pattern matching including dot pattern rotation with X and Y dot pattern shift.
EVS: Ability to detect spin dots on very small ball images by automatically re-sizing the ball image before processing.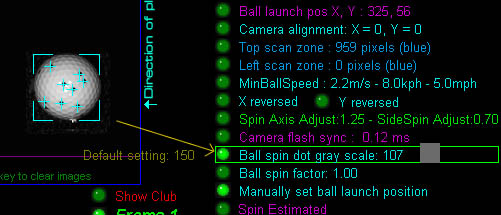 Spin dot gray scale
You can now manually adjust the spin dot gray scale.
While default is 150, depending on the brightness of the ball image, you may find that adjusting this gray scale will improve ball spin dot detection.
---
November 20 11:45 am

- V 9.7.0.0 Alpha 11
Update for VisTrak EVS and SCX systems
---
November 13 2:40 pm
New self standing hi-end fabric, aluminum frame enclosures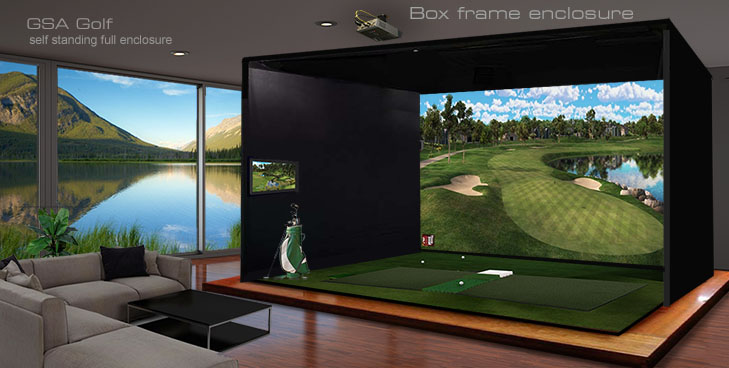 I'm pleased to announce that GSA Golf enclosure sales have now hit a new all time high.
Our latest model is a self standing black knit fabric enclosure.
Click above image to read more...
---
November 12 3:40 pm
CX System update

Major Vistrak CX system CP update now available on the CX system page
Sony color hi-speed cameras now available for GSA Golf video swing capture systems
New self-standing enclosures now available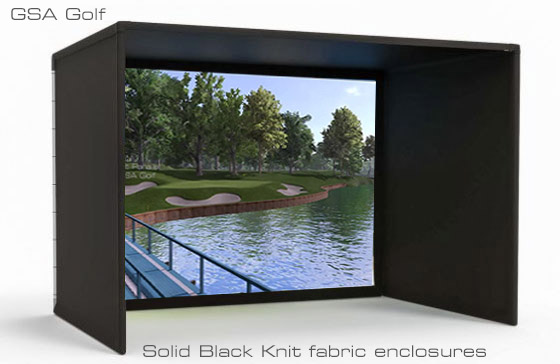 New self standing enclosures now available from $3,499
---
November 5 3:30 pm


Finally, the new VisTrak CX software has been completed.
Last main function was to detect balls lying around on the floor in the FOV of the camera before a new shot so that they are eliminated from the frame image processing.
The VisTrak CX systems have a very large FOV, so balls from previous shots are very likely to still be lying around in the FOV of the camera.
As the new VisTrak CX systems use different cameras from our usual cameras, a separate CP - using a different camera SDK - had to be made.
Specific VisTrak CX software download links are on the new VisTrak CX installation page.
Most VisTrak CX installation instructions should be completed by this weekend.
Having completed this new development frees us up to handle user support for all our other systems.
---
Update for VisTrak KX2, KX3 and CX1 systems
October 29 10:15 am

- V 9.6.9.4 Alpha 10
Update for VisTrak KX2, KX3 and CX1 systems
---
October 22 1:30 pm

New lower prices for VisTrak CX systems. Now starting at just $699
October 22 1:45 pm

- V 9.6.9.3 Alpha 10
Update for VisTrak EVS and SCX systems
Fix: Images not being captured in ball spin cameras
---
October 20 12:35 pm

- V 9.6.9.1 Alpha 10
Update for VisTrak CX and KX3 systems
---
October 10 11:40 am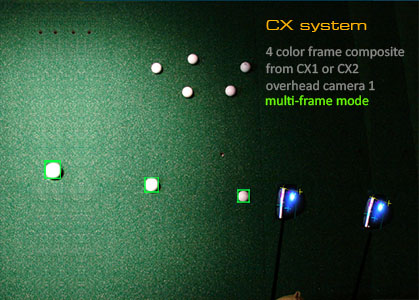 The new CX systems now have 2 camera capturing modes
1. Multi-frame mode
In multi frame mode, 4 individual freeze frame images are captured
2. Extended exposure mode.
In extended exposure mode, single frames are captured that show a ball trace
---
October 8 1:40 pm

New CX systems now with lower prices
Tests today with the new Sony USB3 cameras that run at 75 fps at full hi-resolution revealed that
the CX systems don't require a line scan camera anymore.Thus CX prices can be lowered.
CX system prices are now:
CX1 $999
CX2 $1,799
CX3 $2,799
---
October 6 4:00 pm
New Sony hi-resolution camera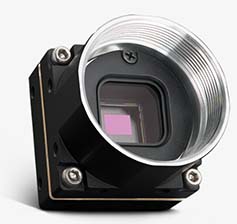 Integration of this new Sony USB3 camera with its separate SDK is now completed.
We'll be using this new generation of Sony cameras for all new systems now.
---
October 4 2:00 pm

- V 9.6.9.0 Alpha 9
Fix: The option "Use club loft as LA" not functioning with the VisTrak Eagle.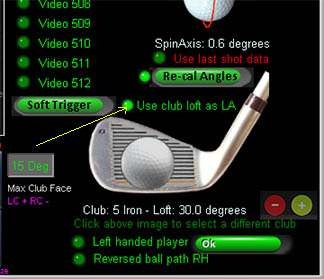 ---
October 3 12:00 am

- V 9.6.8.9 Alpha 9
KX2 and KX3 updates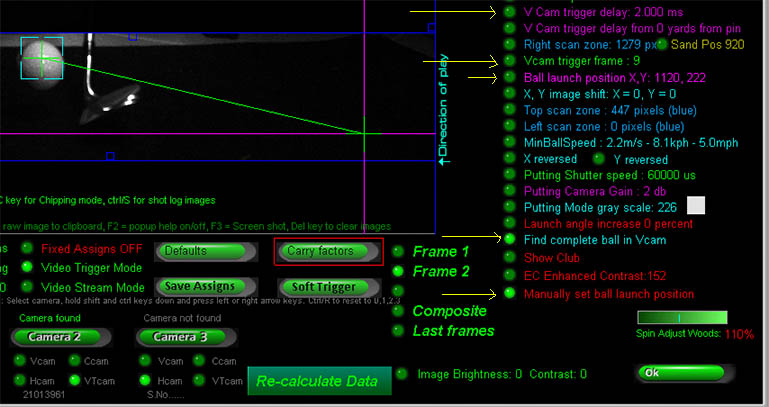 KX2 Vertical angle launch detection
The new KX2 vertical detection options are:
1: Find complete ball in Vcam
If ON, the complete ball will detected.
If OFF, only the front top edge of the ball will be detected
2: Manually set ball launch position
If ON, the ball LA will be measured from whatever the manual ball launch position is set to.
This is useful when the ball on the mat is not in the FOV of the camera before ball strike.
If OFF, then the ball on the mat before ball strike has to be in the FOV of the camera.
LA is then measured from this position to the position of the ball after ball strike
3: Vcam trigger delay
The number of milli-seconds the Vcam camera waits after the trigger signal so that the ball has time in flight to gain height off the ground
4. Vcam trigger frame
The number of frames to wait after the ball strike frame in the VisTrak Eagle before a Vcam trigger signal is set.
Set from 1 to 9.
---
July 21 3:00 pm
Ball logo spin rate testing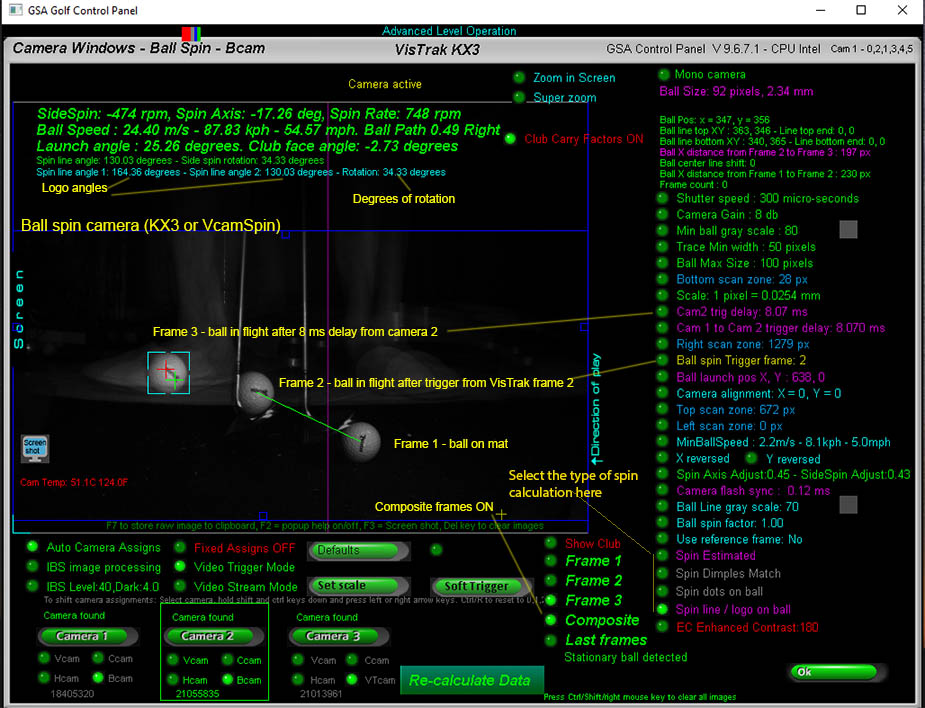 All in all, I'm quite pleased with the test results of using the ball's logo to measure ball spin today.
As long as the ball is not hit with a super wide open or closed face, the logo stays fairly centered and the system can detect the logo's angles in all the frames.
The above chip shot shows that the ball rotated 34.33 degrees within the time frame of 8 milliseconds.
Looks like I've made a mistake with the RPM calculations though as I expected the rpm to be a lot higher than 748 rpm with this sand wedge.
As all the ball logo angles are correct - as well as the calculated amount of rotation - it's probably a decimal point error as it looks like the result has been divided by 10.
July 21 7:20 am
Ball logo method of detecting ball spin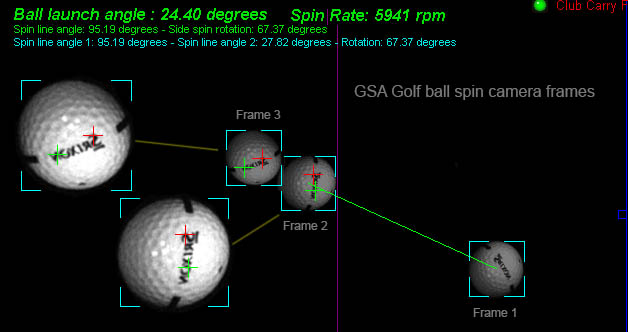 The above image shows the current state of the ball spin detection development using the ball's logo.
While the frames captured here show the logo nicely centered, this will not always be the case as side spin - imparted by an open or closed club face -
can easily cause the logo to shift way off center.
Extensive testing this week will reveal any short comings of this method.
---
July 20 7:00 pm
New look VisTrak Eagle
The VisTrak Eagle gets a new look slim line case using the board level VisTrak cameras

$ 1,699.00
July 20 4:00 pm
Ball spin detection: Spin dot ball VS ball logo methods
Much ball spin detection development has been done recently (and is still going on) but user feedback is indicating an adversity to using marked balls.
The obvious alternative - in this case - is to simply use the ball's logo as spin rotation reference points.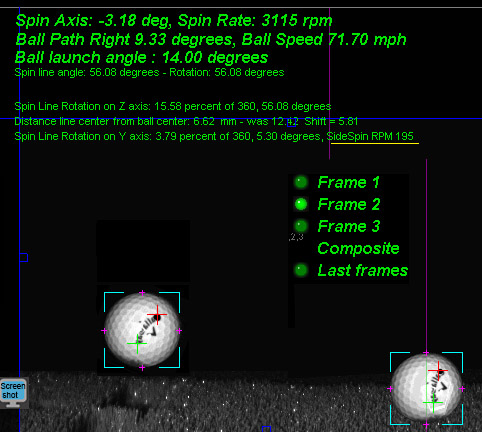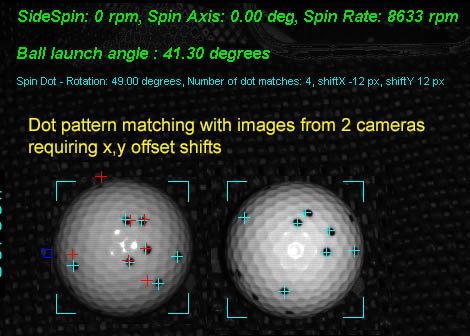 The only disadvantage of using the ball's logo to detect ball spin is that the user has to bend down and point the ball's logo towards the camera for every shot.
As this disadvantage doesn't seem to bother users of $20,000 radar tracking systems in the slightest
(i.e. to the best of our knowledge,
Trackman and Flight Scope systems require users to apply a metallic dot to their balls and additionally require the user to bend down and face the ball dot in a certain position
for every shot in order for the systems to detect correct ball spin)
then our ball logo method shouldn't be any bother either.
Our ball spin detection method using the ball's logo still requires a few minor tweaks but should be ready by the end of the week.
---
May 10 12:05 pm

- V 9.6.4.0 Alpha
Full panel post shot video overlay

For those that would prefer to see the VisTrak video full panel after a shot instead of the smaller window video,
you can now set this option ON in the setup window.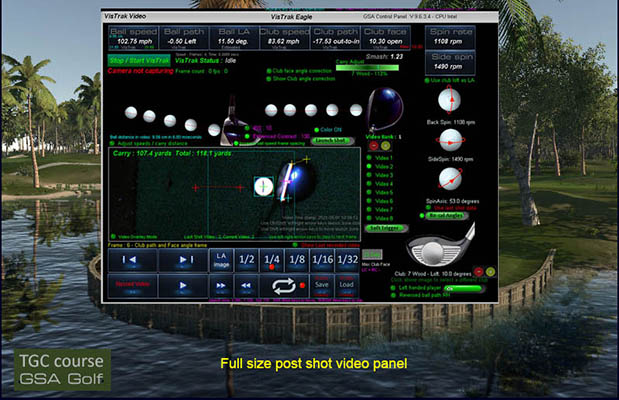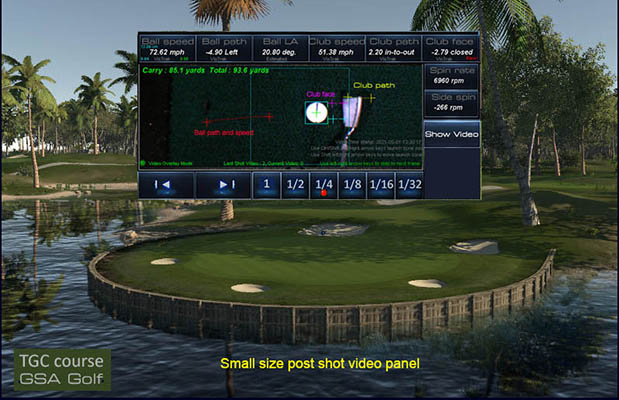 ---
January 19 9:35 am

- V 9.5.3.0 Alpha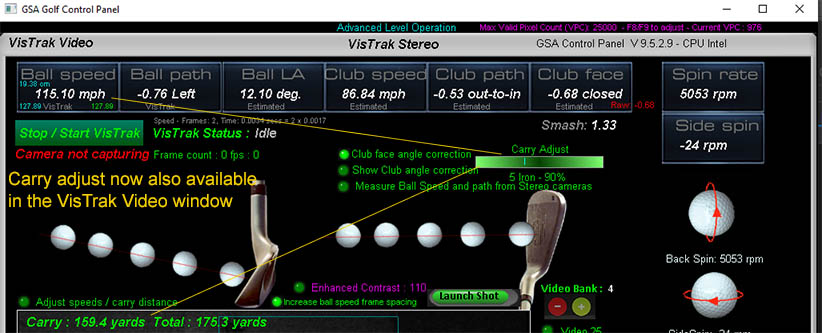 New: You can now adjust carry distances (i.e. ball speed) directly in the VisTrak Video window and see the results immediately.
---