---
January 19 8:50 pm
Password protected system Administrator mode
Okay, making progress on the new password protected administrator mode this evening.
When in this new mode, other than a scaled down version of the current CP's main window and VisTrak playback window, no other window panels will open.
i.e there will be no access to the camera windows and no setup windows.
In other words, the CP will then just be a simple one window application with no way to adjust or view any settings or view any camera images.
Hopefully this will squash any criticism that the GSA Golf system is too complicated to setup and operate.
i.e. after the reseller sets up your system, all you have to do is switch it on and you're up and running and ready to play.
Of course, if you do need to make any adjustments or the system is not working correctly,
then you'd have to contact the reseller to remote into your system to make the changes or fixes.
Note that this "password protected system administrator mode" will only be available from certain resellers or licensed GSA Golf system manufacturers.
All products purchased directly from GSA Golf will not have any such restrictions.
BTW if you would like this remote easy setup service now, then contact Keith or Rick.
Click the above "Buy Now" remote support ticket.
January 19 3:40 pm
Password protected system Administrator mode
I've received a request today from a GSA Golf reseller to lockout the user (even owner) from making any CP adjustments.
The idea being that a standard set of settings will be supplied that are blocked so that users or owners don't inadvertently adjust settings which may render the system unplayable.
Should adjustments be required, then the reseller (or licensed GSA Golf system manufacturer) will remotely log in, use the secret encrypted password, and make the adjustments for the user.
Coding of this password protected administrator mode will begin tomorrow morning and should be completed by the end of the day.
January 19 9:35 am

- V 9.5.3.0 Alpha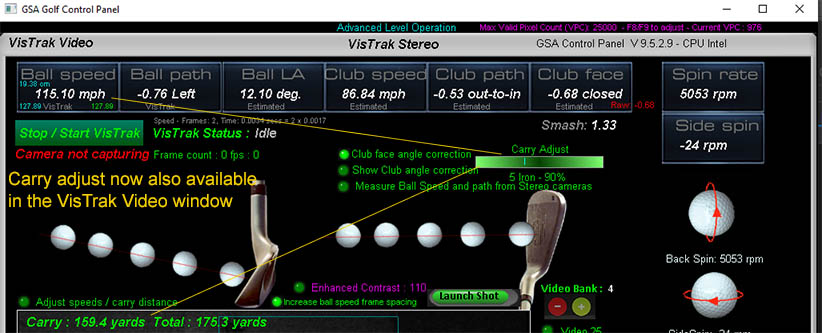 New: You can now adjust carry distances (i.e. ball speed) directly in the VisTrak Video window and see the results immediately.
---
January 18 2:40 pm

- V 9.5.2.9 Alpha
Fix: CP not capturing frames correctly in stereo sytems when EC is switched ON.
Fix: CP not capturing images when Eagle mode
New: More basic mode settings
---
January 18 8:45 am
How to solve the Wedge shot issue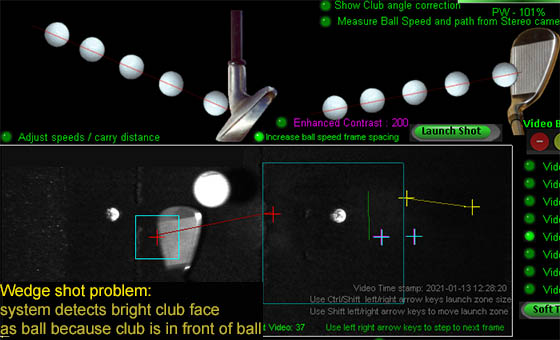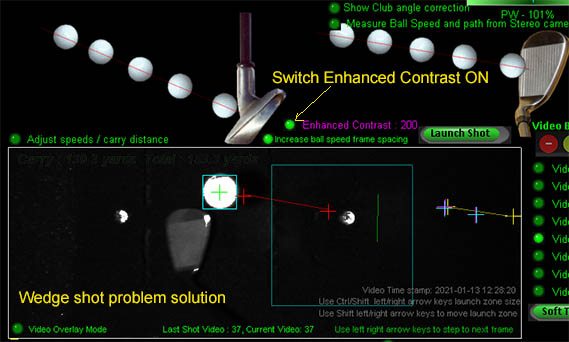 Wedge shots can cause problems when the club is in front of the ball
Switching Enhanced Contrast ON solves the issue.
---
January 17 5:00 pm
VisTrak accuracy
While the ball speed and path accuracy of a ball launching at zero vertical launch angle detected by the overhead mounted VisTrak Eagle camera is spot on,
the unknown factor is the Vertical Launch angle (LA) of the ball - which will drastically effect the true measured speed of the ball.
Without knowing exactly what the ball's LA is in a shot (and using just the selected club's loft angle as a reference to ball LA)
ball speed measurements (and thus carry) cannot be guaranteed to be precisely accurate.
It is essential, therefore, to add either the Vcam or Stereo cameras - that measure ball LA - to the VisTrak Eagle if more precise ball speed accuracy is to be attained.
The question begs of course is, how accurate is the LA measurement?
While the Vcam is quite easy to setup and accurately measures LA when setup correctly, stereo camera systems are far more complex to setup and thus far more prone to LA measurement errors
and thus ball speed and carry distances are more prone to be inaccurate.
January 17 2:40 pm

- V 9.5.2.6 Alpha
CP Advanced and Basic Level of Operation



As the CP can be quite complex for new users, there are now two modes of operation : Basic and Advanced.
While the Advanced Operation Level will allow the user to make any changes as before, the Basic level will limit the number of changes that can be made.
This is being done in the hope that new users - or those that don't want to get too deep into the complexities of the setup - will be up and running sooner and will simplify the operation.
The number of advanced level options that will be blocked will be expanded over time. Currently there are only 2 but in a few weeks this number will probably exceed 50 plus.
Note that Advanced Level Operation is default OFF when first starting this update.
Switch ON or OFF in the Setup window.
Ball strike to ball launch lag time
The above three videos show how severe the lag time can be - even on $50,000 plus golf simulators.
Tests today showed that the "ball strike to ball launch" lag time with the VisTrak system is now down to around 1 to 2 seconds with today's CP update.
This compares - as the above videos show - very favourably with its super high-end competitors.
January 17 10:25 am

- V 9.5.2.5 Alpha
Improved (i.e. shortened) ball strike to ball launch lag time
Fix: Incorrect "out of sync" messages being displayed in Stereo camera windows
January 17 8:12 am

- V 9.5.2.4 Alpha
Update for VisTrak Stereo systems
Fix: Frame 3 ( camera 2 ) using incorrect frame when Enhanced Contrast is switched ON
---
January 16 4:00 pm

- V 9.5.2.3 Alpha
New: As per customer request: No limit on min ball speed setting for ball launch
Coming later this weekend : improved shot lag-time
Currently the CP is taking too much time looking for balls in frames when there is no ball there.
This will cause a longer lag time between striking the ball and the ball launching in the game.
It is more noticeable with fast shots (drivers etc) because there will only be a couple of frames that actually contain images of the ball in flight.
This means that, of the 16 ball frames, 12 to 14 frames probably won't contain any ball images.
A simple check to confirm that a white ball is present in the frame should solve the issue and vastly shorten the shot lag time.
January 16 10:15 am

- V 9.5.2.2 Alpha
New: Embedded image time-stamps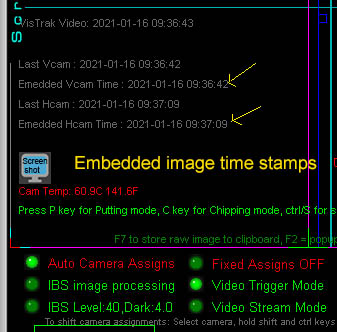 These new image time-stamps are embedded into the image itself so we know for sure that the ball images are the correct images for the VisTrak video.
As the previous time-stamps were separately stored in system variables, and there has been some reports that the ball images from the stereo cameras shown in the CP
do not belong to the current shot video, sync checking with these time-stamps will definitely show up the fault.
i.e. new warning messages will be displayed if they are out of sync with the VisTrak Video.
Fix:
During system start up, the CP wasn't waiting long enough to capture frames during the GPIO test.
i.e. a Camera could have a GPIO trigger cable attached but the CP didn't recognize it.
Alpha is now Beta
Note that yesterday's CP Alpha is now today's Beta, and this update is the new Alpha.
---
January 15 6: 55 pm
Price increases for VisTrak Eagle and VisTrak Vcam systems coming this weekend
As these systems are currently being offered for under cost price, we'll be increasing the price by around $500 in order to break even this weekend.
The new price for the VisTrak Eagle will increase from $999 to $1,499 and the VisTrak Eagle with Vcam and lighting will increase from $1,999 to $2,799.
January 15 3: 35 pm

- V 9.5.2.1 Alpha
New 1: should E6 cause the CP to close, all user setup values are now stored before closing
New 2: Hcam with VisTrak video sync check now made
Fix: GPIO message not being displayed on camera 2
January 15 9: 15 am

- V 9.5.2.0 Alpha
GPIO triggers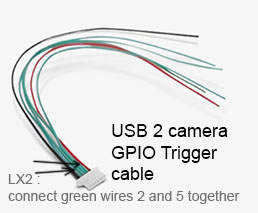 This version of the CP automatically detects if a GPIO trigger cable is connected to the ball Vcam or stereo cameras
The above Camera window screen shot shows that camera 1 features a GPIO trigger cable

Should the camera(s) not feature a GPIO trigger cable and the "Soft Trigger" option in the Setup window has been turned OFF -
so that triggering is only via a GPIO trigger - then a warning is displayed.
Note: the reason for using a GPIO trigger with VisTrak systems that don't use a Line Scan trigger camera is that it is faster than the regular soft trigger method.
As the trigger signal is coming from the VisTrak camera on the fly (i.e. during shot video capture at full speed), a slow trigger method can cause the VisTrak camera to drop frames
which can result in jumps in the video playback and / or incorrect ball speed readings.
---
January 14 3: 35 pm

- V 9.5.1.9 Alpha
VisTrak Stereo LS fix
Fix: Hcam not capturing images
Error was traced and fixed. Both stereo camera images are now being captured with the LS cam.
January 14 1:10 pm

- V 9.5.1.8 Alpha
Fix: Possible issue with VisTrak Stereo or Vcam cameras using GPIO hardwired triggers
VisTrak Production models
This VisTrak Eagle and Vcam set is shipping to a customer today, so thought I'd take a couple of snaps before packing them up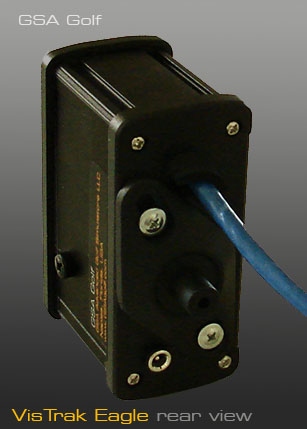 VisTrak Vcam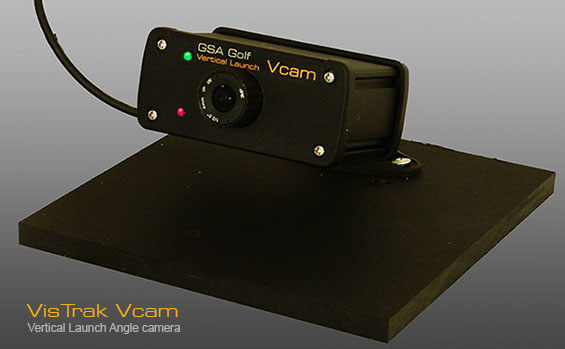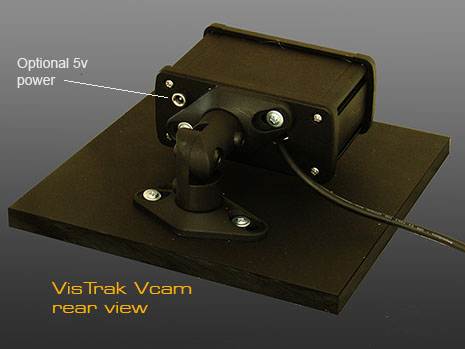 Production model now has camera mounted sideways
---
January 13 4:55pm
Levels of operation : Advanced and Basic
Due to the CP having so many variables and setup complexities - and because all these settings can be overwhelming ( especially for new users) -
the CP will have two levels of operation soon : Advanced and Basic.
The Advanced Level will allow users to change any settings as they wish
whereas
the Basic Level will severely restrict users from making changes to settings that can cause complications and reduce the playability of the system.
e.g. in Basic Level mode,
1. Vertical launch angle measurements will be restricted to be within 25% of the selected club's loft angle
2. It will not be possible to allow the non-LS stereo systems to measure ball speed and path
3. Correct scaling factors and trigger delay settings will be enforced if found not to be within certain limits.
Overtime, many more restrictions will be implemented for Basic Level users which should considerably help new users to get up and running faster.
January 13 11:58 am
Issue when club is under and in front of ball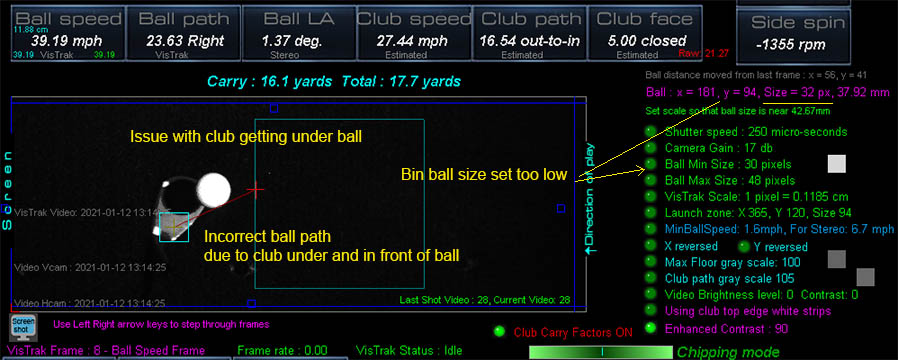 January 13 10:10 am

- V 9.5.1.7 Alpha
Fix: Soft trigger not functioning in VisTrak window when using VisTrak Stereo system
Tests this morning revealed no other issues reported that we can reproduce at the moment.
---
January 12 12:30 pm

- V 9.5.1.6 Alpha
Update for VisTrak Vcam Spin systems
January 12 10:30 am
Slowly working through the support video emails that have been sent in recently.
This one is from Mark, who is wondering why his VisTrak Vcam ball trace isn't being detected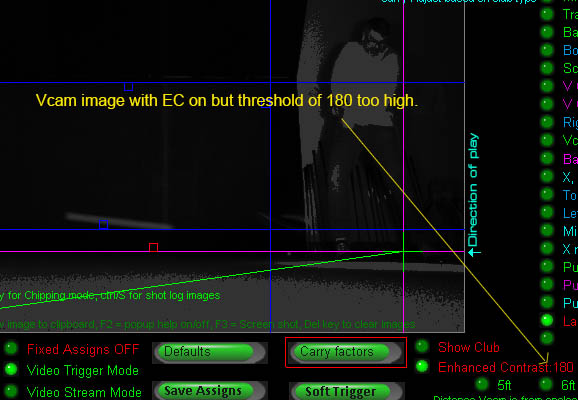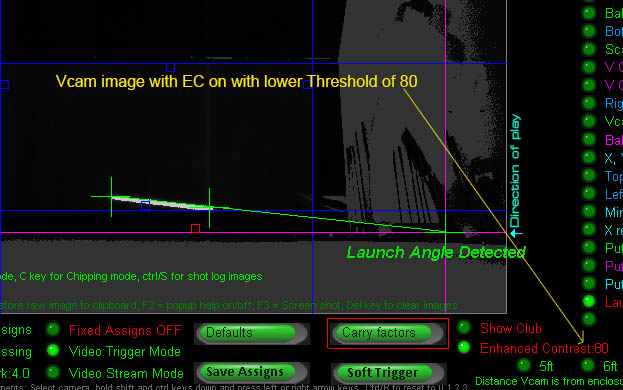 Mark seems to have switched Enhanced Contrast ON, but - because the threshold is set too high - the ball trace was darkened instead of being high-lighted.
Adjusting the Threshold down to 80 fixes the problem.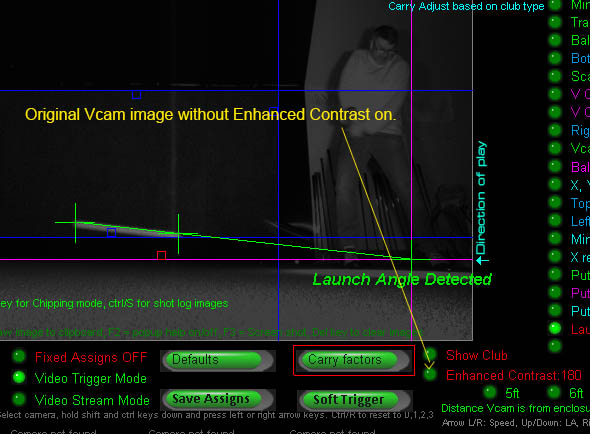 The original Vcam image from Mark was looking good anyway, so EC isn't really required in this case.

- V 9.5.1.5 Alpha
Out of sync messages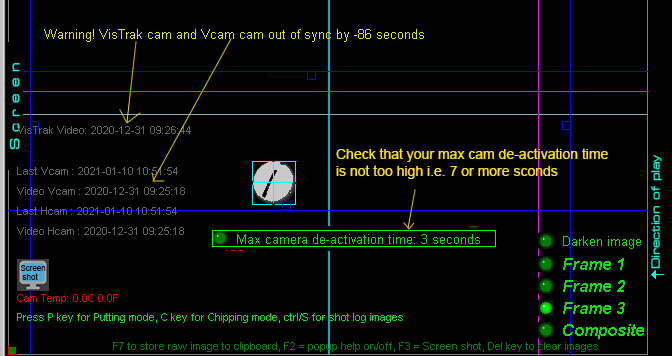 Fix:
incorrect out of sync messages being displayed
No fix:
A report that frame 3 is not being captured in stereo systems when EC is on, could not be reproduced.
Frame 3 with EC on is being captured every-time here.
---
January 10 12:15 pm

- V 9.5.1.0 Alpha
Ghost images in stereo cameras or Vcam camera. i.e. images left over from the previous shot or previous trigger.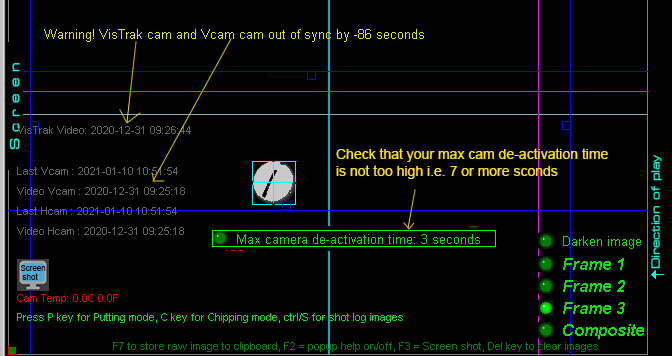 A - or most - possible cause of so called "ghost images" is that the stereo or Vcam cameras either weren't triggered - or if they were - the cameras were in a de-activated state.
Ball cameras are automatically de-activated for a few seconds after triggering to insure that they are not double triggered by the following club head.
If - after the VisTrak camera detects the ball on the mat - the ball is moved slightly or a hand is placed down over the ball, the ball stereo or Vcam cameras will be triggered to caputure new shot frames
and thus they will be placed in a de-activated state.
If the player then plays the shot while the cameras are still in the de-activated state, then no new ball images will be captured and the user then sees the previous last captured images in ball cameras.
In this Alpha version of the CP, a check is made to see that the VisTrak camera time stamps are the same - or close to the same - as the Stereo or Vcam images
and if not, a warning message is displayed (as in the above screen shot).
In order to prevent this, it is recommended to keep the camera de-activation times low. i.e. 3 seconds or so.
---
Enhanced Contrast now available for CX2, CX3 users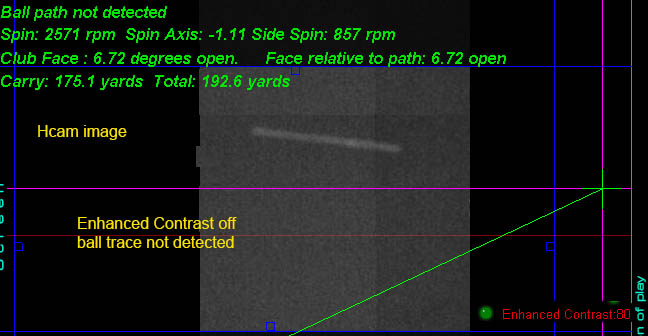 Very faint ball traces from the Hcam are very difficult to detect if - as in the above image - the flooring is too reflective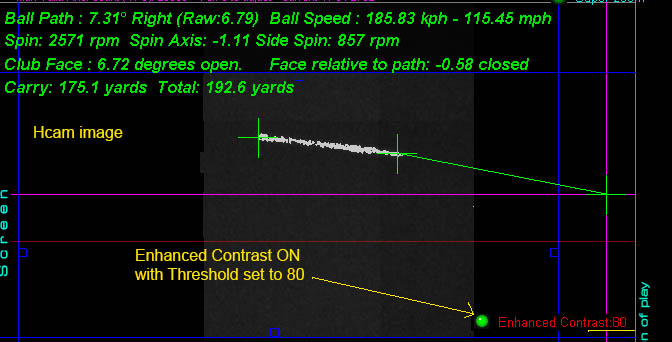 Switching the new Enhanced Contrast ON and setting the threshold down to 80 solves the problem
E6 disconnect issue
E6 message Log file now includes session start date and time plus any TCP/IP error messages.
---