---




Technical News




System Updates & Development News
GSA Golf daily updates and news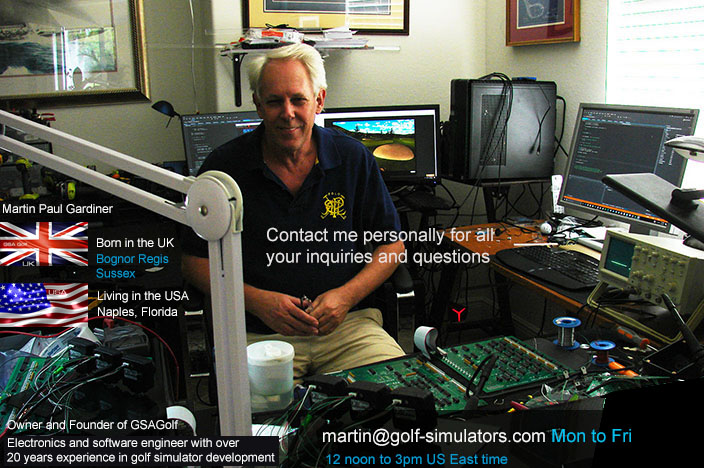 Hi! I'm Martin Paul Gardiner
Electronics and software development engineer and founder of GSA Golf
Regularly check out my tech news page for all our latest developments and free updates
GSA Golf tech news is updated at least once a week !
so make sure to check in for all the latest updates and news regularly
If you have any questions
please feel free to contact me personally anytime from M to F - 12noon to 3pm US ET via e-mail at

Note that telephone service is - due to the workload we're under at present - very limited and sporadic at best.
If you can't get through then please use email.
Note that currently, our telephone sales and support lines are closed due to the coronavirus
Please Note: We're closed on weekends and all US national holidays
If you are contacting us on the weekends or on national holidays,
then we'll make best effort to get back to you within 24 hours of the next working day.

Did you get a response to your e-mail?
We get really busy at times and e-mail responses can be late or even forgotten at times.
Please remind us again if you didn't get a response to your e-mail.
Note: we are not receiving or responding to emails
on weekends or on national holidays.
Emails sent to us after 3pm Friday will get answered to the following Monday
Emails sent to us after 3pm on work days are not read until the next day
Email responses are usually only made between 12 noon and 3 pm

GSA Golf Telephone sales and support is suspended
Please Note: Due to the heavy workload and high demand for our products,
GSA Golf have had to suspend all telephone sales and support services for the meantime in order to keep up with the high volume.
All sales and customer support inquires are thus dealt via email only on a first come, first served basis.
Best effort is made to reply to all inquires within 24 hours on work days, but delays may occur.
Note that all phone calls are routed to an automated answering service that does not record messages.
Customers attempting to leave messages won't be heard as our regular telephone systems are currently shut down.

Product delivery lead times
As we're now in the high season (October to February) for golf simulator related products,
demand is far higher and thus product shipment lead times are far longer than in the off season.
Lead times of 2 to 4 weeks are now the norm for screens, drapes, flooring etc.
While GSA Golf VisTrak base cameras are still able to ship within a few days,
VisTrak Stereo and VisTrak IR panel products will probably require 10 o 14 days to ship now.
Still a lot better than some of our competitors though that are quoting up to 12 weeks plus for delivery.

GSA Golf product production capacity
1. VisTrak Eagle base: 100 per month - average lead time 1 to 2 days
2. VisTrak IR and IR VC : 16 per month - average lead time 5 to 7 days
3. VisTrak IR Stereo : 8 per month - average lead time 14 days

User support backlog
Due to the high demand for GSA Golf VisTrak products now in this high season,
support response delays are increasing.
Currently there is a 4 to 7 day (or even more) backlog on user support.
If you are requiring tech support, please be patient and we'll get back to you as soon as we can.
Apologies for any inconvenience this may cause.



Click the above button image to download the latest Beta CP update
GSA Control Panel (CP) Beta update V 9.4.4.1
October 19 2020


Click the above button image to download the latest CP update
GSA Control Panel (CP) update V 9.4.1.3
September 11 2020

Download VC redistributables hereHere
Download latest Camera DLL hereHere
Don't forget to run the download after it's downloaded!
A number of customers don't realize that a CP update is a dual process
i.e first download and then run the download
Note that anti-virus programs will probably try to block the GSA Golf CP update download but - be assured - there's no malicious software in the download update
so just ignore any warnings from your anti-virus programs and choose the "More options" and "Run anyway" option.
---
GSA Control Panel (CP) full version download
V.9.3.0.0 April 2 2020


Click the above image to download your free Full version GSA Golf Control Panel
After downloading and installing the full version Control Panel,
download and install the CP update by clicking on the above CP update button.




---
---
CX and Vistrak system components can be used to build the complete GSA Golf golf simulator camera tracking system