---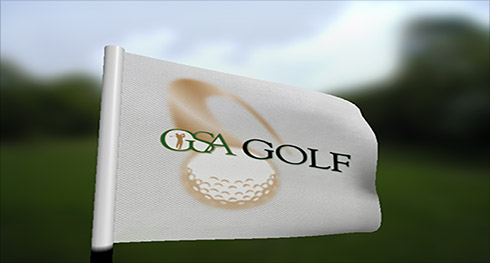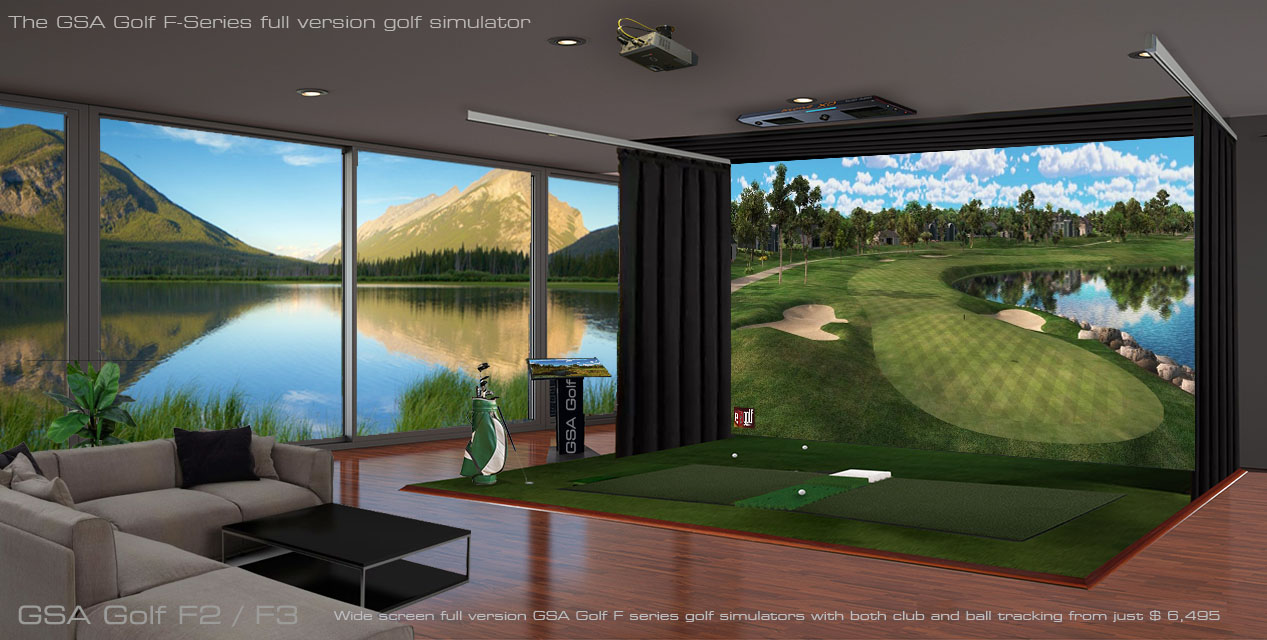 GSA Golf simulators are available in 4:3 or 16:9 (wide screen) formats

All our F series golf simulators and enclosures are custom made
to fit your available room size and desired format !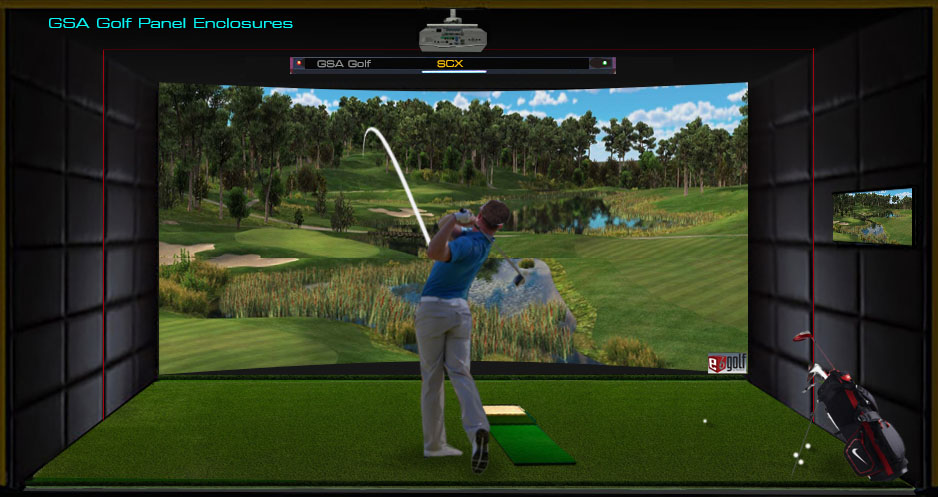 Tired of finding your ideal golf simulator on the Internet but only to find that the starting price is a crazy $49,000 ?
Your problems are solved with our new F series state-of-the-art all camera based full system golf simulators.
No other golf simulators on the market come even close to our F series even at 4 times the price !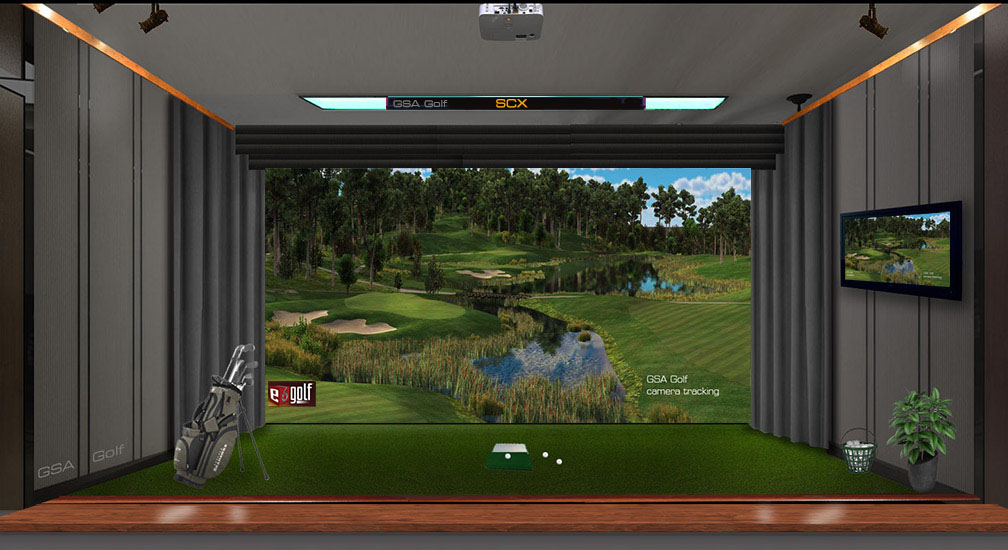 GSA Golf - World class golf simulators you can afford
GSA Golf make world class golf simulators for a 1/4 of the price of our competitors
GSA Golf full version golf simulators start at just $6,995
while our competitors start at a crazy $ 49,000

Buy

Click above to see buying options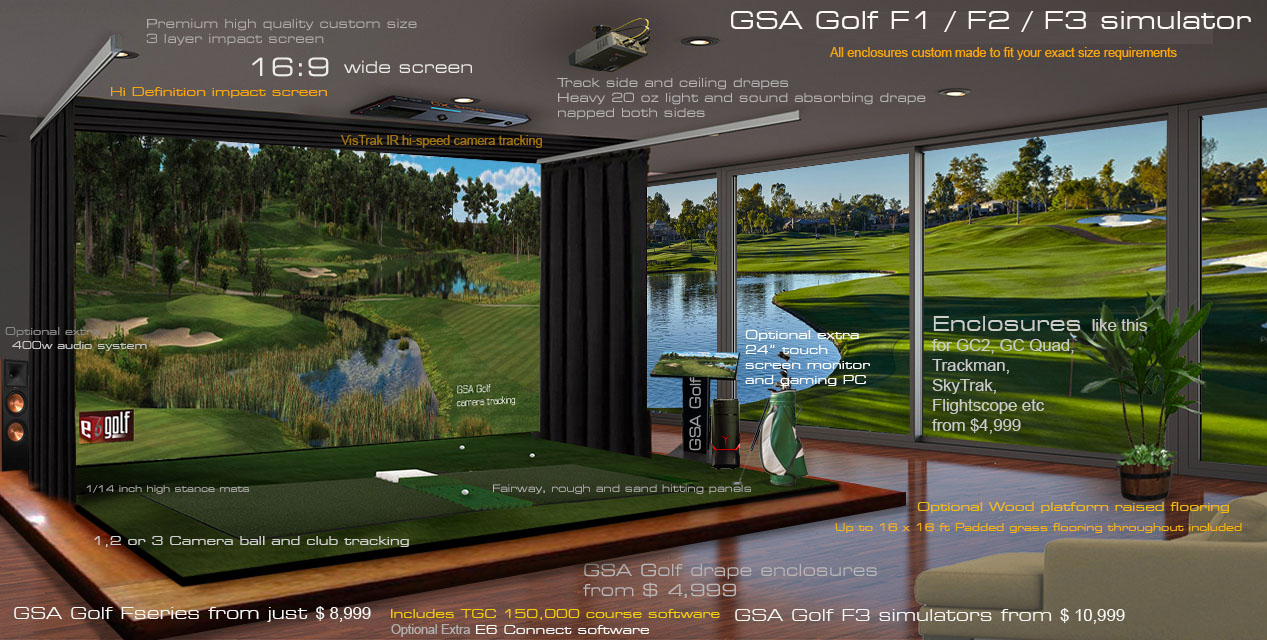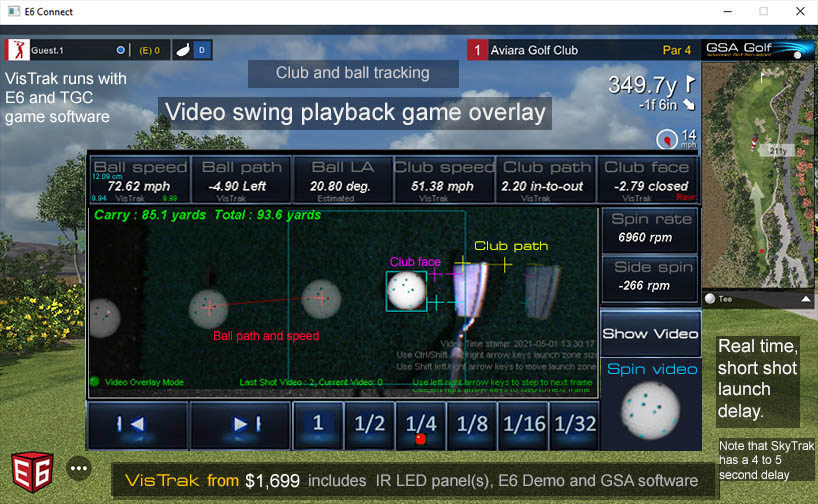 Standard drape enclosure
3 camera system
VisTrak Surround or VisTrak Stereo for both club and ball tracking
from $ 9,995



2 camera system using VisTrak high speed camera and Vcam camera
for ball and club tracking with video swing playback
from $ 8,995



1 camera system using VisTrak ball and club tracking
from $ 7,995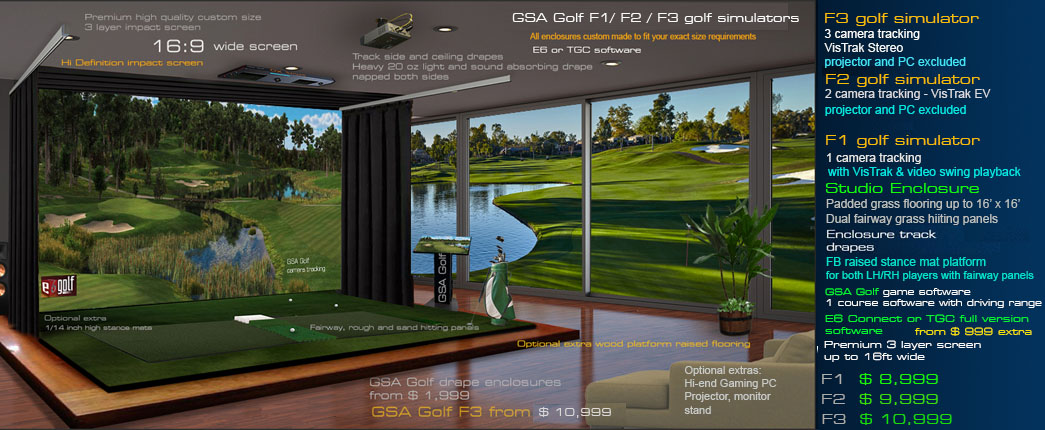 Data captured: Ball speed, ball path and launch angle plus single camera club tracking (Ccam or VisTrak)
System detects fades, draws, hooks, slices, pulls and pushes
Our competitors price $ 35,000 to $ 49,000
F1 with VisTrak single camera ball and club tracking - 1 course E6 Connect software $ 7,995
F2 with VisTrak dual camera ball and club tracking - 1 course E6 Connect software $ 8,995
F3 with "VisTrak Surround" or "VisTrak Stereo" all camera ball and club tracking -1 course E6 Connect software from $ 9,995
Add $ 1,500 to these prices for additional E6 Connect 27 courses
Note: Projectors and PCs, Monitors, Audio not included.
While the F3 comes with wood transition trim between the flooring and grass turf carpet
the optional raised walnut platform - as shown above - costs an extra $ 2,499


click the above for more information on the Walnut platform flooring

What's the difference between the 3 F series models ?
F1
Vertical ball launch angle is only estimated and not measured
Ball must be played from the same spot
F2
Vertical ball launch angle is measured from a floor mounted camera (functions for both LH and RH players though)
Ball must be played from the same spot
F3
Vertical ball launch angle is measured from a ceiling mounted unit
Ball can be played from other surfaces like Rough, Sand and Greens

All F-series golf simulators come with E6 Connect single course software plus driving range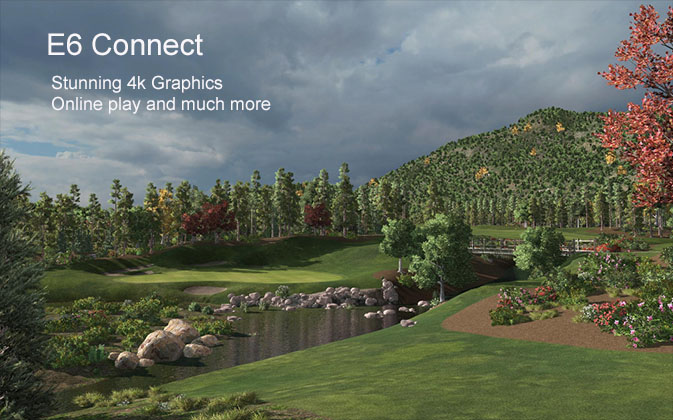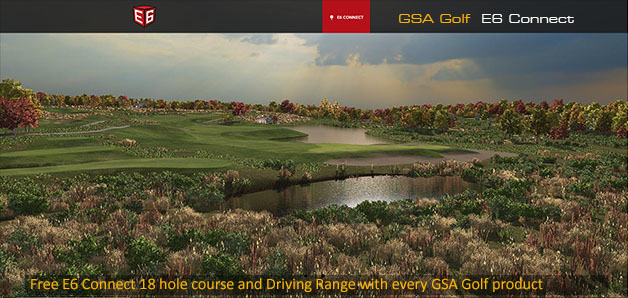 In addition
The F series functions with both the E6 and E6 Connect software
plus the TGC full version golf game software
Optional extra game software packages:
E6 Connect 1 course software package with driving range $0,00
E6 Connect 27 course software package $1,500
TGC full version with over 150,000 courses $999
E6 15 course software package $999
Free additional game software: RedChain and ProX (Prox available later in 2020)

Buy the F1, F2 or F3 GSA Golf Hi-end golf simulator here

Buy


Click above to see buying options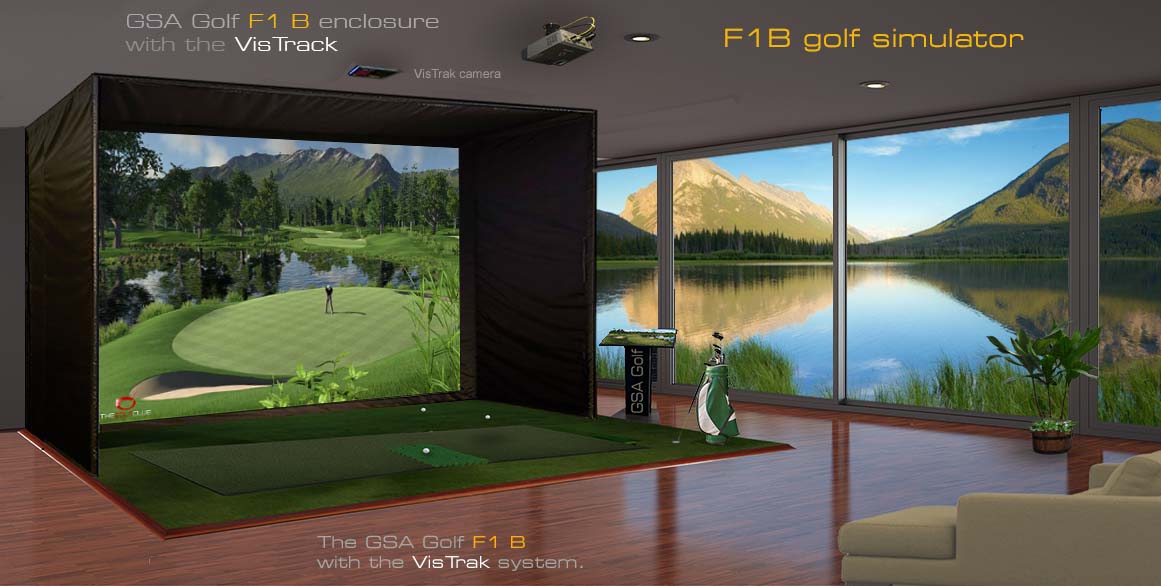 F1 B
budget enclosure with VisTrak ball and club tracking
from $ 5,995


Is the GSA Golf F series golf Simulator at a starting price of just $6,495 too good to be true ?
No ! And here is how we do it:
The main reason why GSA Golf products are so inexpensive when compared to others that are selling in the $30,000 to $70,000 range is because:
1. GSA Golf have no financial investors that are demanding big fat returns on their investments,
2. we only sell factory direct Online and not via resellers that want big 50% to 100% markups,
3. We're not having to pay for big endorsements from top golf professional players that mean effectively nothing and cost millions of dollars
- which you as a purchaser are paying for in the price -
4. we spend very little money on advertising that would also have to be added to the price
5. all our system development is done in-house - i.e. we're not outsourcing any development that would cost many hundreds of thousands of dollars
6. we operate ourselves on very lean and small margins.
For us, golf simulators are as much a passion as a business and not just a way to get rich quick.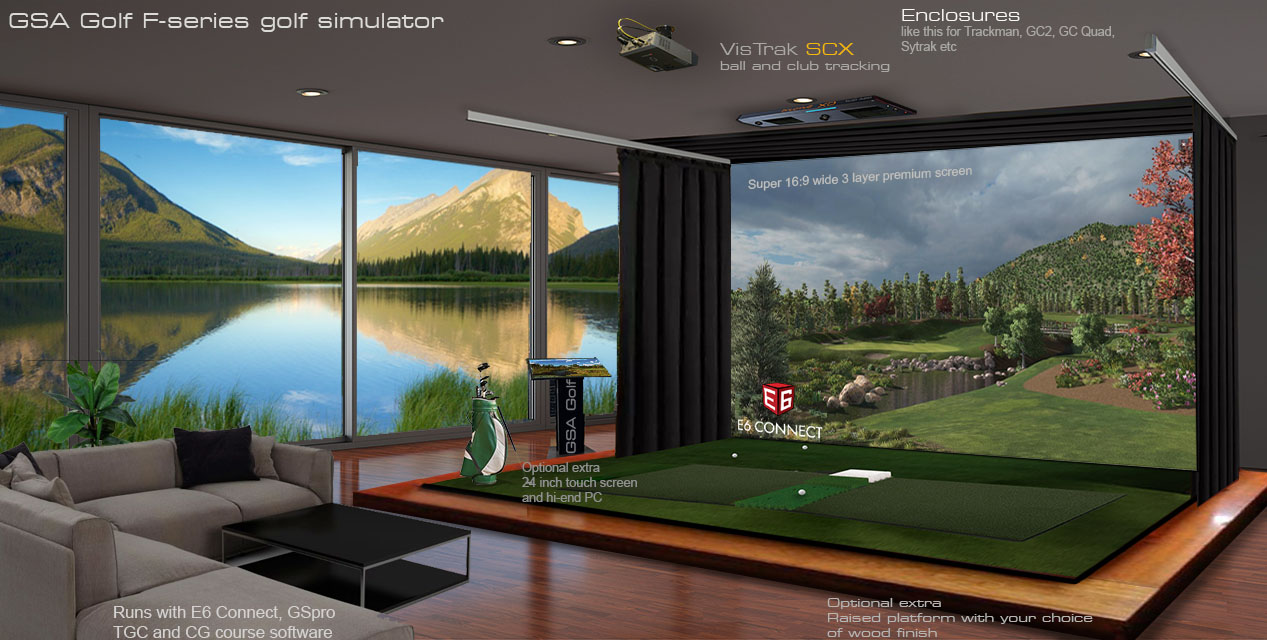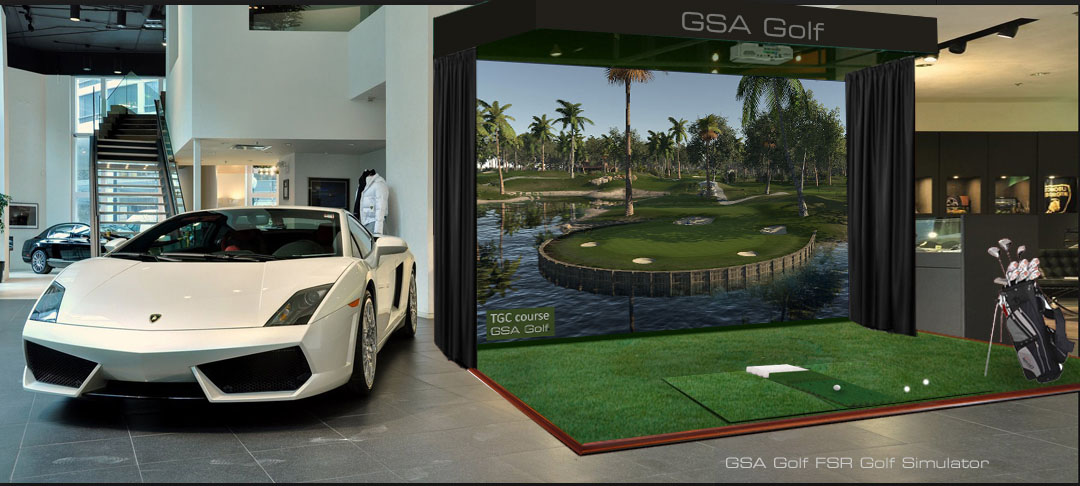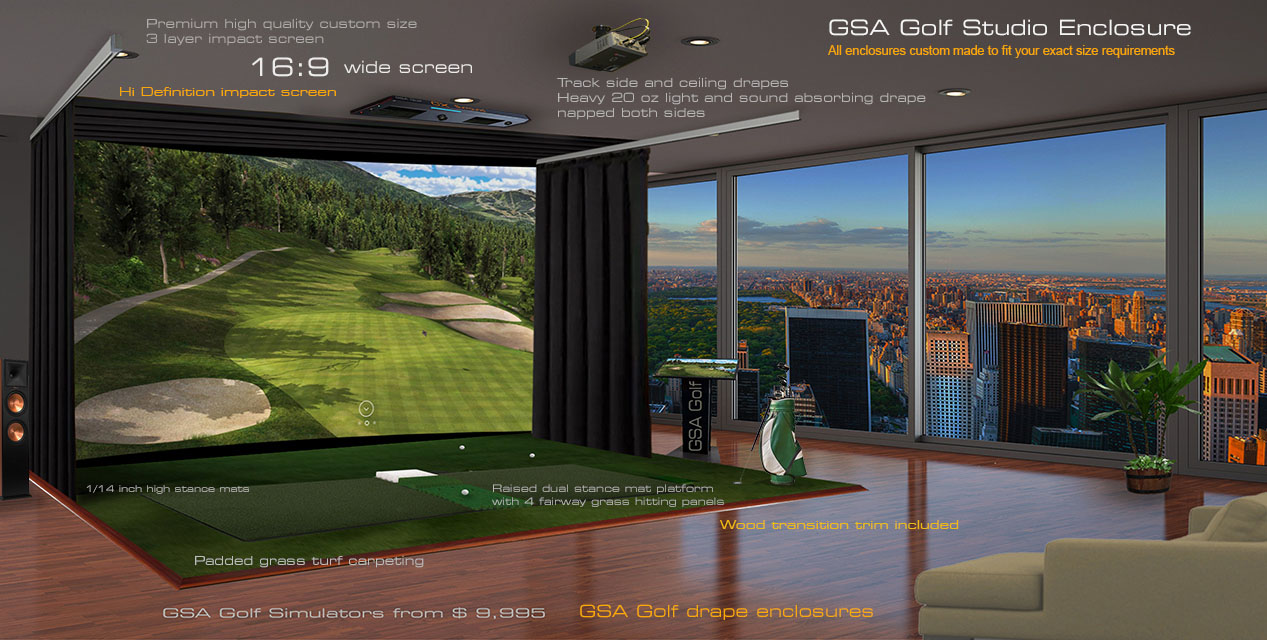 The GSA Golf F-Studio is the complete GSA Golf Studio enclosure
including high end i7 PC, 23 inch touch screen monitor on stand and projector but without any tracking system or software.
The F-Studio is for customers that will be using their own sourced tracking system
such as GC2, SkyTrak, FlightScope, TrackMan etc.
The F-Studio is custom made to fit your size requirements. 4:3 standard screen ratio or 16:9 wide screen ratio
Price : $6,995
The GSA Golf F-Studio enclosure without PC and projector
Price $4,999
Full padded turf carpeting throughout
Please note!
the max carpeting width we can supply is 12ft, so carpeting for enclosures that are wider than this
will be supplied with carpet add-on parts so there will be adjoining seams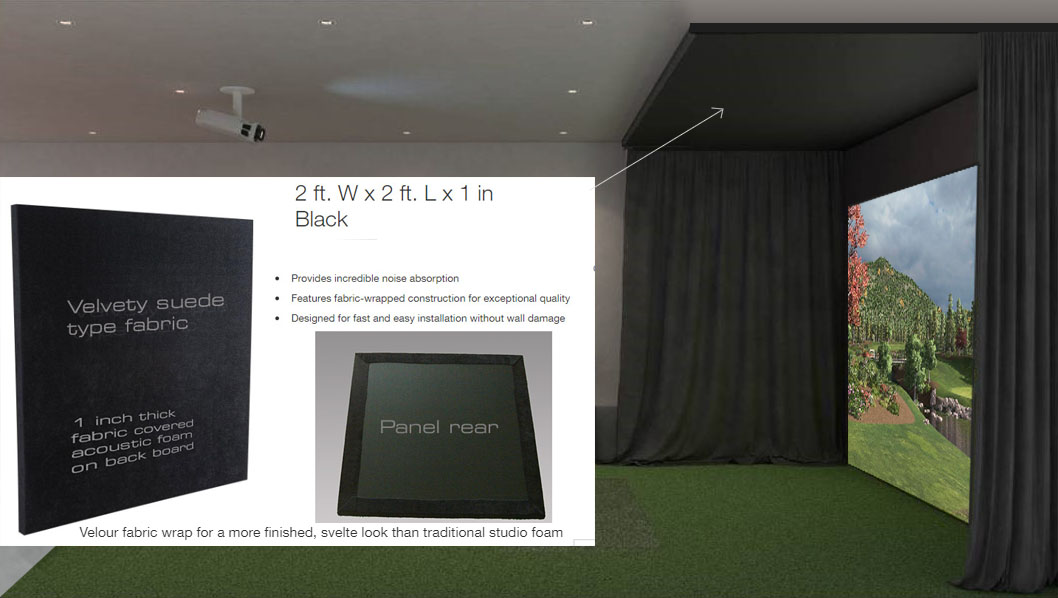 An alternative to using a ceiling drape is to use acoustic foam panels.

F Series
What's included ?
Cameras
F 3
The F3 uses either the 3 CX (Vcam, Hcam and Ccam) camera systems
or VisTrak IR with CX Surround for both club and ball tracking
F 2
The F2 uses VisTrak IR Vcam camera system
both club and ball tracking with measured vertical launch detection
F 1
The F1 uses VisTrak IR Eagle camera system
both club and ball tracking with estimated vertial launch detection
Video Swing playback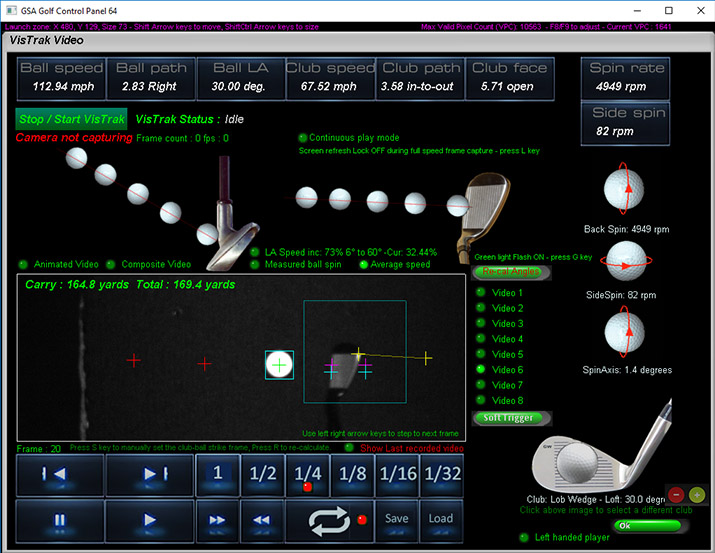 The above image shows a typical VisTrak video screen shot.
When the video playback is run, you can see the club path, face angle, ball on club contact and ball direction precisely in every frame.
VisTrak's swing playback videos show your club path, speed and face angle plus ball speed and direction
in slow motion for every shot.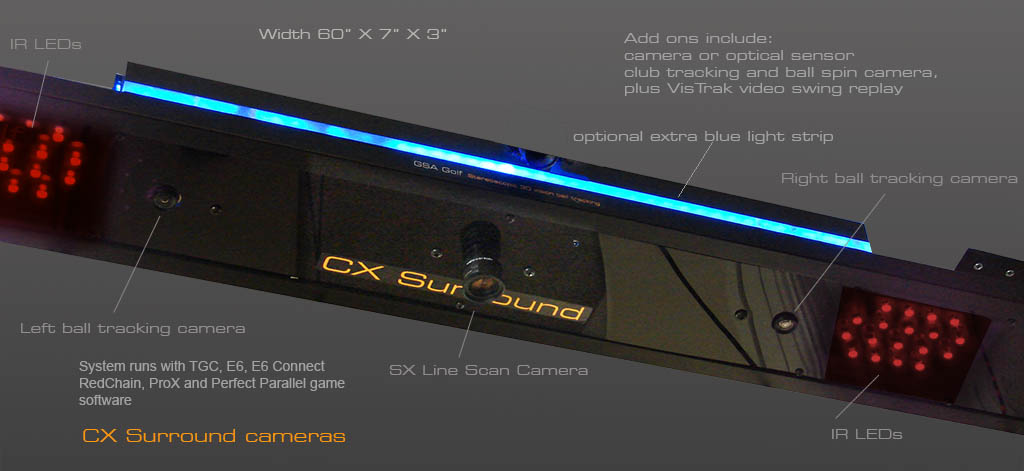 Advanced camera tracking systems

Click the above image to read more about our camera based ball and club tracking systems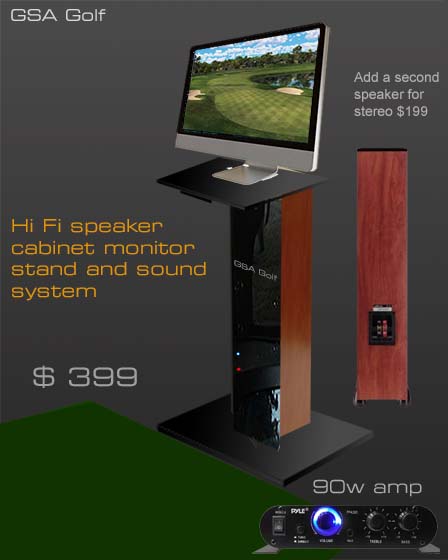 The below listed PC's and Projectors are optional extras
Purchase these standard items on Amazon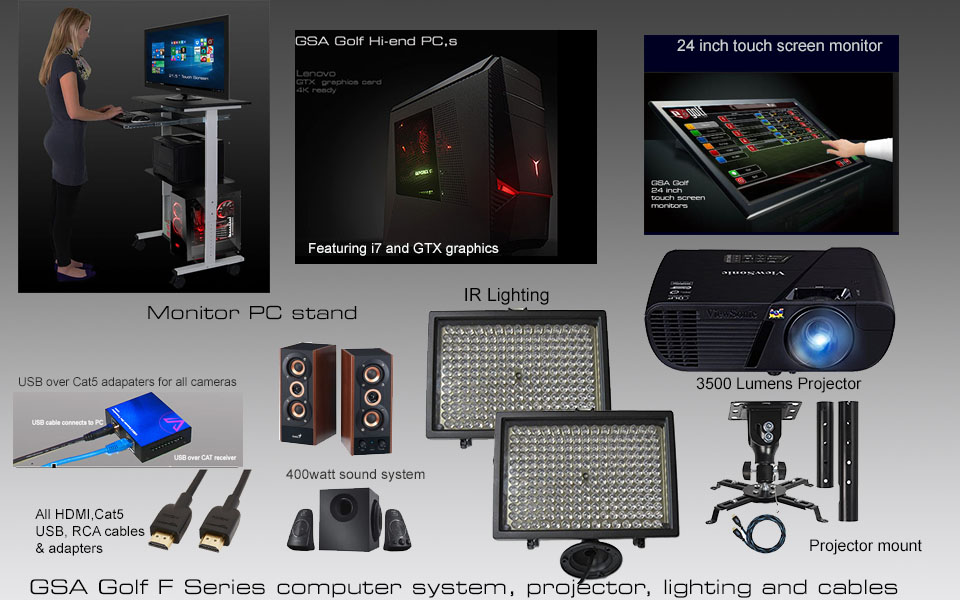 Hi-end Computer with touch screen, 3000 lumens Projector, all cables and lighting

What's included

Padded turf grass flooring is included
Note ! Max turf roll width is 15ft for regular padded turf carpeting.
If using our camera systems then the special (low reflective) turf carpet we use roll width is only 12ft.
This means that if you want a greater width than this (e.g. 16ft wide) then extra pieces will be shipped to make up the full width and there will thus be joins.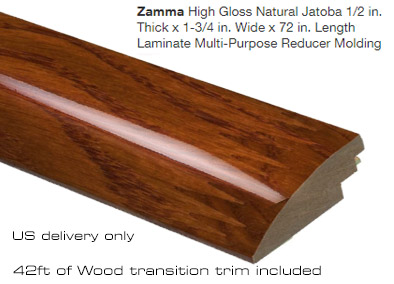 Oak turf carpet wood transition trim

Custom size high quality 3 layer premium impact projection screen with bungee cords

Impact screen frame and fittings plus screen valance rolls
Note: The 1inch diameter conduit steel required to build the frame is supplied by Home Depot.
If you do not have a local Home Depot store near you then they will not offer shipping.
In this case you will have to make arrangements to pick up the order yourself.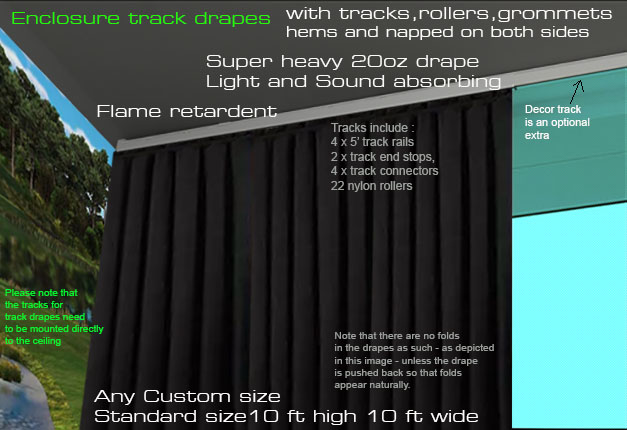 Enclosure track drapes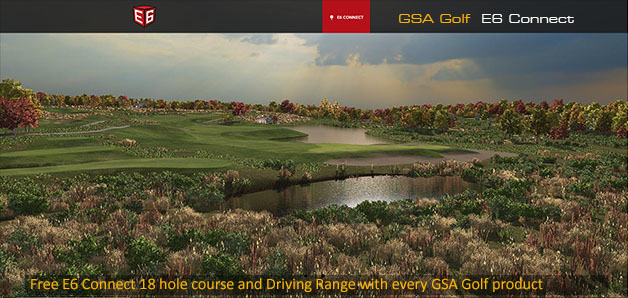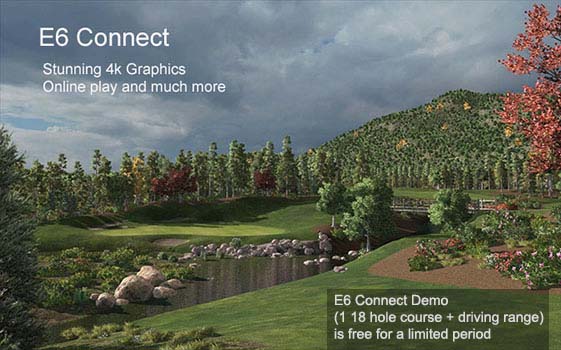 Hi-end software options with over 100,000 golf courses

Minimum enclosure sizes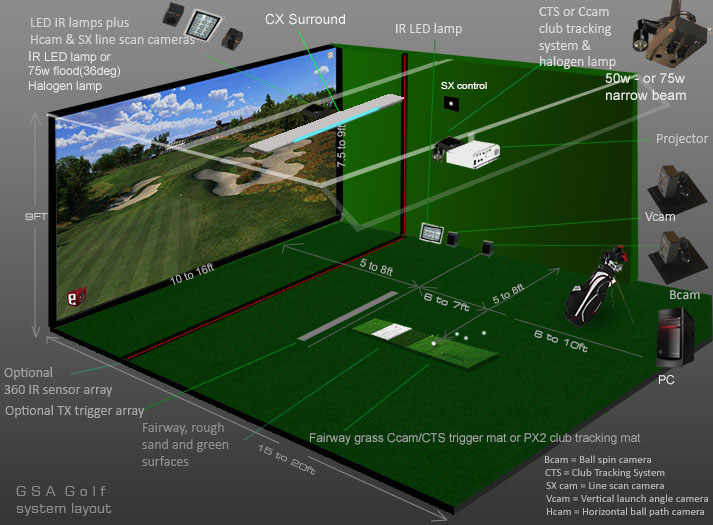 All F series golf simulators include fairway grass hitting mat surfaces
Rough and sand surfaces are optional extras
---

Click the above button to see what's included with your tracking system


Warranty and Support
One year full warranty plus life time free e-mail amd remote access support
Life time free GSA Golf software updates !
No maintenance costs ! No subscription fees!

F Series
What's included ?
Other than the tracking cameras and or sensor, cables, lighting and software
(which are listed in the camera shipping lists)
The F series golf simulator additionally includes the following:
1. Turf padded flooring (custom size but usually 12 X 15 ft)
2. Turf floor Walnut wood transition trim (42ft) -- Note: US delivery only!
3. Impact screen ( premium 3 layer - custom size but usually 12ft w X 9ft h or 15 X 9ft)
with the following screen frame fittings: 8 x F3 + 2 x FT + 2 x F4
see the Impact Screen page for details Impact Screen
All 1 inch diameter metal EMT/conduit frame piping is included (140ft)
4. 2 X Black heavy - light and sound absorbing – 10ft wide wall drapes on tracks with grommets, hooks and rollers.
Size is usually 10ft deep by whatever the customer's ceiling height is – normally 9ft or 10ft high
5. Ceiling drape to match screen width
Size is usually 10ft deep by whatever the customer's screen width is plus about 2ft extra - normally 14ft to 17ft
6. 4 X screen valance rolls with cable ties
7. 9' x 4' raised 4 stance mat hitting ares
-
Optional extras:
Curved screen 4 X A and 4 X B rods with ceiling suspension hooks and ties
What's not included :
PC, Monitors and Projectors
Wood platforms Raised flooring,
canopy (ceiling drape - which is included - replaces a canopy)
F Series golf simulators with raised platform flooring - Add $2,499
Click the above button to read more about wood platform raised flooring
Minimum enclosure size requirements
10ft wide - 12ft deep - 8.5ft high
All systems are custom made to fit your size requirements but sizes shouldn't be much less than the minimum sizes as stated above.
Minimum distance cameras should be mounted from the screen: 5ft
If cameras are mounted closer to the screen than 5ft then light reflected from the screen will / may get into the line scan camera and thus won't function correctly.
It may be possible to mount the cameras a bit closer than this but we cannot then guarantee that the system will work

Optional base PC Monitor stand
Click above (left image) to read more about base monitor stands Note: Standard monitor stand included on all F-series models (image right).

Optional extra tower Hi-Fi speaker audio system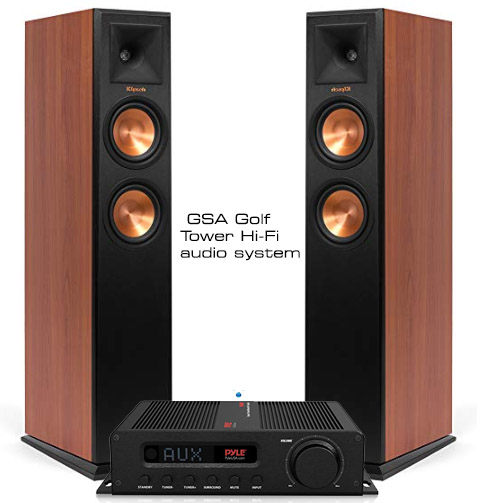 Optional extra Tower Hi-Fi audio
Price: $ 999.00
Click above to purchase the Tower Hi-Fi audio system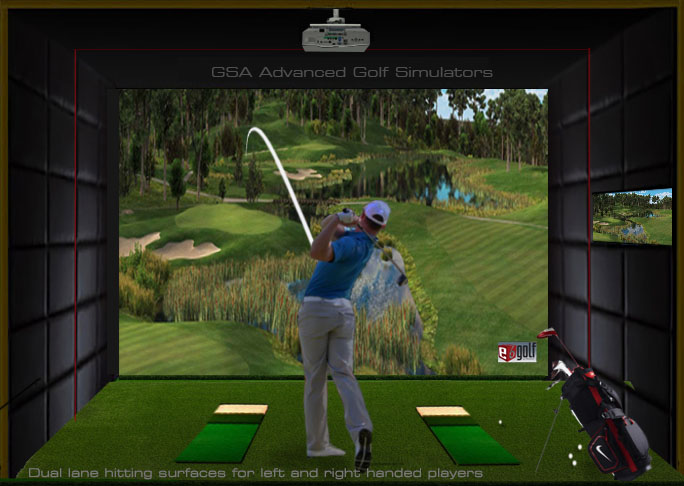 Dual lane hitting surfaces for Left / Right handed players not playing down the center line.
If your enclosure width is too small for you to always play the ball down the center line of the enclosure
then you can select the new "Dual Lane" mode of play.


-

-

Note that raised flooring is not included
see the Raised flooring options on the Turf Grass Flooring page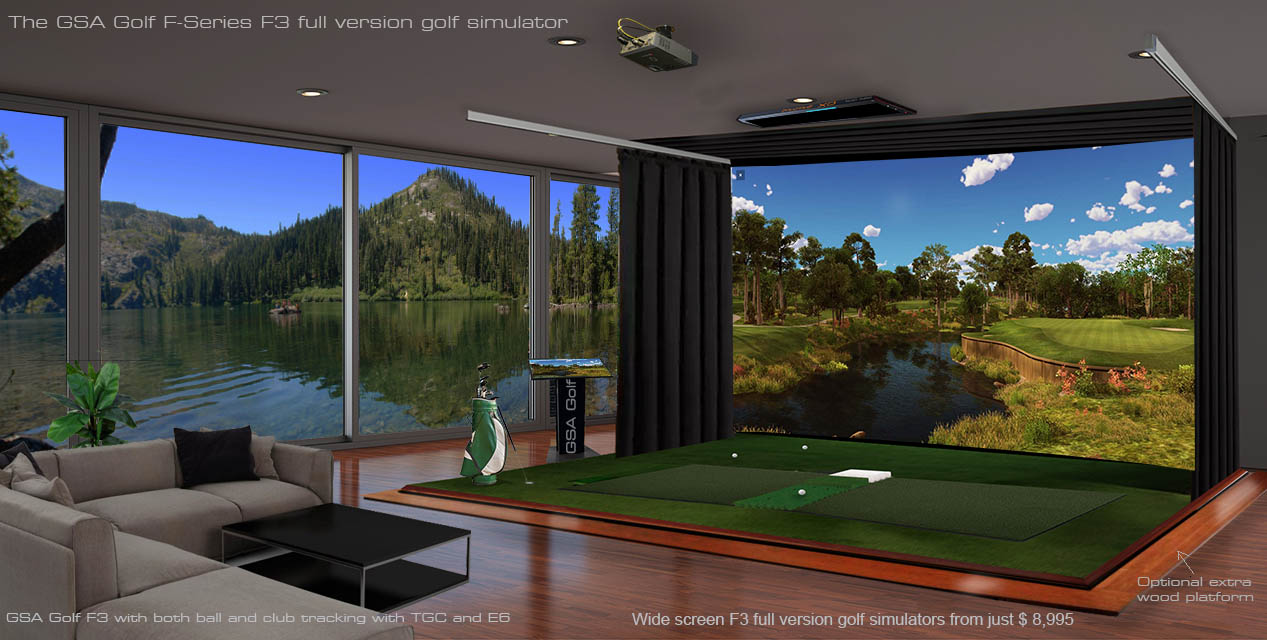 All GSA Golf PC's come with a 24 inch touch screen monitors and PC/monitor stand
The GSA Golf Control panel can be installed on multiple PC's and monitors so that you can view all data simultaneously

PC's and Projectors
All F-series golf simulators come with hi-end PC,s and projectors


Click above to read more about PC's and Projectors


All our CX & F systems are available with 5 different game software packages
Note that most of our competitors offer just one game software package, whereas we offer 5 !


F series system software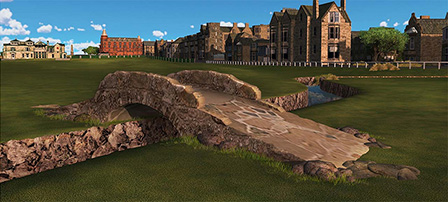 All our F systems come complete with the latest E6 Connect software


Click above image to go to The Golf Club software with stunning graphics and over 150,000! golf courses for just $999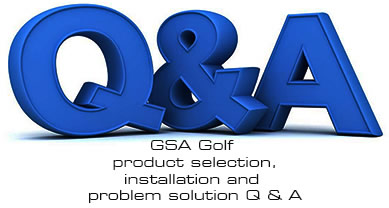 ---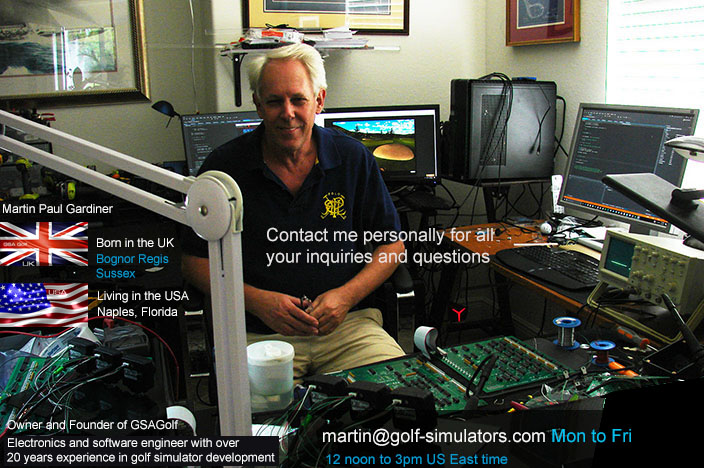 Contact us