---




from $ 49 to $ 1,499
System can be used with 60/120 fps webcams
or
240 fps machine vision cameras
Ball and club tracking system for golf simulators
The CX Stream detects ball Vertical and Horizontal launch angles as well as ball speed.
System functions for both LH and RH players
System additionally captures the player's swing from front and overhead camera positions.
Swing capture can be played back in the 200 frame videos generated with every shot.

CX Stream stereo full system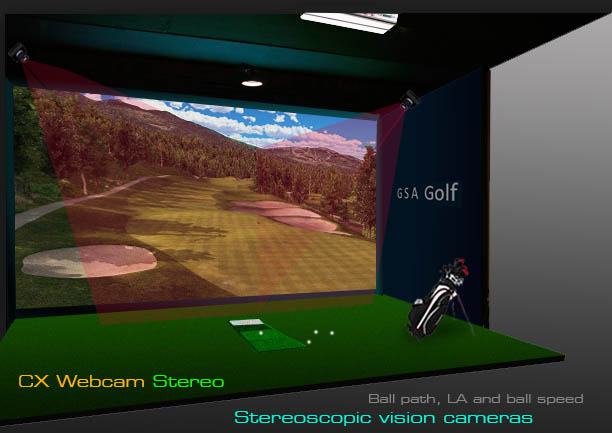 including dual HI Speed sterep webcams, dual lighting and cables
Dual Color cameras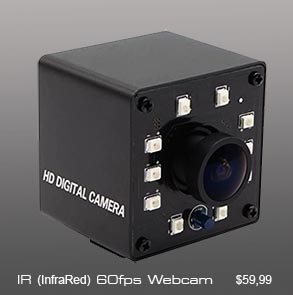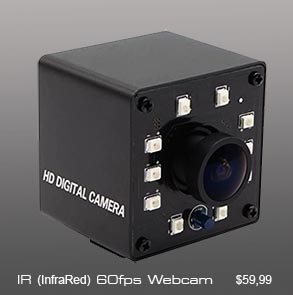 or dual IR cameras
including lighting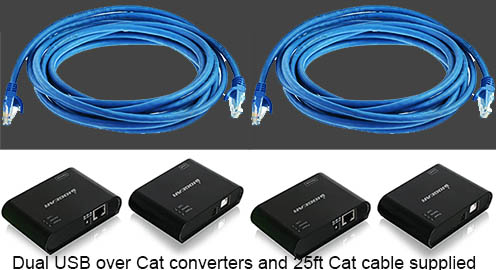 plus USB /Cat 25ft cables
$ 599

CX Stream hi-speed

Dual hi-speed machine vision cameras (color or mono) with LED Lighting
$ 1,499


CX2 Stream software only - purchase your own webcams and cables
$ 199.00
Now - for a limited time - just
$ 49.00


CX2 Webcam Camera Panel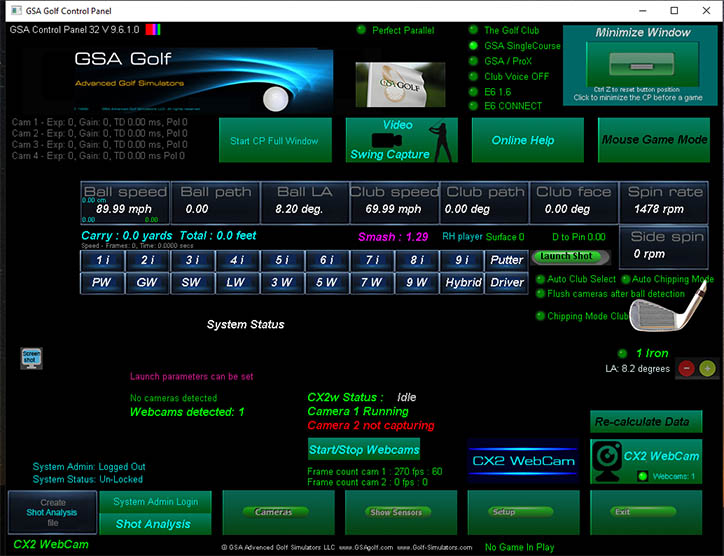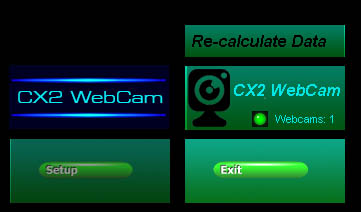 When selecting the "CX2 WebCam" option and clicking the Cameras button,
a completely new and CX2 WebCam dedicated window will open.
The overhead webcam (Hcam) captures club and ball traces including
club swing arc, club speed and face angle
plus ball speed and path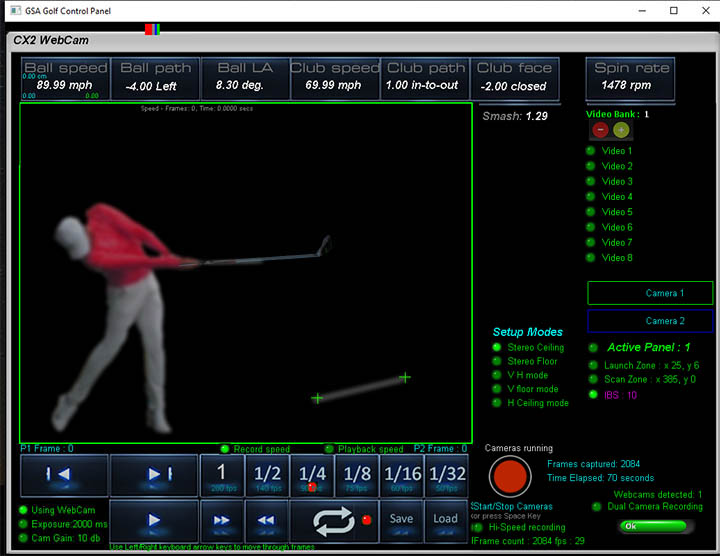 The side mounted webcam (Vcam) captures ball vertical launch angle and ball speed
Panels also show video playback of your swing from overhead and front view angles
Panel 1 is from the overhead camera
That detects ball path and club data
Panel 2 is from the front view camera
that detects vertical launch angle of the ball and ball speed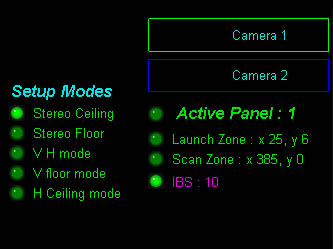 Setup Modes allow the user to change the camera configuration layout
1. Stereo Ceiling
Both cameras are ceiling mounted. Dual camera stereo vision.
2. Stereo Floor
Both cameras are floor mounted. Dual camera stereo vision.
3. V H mode
Dual cameras. 1 camera ceiling mounted (Hcam) and 1 camera floor mounted (Vcam)
4. V Floor mode
Single camera. Floor mounted. Vcam
5. H Ceiling mode
Single camera. Ceiling mounted. Hcam

System also includes Video Swing Capture software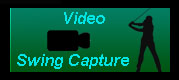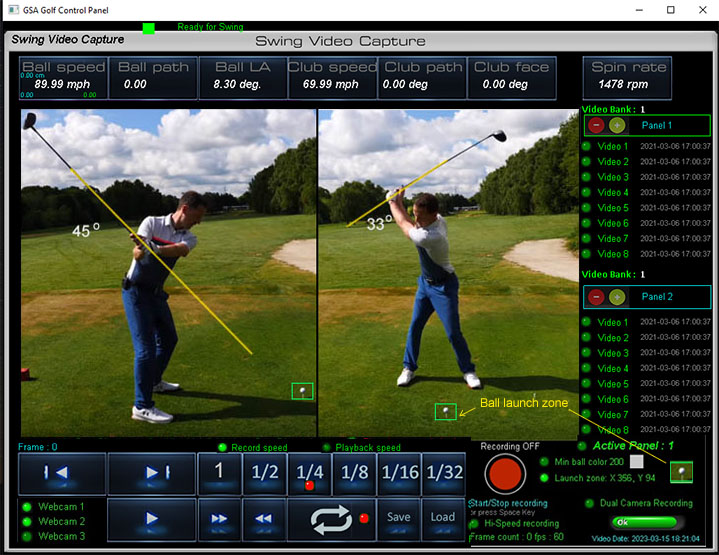 Click above image to read more...

The system also captures ball Launch angle and ball speed outdoors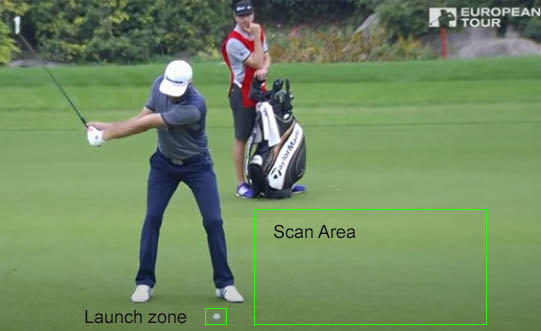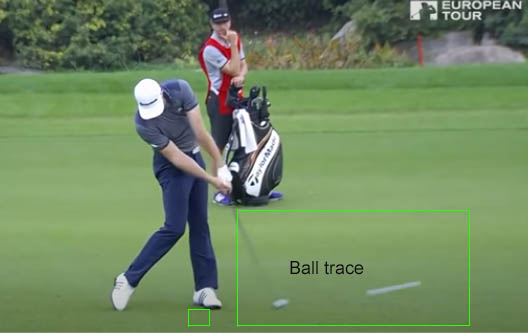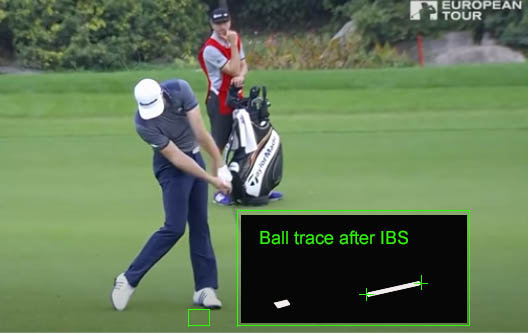 Golf Game Softwarefor the CX2 Webcam
Choose from 5 different software systems
E6 Connect, TGC, RedChain, GS Pro and ProX
Includes free GSA Golf software downloads


Play a complete round of simulated golf with the CX2 Webcam system including all shots from drives to putts
Software downloads
Click above images to purchase and download the complete GSA Golf software suite for just $149

---
Operating instructions
The system can be used with 1 or 2 cameras.
The cameras can be either 60fps or greater Webcams or USB3 Flir cameras
The usual camera setup is the V and H cam setup.
The Vcam is floor mounted to capture Vertical launch angle of the ball
and the Hcam is ceiling mounted to Horizontal angle (or path) of the ball.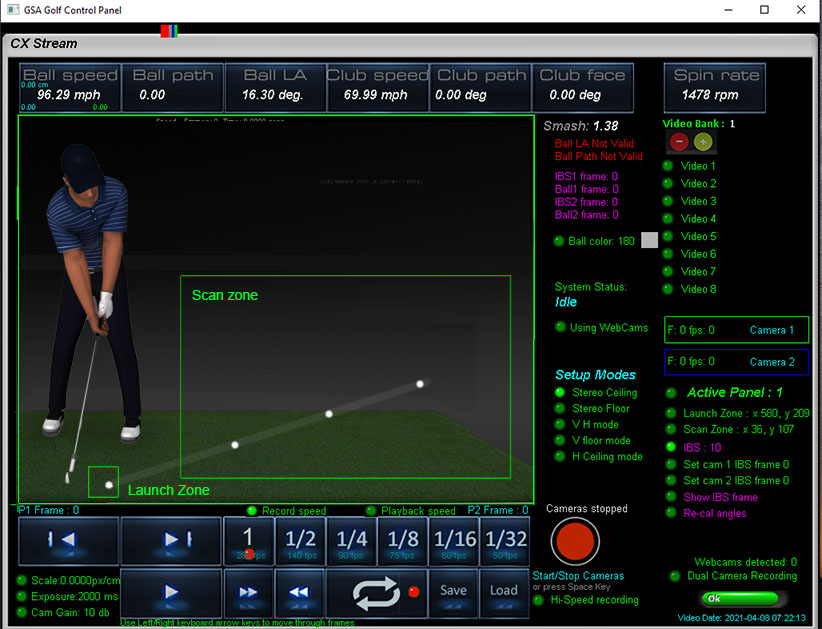 CX Stream Vcam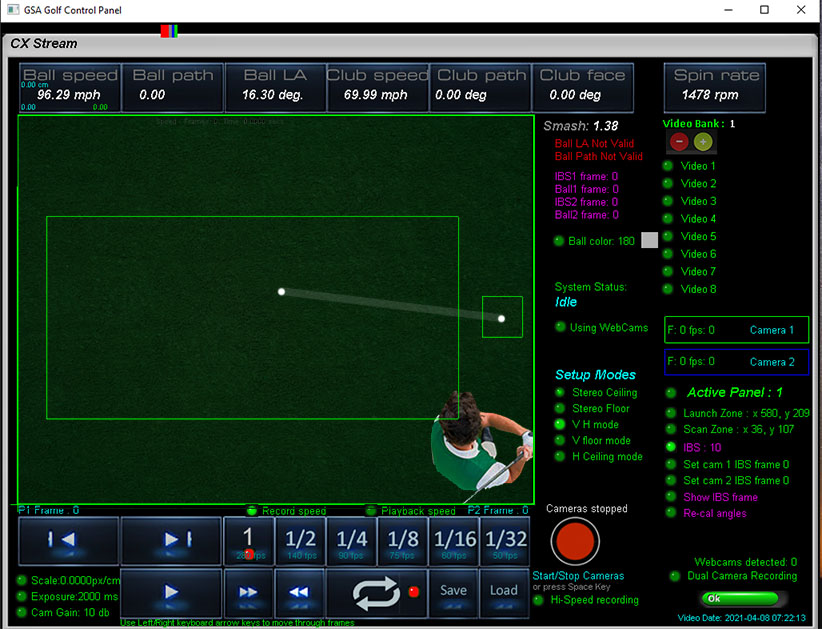 CX Stream Hcam
Launch and Scan zones
The Launch Zone is where the ball is placed on the floor prior ball strike
and the Scan Zone is the area where the camera will detect the ball in flight.
Both of these Zones can be position and size adjusted.
To move: select the Zone button (Launch or Scan) and use the keyboard arrow keys to position.
To size: hold the keyboard Ctrl key down while using the arrow keys.
Operation procedure
Click the red Start/Stop cameras button.
Both cameras will then start streaming video and will look for a ball in the Launch Zone
System is then in "Looking for Ball" mode
After a ball has been detected, the system will go into
"Ready for Swing" mode.
As soon as the cameras detect that the ball is no longer in the launch zone (i.e. the ball has been hit)
the system stops the cameras and calculates ball speed, LA, HA, spin and club data from the Scan Zone areas.
If all looks good, the system will send this data to the golf game software being used
(i.e. E6, TGC, GSA golf etc) so that the ball launches.
The system will then automatically go back into Looking for Ball mode ready for the next shot
How it works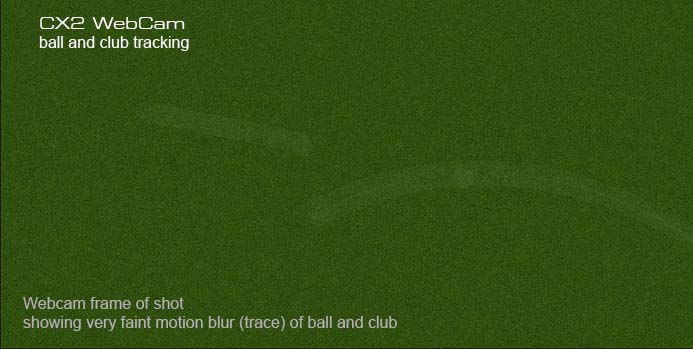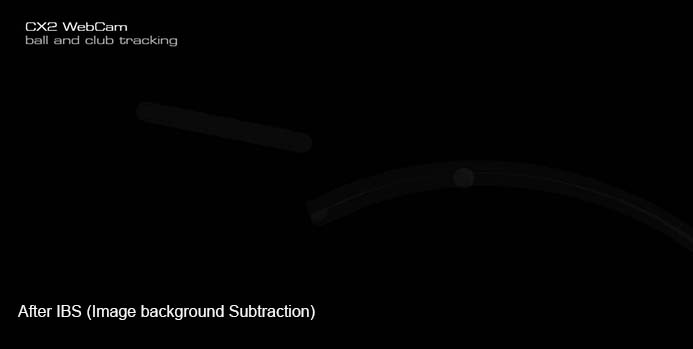 Using the new IBS and EC methods, very faint ball and club motion blur ( traces) can be extracted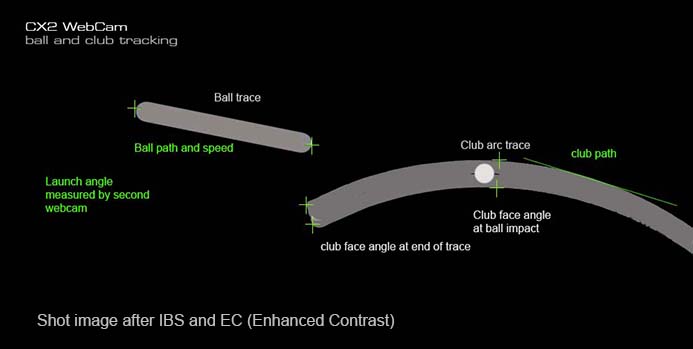 ---
Resellers and OEMs
The software product is available to all Golf Product resellers and OEMs at 50% discount (i.e. $99).
Product can be branded as your own so that you can market the product under your own name
and are free to price the product as you wish.