---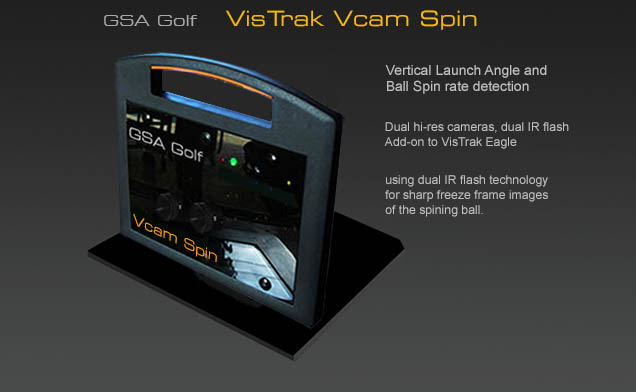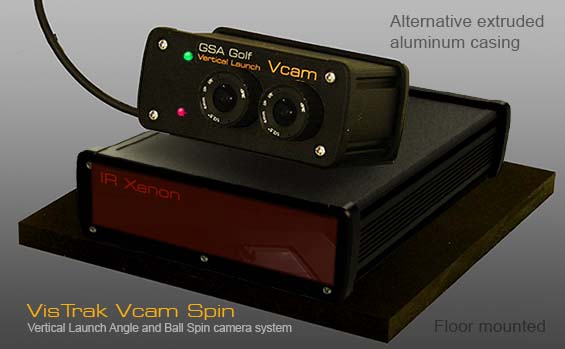 VisTrak Vcam Spin
Vertical launch and ball spin detection
3 camera system: Single overhead mounted camera (VisTrak Eagle)
plus dual vertical launch angle detection cameras with ball spin detection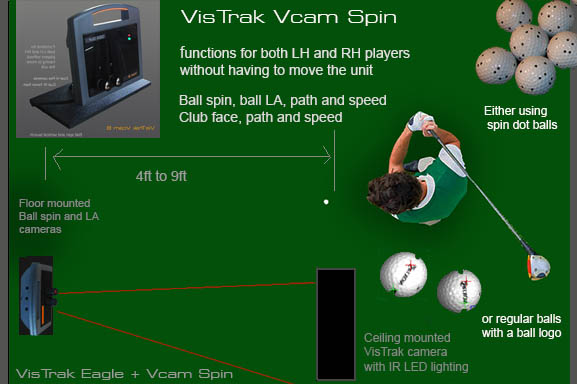 The Vcam Spin is the same as a Vcam plus Spin cam but mounted in a carry case
It is used with the ceiling mounted VisTrak Eagle to detect vertical launch angle and ball spin rate.
System captures spin and LA for both LH and RH players without having to move the unit.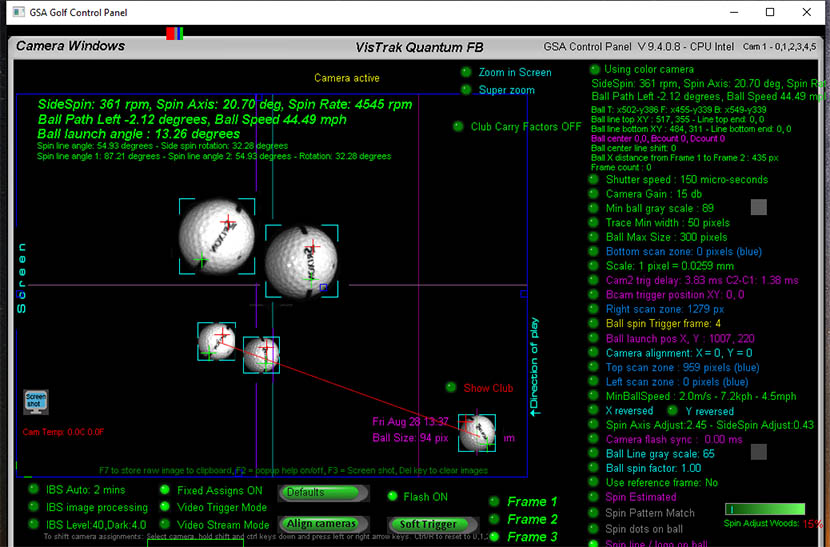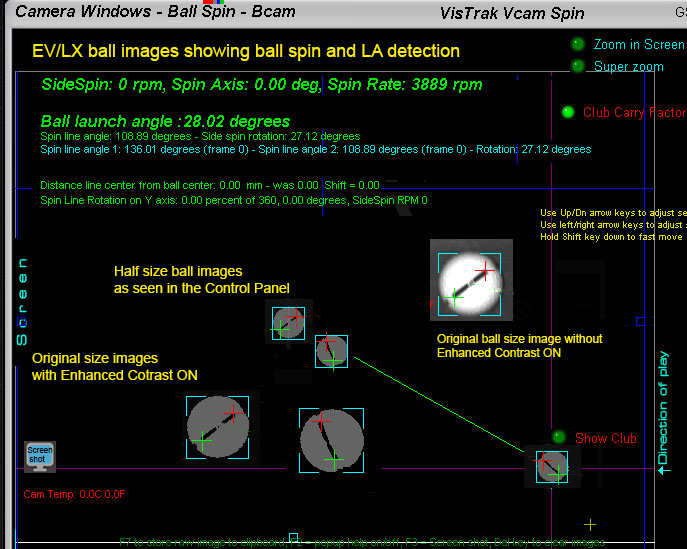 Vcam Spin ball spin detection using hi resolution ball images
Ball Spin and Vertical launch
Add-on to the VisTrak Eagle
$ 1,999
Carry case or Black aluminum case versions

---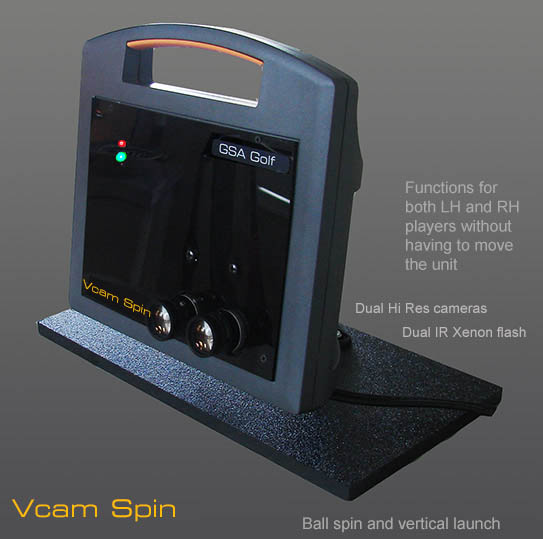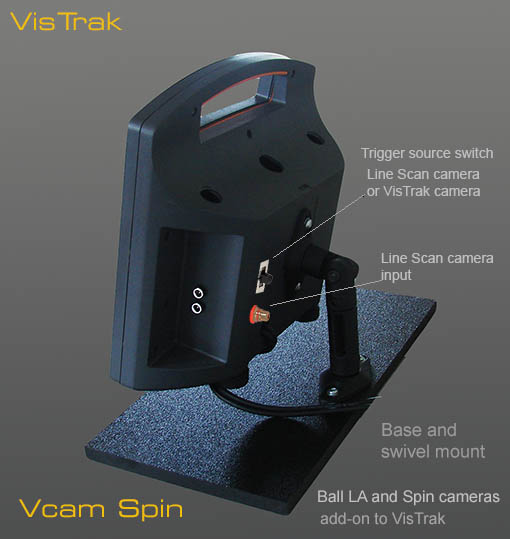 Vcam Spin images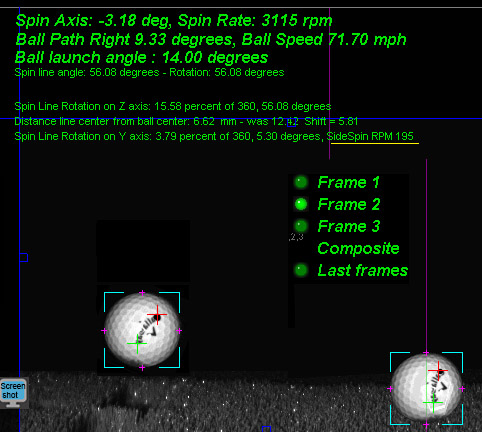 The above shows real balls - viewed from the side - with a back spin rotation and rotation axis shift.

Ball Markings
Regular balls with a logo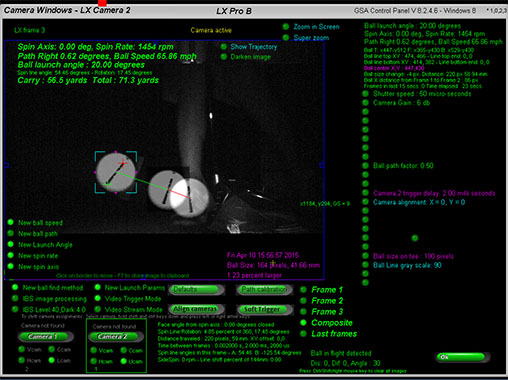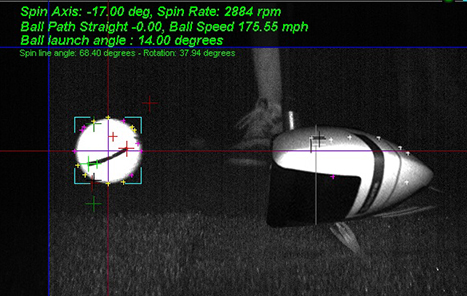 Regular balls with either a black logo or line can be used with the Vcam B to detect ball spin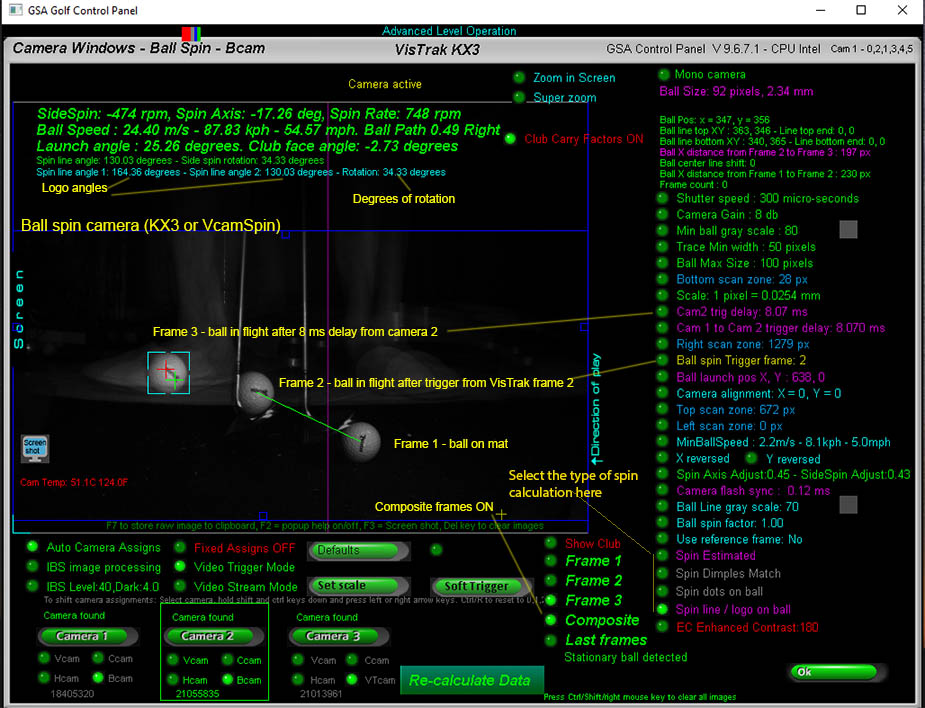 Regular balls with either a black logo or line can be used with the Vcam B to detect ball spin

Spin dot balls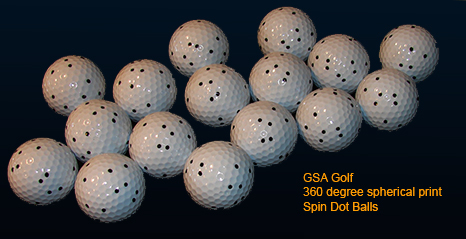 Special spin dot pattern balls save the player from having to bend down and line up the ball logo or line to the cameras.
GSA Golf pre-printed Spin dot balls
Price $ 25.00 for 10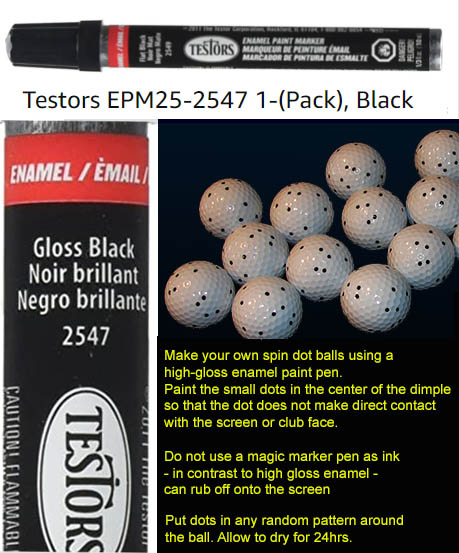 The advantage of using marked spin dot balls
The main advantage of using spin dot balls is that you don't have to bend down and adjust the ball
so that the ball logo or the applied metallic dot is facing in a certain direction.
BTW from what I gather, Trackman and Mevo systems do require you bend down and adjust the ball so that their metal dot
- that you are required to apply to the ball - is facing upwards or in the direction of play.
Another advantage is that you can visible see and thus verify the rate of rotation during the video swing playback with visible ball markings.
In contrast, you won't see this if the ball has no markings so you'd have to just believe that the measured ball spin rate is correct.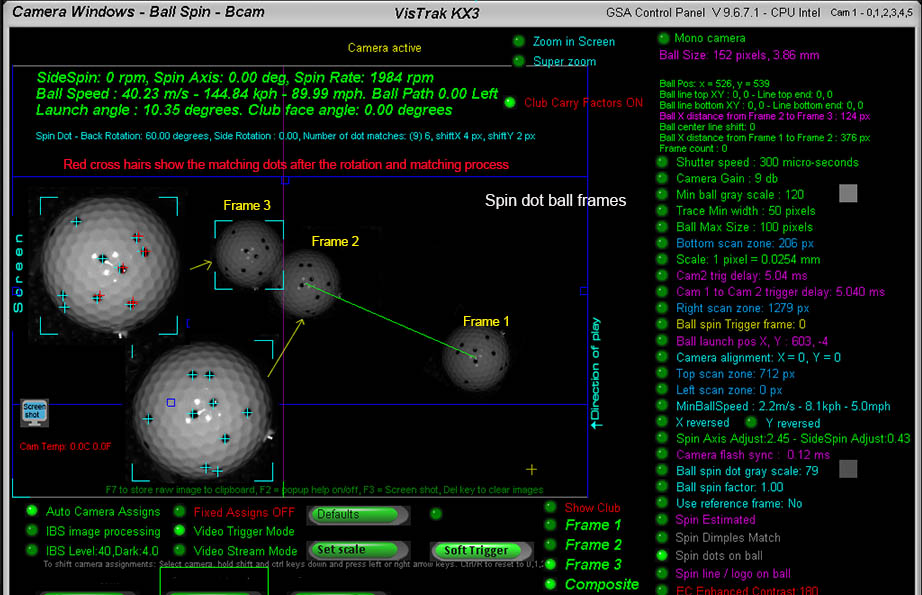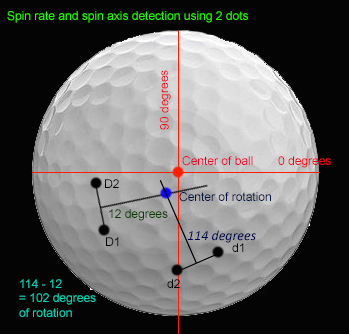 Spin axis tilt
The VcamSpin system also measures the spin axis tilt by detecting the center of rotation of the spin dot pattern
VisTrak Vcam Spin Axis tilt

The above method of measuring spin axis tilt from the floor mounted VcamSpin system is currently being tested


Click above to read more about the Vcam B spin camera setup and theory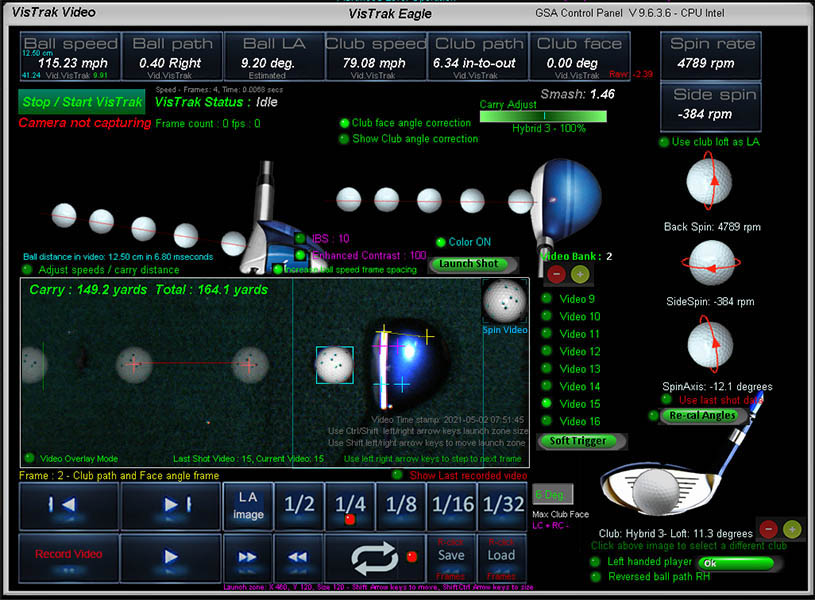 The VisTrak Stereo Spin has all the usual VisTrak features and swing video playback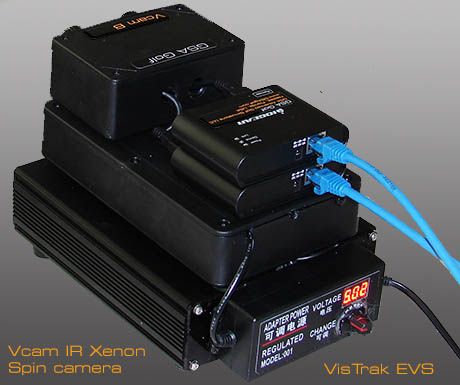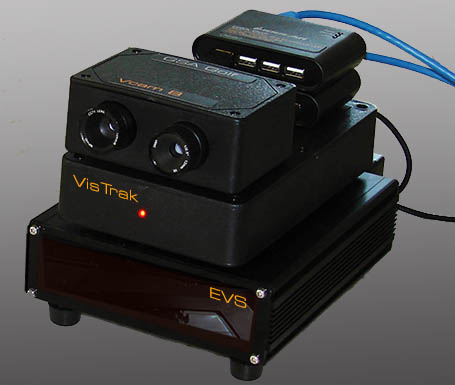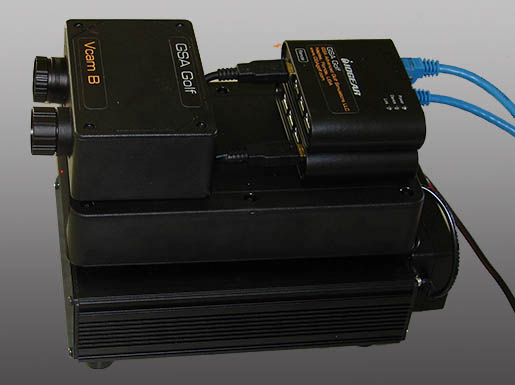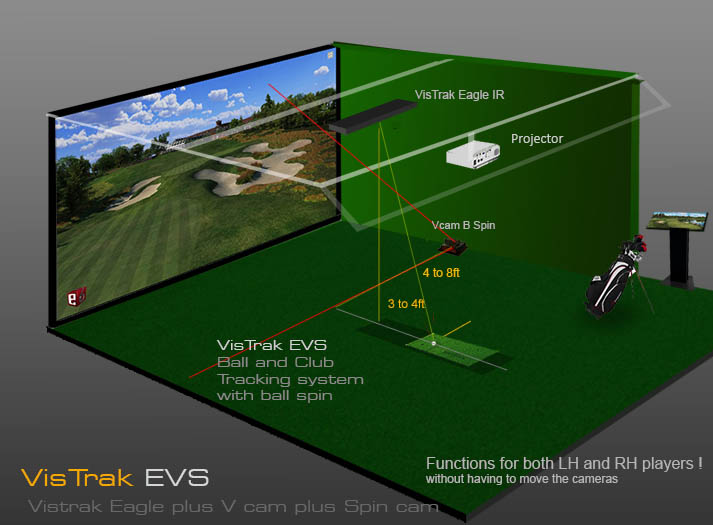 Priced at half the price of our nearest competitor,
the VisTrak EVS offers everything you would want in a golf simulator camera tracking system at an affordable price.
Data captured:
Ball speed, ball path, Club speed, club path,club face angle
Measured ball Spin and LA
Functions for both LH and RH players without having to move any cameras.
Includes video swing playback after every shot.
Functions with TGC and E6 Connect software and more
Single 18 hole Golf course game software included
plus E6 Connect one year trial software with driving range included
from $ 2,999 MSRP price $4,199,


Technical Support
Email and remote access support is available for all original purchasers of GSA Golf systems.
For all non original purchasers (i.e. purchasers of used GSA Golf systems) remote access support can be purchased separately.
Click above images for more information.



---