---



Buy VisTrak Beta

VisTrak Beta test versions
While GSA Golf has made best effort to ensure that the VisTrak Beta version functions as expected, we cannot guarantee that it is fault free.
However, we can guarantee that the video playback works very well at or near 600 fps.
So if you're just adding the VisTrak as an add-on to another tracking system like SkyTrak, Trackman, GC2, Flightscope etc
in order to view your swing for club path, club face angle at impact to the ball, ball contact position on the club, ball direction etc, then we are sure you will be very satisfied with the results.
Beta versions vs Regular versions: What's the difference?
There is no difference between the two versions of the VisTrak systems.
It's more an introductory offer that will generate customer feedback that allows us to improve the product line over time.
Note that VisTrak Beta version purchasers get free software updates and support for life.
GSA Golf VisTrak sales agreement
All purchasers of GSA Golf VisTrak Beta version products will be required to digitally sign a legal binding sales agreement
that outlines that the purchaser agrees to all its stipulations and conditions.
Thus, we recommend reading the sales agreement before making the on-line purchase.
Click the below image to read the sales agreement.
Your sales agreement will be sent to via Adobe Sign


VisTrak order lead-time
GSA Golf is only just starting production of the VisTrak series and some components are not in stock yet.
Depending on demand, some component suppliers (for cameras, cases, cables, lights etc) may run out of stock which can cause a back log of orders and significant delays.
We' ll be checking in with them regularly and will publish any component shortages and expected ETAs
At present we expect lead-times to be between 7 and 10 days, however, please check in with us for a more accurate shipment date before purchasing.
Current stock situation.
Camera stock: Currently we have 15 cameras in stock and another 40 or so coming in by mid August.
The camera supplier states that they can deliver 60 cameras a month without beefing up production.
Case stock: Currently we have 8 LX cases but only 4 Eagle cases in stock. Lead-time for the cases is around 7 to 10 days.
First come, first served
All pre-paid orders will be fulfilled on a first come, first served basis.
As the VisTrak is expected to be a (relatively) high volume sales product, it's very possible that we'll have a back-log of orders in a short period of time.
Prepaying now ensures you'll -- at least - be at or near the front of the line.
What's in the box and what software is included?
Hardware:
VisTrak systems include the VisTrak camera in the case with ceiling mount (Eagle case of LX case),and a 50 ft long active USB cable with power supply.
If purchasing with the spot light: The 65 watt LED spot light with remote control and power cable plus ceiling mount hardware.
Software:
VisTrak includes the GSA Golf Control Panel with the VisTrak video playback panel, plus 1 18 hole GSA Golf (RedChain) game software package.
All software is only available as a download from this web site.
Additional courses can be added starting from $299. see the Software page for more details.
If I don't buy the spot light, can I use any other light?
You can as long as the light is bright visible light (i.e. not IR) , super powerful
with a lens on it to concentrate the beam spot down to around a 2 to 3 ft area.
If it's LED then it must be at least 65 watts.
If halogen, then you'll probably need 4 to 6, 50 to 75 watt narrow beam lights all pointing to the hitting mat.
Suitable LED spot lights can be found on Amazon for around $150.
What is the warranty period?
1 year
What kind of support do I get ?
Unlimited e-mail support for life
Remote access support is available for $50 per 1 hour session
Are there any maintenance costs, subscription and software update fees ?
No
There are no maintenance fees, no subscriptions and all software updates from GSA Golf software is completely free of charge for life.

Order cancellations
Please be sure you know what you purchasing before using the credit card buy now buttons on this page.
If you you use your credit card to purchase an item and then later cancel the purchase, a 3% credit card refund fee will be charged.
i.e. that's the 3% we have to pay for the transaction.
Can I return the product for a refund if I'm not satisfied ?
Unfortunately GSA Golf is (presently at least) is only a small company (i.e. we're not Amazon.com) and so can't offer any immediate refunds
However, we can offer to re-sell your returned product at a lower price - depending on condition - at some later date.

International customers!
Please note: This product is only available for these prices for US resident customers only.
Contact us if you are outside the US for a shipping quote to your country.
If you're an international customer and ignore this warning and still click the "Buy Now" button to process the transaction
then the product will not be shipped and a 10% refund charge will be applied.

1. VisTrak Eagle
Single overhead or side mounted camera
VisTrak Overhead mounted data: Ball speed and path, club speed, path and face angle.
Estimated spin and launch angle.
VisTrak Side mounted data : Ball speed, launch angle, ball path, club speed, club angle of attack and measured spin.
Estimated club face and club path.
"VisTrak Eagle Track" Beta price $ 1,499.00 with LED spot light and tracking for game software
(Regular price $1,899)
The tracking feature of this version allows you to use the VisTrak as a ball and club tracking system for use with
golf simulator software such as TGC, E6 etc
"VisTrak Eagle Video" Beta price $ 1,199.00 with LED spot light without tracking for game software
(Regular price $1,499)
This version of the VisTrak Eagle is for those that already have a tracking system like SkyTrak, GC2, Trackman etc,
and only want to use the VisTrak as a video swing playback system.

2. VisTrak Vcam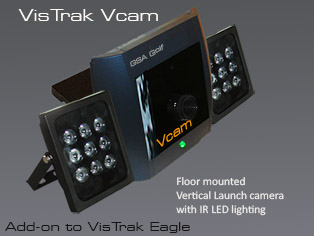 Side mounted add-on camera for vertical launch angle detection
Beta price 1,199.00
(Regular price $1,499)

3. VisTrak Eagle-Vcam
2 camera system: Single overhead mounted camera plus vertical launch angle detection camera
Ball speed, ball path and launch angle, club speed, club path and face angle. Estimated spin.
Beta price 2,489.00
(Regular price $2,899)

4. VisTrak VcamB

3 camera system: Single overhead mounted camera plus dual vertical launch angle detection cameras with ball spin detection
Beta price 3,489.00
(Regular price $3,899)
Ball speed, ball path, launch angle, club speed, path and face angle. Measured ball spin.

5. VisTrak LX
Single hi-speed camera launch monitor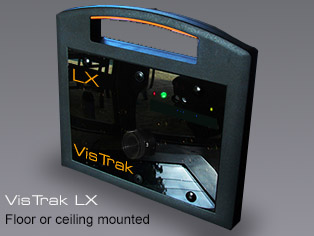 Beta price $ 1,699.00
(Regular price $1,999)
Stand alone launch monitor - i.e. not an add-on to the VisTrak Eagle
Ball speed, launch angle, ball path, club speed, club angle of attack. Measured spin. Estimated club face and club path.

VisTrak LX: two systems in one !
The VisTrak LX can also be ceiling mounted so that it functions as a regular VisTrak Eagle
VisTrak LX Beta test versions $ 1,699.00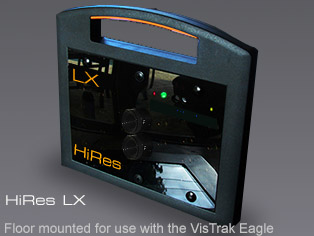 Add-on to the VisTrak Eagle
Data captured : Vertical launch angle and ball spin
LX HiRes hi-resolution camera launch monitor
LX Hi-Res Beta test versions $ 1,699.00
(Regular price $1,999)
---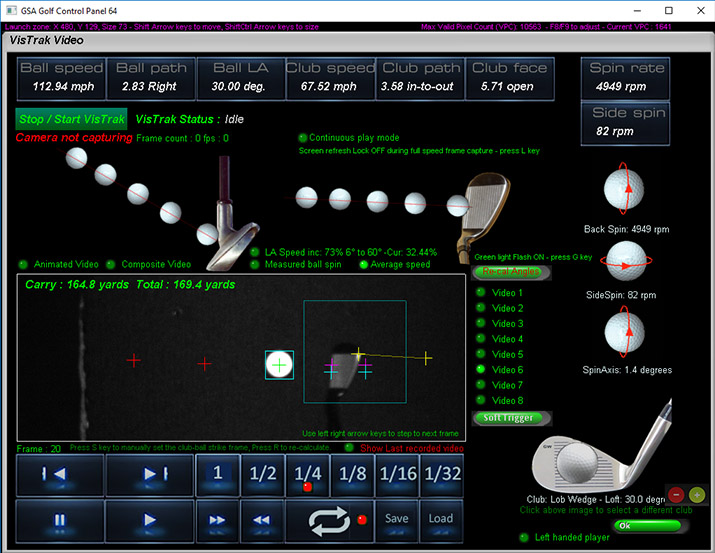 Click left image for Spot light on Amazon. Right image for lens on Amazon.
Note: Unless otherwise stated, all VisTraks come with the above spot light and lens.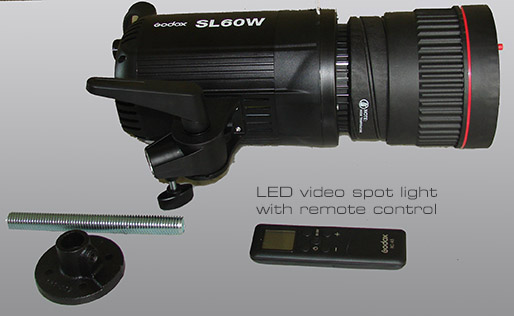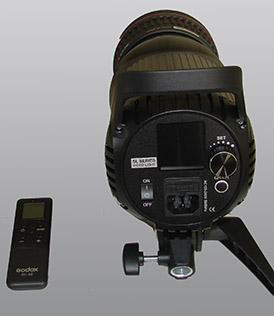 Laser ball detected indicator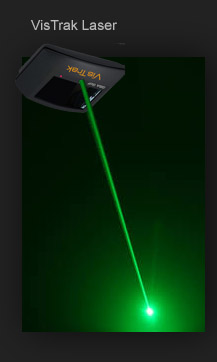 Optional extra laser "ball detected - ready for swing" indicator
for those that only use the VisTral Eagle and don't want to hear audible signals and don't want to have to look up.
Note: The green light indicator is already featured in the LX and Vcam VisTraks which are floor mounted units.
$120.00
Not yet available

Spot light anti glare drape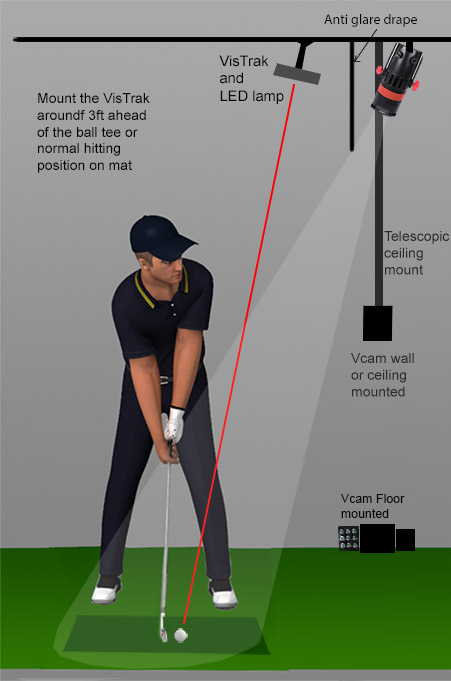 The spot-light anti-glare fire retardant drape prevents possibly irritating glare from the over-head mounted spot light from the players view
Note that the LED spot light only gets warm to the touch so there's no real need
for this heavy drape to actually be fire retardant but that's the way it comes anyway.
$ 69.00

GSA Golf VisTrak systems can also be used with any other launch monitor or golf simulator
for video swing analysis play back
i.e GC2, GC Quad, GC Hawk, SkyTrak, Trackman, FlightScope, OptiShot, p3proSwing etc, etc...
---



---